Today we have a special episode of the Happy Half Hour for you, which was recorded at our annual Best Restaurants celebration last week at the pre-party event at Room & Board.
We chatted with five different chefs who were at the event, and talked about everything from what it's like to be a Best Restaurants winner to the dishes they prepared that evening.
Hear from Brad Wise, executive chef of Fort Oak (critic's pick for Best New Restaurant); William Bradley, executive chef of Addison, the only San Diego restaurant to receive a Michelin star (critic's pick for Best French Restaurant); Ludivine Ryon Mas, co-owner of Le Parfait Paris (critic's pick for Best Dessert); Christine Rivera, chef de cuisine of Galaxy Taco (critic's pick for Best Fish Taco); and Steven Torres, co-owner of Pop Pie (runner up for reader's pick for Best Indulgent Eats) and Stella Jean's (critic's pick for Best Ice Cream).
Subscribe to the Happy Half Hour on Spotify, iTunes or Google Play, or listen below. Check back later this week for our next regular episode!
Recent Episodes
For all previous episodes, click here.
Would you like to sponsor a podcast episode at your restaurant or bar? Email David, our producer and digital media director.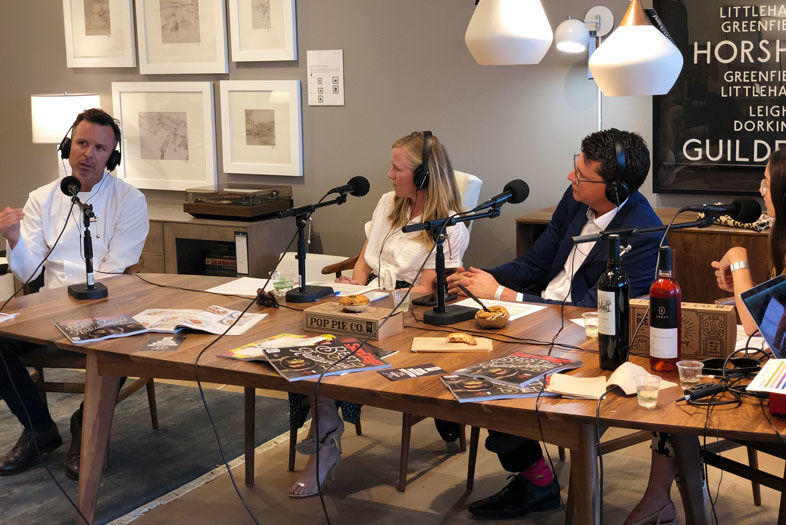 HHH interviews Chef William Bradley of Addison | Photo: Lauren Pettigrew