In this week's episode of San Diego Magazine's performing arts podcast, hosts Erin Glenny, Kim Cunningham, and Dan Letchworth share what's new in the local theater scene, like Prime Minister Justin Trudeau and a notable fashion designer attending Christopher Ashley's show, Come From Away, on Broadway.
Also, the power of old-fashioned madcap musical comedy to warm the heart of even the grouchiest cynic is alive and well in Cygnet Theatre's On the 20th Century. Who can stay gloomy in the face of bright-eyed, tap-dancing porters before a glorious art-deco backdrop?
Plus, actor Rachael VanWormer joins us to talk about #SuperShinySara, the latest from La Jolla Playhouse's Performance Outreach Program (POP), touring local schools now. Tune in to find out what it's like to get magically transported into a News Feed, why kids are the toughest critics, and how many embarrassing stories Dan can bring up about when he and Rachael shared the stage back in high school.
Subscribe to the Show About Shows on iTunes or Google Play, or listen below.
Recent Episodes
---
For guest or review inquiries, email [email protected]. For sponsorships, email [email protected].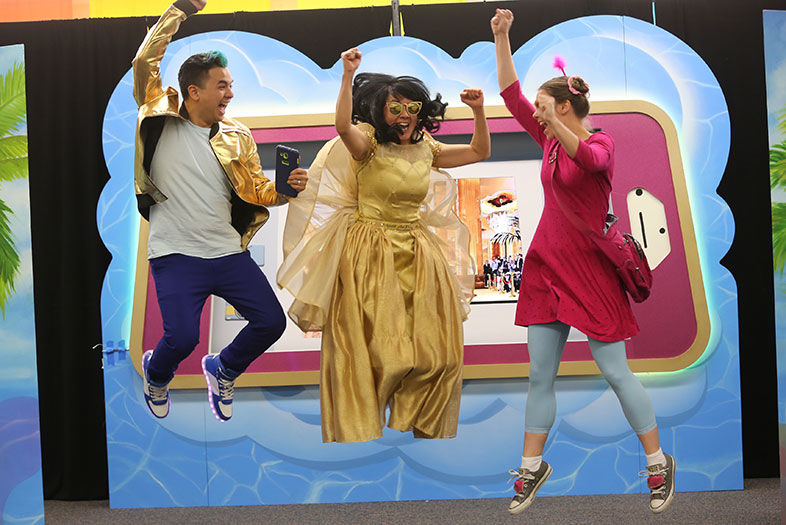 (Left to Right) Shaun Tuazon, Jyl Kaneshiro and Rachael VanWormer in La Jolla Playhouse's 2017 Performance Outreach Program (POP) Tour production of #SuperShinySara | Photo by Jamie Lytle