A little man is staring down at me. His rounded face is preternaturally smooth, his cheeks full and rosy. With his blank blue eyes, he surveys us: rowdy kids, exhausted parents, hungover travelers making the long desert drive back to California from Las Vegas. And me, holding two separate packs of sour-belt candy, wondering which to buy.
Both, the little man seems to implore. Buy both. He is right. I need both. How else will I survive my journey?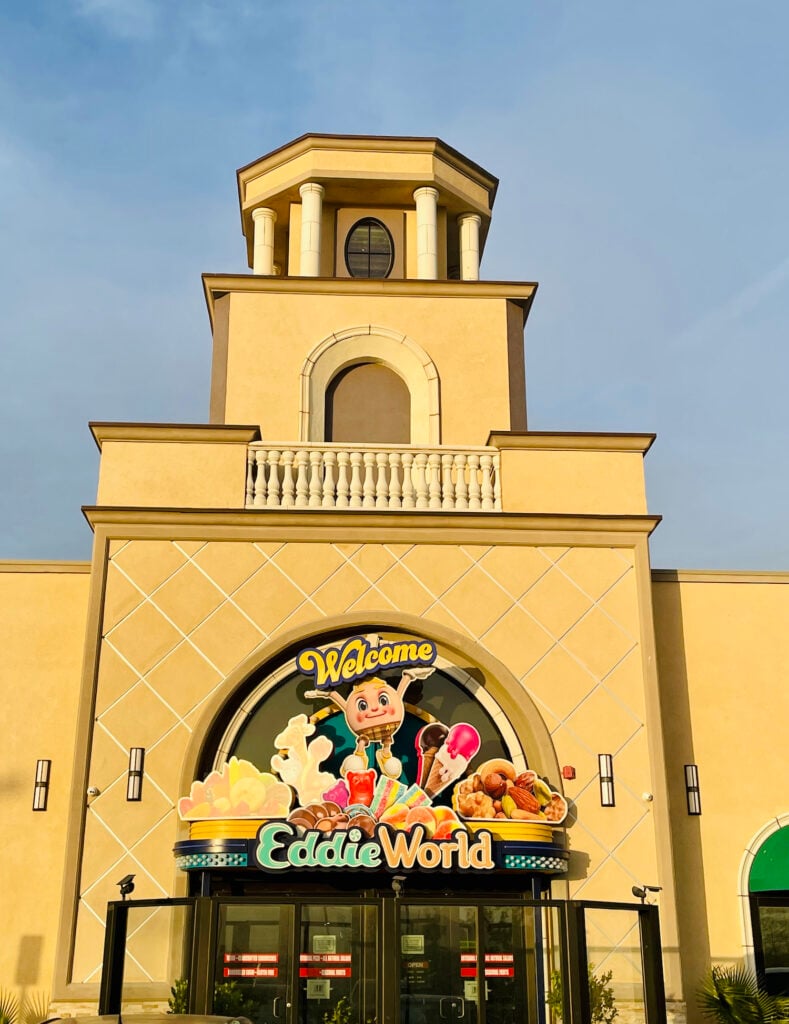 This man—rendered in shiny plastic and clinging to the side of a column—is the mascot/eldritch god of EddieWorld, the self-proclaimed largest gas station in California. Perched off of Highway 15 in Yermo (almost exactly halfway between LA and LV), it beckons road-trippers with a water tower disguised as a 65-foot ice cream sundae.
Follow the smell of petrol and french fries, and you'll find 26 gas pumps and a 26,000-square-foot American opus: a food court/convenience store/dazzling candy shop lined with quick-service counters. The store posits its dining options as "gourmet"—gone are the strangely mesmerizing hot-dog treadmills and the plastic dispensers oozing plastic queso of ordinary mini-marts. In their place are chicken tenders that have never known the touch of an industrial freezer, pizza whose cheese has more than a theoretical relationship to a cow.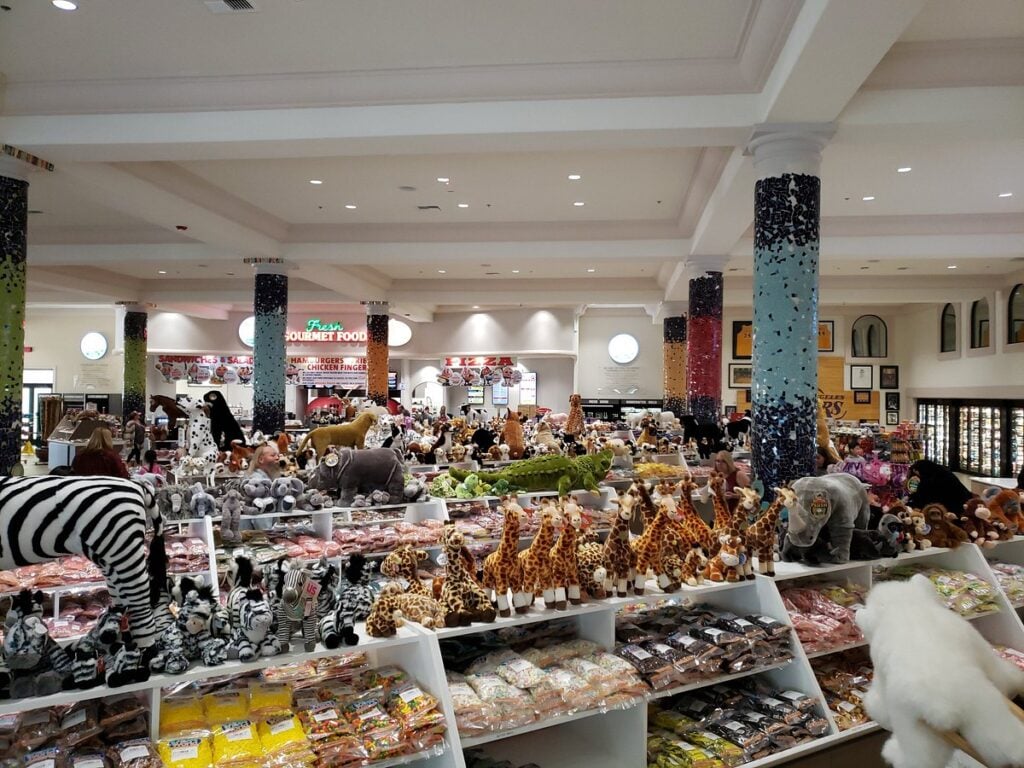 In the building's center sits shelf after shelf of gummies, liquorice, caramels, and chocolates, crowned by a veritable Noah's Ark of plush animals. On other shelves, chips, sodas, various jerkies. An ice cream stand perches in a corner. Also, there is sushi, but when I am here, I enter a fugue state and reject, physically, anything not containing trans fats and refined sugar.
I've visited Vegas a handful of times, but, to be honest, it's not really my scene. The hardest I've ever partied in Sin City was at the reception of an academic conference. For me, the best part of a Vegas trip isn't the destination—it's stops like this, the freaky roadside attractions that turn the essence of the American West up to technicolor brightness.
And it doesn't get much brighter than EddieWorld. It materialized in the desert in 2018, but feels like it's been here forever, not least because of the lurid, Chuck E. Cheese soullessness of its branded characters. A shrine packed with LA Lakers memorabilia overtakes a section of one wall. Its bathrooms are clean, spacious, like the toilets at a fancy mall or a Sheraton, a respite from both the endless roads and the high-fructose chaos just outside.
The first time I stepped foot in this bastion of pickle-flavored soda and jawbreakers, I was in love with a girl who didn't love me back. It magnified the intangible longing I always feel in liminal spaces like this one, everyone here on their way to somewhere else.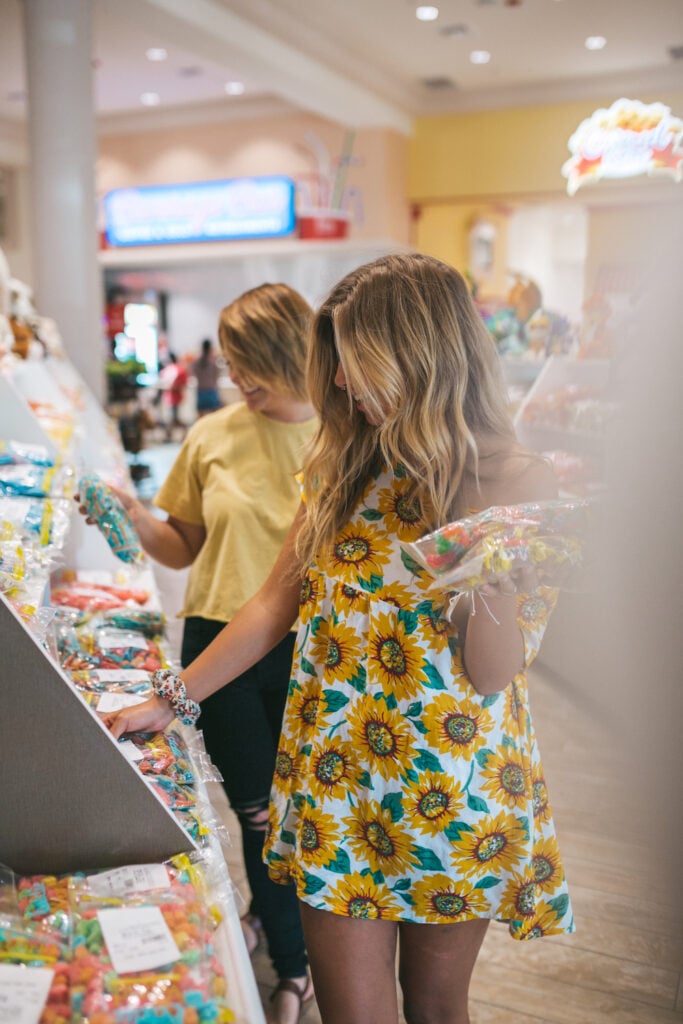 I wanted her beside me, us stripping the roofs off our mouths with salt-and-vinegar chips. I wanted to be 7 years old, crusted in kettle-corn dust and clutching a stuffed caterpillar, experiencing the thrill of my tiny life. I wanted these two different bags of sour candy.
Of course, a store like EddieWorld is designed so you want for nothing. You can't stay here, but you can take a piece of it with you—sweet and waiting to melt under another city's sun.