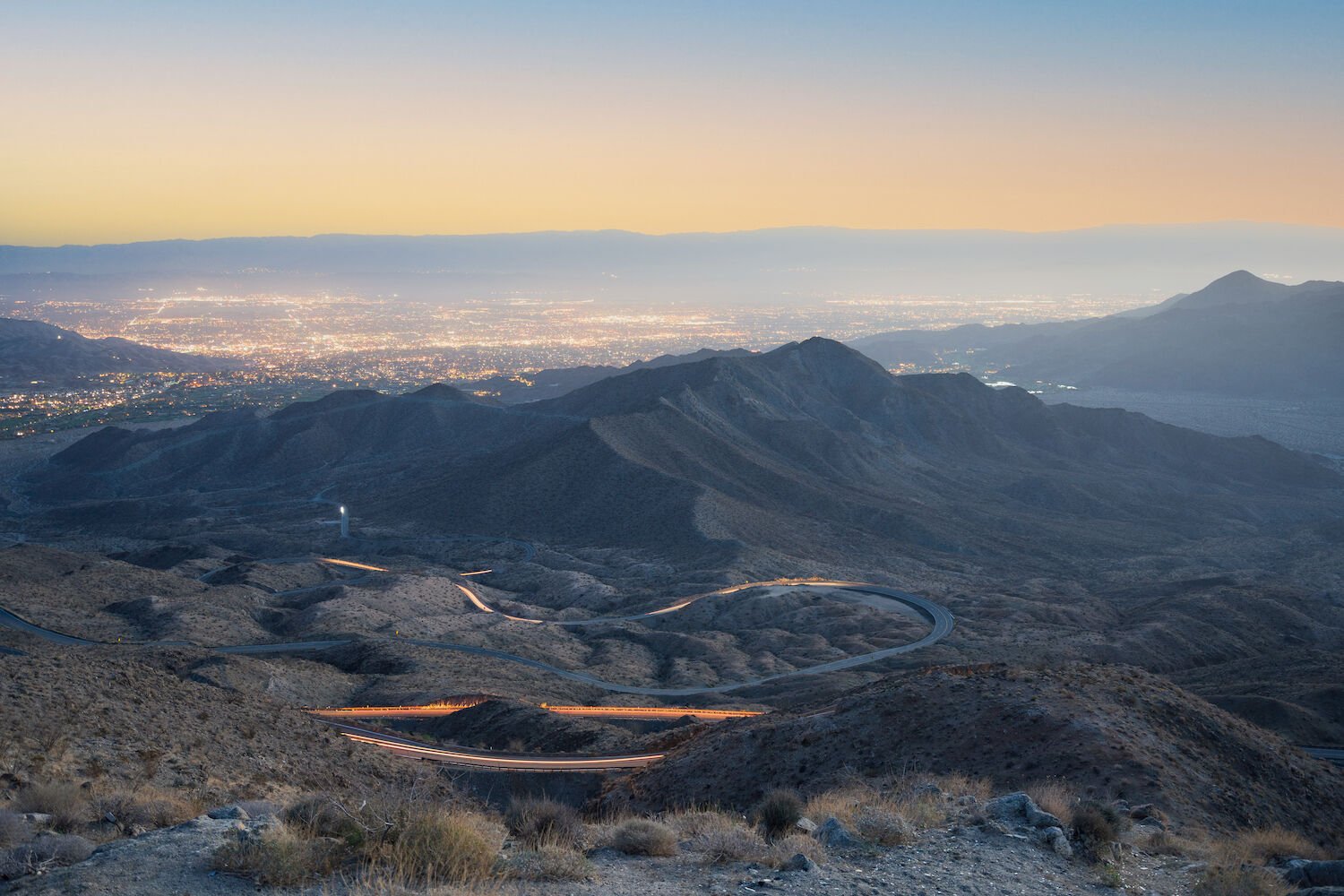 Down, down we drop through the gray, hot desert. The sun is bright, the windows are down, and somewhere out here is the American Dream. I can smell it.
Beneath our tires, Highway 74 curls around itself like a spaghetti noodle dropped in the dirt. Sure, there are faster, more linear ways to get to the Coachella Valley from San Diego, but two-lane roads are where the great mysteries of consciousness are best untangled. Freeways are just another commute.
Personally, I like my road trips full of gas station coffee, a buffet of snacks, and old country music. A few sips of a poor man's latte made with drip dark roast and two of those little peel-back French vanilla creamers while John Denver reminds me that life ain't nothing but a funny funny riddle, and I basically turn into Siddhartha. Content. Car culture will no doubt be the death of us all, but it's unquestionably got its charms.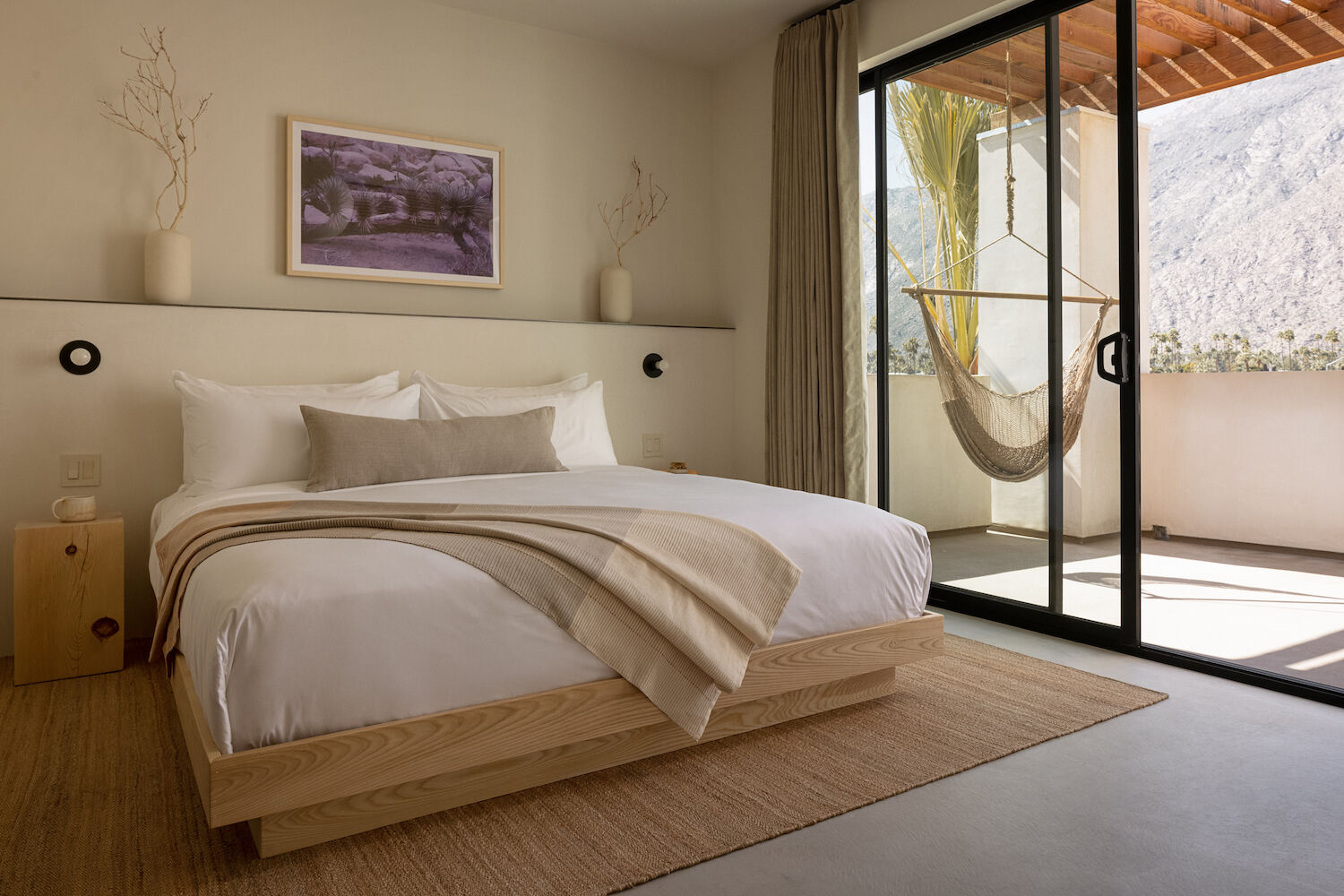 Courtesy of the Drift Hotel Palm Springs
On roads such as these, I brake hard and swerve fast for hole-in-the wall joints full of Americana and hot sustenance. Like The Stagecoach Inn in Aguanga, with its handwritten note on the door telling visitors to "Be aware of snakes," its sign boasting cocktails and homemade chili (a dreamy combo), and its large wooden ice cream cone on a telephone pole (get the vanilla). Or the Paradise Valley Cafe in Mountain Center, a wood-paneled piece of history showcasing signed celebrity photos on the wall (hi, Elvira) and a menu that could heal many a political divide. These are quality places to spend valuable time with strangers, but I can't stay long. I have business in the valley.
Back on the road, it's a brisk 106 degrees outside as my wife, baby and I cruise to our first destination, the new Drift Hotel in downtown Palm Springs. Opened in March, the building is a large white letter C wrapped around a pool and a dirt patch they call the cactus garden, full of fire pits and potential. The rooms are spacious, decorated minimalist Baja-chic. Neutral colors, Mexican ceramics, jute rugs, in-room bar setups, and pour-over coffee. Counter space, but no closet space. The standup trash can matches the stools, which I appreciate. It's all very clean, cool, and comfortable.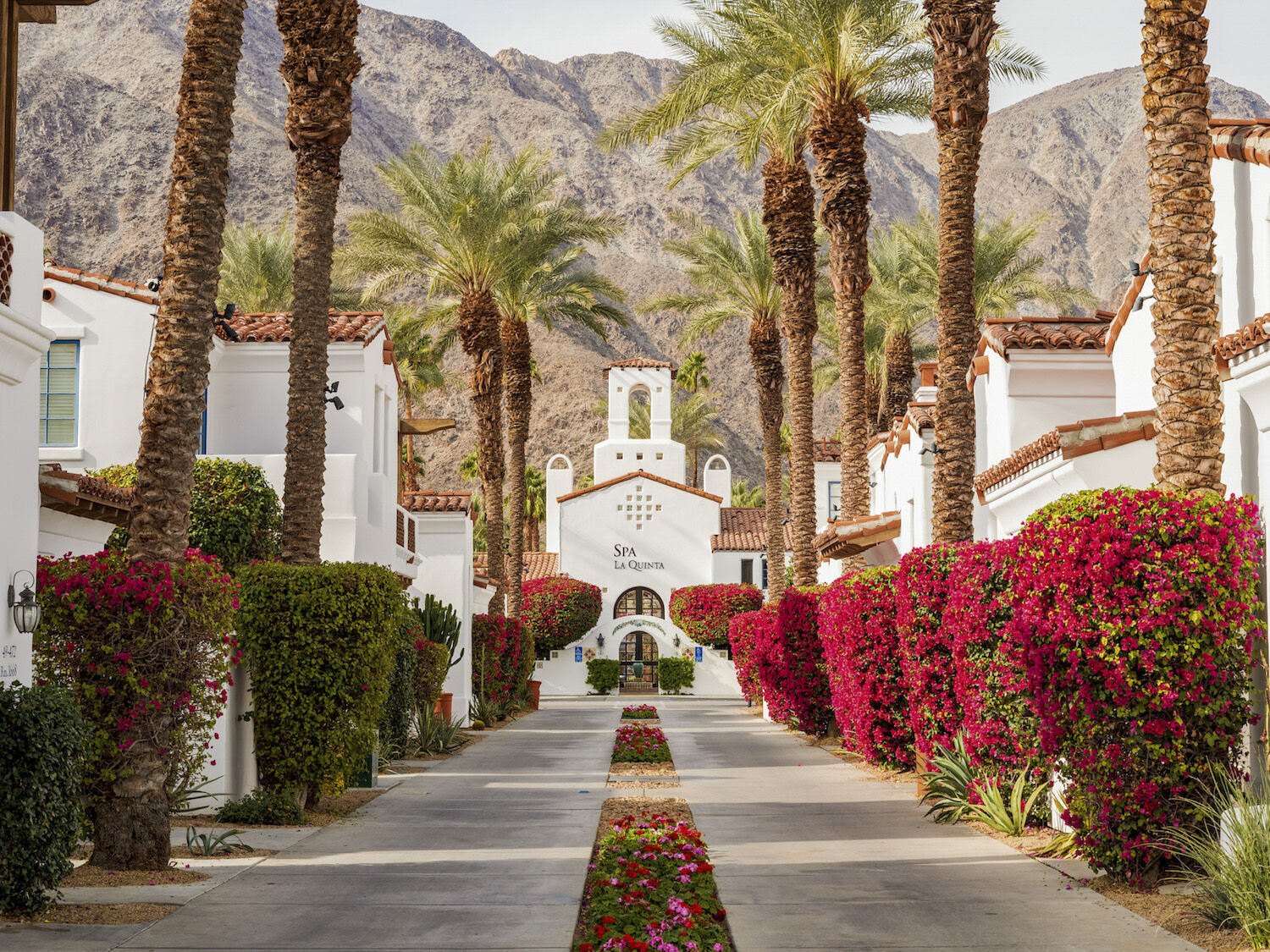 Courtesy of La Quinta Resort & Club
The Drift concept is somewhere between a hotel and an Airbnb. Check-in is via text. A six (six!) button code allows you entry to your room each time you step out. No front desk and no lobby means the restaurant, Maleza, becomes the de facto meeting space. See what they did there? The bartenders here hold it down as greeters and libation ambassadors, though, and the food is welcoming, so it seems to work. Who really needs a lobby anyway?
The hotel is a short walk to the heart of downtown, where an impressive number of restaurants vie for attention, misters watering the sidewalk. Hit Farm for arguably the best shady garden seating in the valley and Grand Central for plaza-view dining. Just outside of downtown, we head to the Ingleside Inn and Melvyn's restaurant, which harkens to old Hollywood in the best way. Pot pies and cocktails? That's a dream right there.wif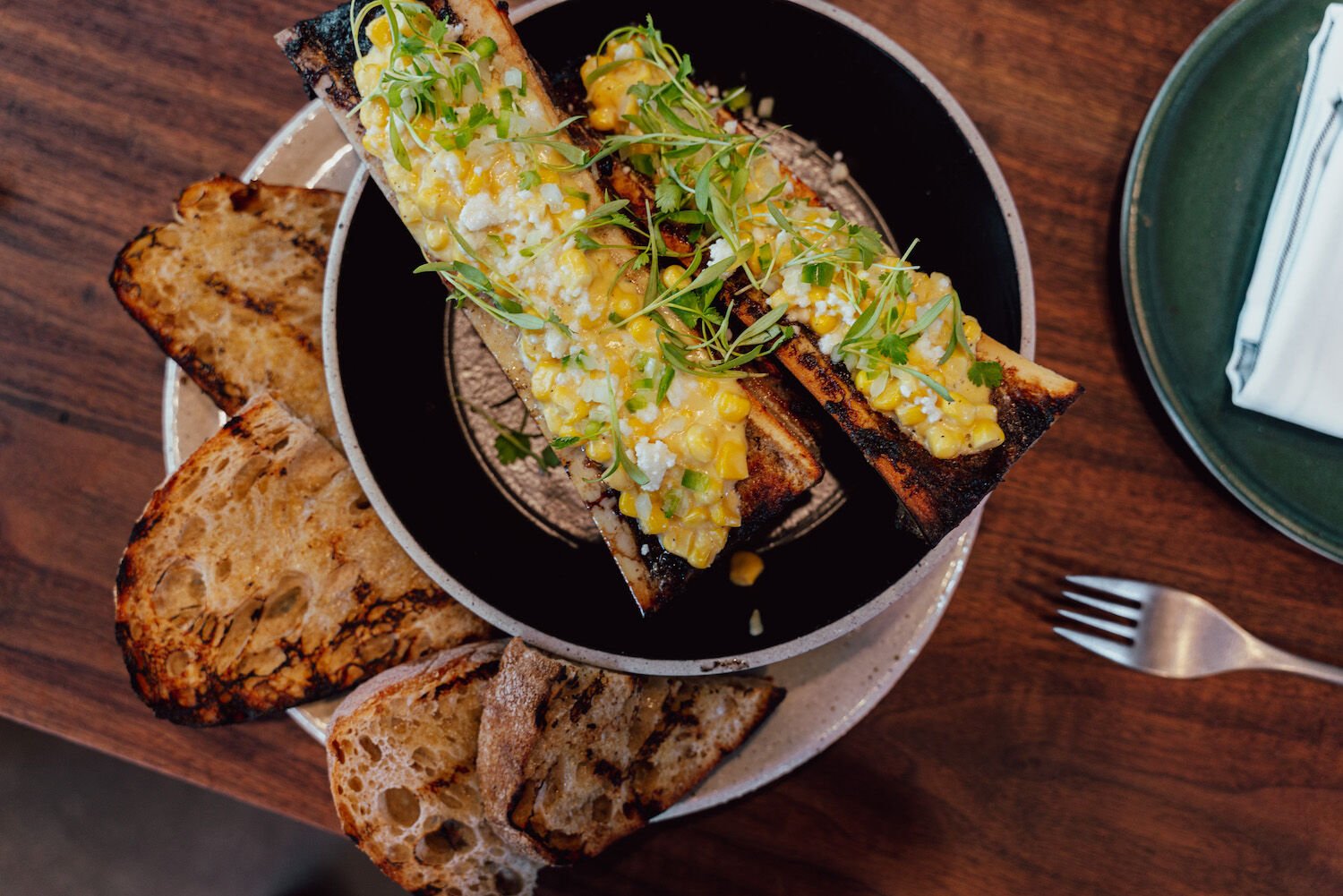 Courtesy of Maleza
After check-out at The Drift, we head to the Palm Springs Art Museum for AC and a place to contemplate our next move. See, I can only tolerate city life for so long in this heat. The hills call. After two nights in the brand- new Drift, I'm craving something more settled into the landscape, so we head to La Quinta Resort and Club, a desert getaway butting up against the rocky Santa Rosa Mountains.
Built nearly a hundred years ago as a series of bungalows, La Quinta's grounds—dotted with 41 pools and lined with wise old palm trees—feel like a true oasis. Our room, with its private hot tub and multiple fireplaces, is charming to come back to after pool time. Perhaps this resort caters to certain generations better than others, but we still genuinely don't want to leave, even for meals.
Because with a more or less captive audience, the restaurants on site are busy, creating a feeling of being somewhere worth being. Adobe, with its cascading patios, is one of the most hopping restaurants I've seen since early 2020. The crowd is into it.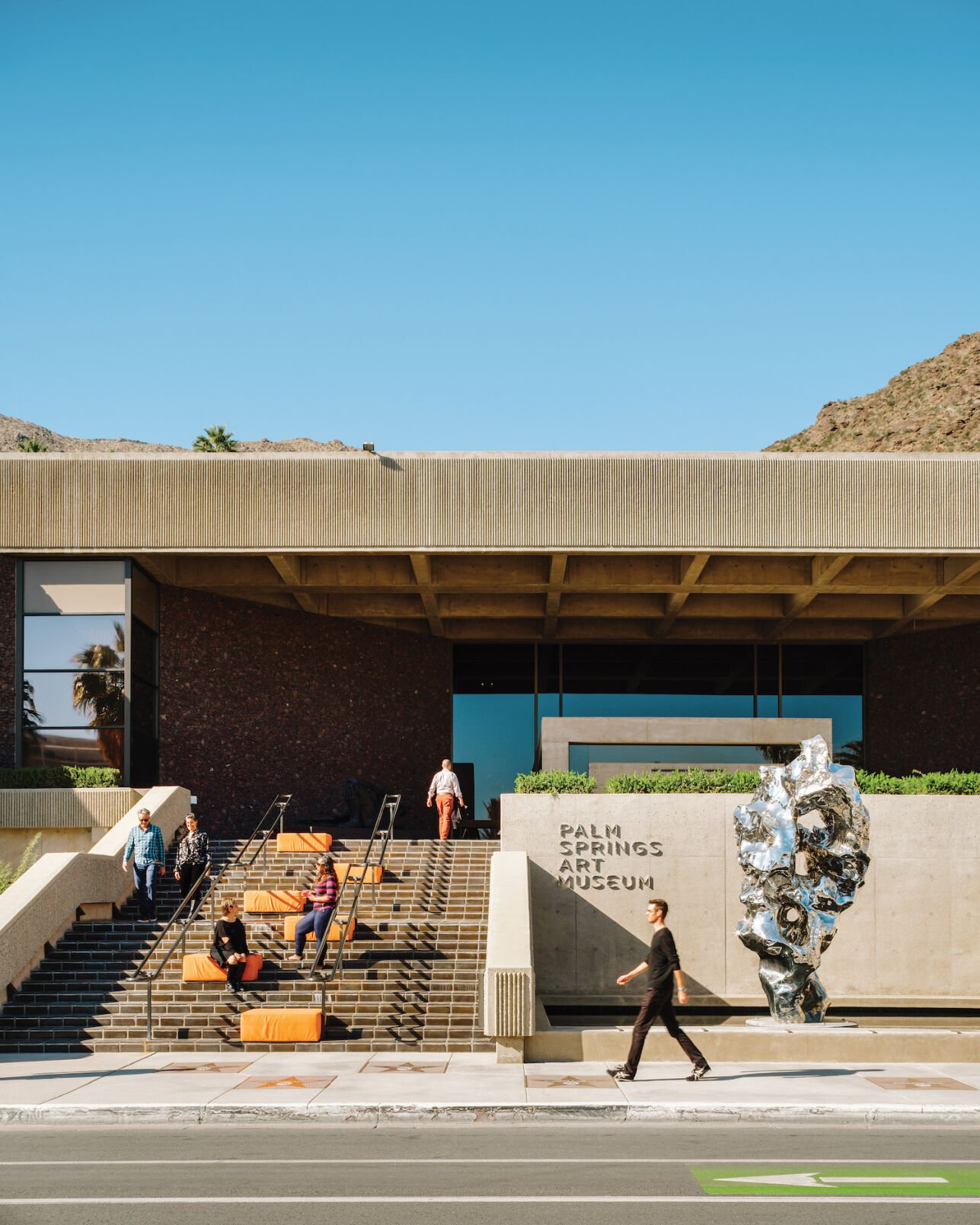 Photo Credit: Lance Gerber
But the road calls and keeps calling. Beyond the cities, there is so much to this desert. I like Pappy and Harriet's in Pioneertown and Giant Rock Meeting Room in Yucca Valley. Both offer the potential for small-town live-music magic, and the American Dream has been known to grab a quiet beer in the area.
The Dream visits this desert often, hat covered in dun-colored dust. Crack your windows—you might smell it.