"I gave my wedding ring for my security deposit. I let them hold on to it until they felt like I wasn't going to run out of business and leave them without paid rent. I finally got it back after years." That was how local restaurateur Isabel Cruz (Isabel's Cantina, Barrio Star, etc.) described opening her first restaurant, The Mission, in 1990.
In our November issue we chronicled the stories of Cruz and five other female icons in San Diego's restaurant scene, Tracy Borkum, Terryl Gavre, Karen Krasne, Su Mei-Yu, and Deborah Scott. We asked them about building a brand, sourcing money when times were tight, and how they made an impression on the local landscape.
Those same topics were also the focus of Monday's Future of Women panel, held at El Jardín in Liberty Station. The event—which brings together women of different industries (food, arts, sports, human rights, and more) for a breakfast speaker series—made its San Diego debut this week with Claudette Zepeda-Wilkins, chef-partner of El Jardín; Crystal White, chef-owner of Wayfarer Bread & Pastry; Candice Woo, editor of Eater San Diego; and Mai Nguyen, a San Diego farmer and California representative for the National Young Farmers Coalition.
Here are five things we learned from the panel:
1. Zepeda-Wilkins wanted to be a lawyer. Though she grew up in her aunt's kitchen in Guadalajara and now runs a restaurant lauded by Esquire and Food & Wine, Zepeda-Wilkins first had an itch for the legal world. But after having her son at age 18, thanks to the growth of media like Food Network, she realized being a chef was a viable career. So she applied to culinary school. "I still argue for a living," she said. "I just don't get paid as much!"
2. San Diego County has the highest number of small farms in the country. Nguyen—who was instrumental in creating the Farmer Equity Act that includes socially disadvantaged farmers and ranchers in the Department of Food and Agriculture's policies and programs—explained that ours is also the county seeing the most rapid decline of farmland. "The whole world wants avocado toast," she said, referencing our region's large share of avocado groves, "but they can't get it unless we save San Diego farmland." White, a Napa native, admitted she was shocked to hear about the huge farm scene in San Diego. "They don't talk about San Diego farms in Northern California," she said. "But I was floored by Chino Farms."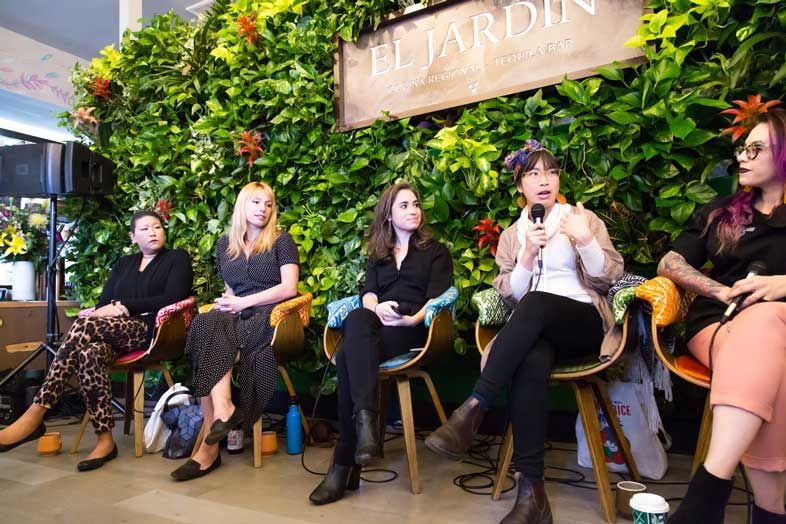 Photo by Cheyenne Arnold
3. Sexism is rampant in the restaurant world. White launched a successful Kickstarter campaign to help fund her Bird Rock bakery, which has since been featured in the New York Times, as well as San Diego Magazine. But that path came with some bumps. "I started as a savory cook, and it was constant harassment. It was absurd," she said. "Opening the bakery was surprisingly frustrating from a woman's standpoint, whether it be my realtor asking me where my father or husband was to help me hold the tape measure, to the multiple investors who turned me down because I don't think they took me seriously despite my experience." Zepeda-Wilkins, who shared that in the past she'd been paid $9 per hour as a cook versus dishwashers who earned $11, added: "It's moving in a different direction, but it's still bad. Within the last year, I've been passed up on a handshake because they thought I was an assistant."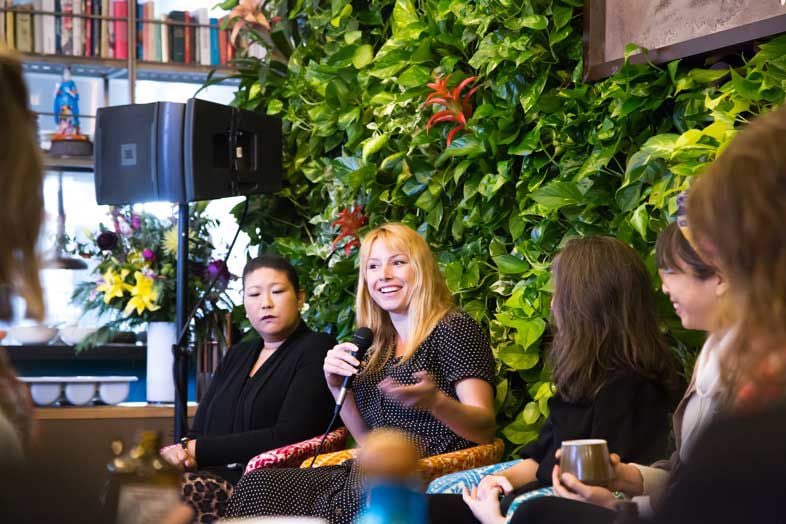 Photo by Cheyenne Arnold
4. Only about two percent of the population works as farmers. And of that small group, a little over 250,000 are under age 35, with the average farmer's age at 58. "The way to scale up," she said, "is to connect with other farmers."
5. They've been judged for wearing makeup the workplace. Zepeda-Wilkins revealed she's been called out for coming into the kitchen with lipstick, dyed hair, and big jewelry. "'You're a female chef—you can't wear lipstick, you can't wear nail polish.' Bullshit. I want to put on my earrings, I want to put on my lipstick, I get my nails done. They're not cheap, but I make sure I can butcher a 200-pound tuna and not have a chip. I can wear earrings and lipstick and still get the job done."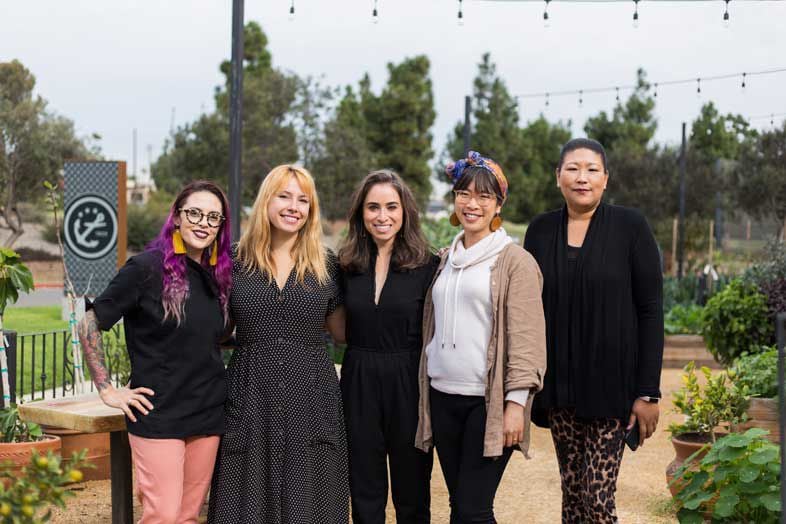 From left: Claudette Zepeda-Wilkins, Crystal White, Future of Women CEO Hallie Applebaum, Mai Nguyen, and Candice Woo | Photo by Cheyenne Arnold