Many bartenders will tell you that it's the Negroni that drew them to bartending. Regan Doughty, a bartender at Hundred Proof, told me recently that a perfectly made Negroni was what lured him from being a doorman to a cocktail maker (his Negroni riff, the Lady May, is featured below).
It's a simple recipe — equal parts gin, Campari, and sweet vermouth, stirred with ice, strained into a chilled glass, and garnished with an orange twist. That simplicity has inspired countless riffs—from the elegant White Negroni, to the Rosita, to the Boulevardier—and an annual weeklong celebration that has bars all over the world donating a portion of cocktail sales to a charity of their choice.
This year's Negroni Week runs through Sunday, June 30. It's also the Negroni's 100th birthday (it was in 1919 that Count Camillo Negroni asked bartender Fosco Scarselli to add gin instead of soda water to his Americano cocktail). More than two-dozen San Diego bars and 14 Tijuana bars are participating this year. Below is a list of offerings and participants.
Charity: Fisher House Foundation
The Pearl's bar / restaurant is featuring five Negroni variations: A classic made with You & Yours Winter Gin; a Boulevardier, made with Makers Mark; a mezcal variation made with Reyes y Corbardes Duragensis mezcal; a Rosita made with Azunia reposado; and a Kingston, made with Hamilton Gold Label rum.
Charity: Surfrider Foundation
Christian Siglin's Negroni on draft is available year-round, but if you order it this week, you'll help out a worthy cause.
Charity: Surfrider Foundation
The new Sabre Spring restaurant / bar is participating in its first Negroni Week with a refreshing Watermelon Negroni, made with Campari, El Silencio mezcal and watermelon juice.
Charity: Inspire Artistic Minds
Their Traditional Negroni is made with Ford's Dry Gin—one of my current faves—sweet vermouth, and Campari; a Boulevardier features Angels Envy port-finished bourbon, vermouth, and Campari; the Como La Flor includes Gracias a Dios agave gin from Oaxaca, Luxardo bitters, Lustau Vermut Blanco, and hibiscus). Regan Doughty's Lady May includes Old Forester 100 Rye, Campari, Dolin Blanc, toasted fennel, and caraway); the Kantuta has Singani 63, Campari, Cocchi Rosa, strawberry, and yuzu bitters; fans of Nonino will dig the Nocino Nonino (Principe de los Apostoles gin, Nonino, and Bruto Americano); and Hot Date (Ome mezcal, vermouth, Campari, coriander, chili, and prunes).
Charity: Surfrider Foundation
The La Jolla bar located above George's at the Cove, has five offerings that hit on all the directions you might take a Negroni: A Classic made with Sipsmith Lemon Drizzle gin, Carpano Antica vermouth, and Campari; a Citrus variation made with Suntory Roku gin, a house kumquat cordial, and Luxardo bitter liqueur; a Grassy version that features Clement rhum agricole, Mancino Rosso, Campari, and house cola syrup; a Smoky version with El Silencio mezcal, Luxardo bitter liqueur, Chareau aloe liqueur, and sage; a Tropical Negroni made with Capurro pisco, banana liqueur, Campari, Fino sherry, and coconut, and an Oak & Floral riff made with Knob Creek bourbon, Averna, Rinomato Aperitivo, lavender syrup, and lavender bitters.
Charity: Little Free Library
Support the world's largest book-sharing movement by ordering a Specialty Negroni made with Campari, El Silencio mezcal, coffee-infused tequila, sweet vermouth and coconut liqueur.
Charity: Restaurant Workers Community Foundation
Try a Classic Negroni made with barrel-aged Old Harbor San Miguel gin, Yzaguirre sweet vermouth (a nice alternative to Carpano Antica), and Campari; a Sbagliato (Old Harbor gin, Aperol, Lillet, prosecco); a Mediterranean Twist made with cold brew, Gin Mare, Campari, Aperol, and sweet vermouth; the Summer Solstice (Hendricks Solstice Gin, watermelon, Dimmi, and Campari); and—the one I'd order—For the Love of Rose (Copper & Kings Rose Gin, Aperol, Giffard Pamplemousse liqueur, and orange bitters).
Charity: Surfrider Foundation
The Coronado Italian restaurant is offering a Smoked Negroni, made with Campari, Gin Mare, and Carpano Antica vermouth in a cedar-smoked glass.
Charity: PAWS
The Oceanside spot came up with a five-Negroni menu: The 1919 (a traditional Negroni made with London dry gin); the Silencio is Golden (a White Negroni riff made with El Silencio mezcal, Italicus Rosolio di Bergamotto, Lillet Rouge, Mandarine Napoleon, and organic honeycomb). For fans of something light yet boozy, try the Negroni Fragola (Bols Genever, strawberry-infused Campari, Dolin Blanc vermouth, and Chareau) and for something with a punch, the Café Negroni (St. George Terrior Gin, Cynar, Amaro Averna, Carpano Antica, cold-brew coffee).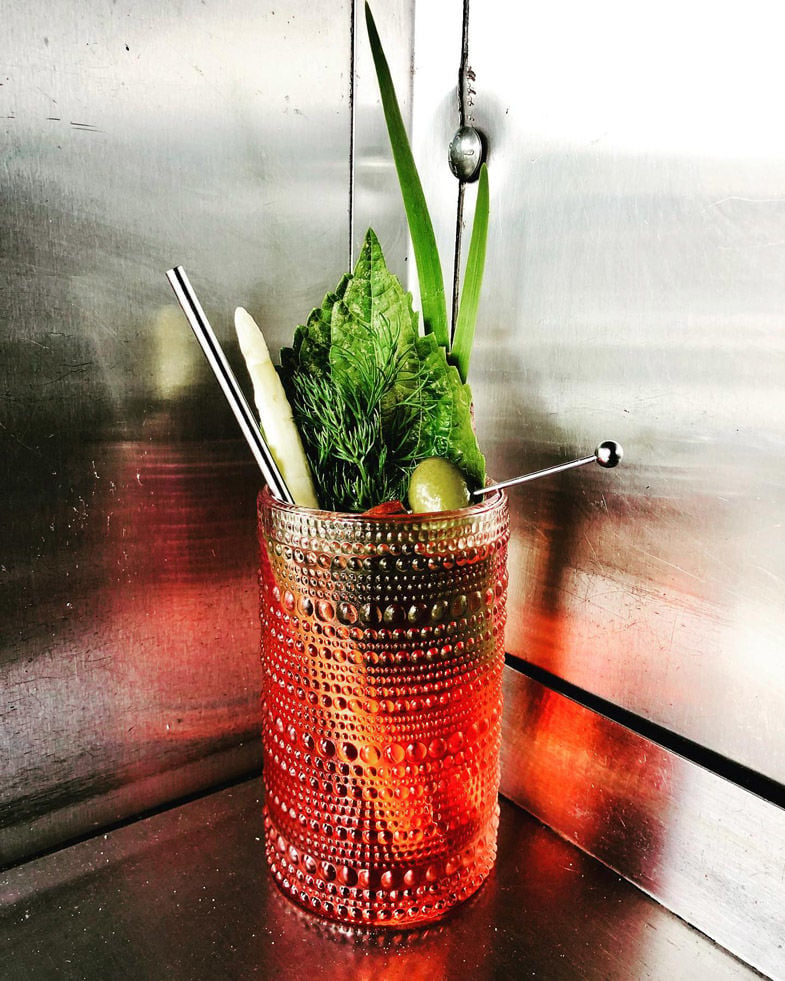 Andrew Cordero's Rome on Fire |Photo courtesy of Noble Experiment
Charity: James Beard Foundation
Noble's offering five options include a classic, the Fruit Bat (strawberry-infused Campari, Peruvian Pisco, lemon, seltzer); the Italian Beach Bum (coconut-infused gin, pineapple-infused Campari, apricot eau de vie, sweet vermouth); Rome on Fire  (orange blossom wine, red pepper, Campari, Champagne — lead bartender Andrew Cordero's creation which won this year's local Negroni competition); and the Bitter Rosso (gin, Campari, Cara Cara orange, rhubarb liqueur, Vermouth de Chambery, lemon).
Charity: Surfrider Foundation
The Little Italy spot is offering a classic made with Old Harbor San Miguel Gin, Mancino Rosso Vermouth, and Campari and a Sbagliato, made with Old Harbor gin, Istine Rosato vermouth, Aperol, and prosecco.
Charity: Surfrider Foundation
The University Heights bar has one of the more interesting menus. It includes a tiki-style Negroni, the Idol Moni (Campari, vermouth, coffee Falernum, Copper & Kings American Brandy) and the lighter Rose Roni (strawberry-infused Campari, Bianco Vermouth, Lillet Blanc, sparkling rose), plus two mezcal versions: Coconut Icee (strawberry jam, Coco Lopez, Campari, Bianco Vermouth, Ilegal mezcal) and the Oaxacan On & On (Luxardo Bianco, Dolin Blanc vermouth, El Silencio mezcal).
Charity: Border Angels
There are lots of worthy charities featured here, but Border Angels, founded in San Diego, has been continuing its life-saving work — leaving containers of water for migrants crossing through the desert — despite increasing pushback from Border Patrol. Help them out by heading over to Sycamore Den for a classic Negroni, made with Barr Hill Gin; a smoky version made with El Silencio mezcal; or a Singani 63 Negroni, made with the popular floral, herbaceous spirit.
Charity: Surfrider Foundation
Negroni dice are a thing. Roll a perfect Negroni and it's on the house; miss and pay.  Or, try the Urbn Negroni (Aviation gin, Campari, house vermouth, grapefruit); the Leroy Lightfoot (Appleton rum, Carpano Antica, Campari, coffee liqueur, cold brew); Peaches N Crème (Aviation barrel-aged Old Tom gin, Campari, Suze, Carpano Antica, Giffard Peach, Brandy de Juarez, citrus foam); Joshy Poo (Espolon blanco tequila, Aperol, lemon, prosecco, soda); or If You Did (Long Branch bourbon, Campari, Giffard pineapple liqueur, Averna).
Other participating bars:
619 Spirits North Park
Born & Raised
Caffe Calabria
Counterpoint
Curadero
Fifth & Rose
Il Fornaio (Coronado and Del Mar)
Ironside Fish & Oyster
Kettner Exchange
Louisiana Purchase
Mister A's
Polite Provisions
Punch Bowl Social
Soda & Swine @ Liberty Station
Tahona Bar
Tijuana bars:
52 Kool
BCB Tasting Room
Caccio Pizza & Rotisserie
Caffe Saverios
Casa Fortuna
Cereus
Chans Bistro
Emma Baja French
Erizo Marketo
Estacion Central
Georgina Restaurante
La Moresca
Oryx Capital / Nortico
Got an idea for a future post? Email me.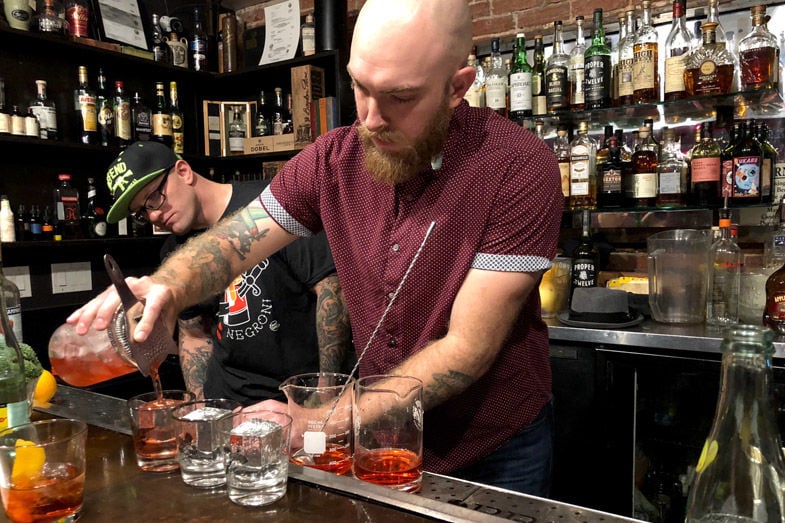 Hundred Proof's Regan Doughty at work on his Negroni riff, Lady May | photo Kelly Davis