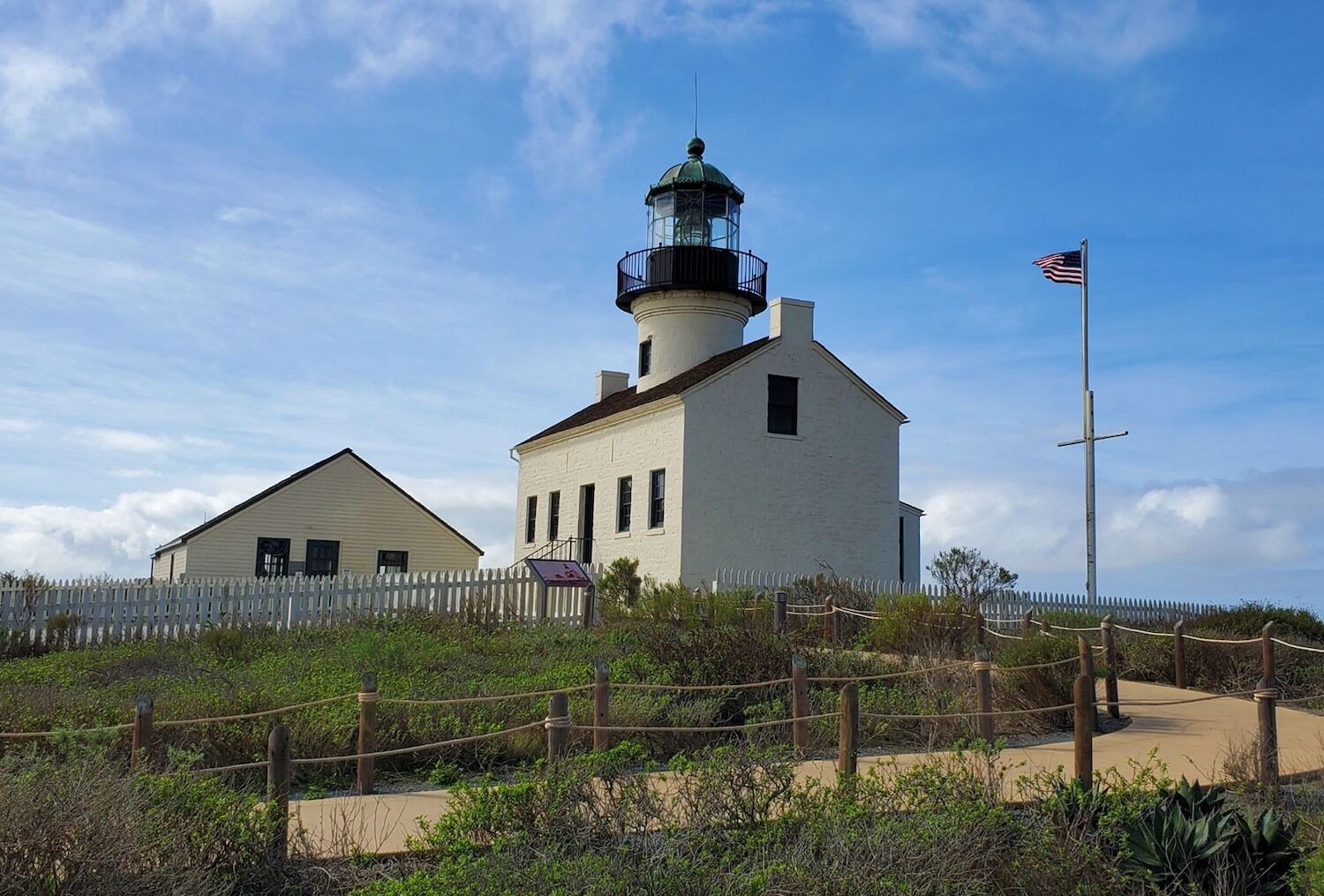 National Parks Service, Cabrillo National Monument
A couple of years ago, lockdowns had us all revisiting ways to enjoy our communities, and cycling benefitted as a result, with ridership increasing. Perhaps you are among the many individuals that bought a new road bike recently, or maybe you're getting tired of the neighborhood loops that you're used to—whatever the reason, it may be time to check out some new routes.
Here are three of my favorite San Diego treks that are easily accessible and accommodate choose-your-own distance routes depending on where you choose to start your ride.
Cabrillo Monument
Ride Length: Around 18 miles, out & back
Elevation Gain: 550ft
Effort Level: Moderate
The tip of Point Loma is home to San Diego county's only national monument, Cabrillo National Monument, providing great views of the city.
Starting from the mouth of Fiesta Island on the Eastern side of Mission Bay, make your way to Old Sea World Drive and ride along the San Diego River to cross at the Sunset Cliffs bridge. Here you can decide to ride through Ocean Beach or along the newly protected bike lane on Nimitz.
If you choose Nimitz, please be careful crossing the often fast-moving traffic coming off I-8 into OB. Regardless of your choice, you'll then connect up with Catalina Blvd—your fast track to Cabrillo. Catalina Blvd climbs over the next two miles to the gate to Naval Base Point Loma, here is where the best riding begins. Smooth rolling roads and untouched scenery await as you ride through the base.
Keep your eyes out to catch glimpses of scale radar ships, World War II bunkers, and breathtaking views of the Pacific. You'll continue on through Fort Rosecrans National Cemetery before ultimately making it to the gates of Cabrillo Monument. To enter the monument grounds you will need to purchase a permit ($10 individual or $35 annually), or you can use an America the Beautiful National Parks annual pass.
Inside the monument you have the option to extend your ride to visit the Old Point Loma Lighthouse, tidepools, and park visitor center. Keep in mind that while going down that while checking out the tidepools is optional, climbing the .75 mile nearly 350ft gain climb back up afterwards is not. Though this can be a great and beautiful place for hill repeats if you are so inclined. Once back at the guard shack fill up your bottles and make your way back the way you came.
San Diego Bay & Silver Strand
Ride Length: Around 25 miles, loop
Elevation Gain: 300ft
Effort Level: Easy
San Diego has developed a lot of bike infrastructure in recent years, and one of the gems of this effort is the Bayshore Bikeway. When paired with the Coronado Ferry, the Bayshore Bikeway provides the ability to loop around San Diego Bay, enjoying endless views along the way.
Golden Hill Park makes a good spot to start your ride. From the park, ride down 25th St. to connect with Cesar E. Chavez Pkwy to ride through Barrio Logan. Once at Harbor Dr., take a left and begin your loop of San Diego Bay.
The bikeway stretch along Harbor is still in various stages of completion, and I look forward to how smooth this will be once completed. You'll still have a nice bike lane through the area in the meantime though. At 32nd St. the bikeway picks up on the East side of Harbor Dr. and provides smooth, stress-free riding. After around 2.5 miles, the bikeway switches sides of the road back to the Western edge and onto Tidelands Ave.
Here you leave behind much of the busyness of San Diego Harbor and begin to enjoy more of the beauty of San Diego Bay. As you continue south, you'll pass through San Diego Bay National Wildlife Refuge, Pier 32 and Chula Vista Marinas, before passing alongside the historic South Bay Salt Works.
Shortly after the salt flats you'll turn west and follow along the southern edge of San Diego Bay. As the bikeway begins to turn north, it joins with the Silver Strand Bikeway taking you up into Coronado. From joining the bikeway after the salt flats to Coronado you'll enjoy nearly nine miles of uninterrupted bikeway with the bay on your right and views of the ocean on your left.
Once in Coronado continue along the bikeway until it connects you to Glorietta Blvd. As you ride the route along Glorietta, take in the beautiful homes to your left and the Coronado Golf Course to your right with Coronado Bridge beyond.
Just before the road connects with the bridge, look for an entrance back onto the bikeway on your right, taking you under the bridge. From here, continue along until you reach the Coronado Ferry Landing—your trip back to San Diego. Currently the one-way ride on the ferry costs $7 and leaves hourly. Once back on the San Diego side, ride along the Embarcadero bike path through downtown and alongside the convention center, connecting back up with Harbor Drive. From here make your way back to Cesar E. Chavez Pkwy and back up to your starting point at Golden Hill Park.
Mount Soledad
Ride Length: Around 16 miles, loop
Elevation Gain: 850ft
Effort Level: Moderate
Mount Soledad stands over Pacific Beach and Mission Bay and provides a great local climb option, easily accessible from anywhere in town. There are many routes to climb, leading you to countless variations of potential rides. This happens to be my go-to option.
Starting from the mouth of Fiesta Island on the eastern side of Mission Bay, head north along E. Mission Bay Drive to De Anza Cove enjoying views of the bay, with the climb looming ahead of you. Just prior to passing over the bridge at Rose Creek, take the bike path along the western edge of the golf course, under Grand and Garnet before looping back on Garnet to connect with Soledad Mountain Road.
From here, the climb starts almost immediately and will continue nearly uninterrupted for the next three miles. You'll eventually connect with La Jolla Scenic Dr, continuing your climb toward, and into, Mt. Soledad Veterans Memorial Park. From the top you'll be treated to 360-degree views of San Diego. On especially clear days you can see the Coronado Islands to the south, Cuyamaca Peak and the Laguna Mountains to the east, and Palos Verde and Catalina Island to the Northwest.
Once you're done enjoying the view from the top, I tend to make my way back by descending La Jolla Scenic Dr. to La Jolla Mesa, a quick descent with great views. Ultimately La Jolla Mesa turns into Mission Blvd and takes you through the Pacific and Mission Beach communities. Traffic picks up as you go through here, so be sure to stay alert.
Make a left on W Mission Bay Dr., heading over the bridge, before turning right onto Quivara Way. Keep an eye out for the entrance to the Old Sea World Drive bike path on your left. Once on the bike path, ride back up along the San Diego River and make your way back to your starting point cutting through South Shores Park.