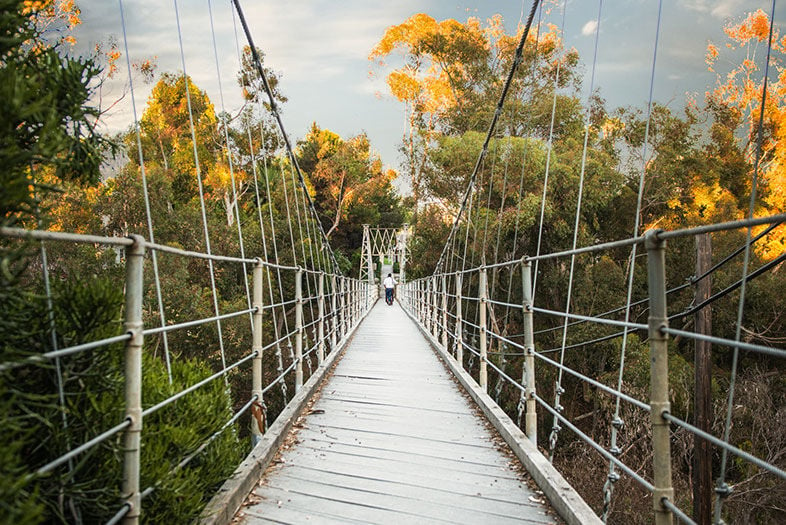 Hiking in San Diego is more than just a pastime for locals. Ask us which trails we recommend and you'll likely end up with the AllTrails app on your phone and at least 10 great hikes on your phone's notepad ranging from easy to "what did I just get myself into?"
With sweeping views of the ocean, mountains and desert (sometimes all on one trail), there are plenty of reasons to get outside and put some mileage into your trusty hiking boots. While secluded or challenging treks may typically be your cup of tea, sometimes you're more interested in something a little more Instagram-worthy.
Of course, there's the famous Potato Chip Rock photo op on the Mt. Woodson Trail (if you're willing to wait in a long line), but there are plenty of other options, too. We spoke with Katie Gardner, a San Diego photographer who has vast knowledge on local spots that produce amazing photos.
Here is her list of some of the best hikes in San Diego to get that perfect shot.
Morley Field Trails in Balboa Park
Enter the trails in Balboa Park from the dog park or below the baseball fields and cross over 28th Street and back up the hill to the Balboa Park desert garden.
"The area is especially great after a good rain because the yellow flowers come in everywhere and it completely transforms the desert landscape," said Gardner. "The reason I love these trails for walking and photos is that typically there are not that many people on them and there is a lot of room to roam."
There are great little pockets of trees, she added, and one part of the trail leads right to the Balboa Park Desert Garden, which is also extra pretty in the winter months with cactus blooms.
Juniper Canyon Trail in South Park
Starting on Nutmeg Street, the trail heads up a short canyon and makes for a quick and easy trek to score some great shots.
"There are not as many little pockets as Switzer Canyon and it's shorter, but it also leads you to some fun neighborhoods that also have great little photo spots that overlook the canyon that I've taken pictures of people at," Gardner said.
Switzer Canyon Trail in North Park
Switzer Canyon at Palm Street is a short stretch, but with "a ton of little pockets for photos," said Gardner. And, you can extend the hike further into Balboa Park for more of a workout.
"A nature school often meets on one side under a big tree there so there are often specifically placed little logs that make for good props," shared Gardner. "If you're brave enough to go through the giant tunnel that connects the two sides under 30th Street, it opens you up to the other part of the long trail that goes along the golf course and all the way to the South Park dog park. There is great woodsy nature all along the way."
Marian Bear Park in La Jolla
As far as hikes in San Diego go, the Marian Bear Park trail off Genesee Avenue and SR 52 is one of the ones that makes it look like you're not actually in San Diego, Gardner said. 
"[There are] tons of oak trees and 'non' palm trees that I like to go to when I want photos to feel less Southern Californian," she said. "[It's] a great straight trail that is wide and offers a lot of space if a lot of people are there at the same time." Just be warned, if it's been raining, you might have to cross a stream to get to the trail.
Spruce Street Bridge in Banker's Hill
Head up the Maple Canyon Trail and then walk through the Banker's Hill neighborhood to this iconic suspension bridge, or make it a longer hike by doing the full Seven Bridges hike around Balboa Park. 
"Spruce Street Bridge is great because it is often not too busy and the neighborhood is easy to park and you can get both pictures on the cool bridge–if you're not afraid of heights–and below," Gardner said. "The neighborhood is also really pretty and I have taken some pretty pictures in front of garage doors, in front of trees, and so on."
Kwaay Paay Peak Trailhead at Mission Trails
This trailhead right by the dam in Mission Trails has great open spots after and on the bridge for photos. "I go to that part of Mission Trails for photos, mostly at sunset, because it's open and so gorgeous everywhere you turn," Gardner said. "There is water at the dam but since that area is usually pretty busy, I tend to take photos closer to where the bridge is a little down the trail. And once you get beyond that, you have mountains, another part of the stream, and more trails to use as backdrops."
Los Penasquitos Canyon Trail
This wide trail through wooded groves and open meadows has ample opportunities for gorgeous photos, but Gardner specifically recommends the Ranch House at the end of the road by the trail. 
"That area is great for photos, because it's free to roam if there's not an event and there are a lot of places to take photos: open fields, little mini trails, a cool house, pepper trees, and a big barn," she said.