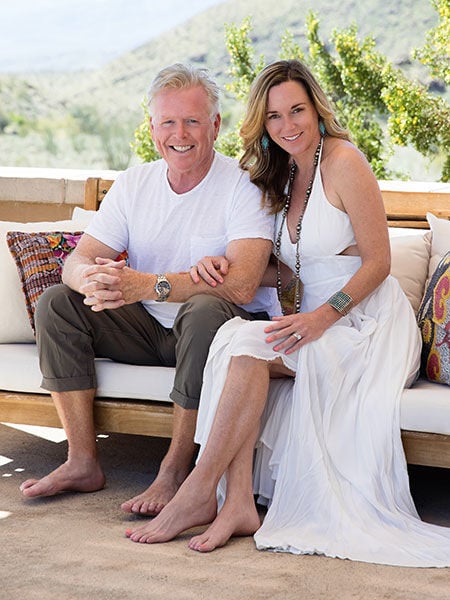 J. Dean Loring and Melissa Young
Among what seems like all of Southern California retreating to Anza-Borrego for the otherworldly super bloom this spring, drawing traffic into town and lines of people snaking out of restaurants, there's J. Dean Loring and Melissa Young taking in the flora and fauna right from their swimming pool and out their windows.
It's here, smack dab in the thick of it—wildflowers so vibrant they can be seen from space, hummingbirds flocking for nectar, and poppies aplenty—that they've claimed 30 acres of their own. The hacienda on top of it is their weekend refuge.
Their second home, an Oceanis 48 sailboat, is docked at the Marriott Marquis San Diego Marina—"it's got the best front porch in all of San Diego," Young jokes—and their third skirts the Smith River in the Redwoods.
Rewind just a dozen years, and Young is locking eyes with Loring for the first time in a strictly business sense. They're in La Jolla for a consultation on the interior design of a new restaurant concept he's kicking around: Burger Lounge.
They've worked together on all 25 locations—as well as on Loring's new investment, Tokyo Fried Chicken Co.—and somewhere along the way, they wed.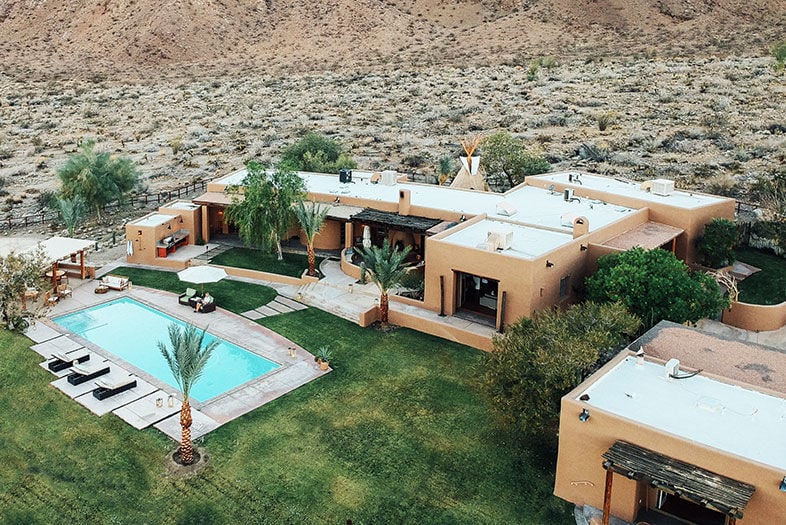 An aerial view along the pool-side of the compound. | Photo by Tim Melideo
Young has built a career in her own right, though, as the owner of MY Studio ID, which is behind the interior design for clients like Bird Rock Coffee and, more recently, the Black Rail Kitchen + Bar in Carlsbad and hotel concept Stay Classy.
But it's at home—all three—where she can really let loose with her creativity, sans clients or public opinion weighing in. "Wherever we are living, we try to honor the integrity of the home," Young says.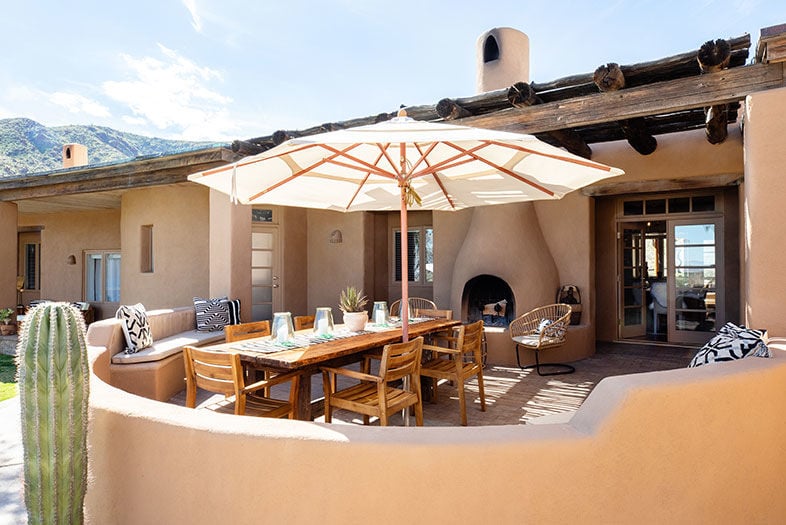 Built for entertaining, the hacienda has a veranda or patio off of almost every room, like this dining area—and set purchased locally in Borrego Springs—that offshoots from the dining room.
The hacienda is no different. "It's not my typical style," she admits, "I'm more of a clean-line and contemporary gal. But when you're in a house like this, it speaks to you, and you need to listen."
And listen they did when they caught wind that this home (built by Dennis Avery of Avery Labels in 1992 and left vacant for three years after his death) was going up for sale in Indian Head Ranch, a gated community bordered by Anza-Borrego State Park. The only thing was, Loring and Young already had blueprints to build from the ground up in the community.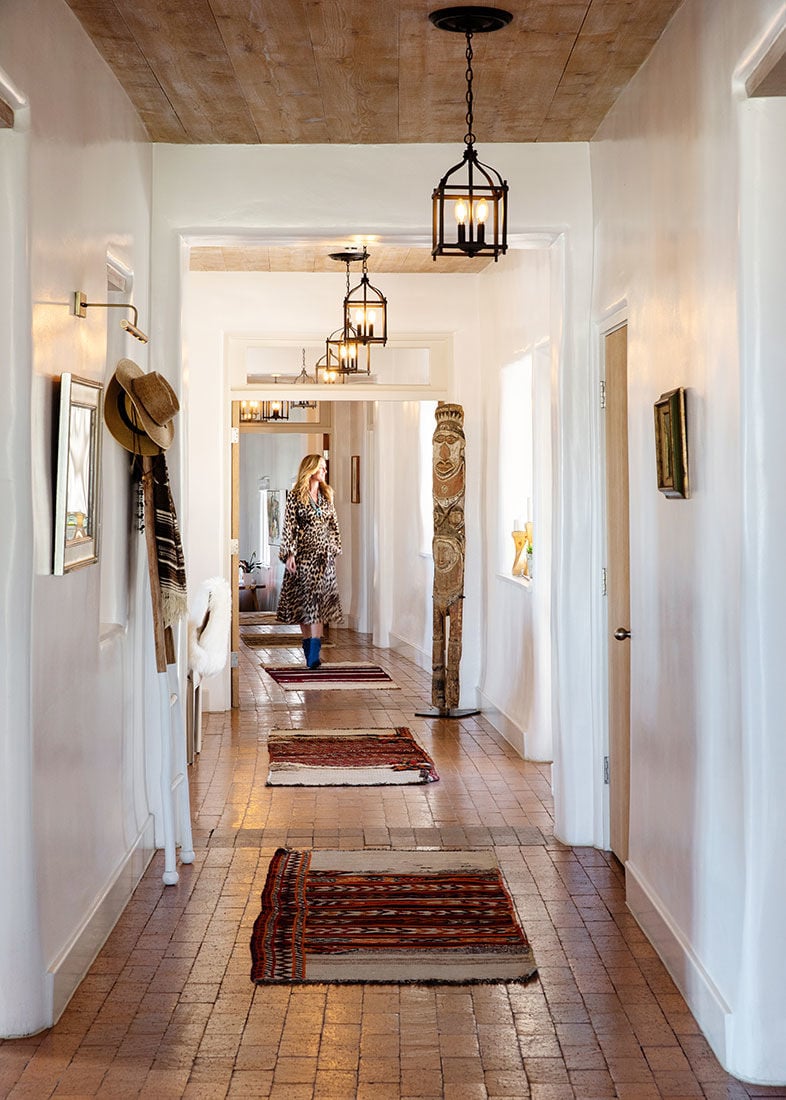 The arcade sets the tone for the adobe style, with its non-grouted brick floors and pickled wood plank ceiling.
"We had all of the design done," Loring says. Young chimes in: "It was totally different. We had something very modern with large glass windows. I can't imagine if we would have built that house. We've never looked back, and we feel so grateful to have connected to this specific home."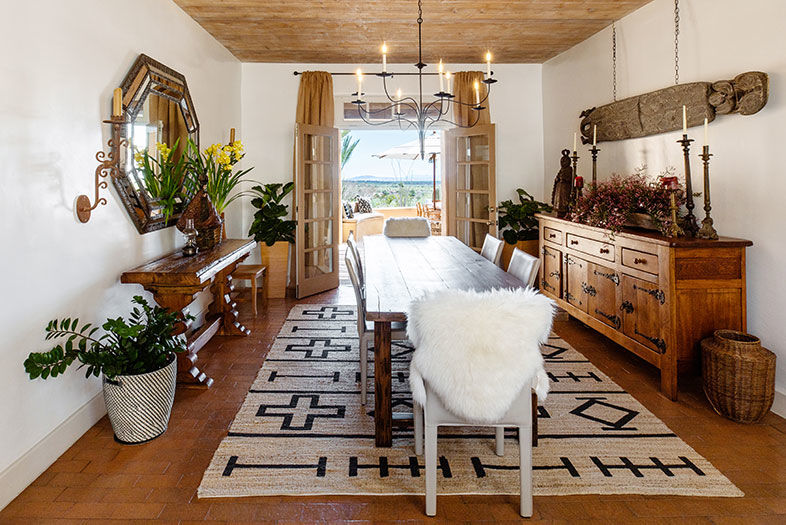 A Restoration Hardware table and jute rug centers the dining room, complete with authenticities like a Papua New Guinea wood carving and candlesticks from Mexico at right.
The hacienda was essentially turnkey, with the exception of a few maintenance tweaks—they replaced the HVAC system, painted the outside, and sandblasted a high-gloss white paint from all 48 doors to bring them back to their natural state. From there, "we put our own stamp on it," Loring explains. "This house has a lot of soul. That authenticity is really what we've embraced in the design."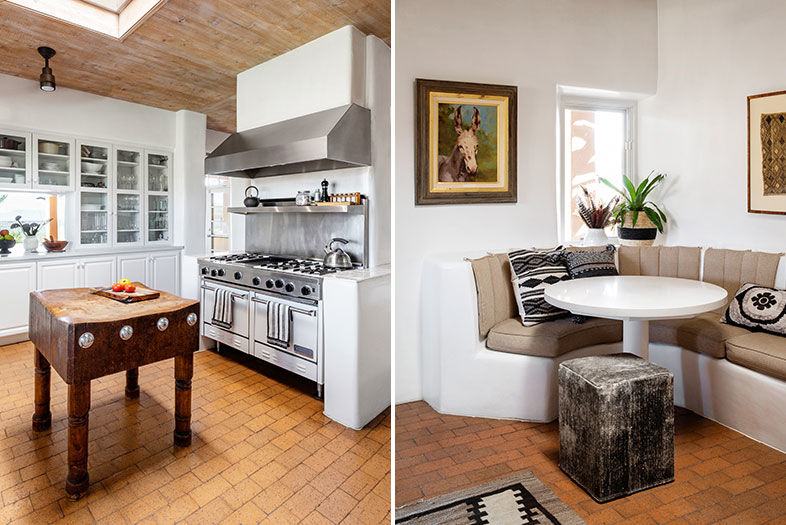 Left: The kitchen is clad with commercial appliances, like an Imperial Range stove and 1940s solid butcher-block table for prep. | Right: The kitchen, too, has built-in seating, accented here by an ottoman upholstered from a recycled antique rug.
Through the front doors is what seems like an endless entryway, a corridor—or an "arcade," as the architect Richard Grenfell coined it for its slightly rounded shape—that serves as the spine of the home. With every step atop the handlaid, non-grouted brick floors and below the pickled wood-plank ceiling, there's a new room to discover, each a balance of contemporary and adobe.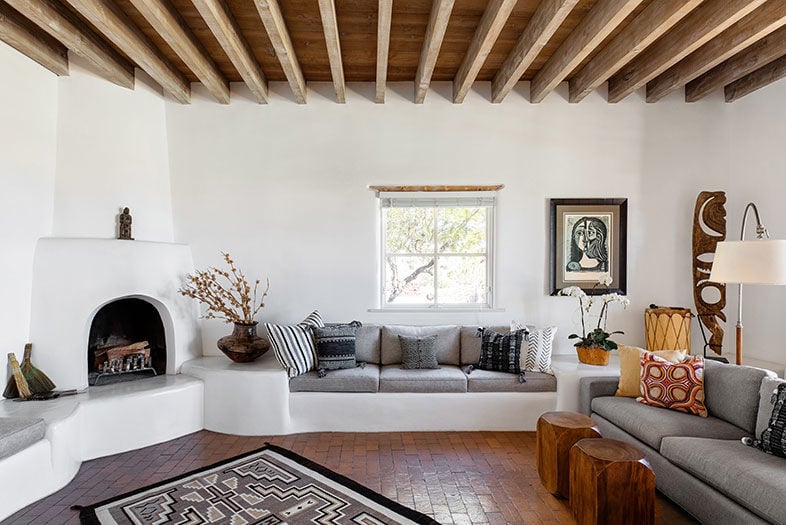 The living room teems with adobe decor and modern touches, shown in the Restoration Hardware–upholstered seat cushions and West Elm ottomans.
They intermixed modern furnishings, many brought from their old downtown condo, with new Southwestern-influenced pieces: wood carvings sourced from Fredericks right in Anza-Borrego and also 30-some odd rugs, some Navajo, others Moroccan and Turkish. "It was really fun to take the bones of the house and find pieces that spoke to that," Young explains, and nods to the built-in seating throughout as another facet they embraced by reupholstering the permanent seating in the living room, television room, and kitchen from an "unsightly white fabric" to more modern patterns and textiles.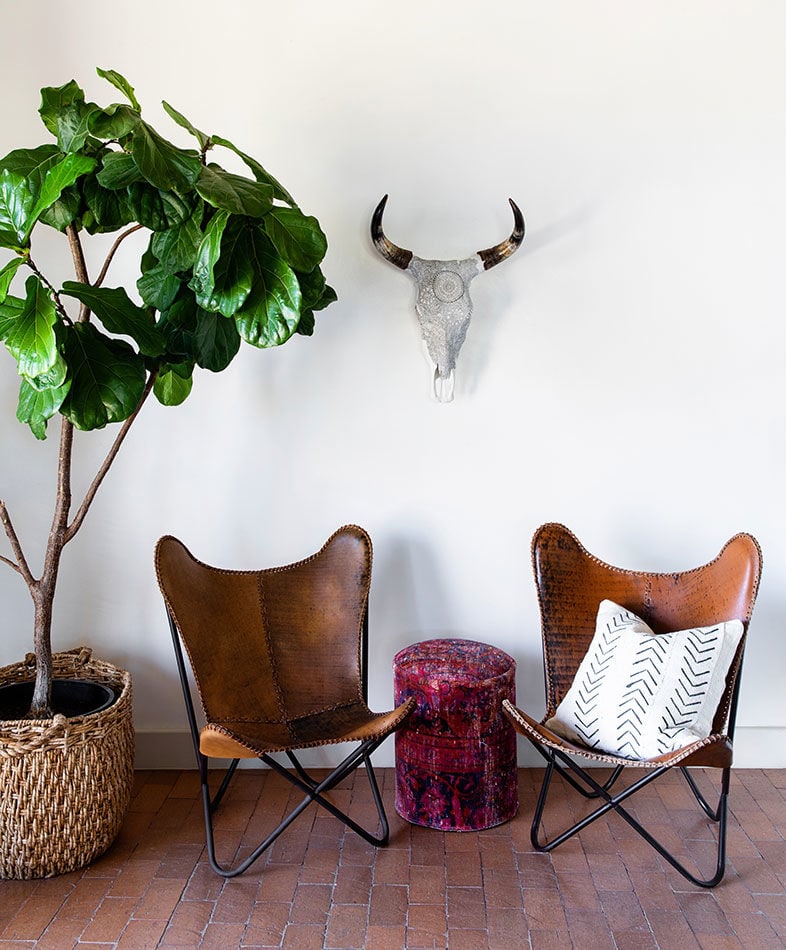 In the living room, a hand-stenciled skull from Los Cabos hangs between Dot & Bo chairs and a West Elm ottoman.
"We weren't really used to built-ins at all," Young says. "We didn't realize how useful they were until we lived in the space a while and found out why the architect did what he did." Another example: The kiva fireplace in her bedroom, one of many throughout the house. "I love having a fireplace in the bedroom," she says. "I love our bedroom."
Beyond the kiva fireplace, a canopy bed from Restoration Hardware, with linens from Anthropology and The Citizenry, is the focal point of the master suite.
It doesn't hurt that the master suite has her office attached and beyond that a walk-through closet (yes, through) to a terrace with a fountain. "It's a total contrast to the closet I have on the boat," she says. "That's the dichotomy between living in a really small space and then our 5,000 square feet."
A Frida Kahlo painting by Tanya Talamante brightens Young's office.
For Loring, his favorite place is, of course, the kitchen. There's a 1992 Imperial Range with double ovens and a flat grill, a Traulsen glass-door refrigerator, and a 1940s solid butcher block table in the middle of it all. And, to set the record straight, yes, Loring cooks more than burgers and fries. "He makes everything by hand," Young says. "The other day I tried to buy a quiche and he said, 'Don't you dare. We can make it better!'"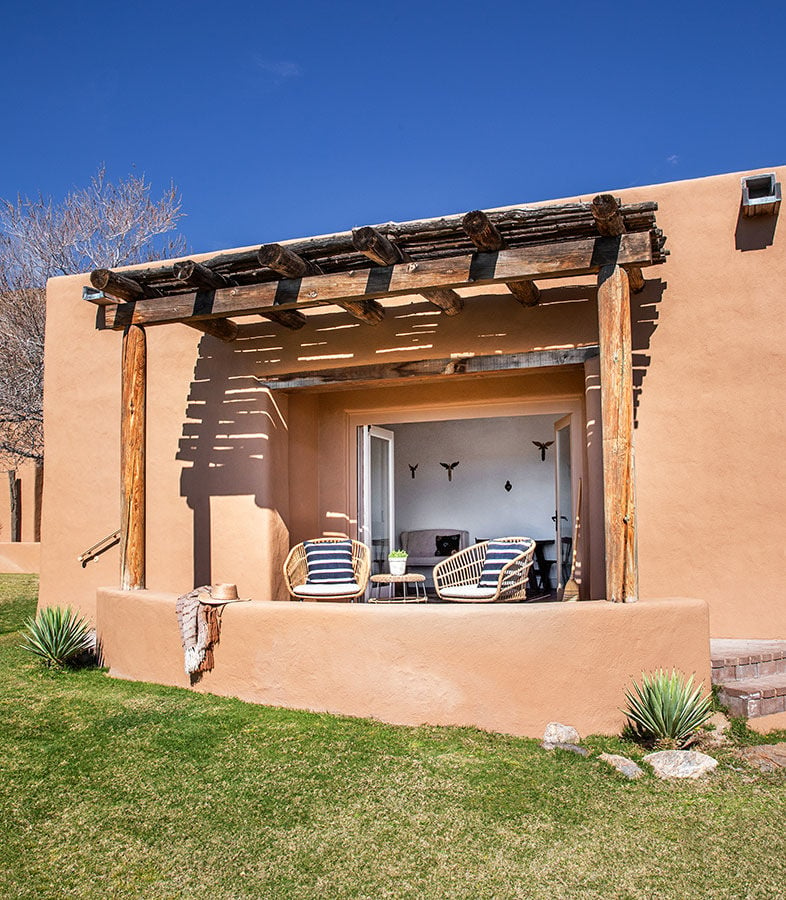 The casita pours onto a veranda.
On any given day at the hacienda, you can smell homemade bread wafting from the oven or hear olives (plucked right from a tree on the property) being processed into tapenades and the clinks of cans from pickling projects. Many times, the prep is for the purpose of hosting guests.
"We entertain a lot," Young says. Which is all fine and well, because their home is built for it, especially the outside. "When the architect designed the place, he was very thoughtful of the environment," Loring adds.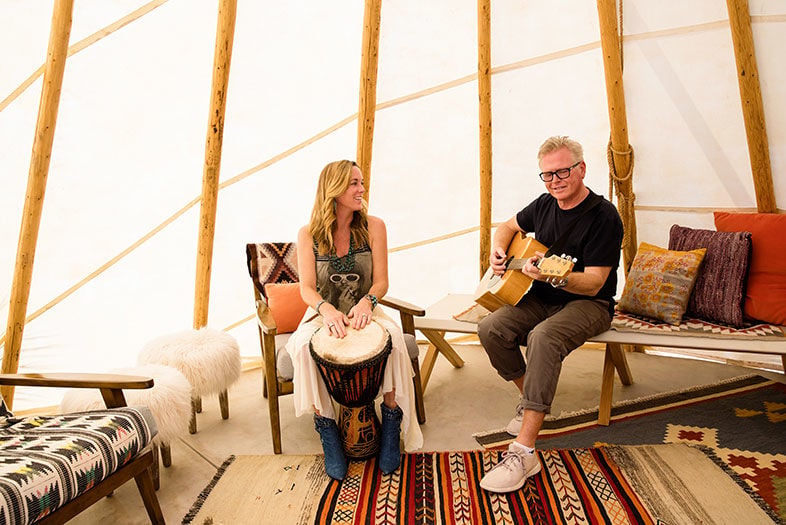 Young and Loring have a little jam fest inside the tepee, outfitted with furnishings to mimic the home's interiors.
There's a veranda off almost every room, including the casita for guests; paths winding through rose and cactus gardens, miscellaneous dining and seating areas angled toward more kiva fireplaces or fire pits, and then the pool and neighboring pergola.
"We get bighorn sheep that come right up to the pool," Loring says. They've also seen jackrabbits, coyotes, eagles, and badgers. "It's a pretty wild environment," but sometimes to a hazard—they installed a 1,500-foot fence to keep out venomous snakes.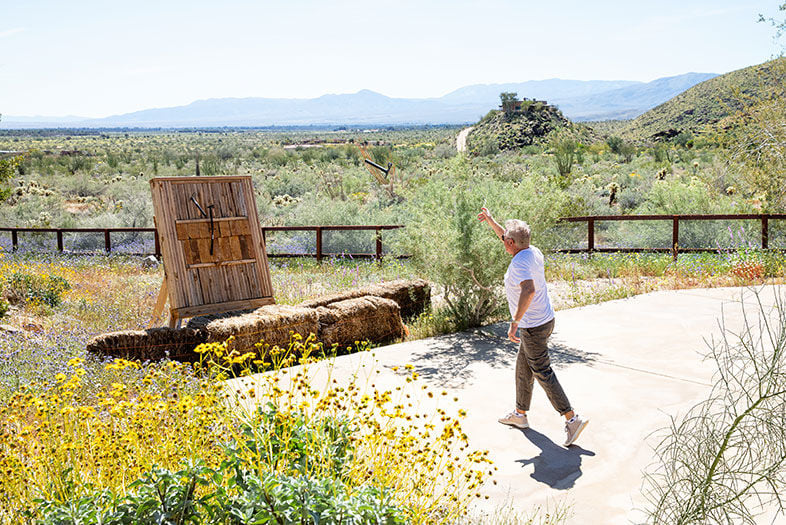 Loring takes a stab at the tomahawk-throwing station.
Of course, the tepee is the real outdoor focal point, and somewhat of a nostalgic splurge for Loring who has childhood memories of playing in one at his grandpa's in Northern California.
"We build fires out there. We listen to music. We drink wine. We read. We've also slept out there on cots," Young says. "We love hanging out in the tepee."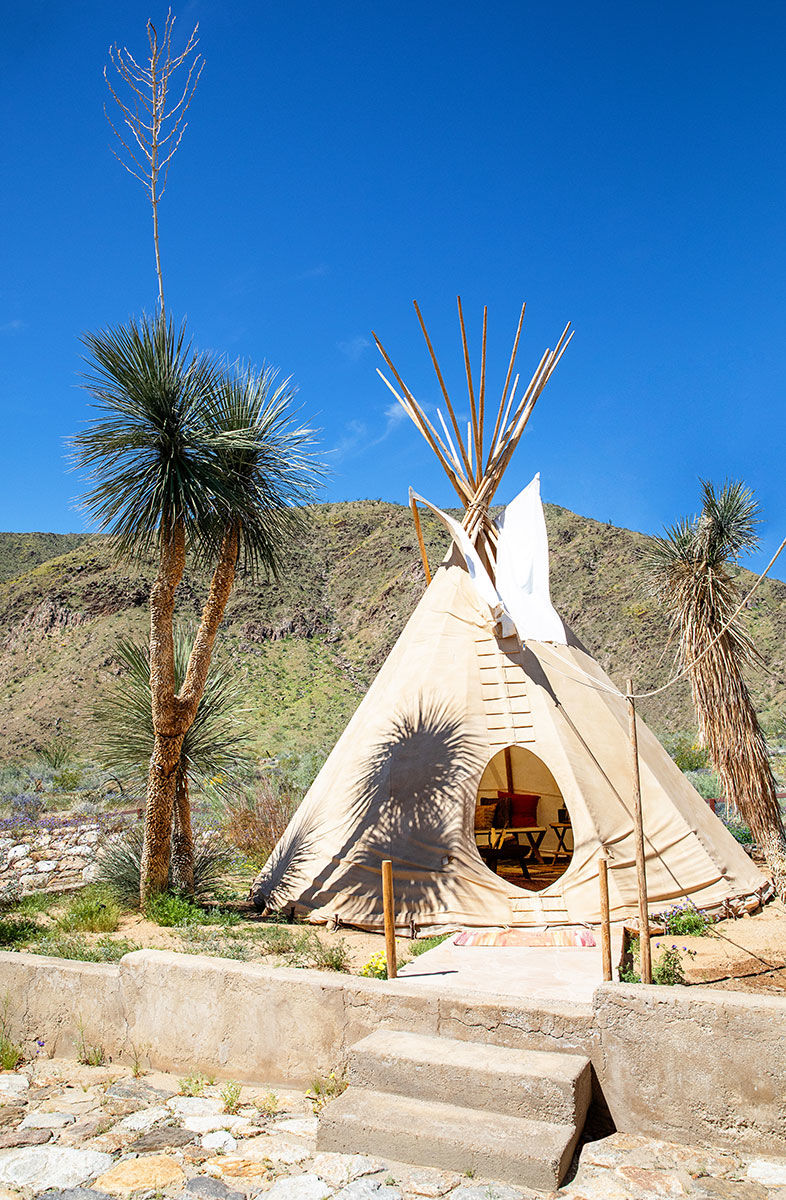 The tepee sits on an adobe platform in the back of the house.
In fact, they love it so much they plan to put up a second. There's also a trampoline on the property, a punching bag, and an archery and tomahawk-throwing station—"I school him on that," Young says, with the playfulness of a kid, a mentality they slip into when they're at the compound. Add a glass of vino to the mix, and they've got the perfect refuge.
"When you come down that mountain, you really feel all of the stress and pressure from your day-to-day melting away," she says. "The beauty and the peacefulness of the natural desert, it just speaks to us."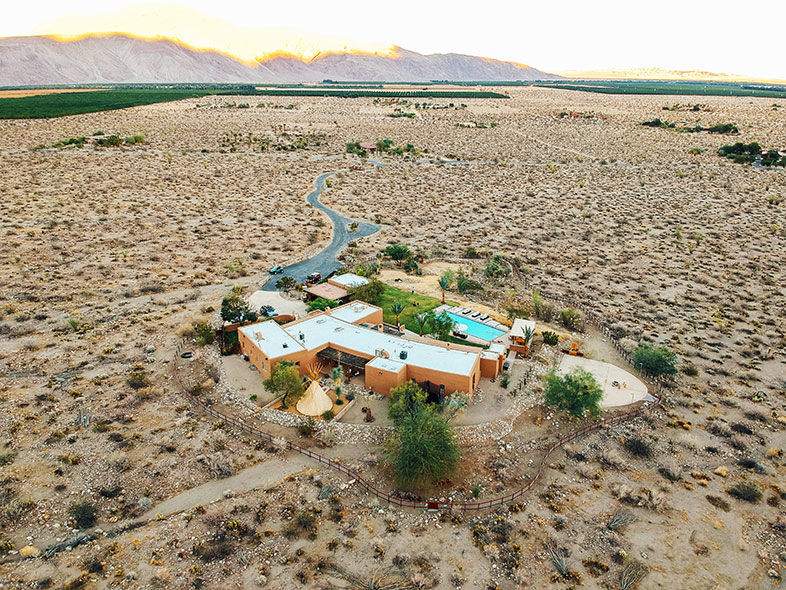 A bird's-eye view of the compound and Indian Head Ranch | Photo by Tim Melideo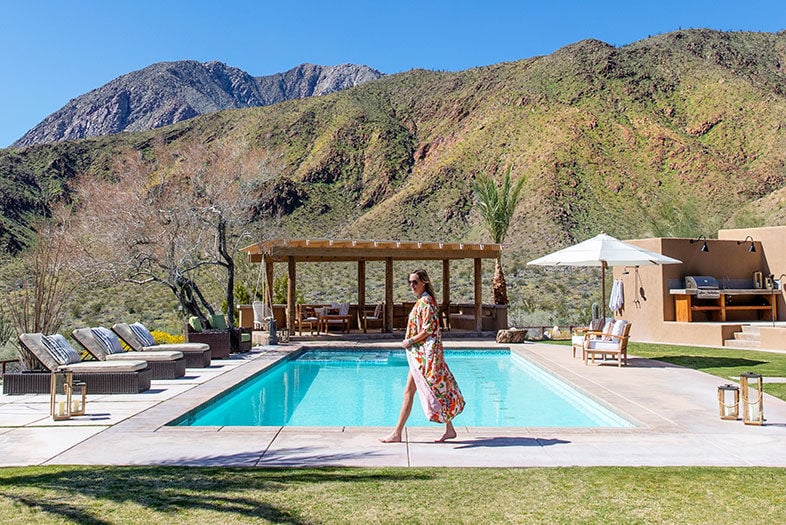 Young steps outside for some R & R by the pool, bordered by lounge chairs and a pergola for shaded seating.