LONG RUN
Developed by sugar magnate John D. Spreckels, the Mission Beach Amusement Center opened in 1925. Later, in 1976, all but The Natatorium—now known as The Plunge—and the roller coaster closed.
BECOMING BELMONT
When Spreckels died in 1926, the amusement center was gifted to the City of San Diego. In 1955, amusement park designer Jack Ray, who'd just moved to La Jolla, leased the park and renamed it Belmont Park, after the same-named park in Montreal, which he'd worked on.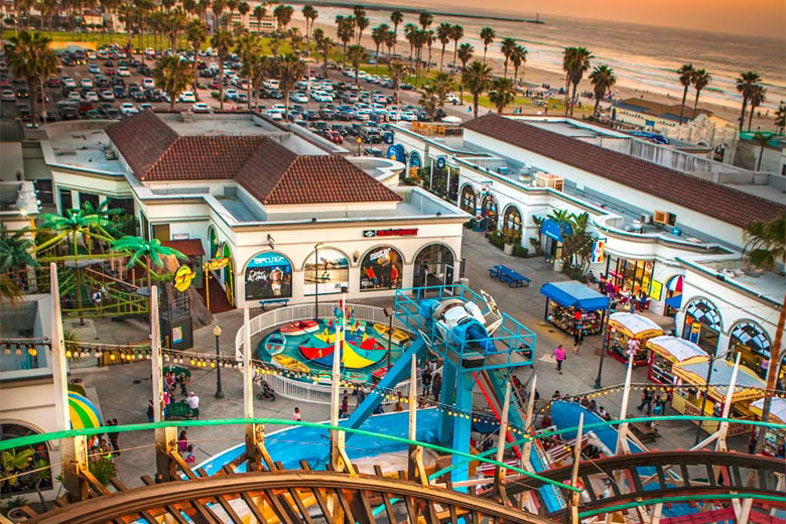 MAKING WAVES
The Plunge is now part of the Wave House Athletic Club, a mega sports complex with fitness classes and wave riding.
ICEMAN COMETH
Hello, Iceman in a towel! The locker room scene in Top Gun was filmed at The Plunge.
WATER WOES
The Plunge originally pumped in seawater and was the world's largest saltwater pool. When the salt began to damage the filtration system in 1940, management switched to fresh water.
CELEB SIGHTINGS
Kelly Slater, Tony Hawk, Reggie Bush, and Mark Ruffalo have all tested their skills on the Wave House's FlowBarrel, the only artificial wave machine of its kind in the U.S.
RENOVATING A RELIC
The park was rebuilt as a shopping center in 1988 and the coaster was renovated at a cost of more than $2 million by the San Diego Coaster Company. It reopened on August 11, 1990.
SPECIAL PROVENANCE
Four of the cars in the Speedway Bumper Cars come from Michael Jackson's Neverland Ranch.
SAVING THE DIPPER
The famous wooden roller coaster, the Giant Dipper, opened on July 4, 1925, and was scheduled for demolition after the park closed. The Save the Coaster Committee stepped in and got the 2,600-foot coaster listed on the National Register of Historic Places on December 27, 1978.
MARATHON RIDE
In 1998, Star 100.7 FM hosted a contest to see who could ride the coaster the longest. The radio station ended the contest after 70 days, with five winners taking home $10,000 each.
TICKET TO RIDE
The original ticket price to ride the Giant Dipper was 15 cents. Today it's $6 per ride.
GET INSIDE THE ICON
3146 Mission Boulevard
Free parking and admission