If you're entertaining this holiday season and want to make things a little more festive, break with the usual wine and offer guests a cocktail. I asked some bartenders for holiday-appropriate beverages that will impress even the pickiest cocktail aficionado.
Black Friday
by Randy and Jenna Elskamp
1.5 oz Ilegal Reposado Mezcal
1 oz apple cider
.5 oz pomegranate juice
Squeeze of half a lime
.25 oz agave nectar

Combine all ingredients in a rocks glass with ice, stir, and serve — it can be served warm.
Randy and Jenna are co-owners of The Hopping Pig Gastropub, and you can also find Randy behind the bar at Cantina Mayahuel. This cocktail features Ilegal Mezcal — you've probably seen your favorite bartender sporting one of their clever T-shirts — that's been barrel-aged for four months to make it a bit sweeter and softer (grab a bottle at Old Town Liquor or Handy Liquor on Adams Avenue). Jenna recommends using fresh pomegranates, since they're in season. You can also substitute cranberry juice for pomegranate.
Twin Pines
by Jesse Ross
1.5 oz reposado tequila
.5 oz Averna
.75 oz lemon juice
.75 cranberry reduction simple syrup

Put all ingredients in a shaker with ice, shake, and serve straight up in coupe glass. Garnish with a few cranberries and a pinch of smoked salt.
The Twin Pines is featured on Sycamore Den's new cocktail menu, with a piñon-infused tequila and a fancy cranberry purée syrup. For the home cocktail version, bartender Jesse Ross says it's OK to use straight reposado tequila. The cranberry reduction simple syrup is easy to make: just purée some fresh cranberries (using the jar variety works, too). In a saucepan, combine three parts water, two parts sugar and one part cranberries and then follow the normal steps to making a cocktail syrup. As for coupe glasses, the Rescue Mission thrift shop in North Park usually has a bunch for 50 cents apiece.
Simply Stirred
by Andrew Larson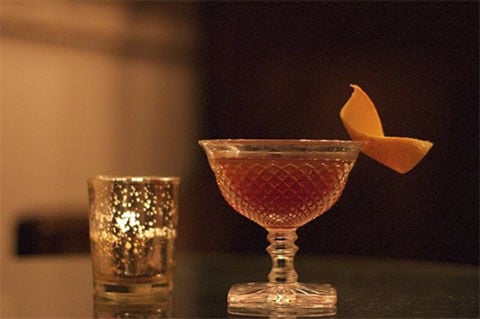 Andrew Larson's Simply Stirred cocktail
1 oz Lustau Fino Sherry
.5 oz Fernet
.5 oz Grind Espresso
.25 oz Demerara simple syrup
5 or 6 drops Fee Brothers whiskey barrel-aged bitters

Combine all ingredients in mixing glass and stir for about 30 seconds. Garnish with an orange twist (express it first!).
The San Diego bar scene lost some true talent when Andrew Larson (The Nolen, Proof @ The Hake) left for Seattle last month. As penance for leaving, I asked him to come up with a holiday beverage. This one — a perfect dessert cocktail — might have you adding some spirits to your home bar that you don't already have, like Grind Espresso, a rum-based coffee liqueur. For the syrup, use Demerara sugar (available at Whole Foods) instead of regular sugar, or buy a bottle. For folks with advanced bartending skills, Larson prefers a chai tea tincture, but says the Fee Brothers bitters work just fine. If you're in Seattle, Larson's currently at Heartwood Provisions.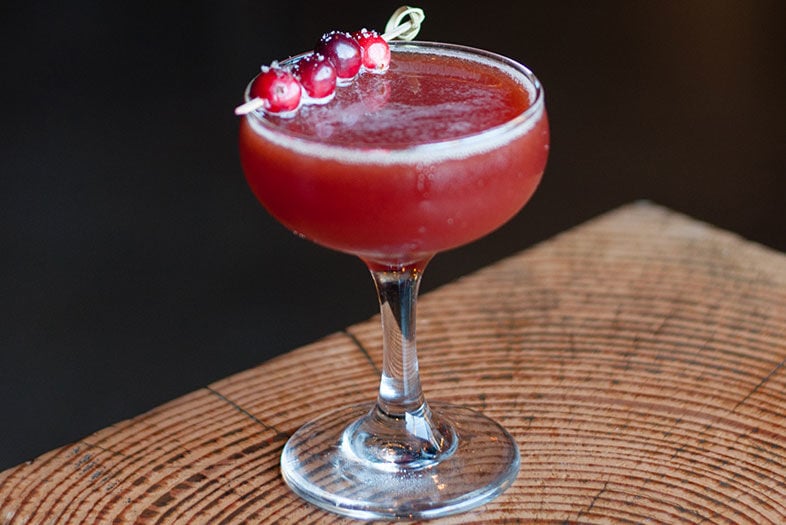 Sycamore Den's version of the Twin Pines. | Photo: Lori Sokolowski