The Mains
Portuguese-Inspired Café Arrives in Normal Heights
Charlie Knowles and Manny Da Luz, co-owners of Bica, wanted a space where they could cook good food—and have a blast while doing it. "We work seven days a week, and it's like, 'Are we really even working?'" Knowles says. "This is so much fun." The chef duo started out in San Francisco with a private supper club–style venture called Cops and Robbers. After a move to San Diego, Knowles and Da Luz began hosting pop-ups with Provecho! Coffee Co. Recently, they opened a brick-and-mortar space of their own: Bica, which means "little café" in Portuguese. The European-style café serves coffees in the morning, using beans from Provecho!, and becomes a lunch spot in the afternoon.
Knowles promises an "ever-changing" menu based on what is in season at farmers markets or with their local produce partners. You can expect simple dishes in which "ingredients speak for themselves," he adds. The duo sources bread from local retailers Companion Bread and Praeger Brothers, pairing it with tinned fish and using it as a base for sandwiches like their staple tuna conserva (which uses line-caught albacore tuna to create a spin on tuna salad). The fruit topping on their tartines will rotate with the seasons. Knowles and Da Luz are also opening up a rotisserie house called Butcher's Plate at the end of this month at National City's Market on 8th.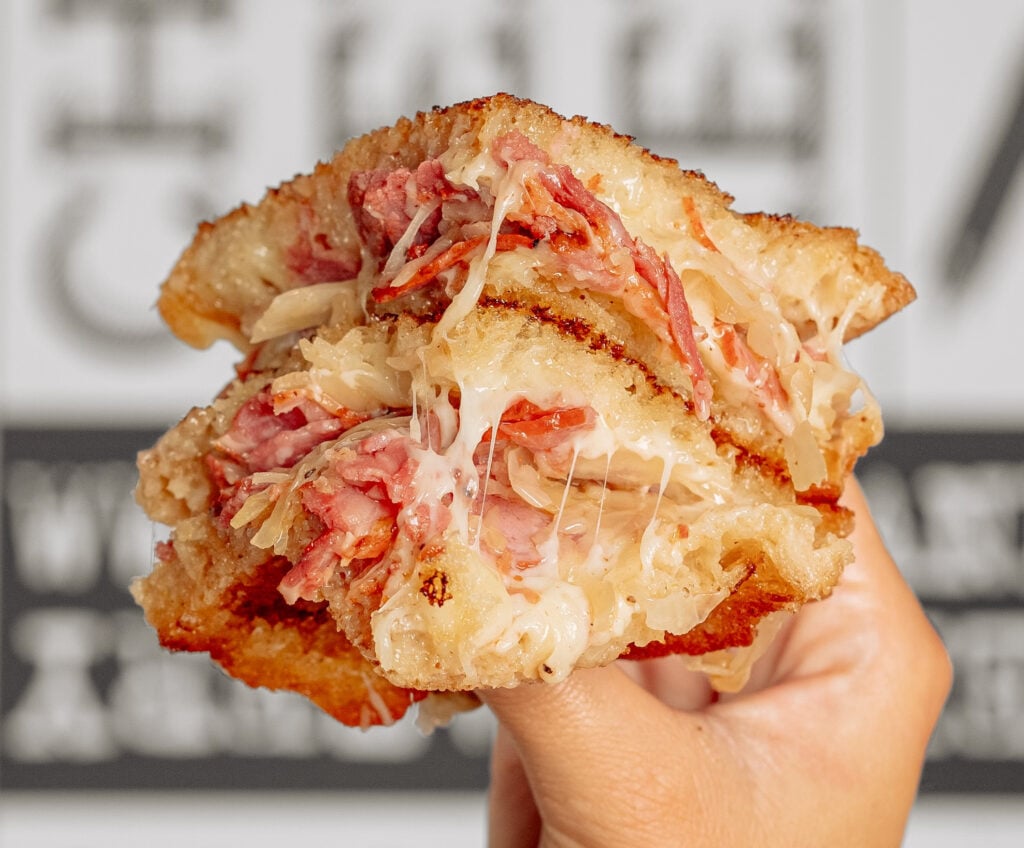 New Joint for Breakfast Burritos and Grilled Cheese Opens in Oceanside
If you visit Justin Frank and Devin Gneiting's new spot off South Coast Highway in Oceanside in the a.m., you'll find the duo whipping up breakfast burritos. When the breakfast crowd winds down, however, Frank and Gneiting will flip their menu to dish up grilled cheese sandwiches for lunch. The pair is running two restaurant locations under one roof: And Breakfast Burritos and Bread and Cheese Eatery. Frank and Gneiting founded Bread and Cheese Eatery in 2017 as a pop-up at the North Park farmers market and multiple events around town. Eventually, they opened two brick-and-mortar spaces (one at Carlsbad's Windmill Food Hall and another downtown), but, unfortunately, had to close both during the pandemic. Now, they've moved into Oceanside to bring their dual-concept restaurant to life.
The name And Breakfast Burritos plays on the idea that the food can be a portable companion to any morning activity. Think yoga and breakfast burritos. Surfing and breakfast burritos. Wrangling kids into the car for a road trip… and breakfast burritos. Each burrito comes stuffed with an egg, cheese, and garlic tots scramble, plus a protein choice like sausage, bacon, or pastrami. You can pair yours with a cup of coffee from local roaster The Steeping Giant. Come lunchtime, Bread and Cheese Eatery offers options both classic (a textbook grilled cheese using cheddar and provolone on a garlic grilled sourdough) and innovative (Frank's favorite, the Reuben, blends melted swiss cheese, pastrami, and sauerkraut on a thousand-island grilled sourdough). 
Quick Bite
One of SDM's favorite barbecue joints has closed their brick-and-mortar. El Barbecue—the mom-and-pop joint from chef Ami Cisneros, former BBQ maven at Grand Ole BBQ, and her husband Brandon—spent three years at the corner of 25th and Market. Their Santa Natalia (marinated tri-tip and chimichurri on bolillo bread) will go down as one of the better sandwiches to grace the city. Cisneros will be looking for her next food venture.