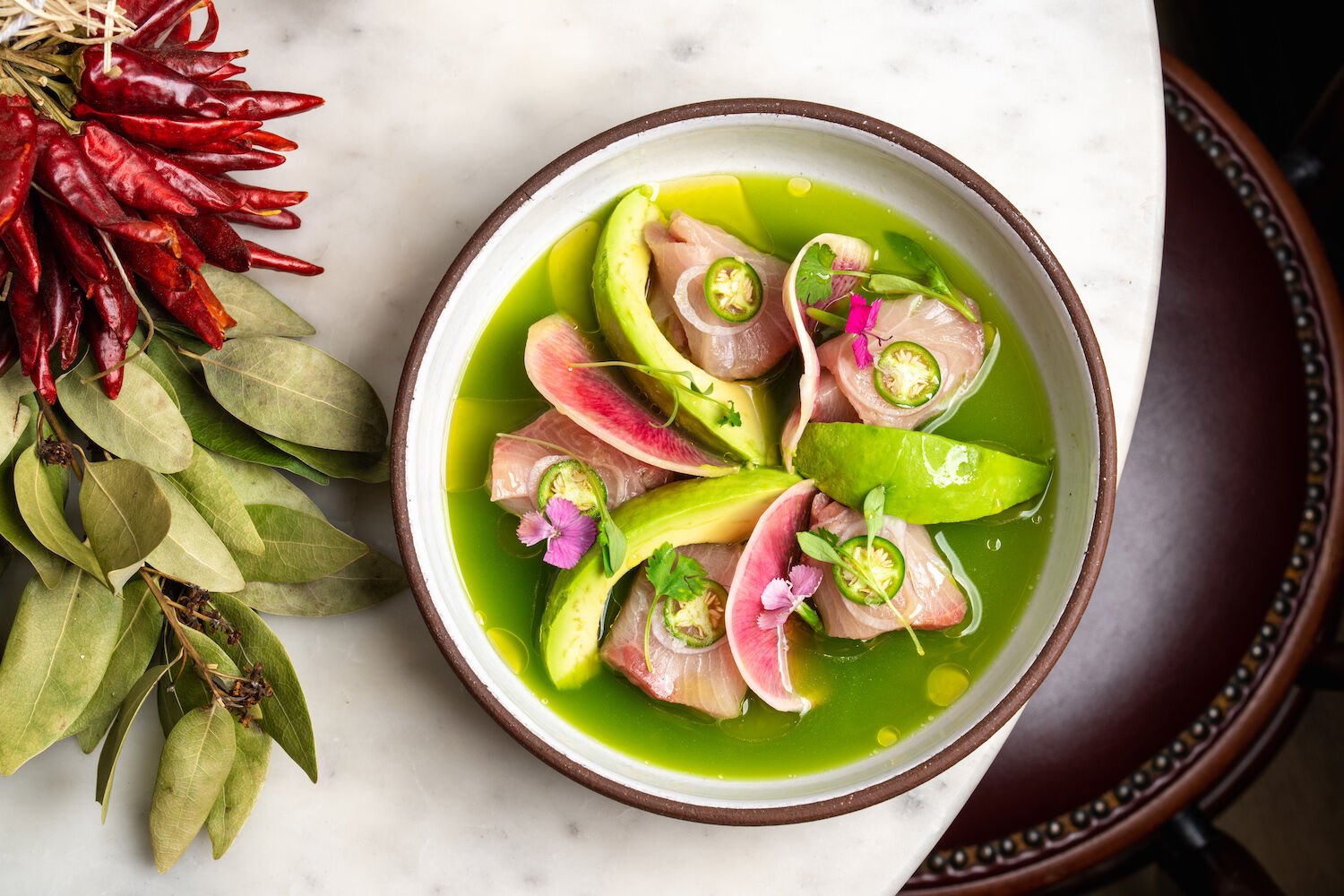 Photo Credit: James Tran
This is like when Metallica played with the symphony. Longtime San Diego restaurateur Johnny Rivera is best known for big, loud things. The table-sized breakfasts at Hash House A-Go-Go. The maple-bacon donuts at Great Maple. But Wolf in the Woods is so gentle and soft. Almost lovely. No, not almost. Absolutely lovely.
It's a tiny box of charms and bistro chairs on a tree-lined street in one of the city's most iconic and calm-inducing neighborhoods. This one's for lovers. Rivera is an art and music kid who wandered into restaurants and never left. The sort of kid who wore neck scarves to punk shows, toying with the stiff definitions of so-called gender appropriate fashion.
His first restaurants—Hash House, Tractor Room (RIP), and Great Maple had that nervy creative energy to the food (Cap'n Crunch French toast may not sound wild in the post-Instagram age, but it was when they opened in 2000).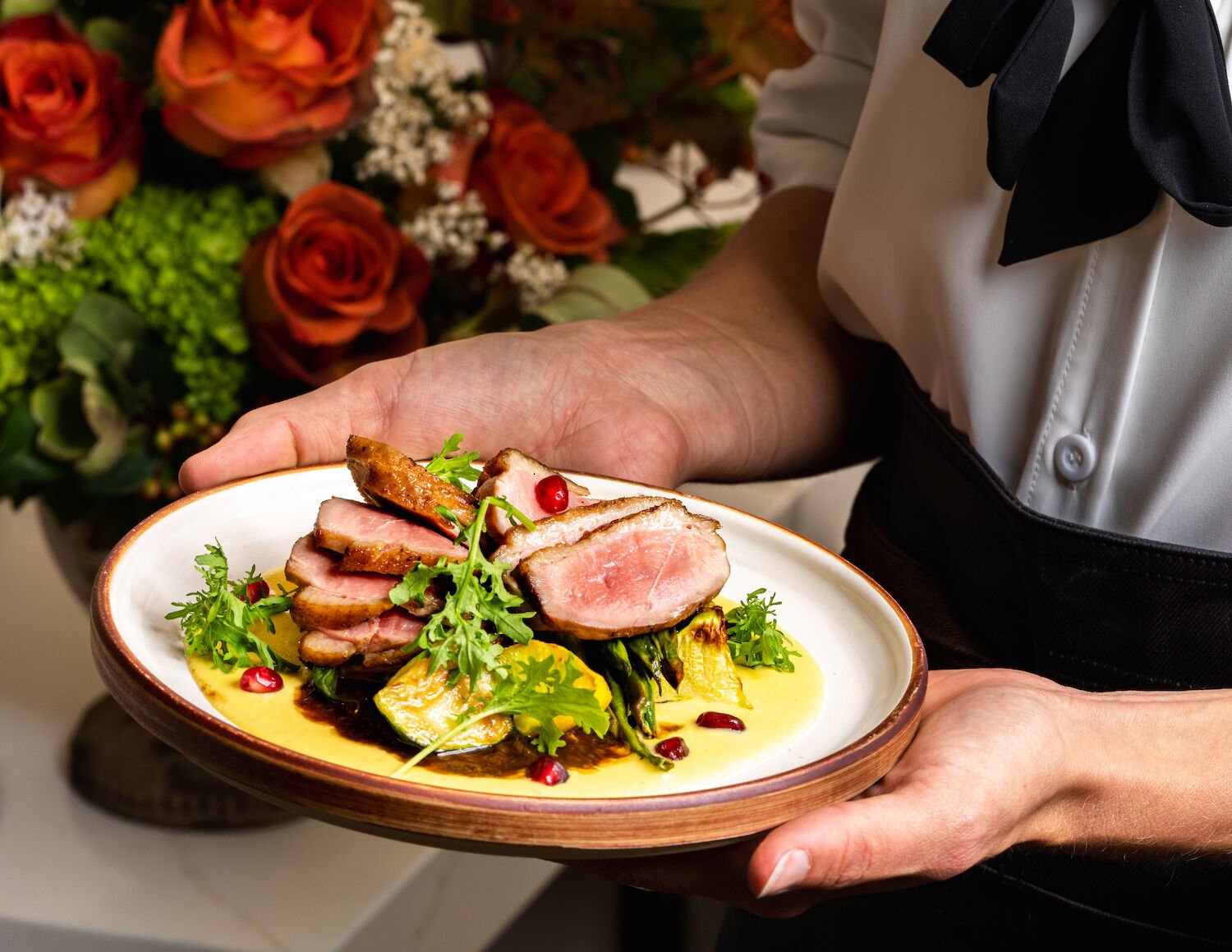 James Tran
You can see the creative energy in the commissioned art of Wolf in the Woods (a Taos artist, Jackson Ballard). You can see it in the uniforms of the servers, which look European and fashion-modely. Rivera still wears his scarf.
You'll see it whisk by in Wolf's tiny dining room, as he leans down to explain the story of a bottle of wine—like, say, the Baron de L Pouilly Fumé 2018 from I Ladoucette (Pouilly Fumé, especially from Ladoucette, is one of the world's great white wines). He almost twitches when he talks about this bottle. His narrative zeal for turned juice gives it rich backstory and thrill, adds a couple points to your personal rating of it.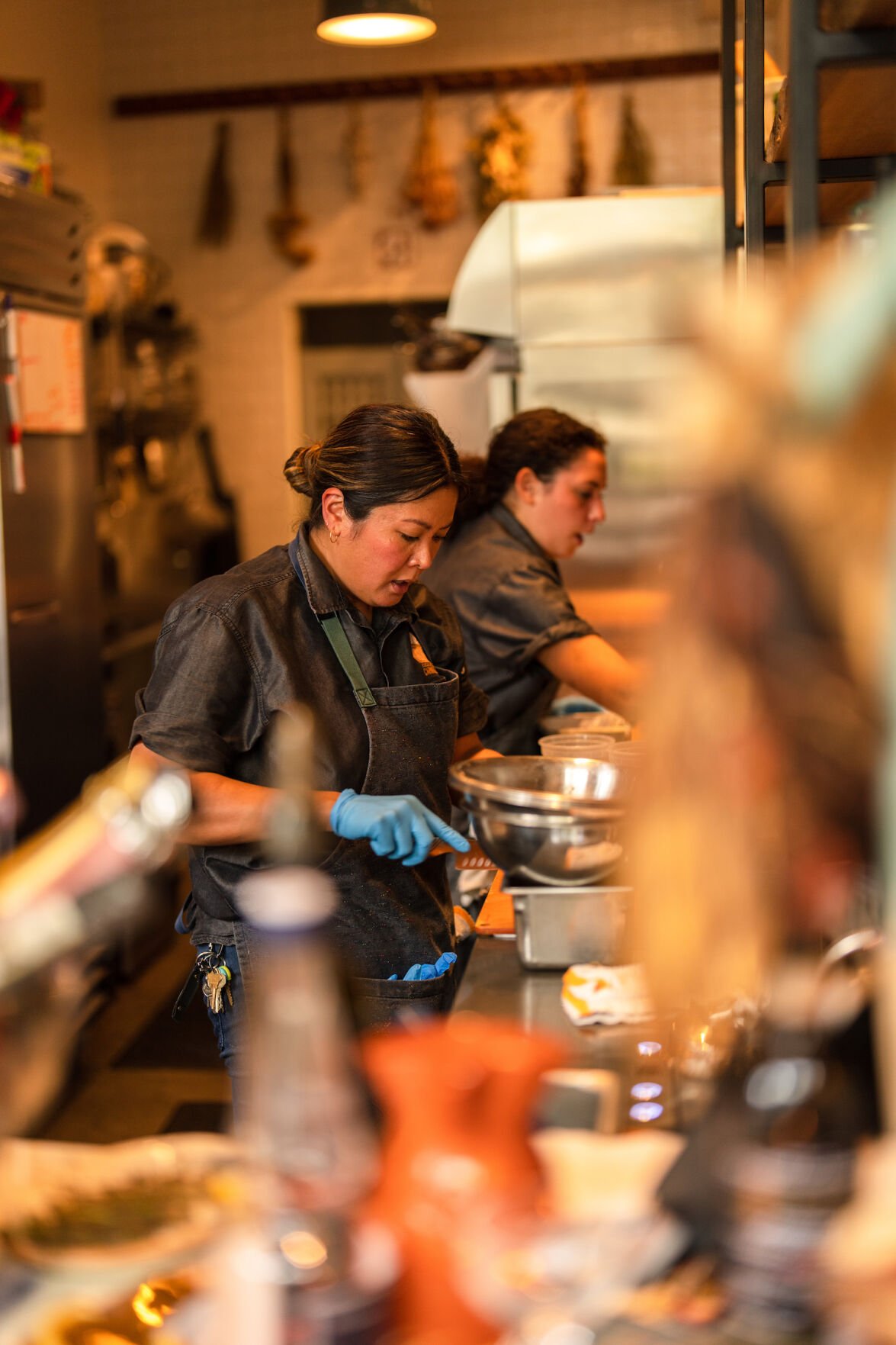 James Tran
Dear god, try the corn piñon soup. Chef Carmine Lopez uses fresh shaved corn, a splash of cream, tops it with New Mexican Hatch red chile powder, roasted pine nuts, and halfway submerges a couple corn fritters in the show. Of all the places we put corn in America (packaging, fuel tanks, toothpaste), this is by far my favorite. Corn is the greatest sugar, and its intense sweetness is balanced just right with this simple bowl of food. It is the best thing we eat here.
New Mexican, Spanish, Latin, and Native American food cultures were all inspirations for everything in Wolf, and the famed Hatch chile makes frequent cameos. It shows up on the mini burger, where it's a condiment two ways— fresh chopped chiles and a Hatch crema—along with melted white cheddar on brioche. Hatch is such a historic flavor that most Americans have a memory of.
For me, it's the taste of supermarket salsa from the '80s. I realize that sounds disparaging, but it's a good memory (I consider the discovery of salsa a major and spiritual life marker). Lopez plays on my emotional, sense-memory connection to Hatch and gilds that memory, makes it better and brighter.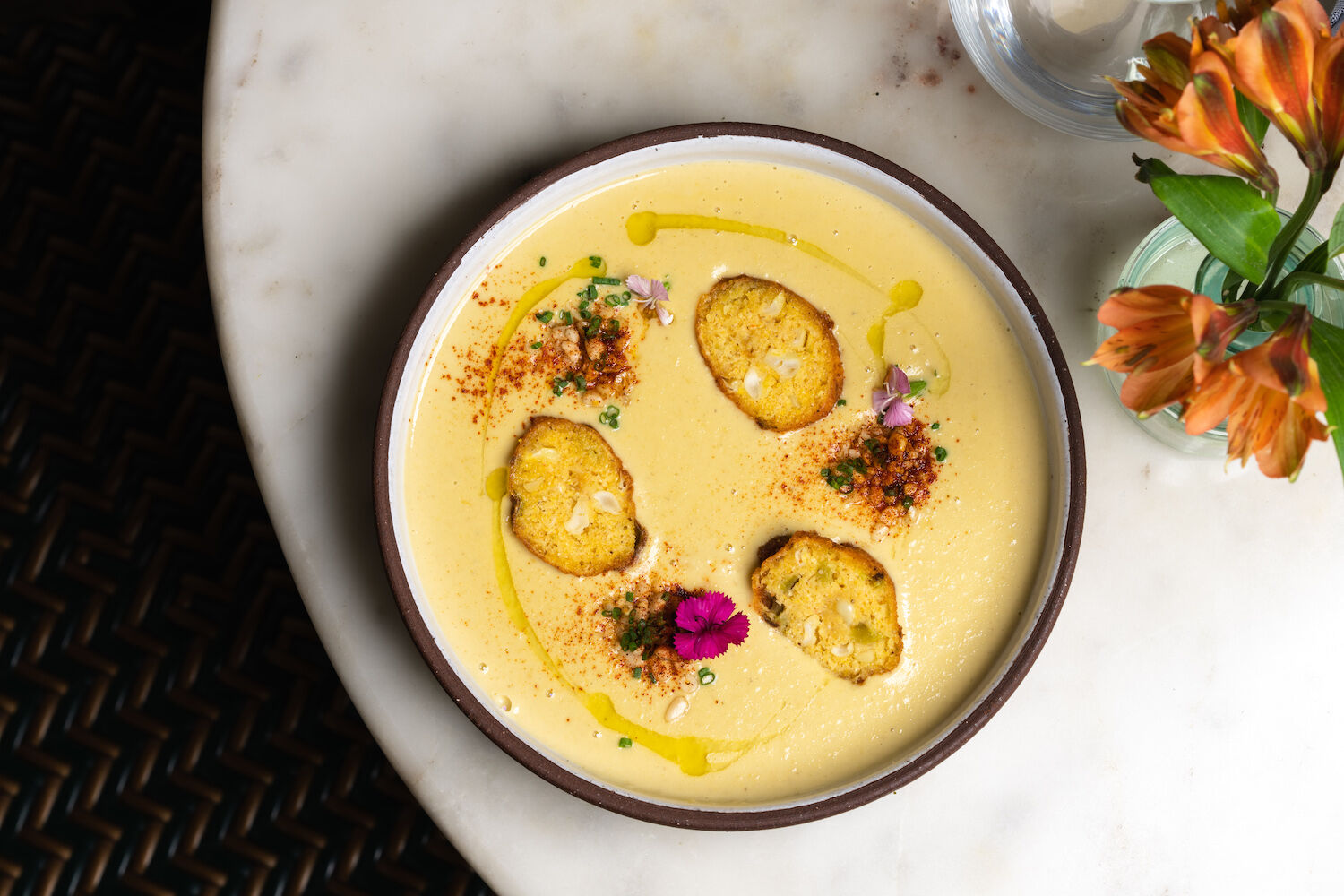 James Tran
At 1,100-square-feet, Wolf feels like a San Francisco or New York restaurant—humans tucked in every little corner, strangers no more. Some may not enjoy the close-quarter humanity, but it makes the place feel alive, lends it a joie de bustle. If you require acreage and privacy at restaurants, go early or go to Olive Garden.
The kitchen's also quaint, which explains why it's mostly tapas at Wolf. They have a couple tostas (Latin cousin of bruschetta, really) and you shouldn't miss the one brushed with garlic and tomato puree, then topped with thin slices of the famed Jamon Iberico. Aguachile is everywhere these days, and most places waterboard it with so much lime it tastes like scurvy medicine. But Lopez' is a star, with a far more mellow and fragrant cucumber jus and serrano peppers.
The Brussels sprouts salad is pretty fantastic, a whole pile of fresh, raw shavings is tossed with fennel, red onion, and a vegan cashew dressing with Madras curry powder, then finished with fennel pollen. It's the best whole spice rack I've ever eaten. Order the Calvados liver pâté with thyme—the famed French apple brandy cutting through the creamy carnivore treat. Only complaint is that I wish they had the space to let the dish sit on a counter for a while. It arrives cold and the flavor of any food, but especially pâté, is a diva and refuses to perform until it hits room temp.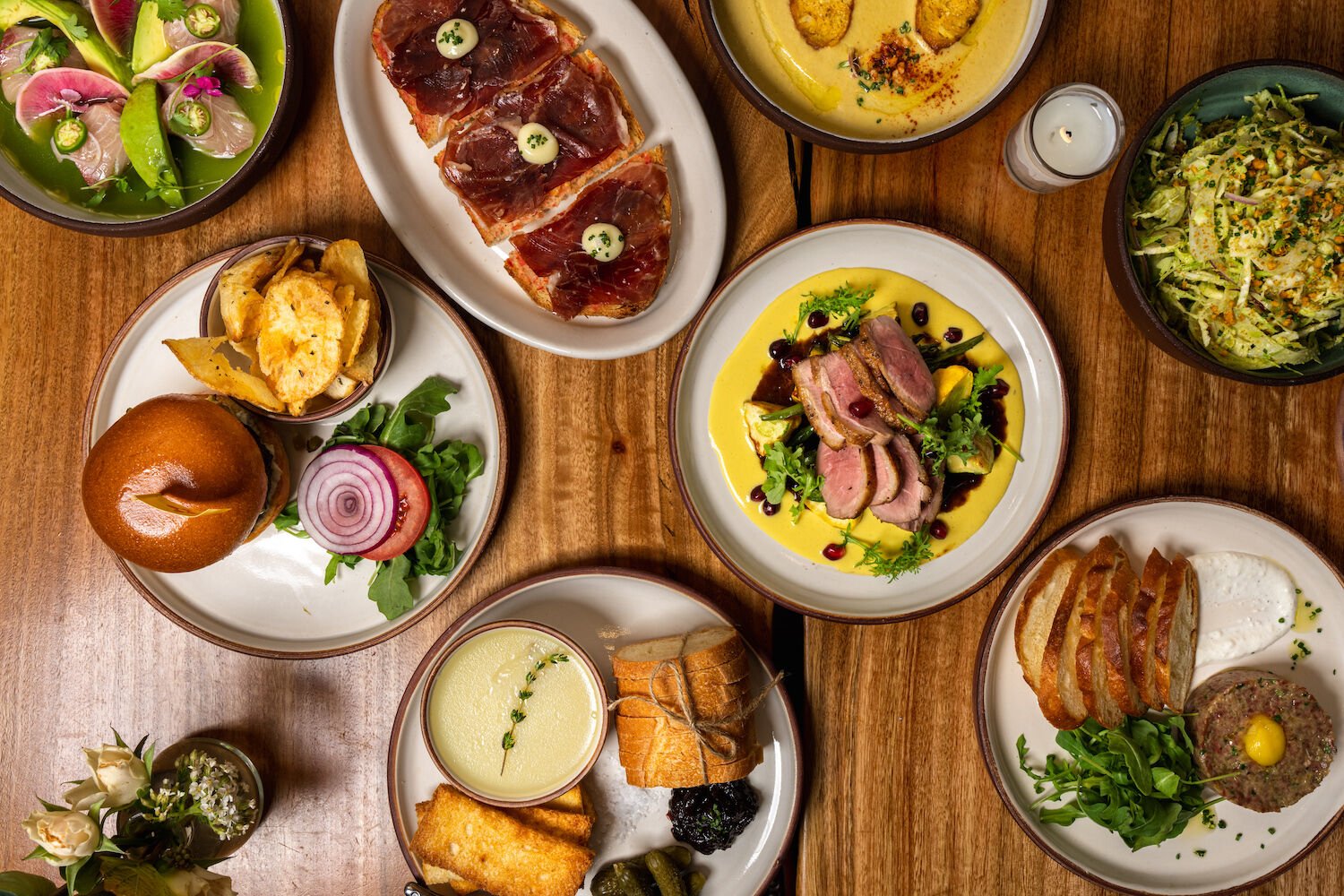 James Tran
They've only got a couple entrees, and the must-try is the "Duck and Three Sisters," a showcase of the three historically crucial agricultural crops in North America: corn, squash, and beans. Mary's duck breast sits atop a silky corn puree with squash ad green pole beans, the whole affair drizzled with a shallot jus with Spanish Rioja wine.
Rivera says he wanted to create a cave à manger, a Paris tradition of a wine shop that also serves chefy snacks. Wolf in the Woods does feel like that. It also feels personal. It feels like Rivera went to France, fell in love or lust or joined a cult that believes in the healing power of Rhone wines—and now he's invited you over to his cute boho house to indoctrinate you with his hip fashion.
Indoctrinate me.