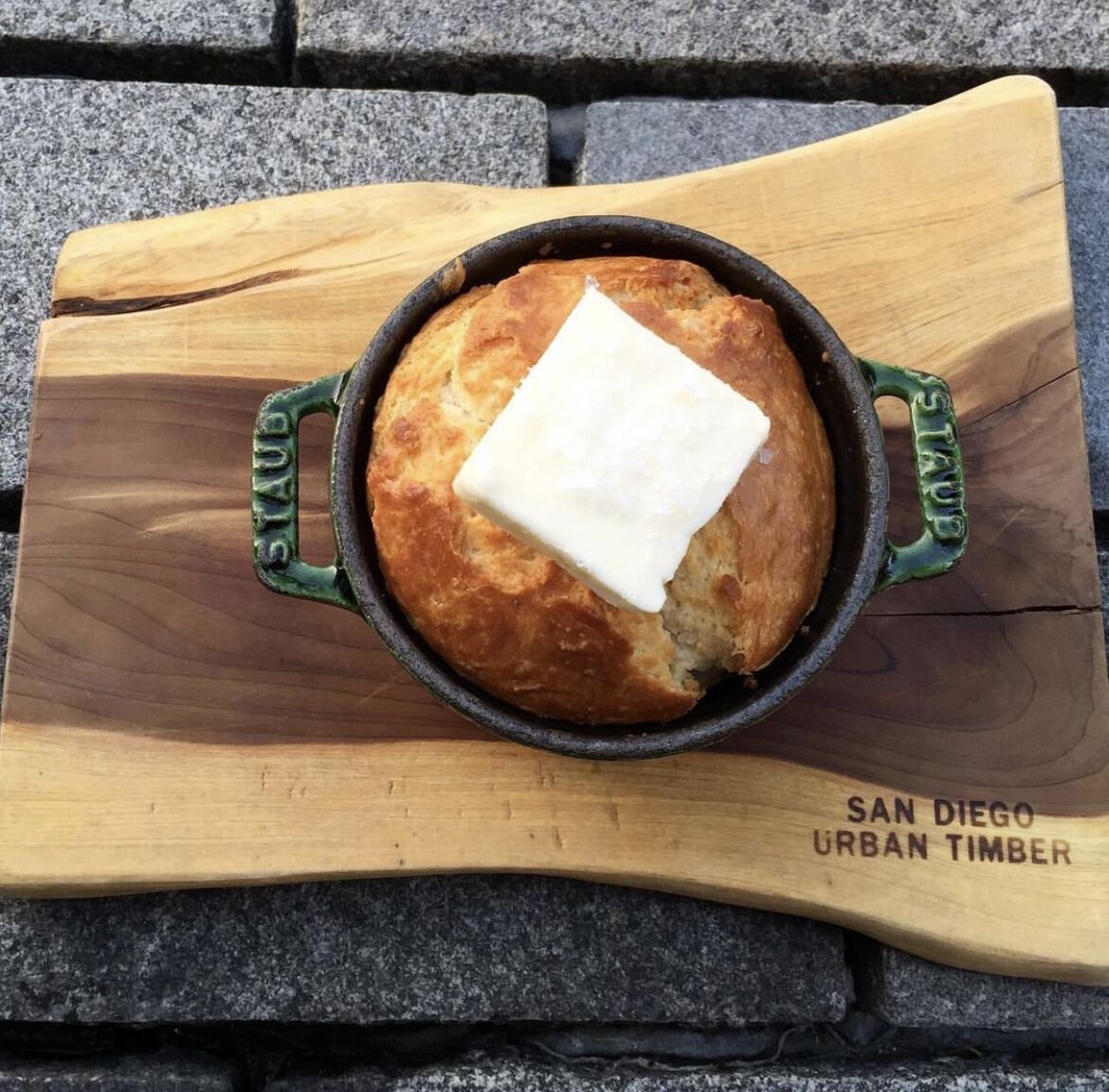 Courtesy of Juniper & Ivy
Anthony Wells has often been called a "chef's chef." The Juniper and Ivy executive chef has made a name for himself in the city simply by cooking the best fare without pretense.
Featuring a rotating seasonal menu, chef Well's recipes often showcase his innovative take on Southern California cuisine while focusing on sustainably and hyper-seasonal, high-quality product from local purveyors.
He's most known, though, for creating foods that feel comforting and nostalgic, which may be why his biscuit with smoked butter recipe has become a guest favorite. Though the dish has been around since the restaurant's inception in 2014, it's gone through a few adaptions over the years.
Now, chef Wells smokes the cream, salt, and butter to offer a more subtle smoky flavor. "It's an easy recipe to make, a one-pot-wonder kind of dish that is a crowd pleaser," he shares. "It makes you happy when you eat it."
With the evenings cooling down and the holidays near, this is a cozy dish that will likely be a go-to in the coming months. To make chef Well's biscuit with smoked butter recipe, follow the instructions below:
Biscuit with Smoked Butter
Biscuit Ingredients:
4 1/2 cups self rising flour (Chef likes Lily brand)
1/2 cup sugar
1/2 cup Crisco Shortening
1 tsp salt
2 cups buttermilk
1 1/2 cups heavy cream
Instructions:
1). Mix everything gently by hand in a large mixing bowl until a thick batter is formed.
2). Do not overwork, and do not fear that there will be some clumps in the batter.
3). Grease up 4 inch muffin tins and fill batter 4/5 of the way up.
4). Bake at 350 degrees for 20 minutes.
Smoked Butter Ingredients:* 
Allow 1/2 cup butter to soften, then mix in 1 tsp flaky smoked salt.
Instructions:
When the biscuits are slightly cool, place a dollop of smoked butter on top right before serving.
*This is a shortcut to the way chef Wells makes his at Juniper & Ivy
Have breaking-news, exciting scoops, or great stories about San Diego's food scene? Send your pitches to [email protected].