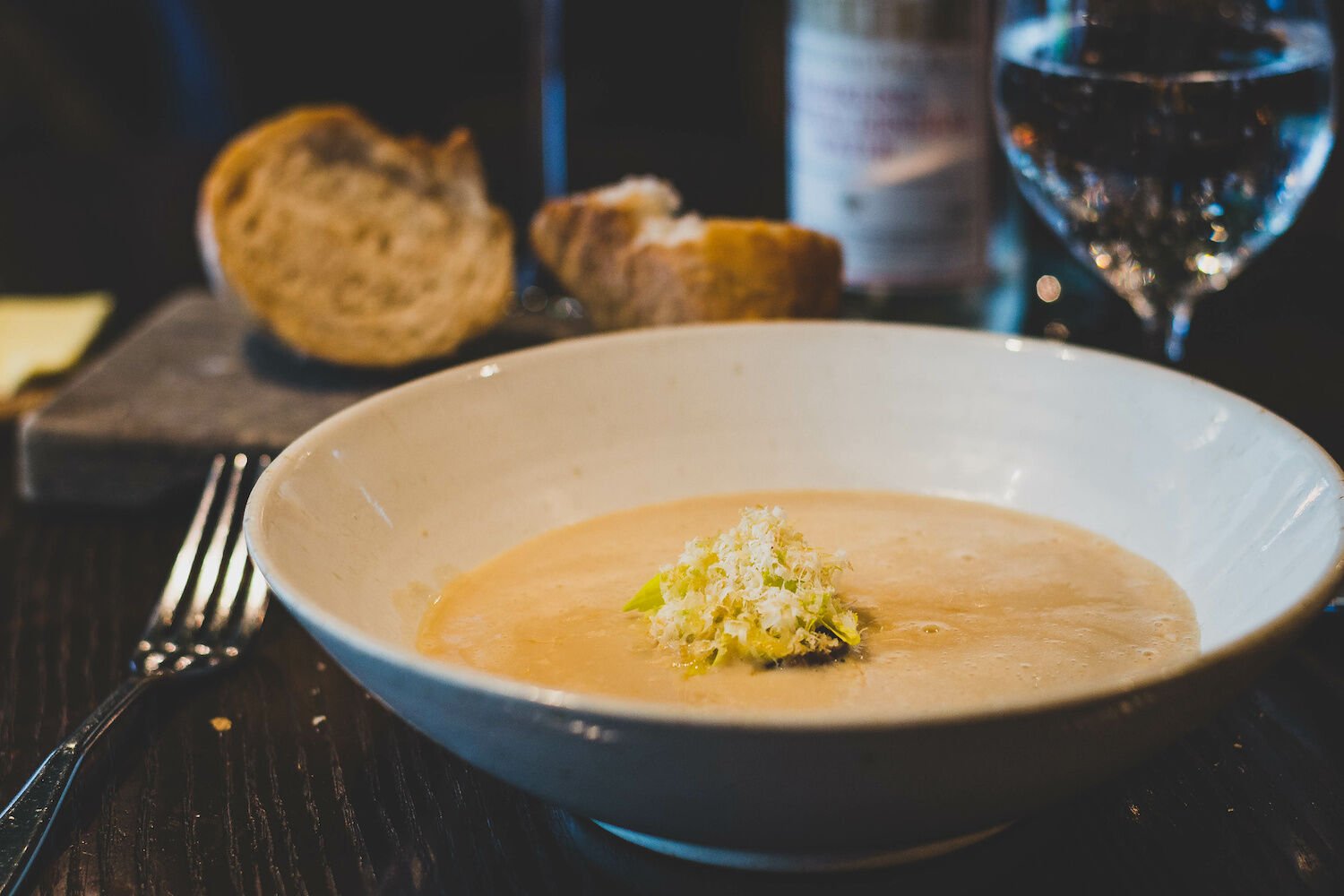 When nightfall begins at 5 p.m., the temps drop to a below-freezing 50 degrees, and San Diegans start to begrudgingly wear close-toe shoes, it can only mean one thing: porcini chestnut soup at A.R. Valentien inside the Lodge at Torrey Pines.
"Many of our regular guests (and cooks for that matter) look forward to seeing this on the menu," shares chef Kelli Crosson. "This year you'll find a variation of it on our Christmas prix rixe menu." Having worked under chef de cuisine Jeff Jackson for the past 11 years at the restaurant, chef Kelli has finally taken the reins of fine dining venue. She's earned it.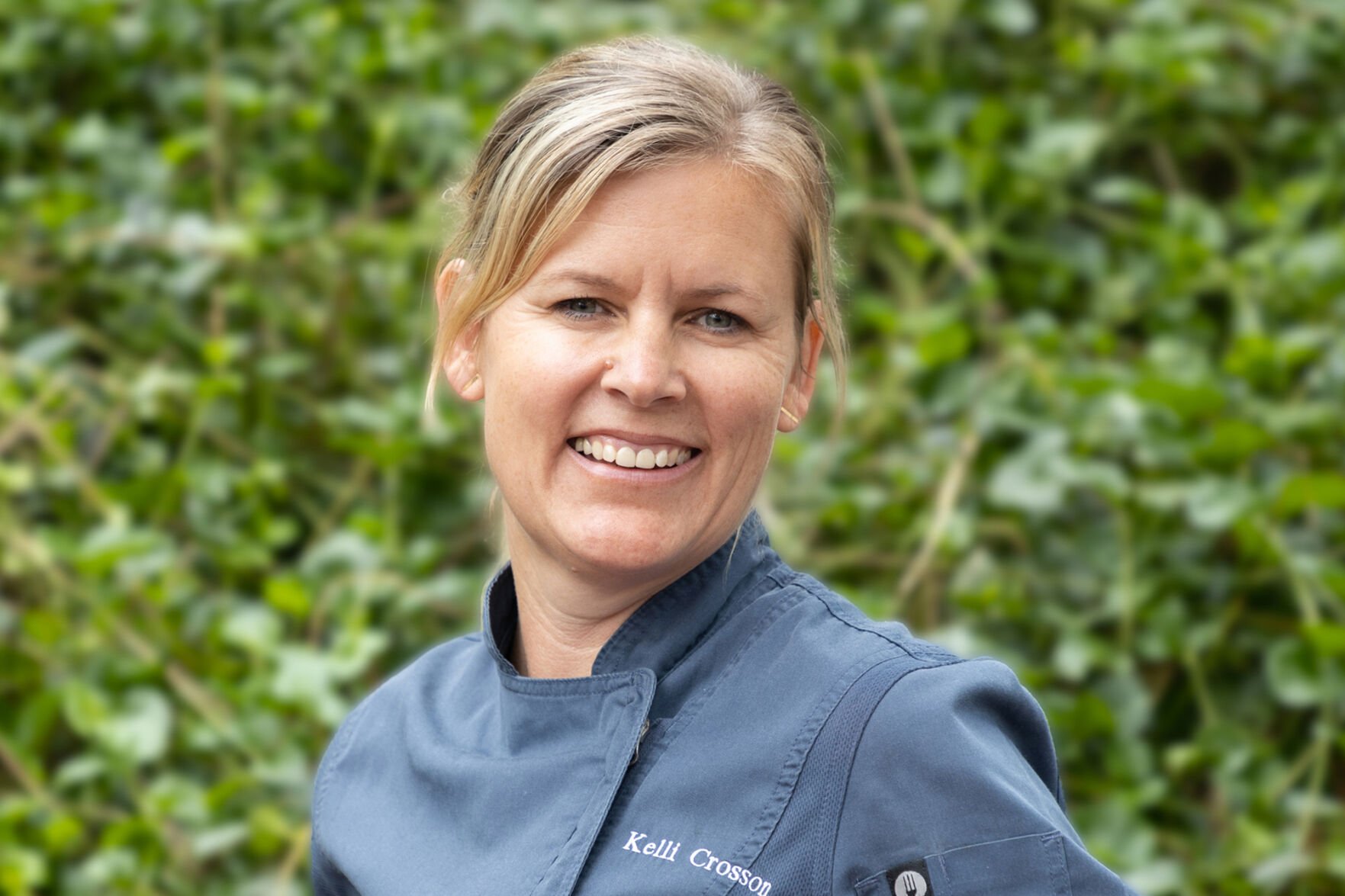 Now, it's her turn to make her mark on the beloved chestnut soup. Over the years, it has gone through its fair share of iterations, including using different nuts, becoming vegan, getting garnished with extravagant flavors such as truffles and chestnut tuille, and simply getting fancied up by adding crème fraîche and chives.
We asked chef Kelli to share her recipe for us to make at home and luckily, this year's version doesn't include any crazy bells and whistles—just some good old fashioned roasted chestnuts to get into the festive spirit. "This is the perfect soup to serve for your holiday dinner," says chef Kelli. "It's full of earthy flavor and I'd venture to say it's unlike most mushroom soups you've tasted."
To make chef Kelli's porcini chestnut soup, follow the recipe below:
Porcini Chestnut Soup
Ingredients
1 Each Yellow Onion, Small Dice
1 Each Leek, Sliced
1 Pound Frozen Porcini
1/2 Pound Cremini Mushroom, Sliced
1/2 Pound Frozen Chestnuts
1/2 Cup White Wine
1 Cup Dry Sherry
1 Each Bay Leaf
1 Sprig Thyme
3 Quarts Chicken Stock
3 Tablespoons Clarified Butter***
Instructions
Preheat oven to 350 degrees.
Thaw porcinis. Squeeze the juices from the mushrooms and reserve.
Thaw chestnuts and place on sheet pan. Roast in preheated oven until golden brown. Approximately 10 minutes.
In a large pot, heat one tablespoon of clarified butter over medium heat. Add leeks and onions and sauté. When tender add in the reserved porcini juice.
In a separate sauté pan, heat 2 tablespoons of clarified butter over high heat. Add cremini mushrooms and cook until golden. Add porcinis and continue to sauté until they're golden brown as well. The more color you get on the mushrooms without burning them, the stronger the flavor will be.
Add the sherry and white wine to the pan with the mushrooms. Let cook for a minute or two, until the alcohol cooks off.
Transfer the mushrooms and chestnuts into the pot with leeks and onions. Add the herbs.
Cover with chicken stock by 2 inches.
Bring to a boil, turn down to a simmer and cook for 15-20 minutes
Blend in batches in blender until smooth.
Serve immediately topped with a dollop of crème fraiche and chive.
*** can use other high heat oil like grapeseed or avocado