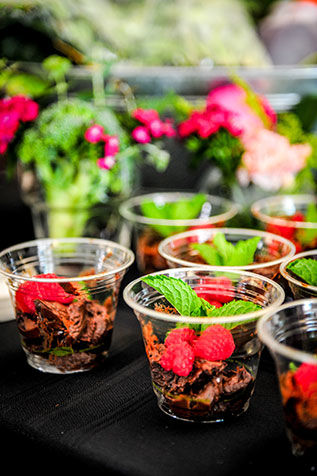 FARM TO BAY FOOD & WINE CLASSIC
WHERE: LIVING COAST DISCOVERY CENTER, 1000 Gunpowder Pt., Chula Vista, 619.409.5900
WHEN: AUG 2, 4PM
COST: $80
There's a nature center that doesn't have pandas or signature soda cups. A pluckier sort of naturalist learning center. And each year they throw this big old party to keep the turtles fed and the birds warm. There will be about 30 or so restaurants, wineries, breweries and spirits people providing samples of their goods, including the Busalacchi group, Romesco, Mistral, Great Maple, Grant Grill, Tender Greens, Elizabethan Desserts, Stone Brewing Co., Lost Abbey, Karl Strauss, Rough Draft Brewing, etc. It's the only food and wine event that takes place in a protected national wildlife refuge. Last year's event sold out, so get on it.
TALES OF A FOOD CRITIC @ PIRCH
WHERE: PIRCH, UTC, 4545 La Jolla Village Dr. #1, La Jolla
WHEN: August 7, 6PM
COST: Free
Here's the thing about shameless self-promotion: it's happening right now. People often ask, "What's it like to be a food critic? Are you an insufferable windbag of subjective opinions?" Well, I've been working on a book about exactly that, and I'm starting to read some of the stories out loud in front of humans. The first will be at Sanctuary Resort in Scottsdale with chef Beau MacMillan on July 26. The second will be here at UTC. I'll tell a few stories. Like the time I ate a fish as it died on my plate and I wanted to huddle in a corner, weep, possibly wet myself on account of being an awful human. Or the time I ate a goat eyeball in a terrine of goat brain. Or when the toughest name in tequila shared his artisanal hand cream with me. Plus some thoughts about growing up on frozen fish sticks, which look like George Hamilton's well-tanned and highly diseased fingers. I'll read some stories at PIRCH (the kitchen and bath wonderhausen), we'll have some laughs, I'll treat you like all my friends and buy your affection with a beer.
LOVING LOCAL MUSIC & LOCAL FOOD
WHERE: DRISCOLL'S WHARF, 4960 N. Harbor Dr., 619.222.4930
WHEN: AUG. 11, 3:30PM
COST: $100-$165
LJ Livingston has the heartfelt job of raising money for Slow Food Urban San Diego and blues music education in San Diego. Teaching children computer code is great. Let's just also make sure they know what real food and real music is. For this dinner, a few of the city's better chefs will cook alongside SD's top blues bands at Driscoll's Wharf. Chefs include the likes of Hanis Cavin (Carnitas Snack Shack), Jason Roberts (Cafe Chloe) and Acursio Lota (Solare). The blues will come from Whitney Shay Quartet, Bayou Brothers w/ Michele Lundeen and Dane Terry, and Leilani Kilgore (BLUSD Youth Ambassador). If you want to do extra good, pay to sit at a VIP table with the likes of Randy Jones or Casbah owner Tim Mays. Or even me.
BEST OF SAN DIEGO PARTY
WHERE: NTC at Liberty Station
WHEN: AUG. 22, 6:30PM
COST: $60 (until July 25), $75 (after July 25)
The BEST OF SAN DIEGO PARTY, hosted by San Diego Magazine, takes over NTC at Liberty Station with unlimited food and drink samples and live music.