October is Breast Cancer Awareness Month, and San Diego is going pink to raise money for those fighting a diagnosis. Grab your paddleboard, motorcycle, and appetite—here are eight ways to take action.
Row your way to a cure on a competitive 4.5-kilometer course and a brand-new beginner course. All forms of rowers are welcome—outrigger canoeing, dragon boats, kayaking, and stand-up paddleboarding. Money raised will benefit Susan G. Komen San Diego.
Price: $30 per single rower
Date and Time: October 13, 5:30 a.m.–12 p.m.
Location: North Ski Beach, 1600 Vacation Road, Mission Bay
All levels of biking enthusiasts are welcome to join The Wine Pub in their Bike for Boobs event, which has an extended road ride and a more leisurely group ride. Dress up in pink tutus and get ready for delicious drinks, appetizers, and live music after the ride is complete. All proceeds go to the Shades of Pink Foundation.
Price: Suggested $25 donation
Date and Time: October 14, 2 p.m.
Location: 2907 Shelter Island Drive, Shelter Island
Save your appetite to "Dine Out for the Cure," when more than 30 restaurants, bakeries, and coffeehouses all over San Diego County are donating 10–25 percent of the day's proceeds to Susan G. Komen San Diego.
Price: Varies
Date: October 18
Location: Visit komensandiego.org/dineout for the most up-to-date list of eateries participating.
Free Mammograms and Educational Event at City of Hope International Church
Stop by for a free mammogram and breast health education, as well as live entertainment and a free lunch! RSVP or walk-ins welcome.
Price: Free
Date and Time: October 21, 11 a.m.–4 p.m.
Location: City of Hope International Church, 4999 Holly Drive, National City
Barons Market's Backroom Beer Pairing
Barons Market and Abnormal Beer Co. pair up once again for their quarterly speakeasy event featuring bites and brews—but this month, 100 percent of the proceeds go to Breast Cancer Prevention Partners.
Price: $15 per person
Date and Time: October 24, 6–8 p.m.
Location: San Diego and Temecula Valley Barons Market's Locations
Café Coyote, Old Town Trolley Tours, and Frida Kahlo Tequila will be hosting a fun-filled fiesta to raise money for the American Cancer Society in San Diego. Feast on the unlimited taco bar, sip margaritas, enjoy the Latin music, and more.
Price: $20 per person
Date and Time: October 25, 7 p.m.–9:30 p.m.
Location: Café Coyote, 2461 San Diego Avenue, Old Town
Cancer Can Kiss My Axe Breast Cancer Motorcycle Fundraiser
Ride from San Diego Harley-Davidson to Barrel Harbor Brewery in Vista for a good cause. Money raised will support the Cancer Can Kiss My Axe walking team at the Susan G. Komen 3-Day Walk. Barrel Harbor Brewing will host a party after the ride that includes food, drinks, live entertainment, and raffle prizes.
Price: $35 per rider ($40 after October 13)
Date and Time: October 27, 10 a.m.
Location: 5555 Kearny Villa Road, Kearny Mesa
2018 Komen San Diego Race for the Cure 5K and 1-Mile Walk
Walk or run through Balboa Park in support of those fighting against breast cancer. You can join as a single or form a team, and you have the opportunity to fundraise before the race begins to make an even bigger impact.
Price: $40 per adult, $30 per child
Date: November 4, 6:30 a.m.-9:30 a.m.
Location: Sixth Avenue and Palm Street, Balboa Park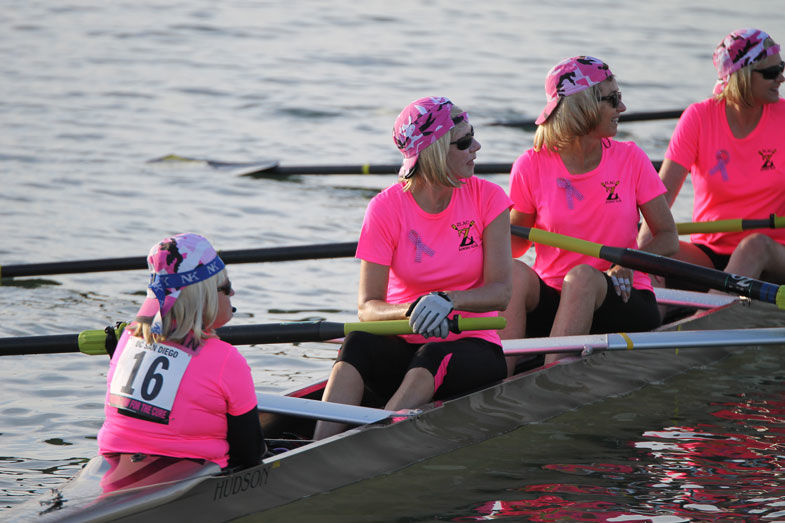 Row for the Cure