The transportation hub provides service to Amtrak, the Coaster, the San Diego Trolley, and the San Diego Metropolitan Bus System. It's also a charming piece of history in the midst of so many shimmery skyscrapers.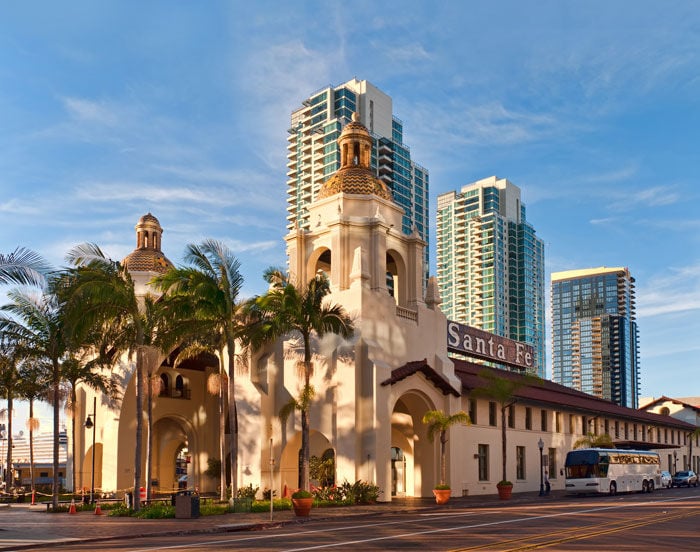 Mark Whitt
POTUS ON THE PLATFORM
Three presidents have passed through the depot: Theodore Roosevelt, William Howard Taft, and Franklin Delano Roosevelt.
POPULAR COMMUTE
The Pacific SurflinerCorridor—San Diego, Los Angeles, Santa Barbara, San Luis Obispo—is the second-busiest corridor in the United States, with more than 2.7 million riders in 2013.
A HOME FOR ART
The former baggage claim building now houses part of the downtown location of Museum of Contemporary Art San Diego.
GRAND OPENING
Named after the Atchison, Topeka and Santa Fe Railroad responsible for its construction, the mission revival-style Santa Fe Depot that we know today opened at 6:30 p.m. on March 7, 1915, in time for the Panama-Pacific International Exposition. It replaced the original 1887 station, which was located six feet to the west.
FIRST CUSTOMER
At 96 years old, Oliver J. Stough, the last surviving veteran of the Mexican-American War, was the first ticket holder.
GENDER DIVIDE
The station originally had a men's smoking room and women's waiting room.
SAVE OUR DEPOT
Discussion to raze the depot in the 1970s was halted by public opposition, and it was added to the National Register of Historic Places in 1972.
STILL STANDING
Designed by San Francisco architects John R. Blackwell and Arthur Brown, Jr., the station cost $300,000 to build. The original oak benches still line the length of the waiting room.
MEET THE OWNER
The 15-acre mixed-use development, which includes the five-acre historic train depot, is owned by Catellus Development Corporation, a spinoff of two railroad powerhouses: Santa Fe Industries and Southern Pacific Company, which merged in 1984 to form Santa Fe Southern Pacific Corporation.
MONEY TRAIN
The station's annual revenue topped $21 million in 2013.