There's arguably no bad place to be in San Diego when the dipping sun sets the sky ablaze. But if you you're looking to have a fresh beverage and a solid meal on hand, you can't do much better than these joints. Because a proper SoCal sundown includes the ocean, this list skews toward saltwater vistas, the sea breeze, and views that grant not a sliver of the glowing sky but the whole damn thing. (Sorry, downtown rooftops.)
Beachy
There are three good places in this pier-adjacent plaza for drinks, front row seats to the ocean, and as much O.B. character as one can handle (there is a limit). The best eats are at the new Bluewater location—complete with patio—whose outstanding seafood can be washed down with a couple of craft beer offerings, wine, and bottled Mexican lagers.
Seafood from the waters off of San Diego and Baja fried and grilled to perfection. At their perch on America's Cup Harbor, you can eye the fishing fleet over calamari sandwiches, crab poutine, and craft beer.
No leather aprons and peculiar herbs at this bar. Just an unapologetic selection of refreshingly lowbrow margaritas and macro brews (the plastic cups could go, though). Take your own risks with their burgers and burritos, but you cannot go wrong with the on-the-sand patio at the south end of Pacific Beach. Bring cash, and be ready to make friends with the rowdy crowd.
The name is for Abraham Lincoln. The vibes are Dia de Los Muertos-meets-Pacific Beach. And on this rooftop a block from the sand, the tacos, draft beer, and tequila are plentiful.
You'd need a towel if you were closer to this stretch of sand at the south end of Encinitas. Accordingly, the menu is heavy on seafood and every seat in the house has a view of the brine.
Best for Low-Key Drinking 
Rather than the ocean, the view is of the sunset hues descending on the wetlands and scrub of San Dieguito Lagoon, a half mile from the beach in Del Mar. The massive shaded patio is made all the more inviting by Skee-Ball, corn hole, elevated pub fare, and 20 taps of local and house-brewed suds.
Sushi and cocktails on a huge rooftop deck in the shadow of the Giant Dipper rollercoaster. The view could make a lifeguard jealous.
Only Ruby's Diner on the pier would offer a better ocean view (and would that be worth it?). You'll be plenty happy a block away at Hello Betty's rooftop, where a limited menu of Baja-style crudo, ceviche, and tacos can fortify you for drinks.
Fancy-Schmancy and Romance-y
Del Mar's coast is pretty blah—said no one ever. Drink it in, along with a Barbera d'Asti and pizza, pasta, and mains in the $20 to $40 range, in the covered patio. Or better yet, from a couch on the al fresco terrace.
The setting sun glints off the downtown skyline from this over-water patio on Harbor Island. The well-liked menu of Mexican staples and guacamole prepared tableside do not hurt, either. A convenient spot for wowing out-of-towners fresh from the airport, one whole mile away.
From 40 stories up, the bay's warships and marinas look like something at Legoland. Go ahead and try to find a larger expanse of sea and sky to gaze upon. As if that's not intoxicating enough, a solid cocktail menu supplements small plates like Angus beef sliders and shrimp cocktail, and desserts like dulce de leche churros.
You could toss a coconut shrimp from Duke's patio into La Jolla Cove. Or savor it with the rest of your pu pu platter while observing seabirds, pinnipeds, tourists, and an unbeatable view of the coast.
Watch the sky change colors and the birdies—and bogeys—fly over the Torrey Pines Golf Course. The open-fire cooking, outdoor fireplace, and highly recommended Drugstore Hamburger help warm the ocean breeze.
This restaurant at Kona Kai Resort and Spa makes the most of its al fresco dining area dockside at Shelter Island with breakfast, lunch, and dinner menus with the likes of Reuben sliders, porcini-dusted sea bass, and key lime pie.
The intimate patio looks over the La Jolla waterfront, while the kitchen turns out refined coastal Italian fare like fresh crudo, handmade pizza and pasta, and meat-centric mains.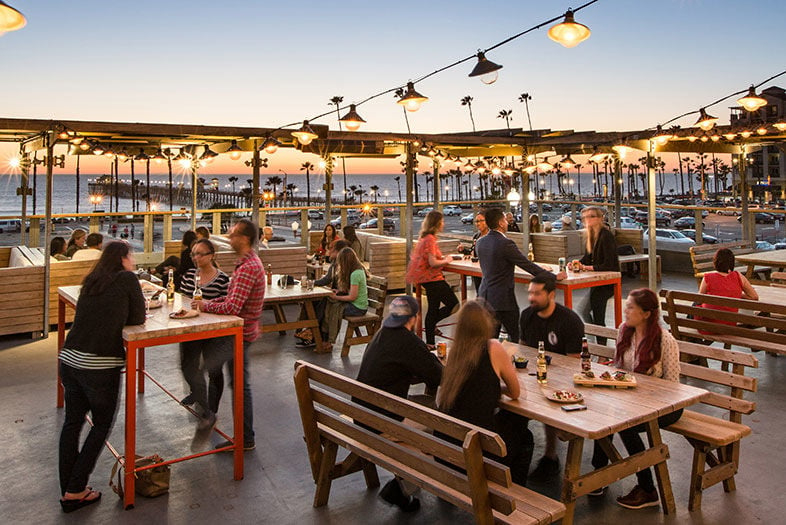 Hello Betty Fish House | Photo: Sam Wells