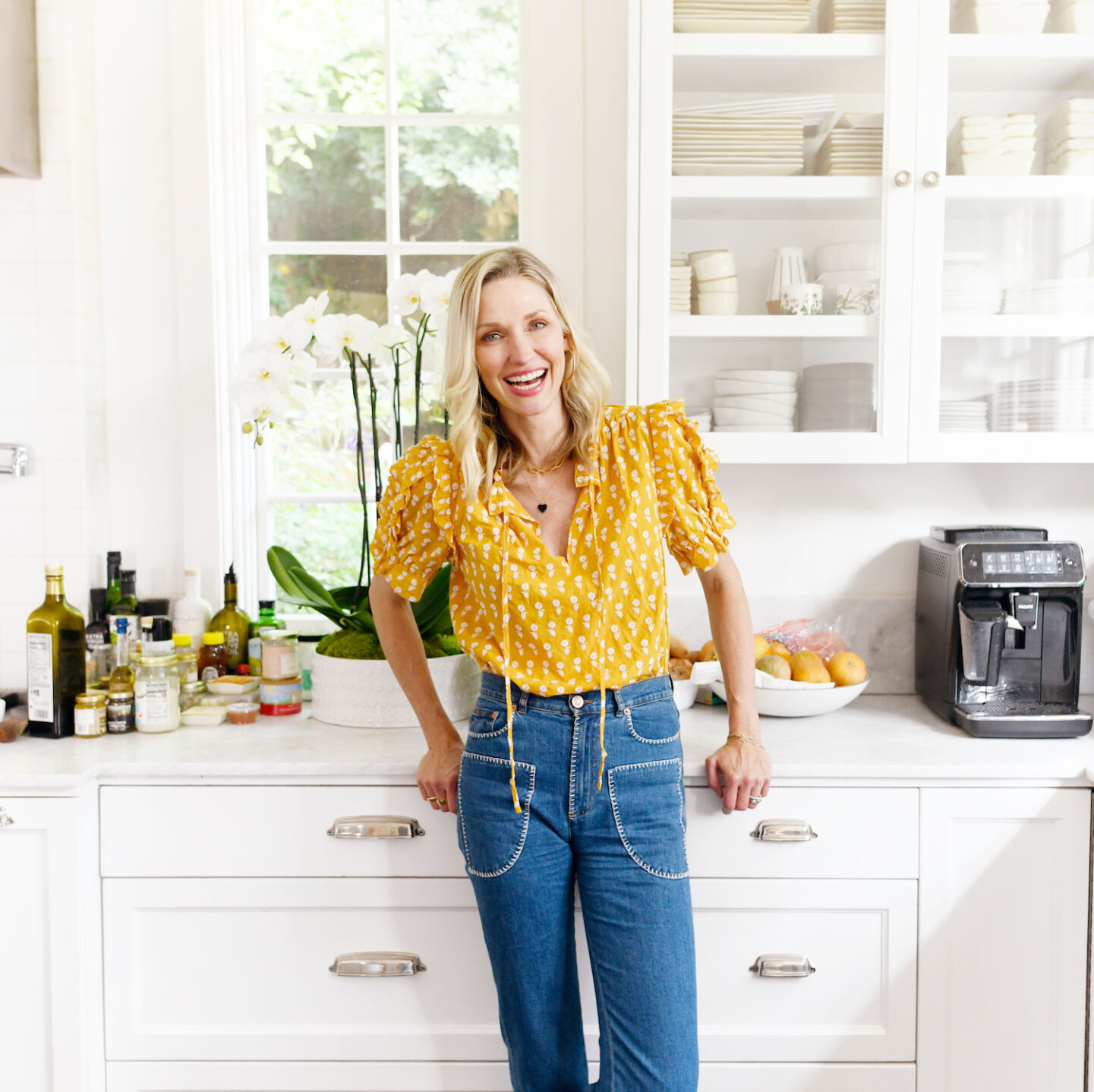 I may not still be on TV if it weren't for Catherine McCord.
Nowadays, she's one of the foremost cookbook authors in the US, with recipe bibles issued under her brand name Weelicious. She helps parents manage cooking without losing their minds and angrily writing off food as a concept, or just loading a Super Soaker with Goldfish crackers and shooting them at their kids as they head to work with stains on their shirts.
She's the CEO of One Potato, her nationwide meal delivery service for families. I've never made better chicken tinga arepas with slaw and corn salsa in under 20 minutes (if you wanna try it, use the promo code TROY25 for 25 percent off). Her new book, Meal Prep Magic: Time-Saving Tips for Stress-Free Cooking, is due this April (pre-order it here). And my wife is obsessed with her.
But a decade ago, Catherine was just a friendly face in an intimidating crowd.
We filmed the pilot season of Guy's Grocery Games in 2013, in a rented-out grocery store in Los Angeles. I was not entirely sure of myself, but at least I had nothing to lose. I'd had my own show on Food Network two years earlier, but they'd canned it after a season. Probably a good call. But that's not important now. The important part is that they invited me to be one of the judges on this show—part supermarket shopping spree, part cooking competition, anchored by Guy Fieri.
None of us were sure it would work. But Guy had talent and hair and bling and jokes, and sometimes that's enough. As long as we, the ensemble, didn't screw it up. We played Destiny's Children to his Beyonce.
The first season of any TV show is all nerves and what-ifs, excitement and bouts of future-casting doom. Any moment could be your last. Cancel comes for us all at some point—you just hope it's not right out of the gates. You put a bunch of big personalities in a room, and you all get to know each other and learn to perform in harmony in real time, to step up, say something that propels the action forward, step back and let others in, and so on.
Guy had a show to run. He was busy. So us judges formed our own support group. And there were a few of us who bonded and bolstered each other through moments of self-doubt and first-season yips. We'd sit in each other's trailers and fill the down moments with humanity, make each other laugh our asses off, occasionally ugly-cry.
In a career on TV, you'll meet people you'd rather not send a Christmas card to, and you'll meet people who shock you with their goodness. Catherine was one of the latter. A tireless worker, a hustler, a mom who looks like she's got it all together but is the first to point out her shortcomings. She's got model looks and humble Louisville blood.
When you're on a show with someone for a decade, you go through the highs and the lows. Catherine watched me succeed, she watched my life fall apart a bit, she watched me recover.
About a month ago, we were all in Santa Rosa for Guy's birthday. Sammy Hagar was there, singing to this small crowd of close friends. The drummer from Rage Against the Machine was performing with the house band. Hundreds of huge personalities were all assembled in one place—dressed in costume, as is the tradition of Guy's birthday.
And there was Catherine. Always genuine, always the safe, awesome harbor in an intimidating room.
So this week we switch things up a bit. HHH is about San Diego's food and drink scene (we share all the breaking culinary news in the city right now), but I'm going to occasionally invite a few of my favorite people from Food Network to talk food, life, and a life in food.
I chat with Cat about her early years as a model (she was an international star, on the cover of European Vogue and Elle and many, many others, and had bit parts in movies with the Rock and Matt Damon) and her days as the cohost on Loveline with Dr. Drew and Adam Corolla. We share some stories from the set of GGG and brainstorm how to get kids to eat anything other than white carbs with cheese.
She also gives us four of her key tips for meal prep—how to have kids, have a job, and put a few systems in place so that you can cook and eat and actually enjoy food.