The coffee costs $35 a cup. Or you can buy four ounces of whole beans for $199. 
Let that sink in. Breathe. Paper bags help. Now, let's explain.
Historical moments demand historical prices. And that's what this coffee is: the most famous, coveted bean in the world—the Panamanian varietal known as Geisha, the coffee equivalent of a Bordeaux Grand Cru—grown not in Ethiopia or Colombia, but in San Diego. Oceanside, specifically. It's not only a first for San Diego coffee culture, but a big moment for the emerging market of coffee grown on the mainland U.S.
Trailblazing a crop that's not native to this part of the world—investing in time, labor, infrastructure, research, plants, food, water, etc.—is not cheap. Nor, accordingly, are the first few cups.
"A Geisha grown in the U.S. is unheard of," says Jeff Taylor, co-owner of Bird Rock Coffee Roasters, where the coffee will be sold exclusively. "It's been recognized as the best coffee varietal in the world, and demanding those prices. One kilo, or 2.2 pounds, recently sold for $5,000."
Will customers get it? Optimism is high. It helps that the grower is five-time Grammy winner, farmer, and slow-food devotee, Jason Mraz. 
"We love coffee, I started my career in a coffee shop, seemed like a perfect fit," says Mraz in his trademark understated drawl. 
The idea was first presented to Mraz by Frinj Coffee, whose CEO-farmer Jay Ruskey has been leading the California-grown coffee movement since planting his first crop in the hills of Goleta in 2002. "This is a true milestone in California's culinary history," says Ruskey, whose company handles all the processing (drying, fermenting, etc.) of Mraz Family Farms' coffee berries. "What you are tasting in this cup is the tireless refinement of 20 years of farming." 
At this point Mraz Famiy Farms' young trees have produced a small amount of fruit. Mraz and Taylor hope as yields improve—and the market evolves and becomes more efficient—the cost will come down a bit. But California's emerging coffee industry will most likely be the realm of high-quality beans. It was Taylor who convinced Mraz to let him roast this year's crop and debut the first few groundbreaking cups.   
"It's the equivalent of unveiling a 50 year-old bottle of quality wine," Taylor explains. "This isn't for everybody. It's a historic moment for a select few people who want to see what a Geisha grown in San Diego tastes like. We're not going to be serving a $35 cup of coffee for very long. I imagine this will sell out in a few hours." 
Frinj originally sent Mraz his first 2,400 trees in 2015. With the help of local farming guru Scott Murray, they planted each by hand, fertilized them by hand, and built protective "tree condos" for each. They've since invested in automation, including a fertigation system, which puts fertilizer into the irrigation water. "Fertilizing them by hand took us over two months," he says. "Now we can feed them in two hours, and we saw a huge difference in the trees overnight." 
When we first talked about this project a couple years ago, Mraz saw coffee as a way for California farmers to survive, by growing a crop they can sell at a premium market price. I ask him if, at $35 a cup, he still feels California will have a viable coffee market. 
"Oh there will be," he says, with uncharacteristic certainty. "This is just the beginning. In the next five, ten, 20 years, California coffee will be in every shop. Why not have a local cup? We're trying to solve climate change. The only problem right now is that we don't have a mill in Southern California. Our fruit has to drive to Santa Barbara to be processed. But that's way fewer miles than Ethiopia." 
Taylor agrees: "No doubt about it. A lot of California coffee will get sold in Asia, which is a huge Geisha market. My friends in Panama said they cannot grow as much as they can sell."
Growing coffee in California is tough for many reasons—winter climates and water shortages being principal—but the outlook is improving after researchers at UC Davis recently cracked the genetic code of coffee. 
"They can take a leaf and tell a farmer who the tree's parents were," he explains. "When we first planted the Geishas, we'd get one that was a little different, which means maybe it wasn't Geisha or its genetics were a little spun out. But with the genetics, future growers are going to be able to tell exactly what kind of plant it is, and they'll be able to select the strongest breeds for growing in California." 
Mraz will be on hand at one of Bird Rock Coffee Roasters locations to unveil it to the public (exact location is a surprise). So will Taylor, Ruskey from Frinj, and the team from Mraz Family Farms, one of whom connects the musician's two worlds. 
"My day to day guy on the coffee is Justin Jonte, and he deserves the credit on this first crop," says Mraz, also crediting Jonte for his time as a singer-songwriter trying to make it in Ocean Beach. "He was the one driving me to Java Joe's because I didn't have a car. He was rallying his friends to come see me when I didn't have gigs. When I first got these coffee trees, I said, 'This is huge, I need help.' He said, 'I got ya.'"
Bird Rock Coffee Roasters will unveil the coffee at its six San Diego locations starting at 10AM on Saturday, Oct. 5. They'll sell it until it's gone.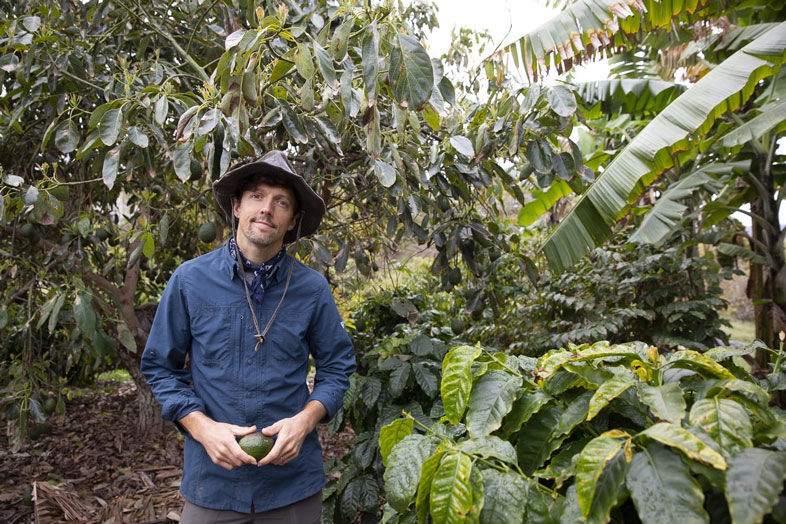 Sharisse Coulter