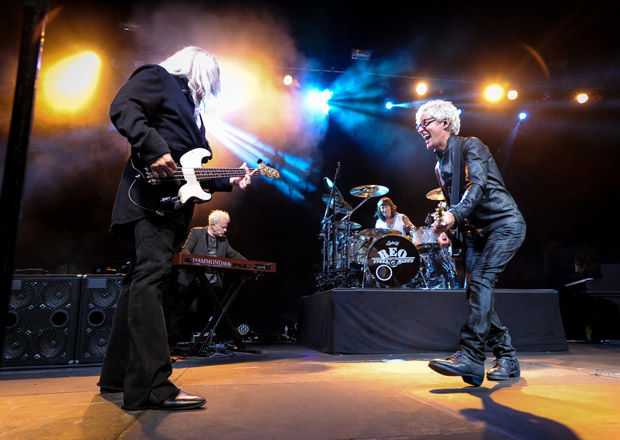 REO Speedwagon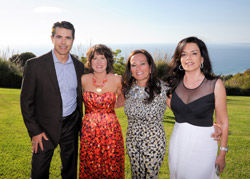 Promises2Kids
DREAM ON presented by Kevin Prior and ICW Group employees 2013 Summer Concert Gala was held on June 10 at the estate of Joan Waitt in La Jolla. Promises2Kids was the beneficiary of the $500,000 net proceeds from the evening. REO SPEEDWAGON performed a private benefit concert.  Promises2Kids conducts programs and services for San Diego's foster youth at Polinsky Children's Center, Camp Connect and Guardian Scholars. Some of the sponsors were Jeannie & Arthur Rivkin, Marc-Aaron Realtors, Gatto Pope & Walwick and SDG&E. Joan Waitt said, "It was an honor to be involved with this event and what it accomplished for our foster youth."
North County Health Services Fore for Kids IX Golf Classic is set for Aug. 6 at The Crosby at Rancho Santa Fe. PGAA Tour Champion Scott Simpson will be participating. He will play with Grant, Hinkle & Jacobs, the title sponsor.  Proceeds from the event will go to expanding services and programs at the NCHS Mission Mesa Campus in Oceanside which provides pediatric, women's health and dental services to uninsured and underinsured children and their families.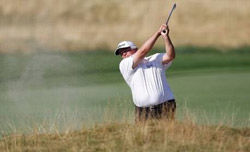 The San Diego Invitational Golf Tournament
The San Diego Invitational Golf Tournament was held on June 3 at the Grand Del Mar. The event raised $152,000, up from $141,000 raised last year.  All proceeds will benefit the American Cancer Society.
The Nice Guys announced the Nice Guy of the Year at a luncheon held at Amaya Restaurant in La Jolla on June 12. Douglas Manchester will be honored at the 34th annual fundraising fall gala. The event will be held at the Grand Del Mar on Nov. 2. Manchester is being recognized for his numerous contributions on a national and international level in banking, telecommunications, radio broadcast, medical instrumentation, publishing, and real estate development.
AT&T has committed $25,000 to the Barrio Logan College Institute to support the continuation of a successful comprehensive program that includes freshmen assimilation camp, academic support, SAT preparation, college campus visits and parent engagement activities. This support is part of AT&T Aspire, AT&T's $350 million commitment to education.  Launched in 2008, AT&T Aspire is one of the largest-ever corporate commitments to address high school success and workforce readiness.
MAAC Community Charter School held its commencement at the Chula Vista Memorial Bowl on June 11. Sixty-three young men and women were in the graduating class. Scholarships were awarded to many students due to the generosity of individual donors as well as Generations on the Move, a local family Foundation.  MAAC Community Charter School was established on 2001 as a supportive alternative learning center for struggling students where they could develop self confidence, embrace learning and earn a high school diploma.
NBC 7 San Diego received 13 regional Emmy Awards from the Pacific Southwest Chapter of the National Academy of Television Arts and Science at the organization's annual event held on June 15 in Las Vegas. The station received the most awards in the San Diego market.
Poway resident Richard Inderwick was named an Honored Hero for the Leukemia & Lymphoma Society's annual Light The Night Walk which is being held on Nov. 8 at Petco Park. Inderwick who was diagnosed with Multiple Myeloma in 1998, will be honored at the 15th annual 2 mile walk that brings together thousands of individuals to raise money for blood cancer research and patient services. He was the youngest recorded case of Multiple Myeloma at the age of 27 when he received the diagnosis.
I Love A Clean San Diego is hosting its Summer Social on July 20 at the new Stone Brewery in Point Loma.
A special visit from the Smurfs is planned, who are joining to help "Keep America Beautiful!" All proceeds will support the ILCSD environmental education and outreach. I Love A Clean San Diego leads and educates the community to actively conserve and enhance the environment.
Please send news items to Joyce Glazer at [email protected].