More than 640 physicians volunteer to help improve the health and change the lives of uninsured, low-income adults each year through the San Diego County Medical Society Foundation's Project Access San Diego. Since the program's inception in 2008, more than 2,600 patients have received about $8.3 million in pro bono care, giving them access to the healthcare needed to get back to work and care for their families. Two of these dedicated volunteers were honored at the the Medical Society's White Coat Gala held in June.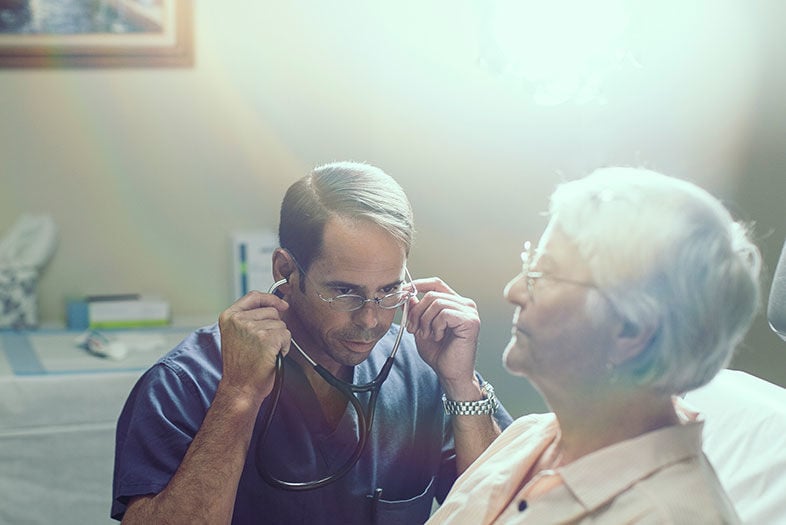 Photography by Robert Benson
Photography by Robert Benson
Bret Langenberg, MD
2014 Project Access San Diego
Unsung Hero Award
Dr. Bret Langenberg, a general surgeon on the medical staff at Scripps Mercy Hospital, has been volunteering for Project Access since 2010. He provides care for many Project Access patients like Maria, in desperate need of colorectal surgeries due to debilitating conditions.
Maria spoke for many patients when she told him, "You have given me my life back, and I am once again healthy. I hope you will continue to help others like me."
Dr. Langenberg says, "Treating Project Access patients has been very rewarding to me. These patients are so appreciative after having been stuck in a 'spin cycle,' without hope of getting the healthcare they need. There are many patients who need that help, assistance, and treatment, and realize that someone does care."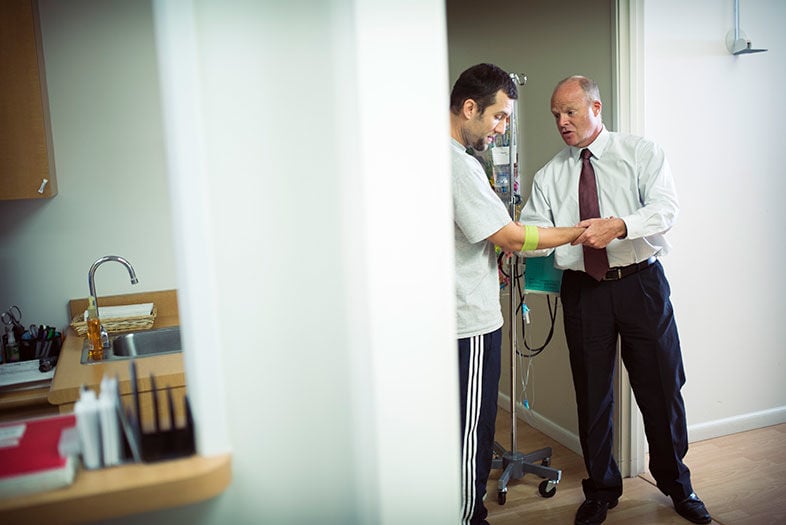 Alberto Bessudo, MD
2014 Project Access San Diego
Above & Beyond Award
Dr. Alberto Bessudo is an oncologist with Care Cancer Associates, and has helped patients diagnosed with cancer through Project Access. Patients like Joel, who was diagnosed with Stage 4 colorectal cancer, would not be alive today without the care and access to chemotherapy treatment Dr. Bessudo provides.
Joel, a father of two young children, expressed his gratitude to Dr. Bessudo and the other healthcare providers that have seen him through multiple surgeries and treatments. "Thank you for what you are doing, and not only for me but for my wife and my children," Joel says. "Thanks to Dr. Bessudo and all the doctors I have been seeing, I am here with them." Joel is now cancer-free and back to work as a painter in North County.
"Volunteering for people that need our help is really a pleasure," Dr. Bessudo says. "It just takes a bit of your time and makes all the difference to the patients. Volunteering is something we all should be doing."
---
Patients are referred to Project Access through their primary care provider, typically one of the 85 community health center sites throughout the county. Services range from a simple office visit to complex surgical procedures that may have impeded the patient's health for five or more years. Because many uninsured patients seek care for painful health issues at hospital emergency departments, Project Access saves precious resources throughout the community. A research study by UC San Diego health economist Todd Gilmer, Ph.D., has shown the program has reduced patients' emergency department visits by 88 percent, in-hospital days by 90 percent, and the number of workdays missed due to illness or injury by more than 75 percent. 
SDCMS Foundation is launching its diabetes prevention program, Jump Start for Health, this fall. For more information on Project Access or any of the SDCMS Foundation wellness and prevention programs, contact Barbara Mandel, executive director, at [email protected].