Point of Pride
The Old Customs House, in Spanish Revival architecture, was completed in 1932 and is listed on the National Register of Historic Places. The current main building was completed in 1973.
Toeing the Line
More than 7.5 million pedestrians entered the U.S. through San Ysidro in 2013.
Trusted Travelers
Pre-screened participants in the Secure Electronic Network for Travelers Rapid Inspection (SENTRI) get expedited entry across 12 points along the border. The SENTRI program has added more than 336,000 members since it began in 1995.
Bumper to Bumper
Hours-long waits to enter the U.S. are common, due to the more than 11.2 million vehicles that passed through the Point of Entry (POE) in 2013.
Building the Future
The ongoing San Ysidro Port of Entry Modernization and Expansion Project will expand the entry to 401,000 square feet, at a cost of more than $735 million.
Going Green
All phases of the expansion project are aiming for LEED Platinum certification for energy efficiency, water conservation, and design—and becoming the first 24/7/365 facility to achieve net zero energy.
Joint Jurisdiction
U.S. Customs and Border Protection serves as the official occupying agency of the POE, with full jurisdiction over the enforcement of immigration and customs laws.
Going to "Secondary"
Beyond the 25 primary vehicle inspection lanes, there's room for 42 unlucky drivers to get waved over to the Vehicle Secondary Inspection lot.
By the Numbers
About 50,000 cars cross the border daily.
Visit the Icon
720 East San Ysidro Boulevard, San Ysidro, CA 92173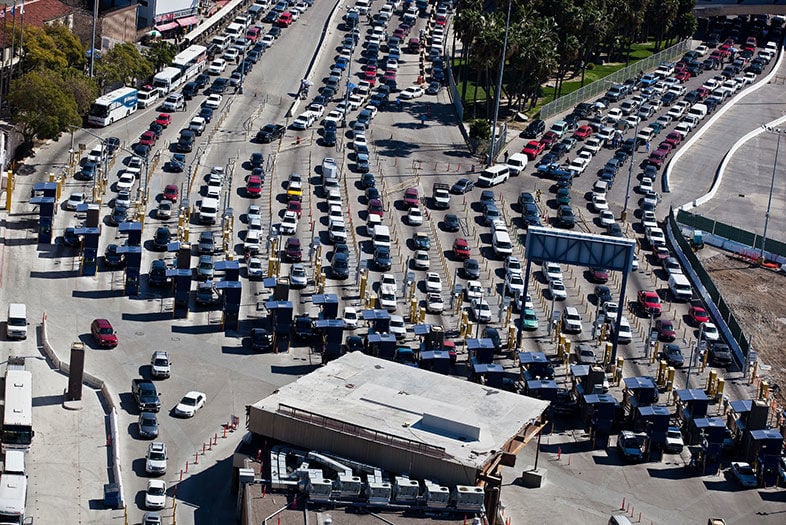 Image courtesy of customs and border protection