It's 11 a.m. on a Friday at the Living Water Church, located at 16th and Market in the East Village. Steph Johnson holds a guitar and speaks into a microphone. "If you have a solo, it's time to memorize," she says calmly to a seated group of about 100 people. One-third of them are unsheltered, another third are on the brink, and the rest are volunteers or East Village residents. The group makes up an R & B/soul choir called Voices of Our City, and they are rehearsing for a concert that's one week away called "Summer in the City," which will take place in the Quartyard.
The church is abuzz with vocal warm-ups, preshow jitters, and the promise of lunch. Anyone and everyone is welcome at these weekly sing-alongs—people come for the camaraderie and the stress relief, but only about 50 of the members will perform. A few professional musicians tinker with their band equipment. Someone in the choir has brought a kitty in a backpack-type carrier.
On cue, they close their eyes and collectively sing on a vowel, with the digeridoo that one of the musicians plays.
They rehearse the Sister Sledge classic "We Are Family," followed by Ben E. King's "Stand by Me" and Paul Simon's "Homeless." During a break, they sing "Happy Birthday" to a young man named Ray.
Michele Zousmer
The choir performs an original song that some members wrote together called "Sounds of the Sidewalk." It describes coins falling in a cup, a baby crying. A sample lyric goes like this: "Gotta keep that hope for tomorrow/ With my dignity inside/ What's mine is yours to borrow/ Together we touch the sky." The tune is catchy and the lyrics a testament to how the choir members' lives have been transformed, thanks in large part to Johnson.
Johnson does not have a background in social work or social enterprise. But three years ago, the 39-year-old San Diego native noticed a big change in the East Village. "It seemed like overnight there were thousands more people on the street." She began educating herself on the issues around homelessness and learned that affordable housing units had been removed while people on the street were going to jail. "I thought it was just so incredibly inhumane. My mother's disabled, and I grew up a little bit on assistance, so I know not everyone has the same circumstances."
Johnson had befriended a lot of people who were living on the street. With her guitar by her side, she would hand out food and bottles of water and sing with them. Sometimes she'd bring friends, and they would distribute feminine hygiene products. Around that time, the Living Water pastor noticed what she was doing and offered up his church space to use for anything. "I was like, 'Really? I don't go to church. Really?'" Johnson recalls. "I said, 'I want to start a choir.' The words kind of came from somewhere else. I knew that a lot of the people I'd met on the street, we bonded through making art or singing." What started with one person grew to nine, then 20. KPBS did a story on Voices of Our City at the end of 2016. "It went nationwide on PBS NewsHour, and our lives were never the same," she says.
Johnson, a self-taught musician who did banking in her former life, was about to go on a European tour with her fourth album. But Voices was getting gig after gig, so she put her album and music career on hold. People wanted to hire them to perform, but they needed money to transport members and feed them (Voices provides food every time they get together to sing). So, to be more organized and efficient, they held auditions for a 30-member performance choir that rehearses separately and performs about one to four times per week. Their paying gigs include community events and conferences, but they also do donated concerts at places like women's shelters. They even performed "Amazing Grace" with the San Diego Symphony at the Bayside Performance Park in 2018. With the orchestra's new music director, Rafael Payare, they are recording an album.
In addition to all the music and performing, Johnson had to learn how to establish a nonprofit and create a board. Today she is the cofounder and executive director and also acts as a music director.
The concerts became a revenue stream that allowed them to hire a case manager, programs director, and drivers—a few of whom started out as choir members. They run about 10 programs, from songwriting and guitar lessons to personal development workshops. More importantly, they've helped 40 people get into housing or safe shelter. "The wraparound support, the feeling of family, is the transformational element," she says. Voices of Our City also does advocacy and trains members in public speaking and how to tell their story. They meet regularly with elected officials and go to city council and transit meetings.
"We really felt like in San Diego it's all so fractured. I couldn't give people a phone number and say, 'Call this number,' when I knew it was broken on the other end. So, we use our popularity and our name. A lot of agencies come now to practice. Everyone's welcome—people who are sheltered, people who live up the street . . . if they want to come sing with us, they can sing. And so, you're sitting next to someone who is unsheltered, and then that person is immediately in a conversation with somebody in a respectful dialogue, so it's really unique."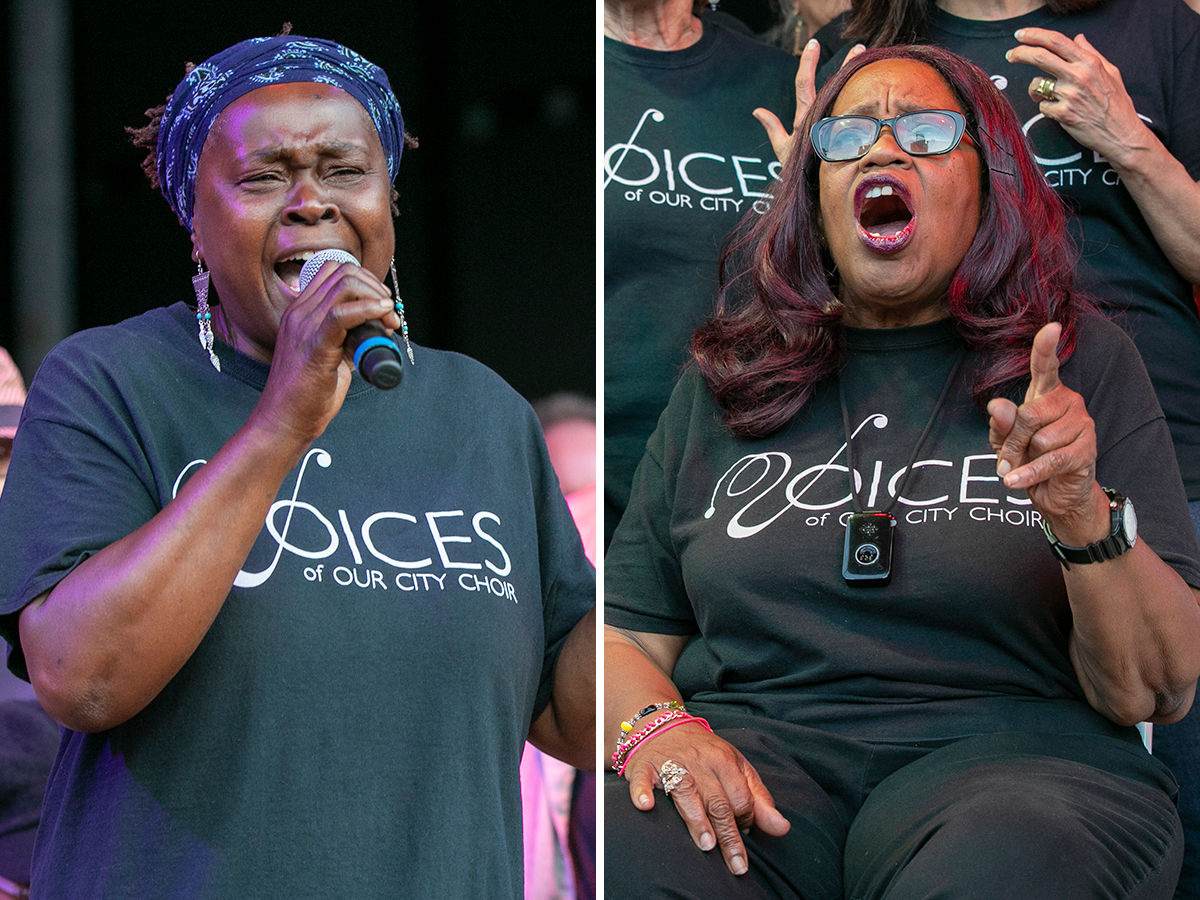 Michele Zousmer
Music and gathering is a very simple and free antidote to sadness, desperation, and loneliness, and Johnson seems to have struck a very sweet chord in the community.
In between songs, Johnson continues to teach the choir, not just about music, but also about performing and commitment and showing up. Life skills.
She is telling the members that there will be paying customers at the concert and that the choir should think about sharing the venue and not just taking over.
"I always try to give up my space or comfort to make accommodations for others. Someone who bought a ticket, can you give your seat to them?"
Harmony—it's now a sound on the sidewalk in the East Village.
---
Editor's Note: We first published this story in our Charitable Giving Guide 2020. In May, Voices of Our City earned a Golden Buzzer on TV's America's Got Talent. Then in June, the organization lost its co-founder, Nina Deering, in a vehicle accident. Our thoughts and condolences go out to all the members of this choir that brings hope and joy to so many San Diegans. Support them here.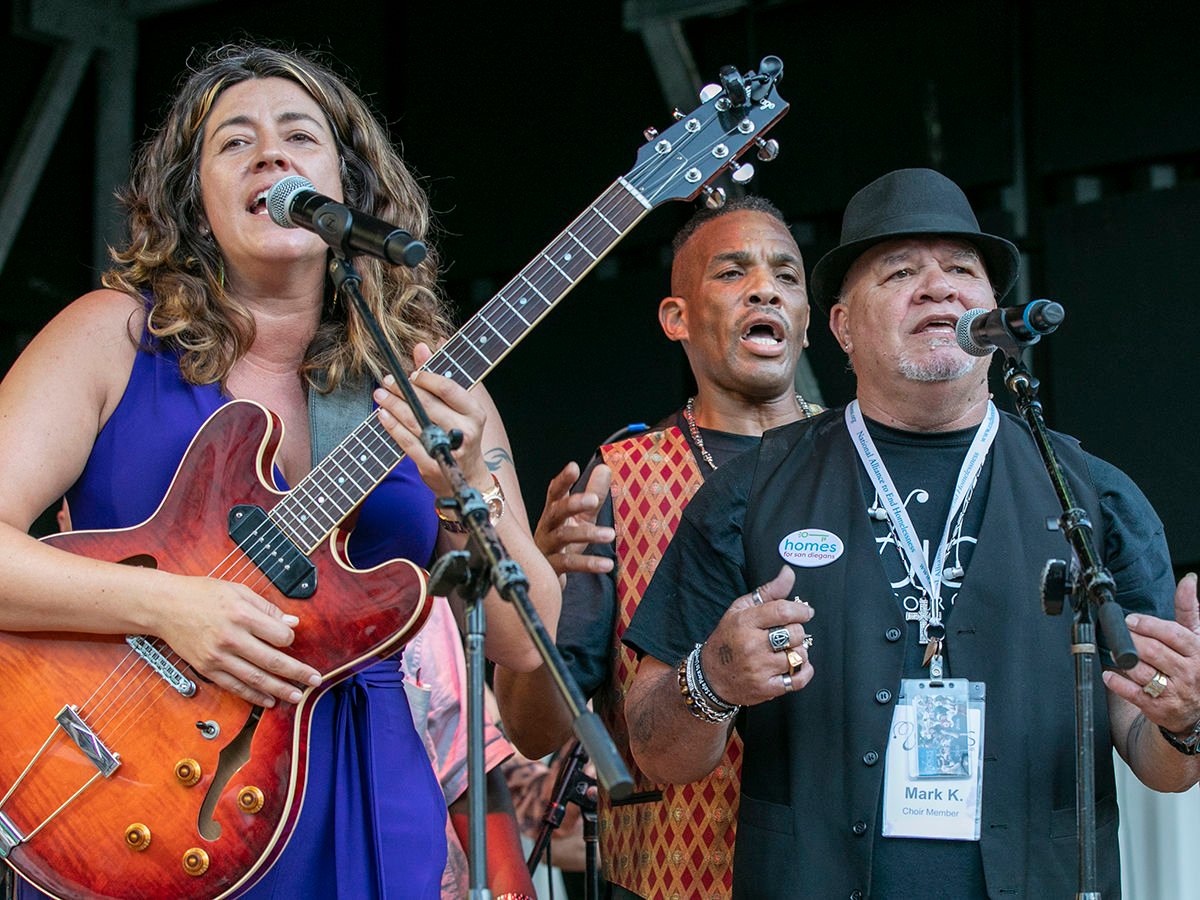 Michele Zousmer