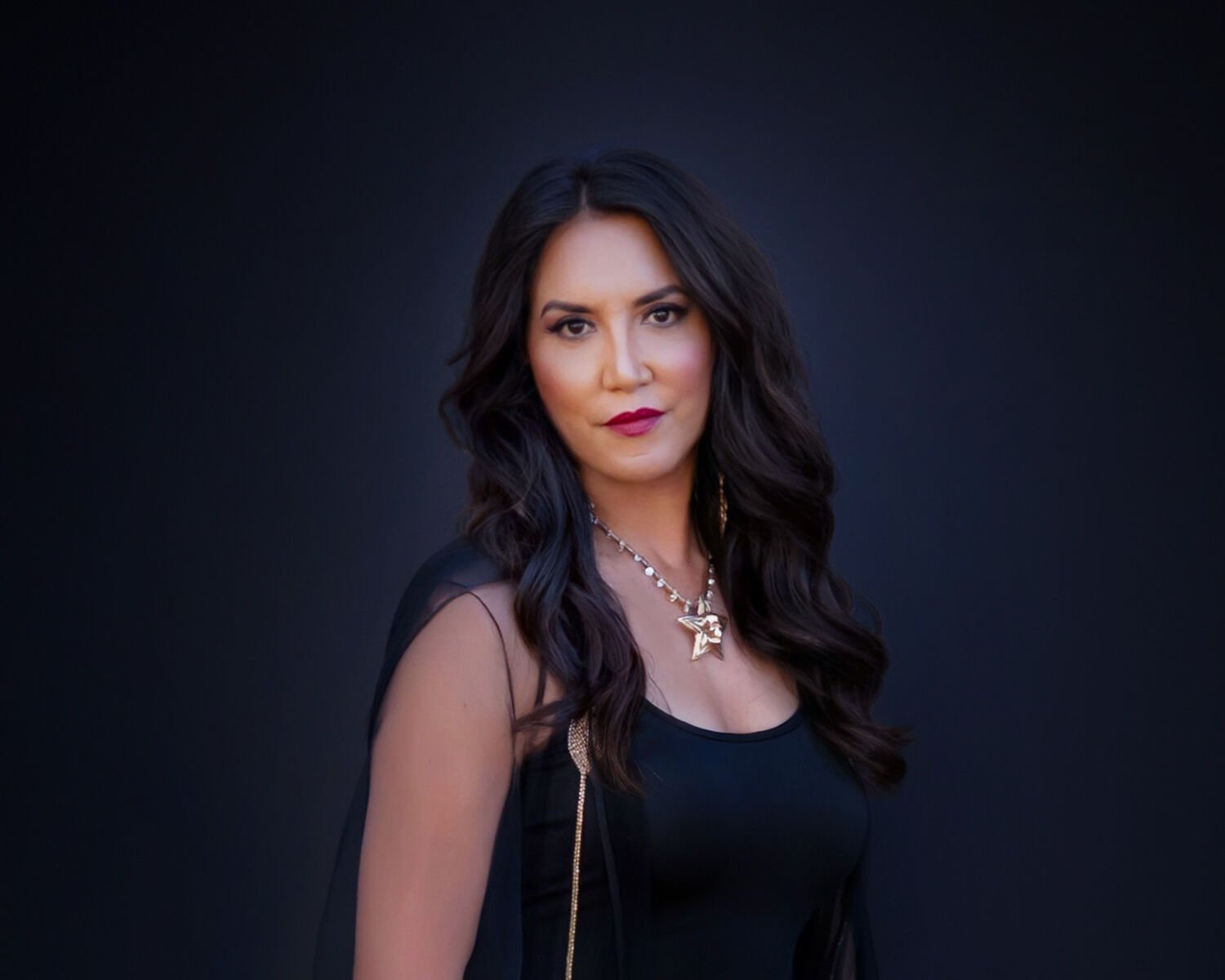 Rincon tribal member Ruth-Ann Thorn is a fixture in the art world. She recently produced and hosted a television travel series called This is Indian Country, which premiered on FNX in November. Her show features contributions of native people throughout the country. Playing off the show's formula, we asked her to spotlight local indigenous movers, shakers, thinkers, and creators.
---
Ruth-Ann Thorn
Rincon Band of Luiseño Indians
Last April, Ruth-Ann Thorn stepped down after seven years as Chair of the Rincon Economic Development Corporation, but, if anything, her efforts to preserve and promote Native enterprise have only expanded. For one, the longtime owner of Solana Beach's Exclusive Collections gallery has doubled down on her passion for art and culture to co-found Imprint Art, a global art registry that employs blockchain technology to protect intellectual property rights of creative workers.
She views this as having particular value to Native artists and craftspeople whose work has historically been co-opted by corporate brands, one reason Imprint has been embraced by the organizers of the Santa Fe Indian Market, the annual marketplace that's been a national showcase for Native arts and crafts for 100 years. Meanwhile, Thorn produces and hosts a new TV travel series, This is Indian Country, where she explores indigenous communities across the U.S., highlighting creators who make a cultural impact, such as Minneapolis chef Sean Sherman, whose indigenous cuisine has established his Owamni as James Beard's reigning best new restaurant.
The 12-episode series launched in November on the First Nations Experience television network, FNX, also home to Thorn's previous artist docuseries, Art of the City. "For all cultures, art is what tells the story of who we are as people," says Thorn. "It's especially important for our culture because of the dwindling number of people. At some point art may be the only thing that will tell that we were really here."
---
Jamie Okuma
Luiseño, Shoshone-Bannock, and Wailaki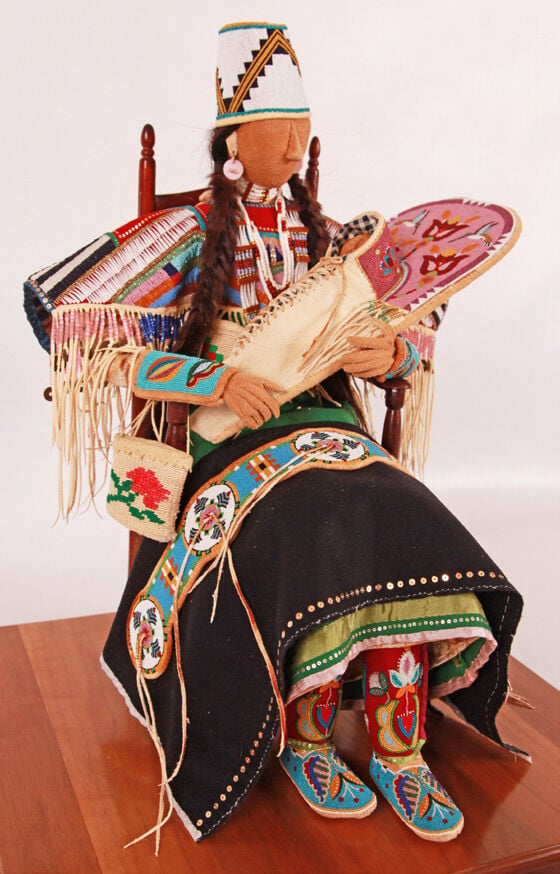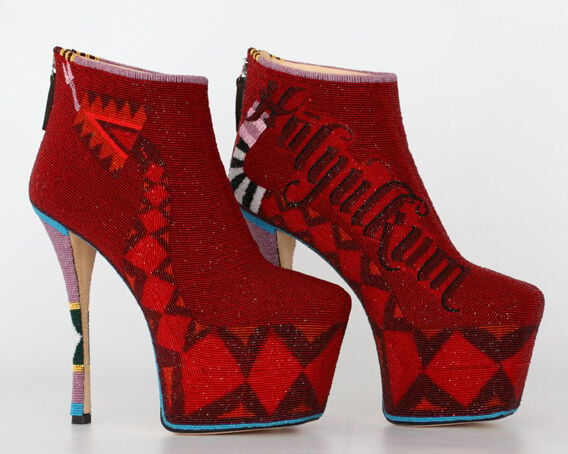 Working out of her home on the La Jolla Reservation at Palomar Mountain, artist and fashion designer Jamie Okuma has achieved international acclaim for her work, which has appeared in the pages of Vogue and InStyle magazines and within permanent collections of museums, including the Metropolitan Museum of Art and the Smithsonian. Both in technique and form, Okuma draws inspiration from her Luiseño, a.k.a. Payómkawichum culture and territory, with much of her output based on astonishing and intricate beadwork.
It's a medium she's been careful to cultivate, beginning with antique beads she began collecting at an early age. "The type that I use are very, very scarce," she explains, "almost impossible to find these days." Their quality may be most evident in designer boots and shoes by the likes of Christian Louboutin and Casadei, which Okuma painstakingly resurfaces with striking animal imagery and geometric patterns.
However, it's also behind her limited-edition fashion collections, as Okuma digitally captures her beadwork to create breathtaking custom prints behind distinctive jacket, dress, and wrap designs. All the clothes are sold directly through the artist's website and are quick to sell out, so her socials are a must-follow if you want to be ready when a new collection drops. That could be once, or three times per year, depending on forays making jewelry, dolls, or commissioned artworks.
"My art is at the core of everything that I do," Okuma says. "It's just whatever takes over at the time."
---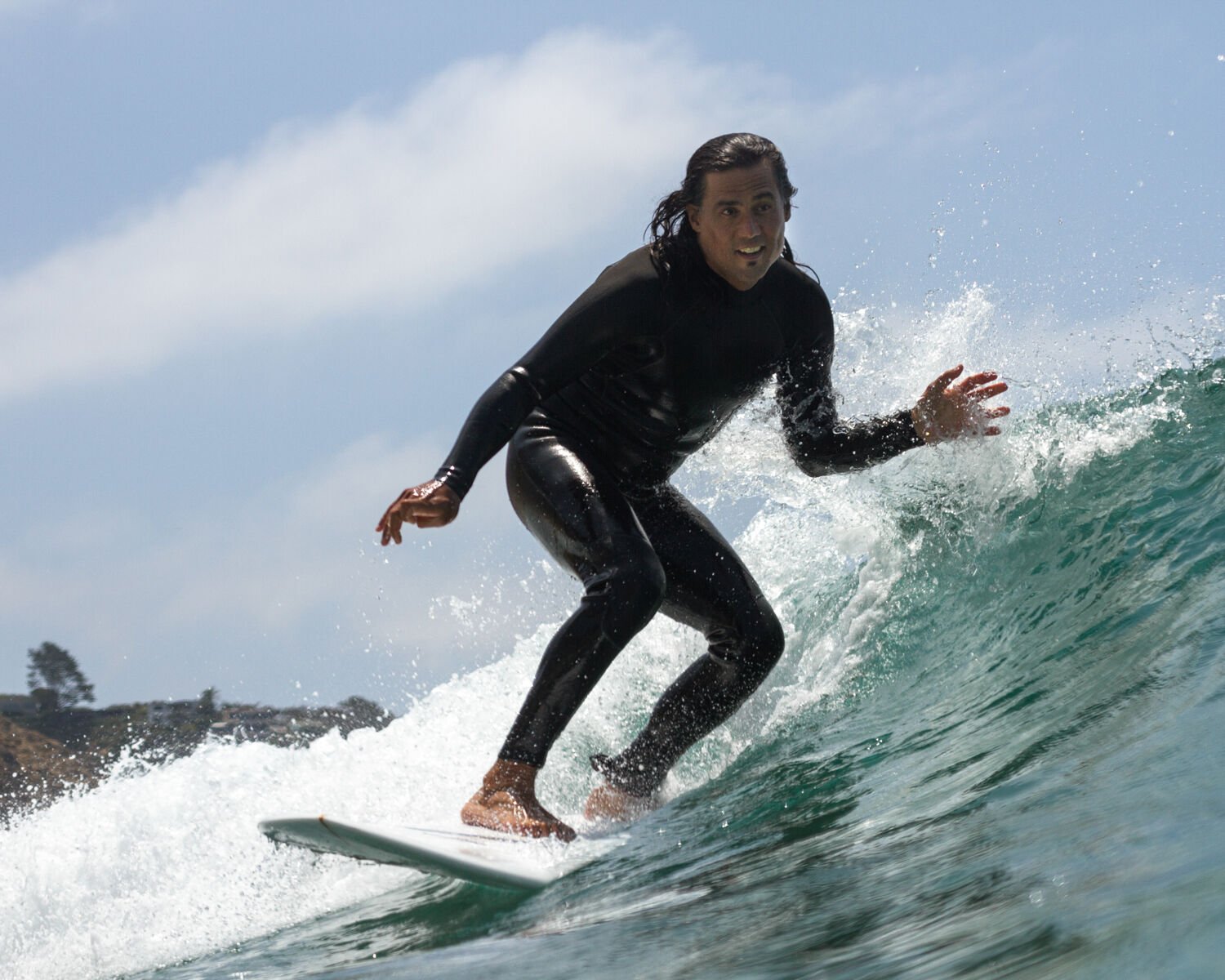 Marc Chavez
Nahua
"There are a lot of challenges to go surfing when you're a teenager where I lived," says Marc Chavez, recalling long bus rides from his childhood home in L.A.'s San Gabriel Valley. "To get to the ocean was a big deal." Chavez doggedly embraced a lifelong surfing lifestyle, coming to San Diego by way of UCSD, and that experience informed his founding of the nonprofit Native Like Water.
Its flagship program takes indigenous teens—for example, those living on east county reservations an hour's drive from the ocean—on guided surf trips, often led by indigenous mentors and occasional pro surfers. Not only to spots such as La Jolla Shores but to far-flung surf destinations in Baja, Panama, and even Hawai'i. Over two decades, the program has grown through donations and in-kind volunteership, and more recently, Native Like Water has added paid adult programs, inviting people from all backgrounds to experience the guided sessions that have been changing teens' lives for the better, thereby funding scholarships for the next generation of native youth.
In addition to surfing, surf therapy, and hiking, Chavez notes the programs allow participants to see the coastal landscapes through an indigenous lens. For example, sessions at La Jolla shores unwind the unfathomably long history to recount a time native peoples' lives were wholly intertwined with the coastal waters. "You're sitting on a 10,000-year-old village site," Chavez explains. "And not even 100 yards out to sea are underwater village sites that are 20,000-years-old."
---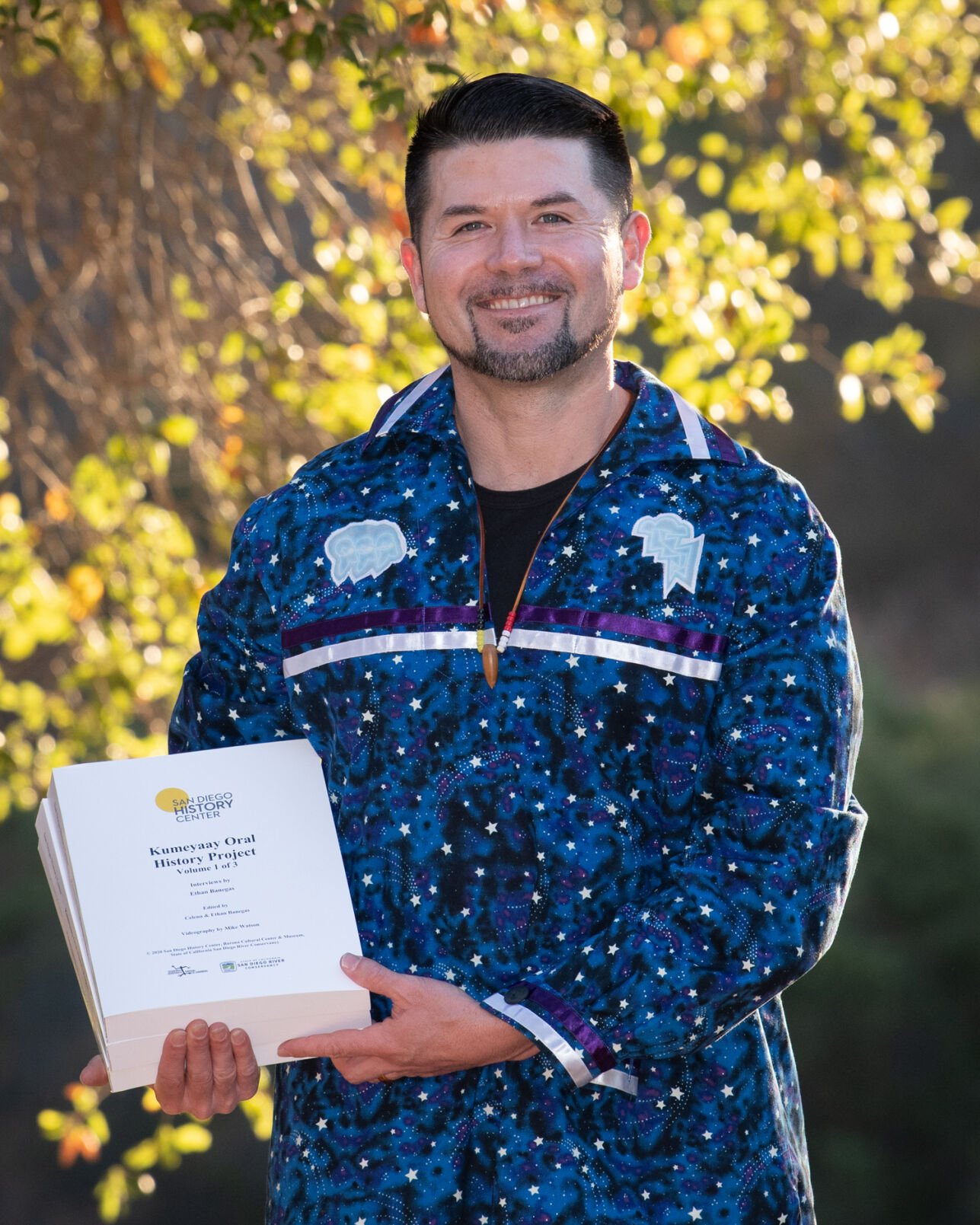 Ethan Banegas
Kumeyaay, Luiseño/Payómkawichum, and Cupeño/ Kuupangaxwichem
Now a historian with the San Diego History Center, and a lecturer of American Indian Studies at SDSU, Ethan Banegas recalls being one among many "rambunctious" youth growing up on Barona Reservation. But he would find his calling while studying history at USD, where it frustrated him to realize existing histories of the Kumeyaay people left out oral histories.
"Why isn't anyone going out and collecting our history before it's too late?" he wondered. "I realize now that it took someone like me," Banegas says. "Who goes outside the community to get that training, and comes back." Earlier this year, working with the History Center, Banegas completed the Kumeyaay Oral History Project. Compiled from interviews with tribal elders representing eleven different reservations within San Diego County—plus one Kumiai ejido in Baja—Banegas says its stories reveal both the diversity and intelligence of the first peoples of San Diego, aspects rarely documented by Spanish missionaries.
"What people don't realize about oral history projects," Banegas points out. "If you talk to an elder now… and they tell you what their grandma said, you're going back hundreds of years." The oral history may be viewed at the History Center, Barona Museum, and Sycuan Cultural Resource Center, though at 1,200 pages, Banegas recognizes it's unlikely to reach a mass audience. So he's collaborating with colleagues on a graphic novelization of the Kumeyaay creation story and with family to write a film script depicting the pre-contact era and the arrival of Junípero Serra.
---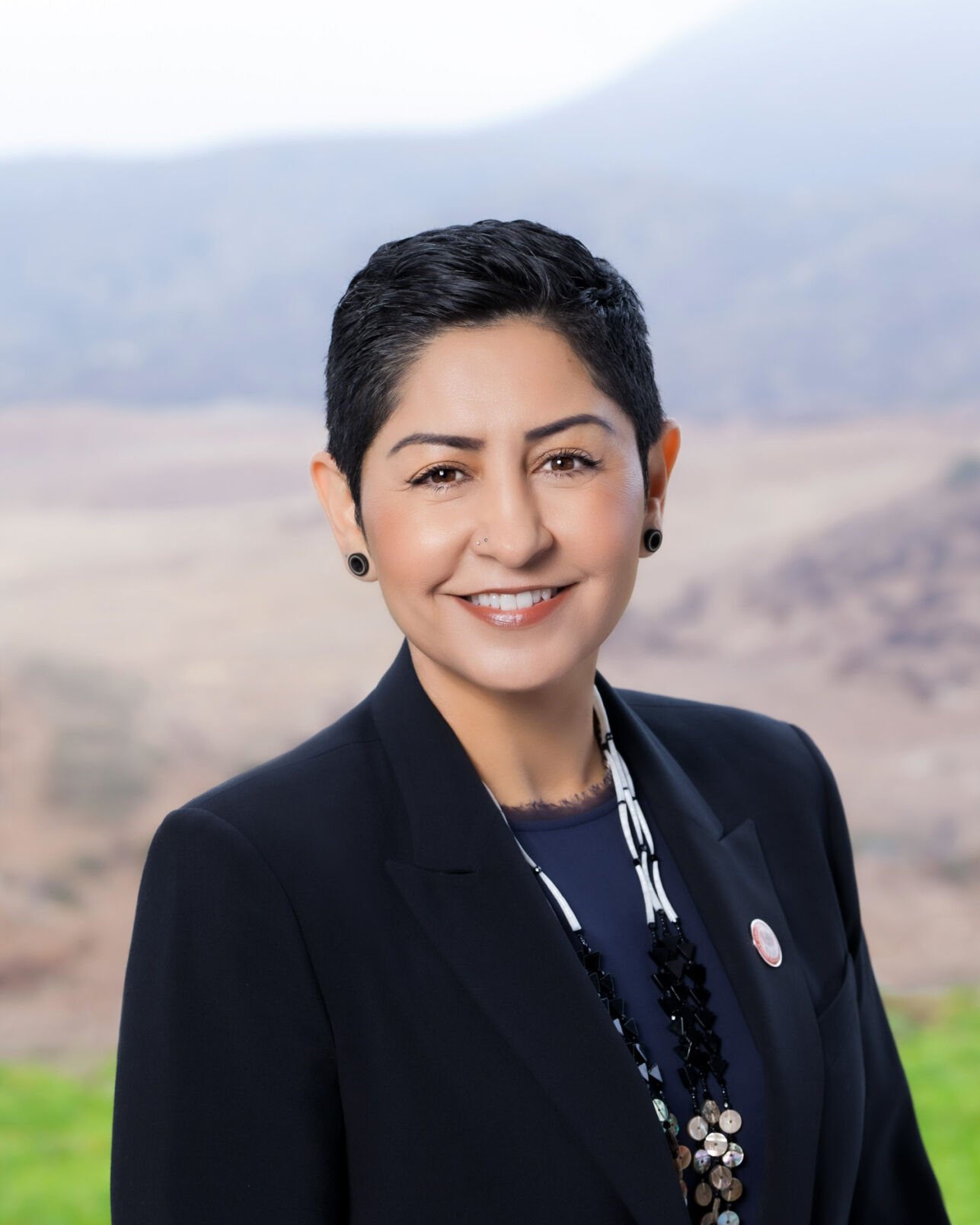 Erica M. Pinto
Jamul Indian Village
Erica M. Pinto was elected to the Jamul Indian Village council at age 20 and has served as chair since 2015. Beyond that, the tireless advocate (who identifies as LGBTQ2S+, with the 2+ referring to two spirits, the pre-contact interpretation of queerness and gender fluidity) sits on numerous regional and state tribal boards and was tapped this summer to represent California's tribes on the Secretary of Interior's Tribal Advisory Committee.
There she joins tribal leaders from across the country to advance issues of common concern to America's 574 tribes, including missing and murdered indigenous people initiatives, clean drinking water, and mental health. "That's a big passion of mine," says Pinto. "To make sure our people have access to quality healthcare." Meanwhile, work at home is entering a new phase. While Pinto was growing up, Jamul Indian Village comprised only six acres, but since Jamul Casino opened in 2016, it's generated enough income for the tribe to purchase 161 acres.
A hotel will soon break ground on the reservation, and Pinto envisions the introduction of health clinics, an organic grocery, and especially new housing. Because, back in 2005, residents moved off the reservation to make way for long-term development; the new land will allow all to return and reunite with their community at last. For Pinto, it's the culmination of a passion to see her people always do better. "When you look at violence and bullying, substance abuse, and all these things that we face as American Indian people," she says. "We want to make sure that our youth have each other and grow up to be strong and confident. Because it wasn't always like that for us, and I want that for them."
---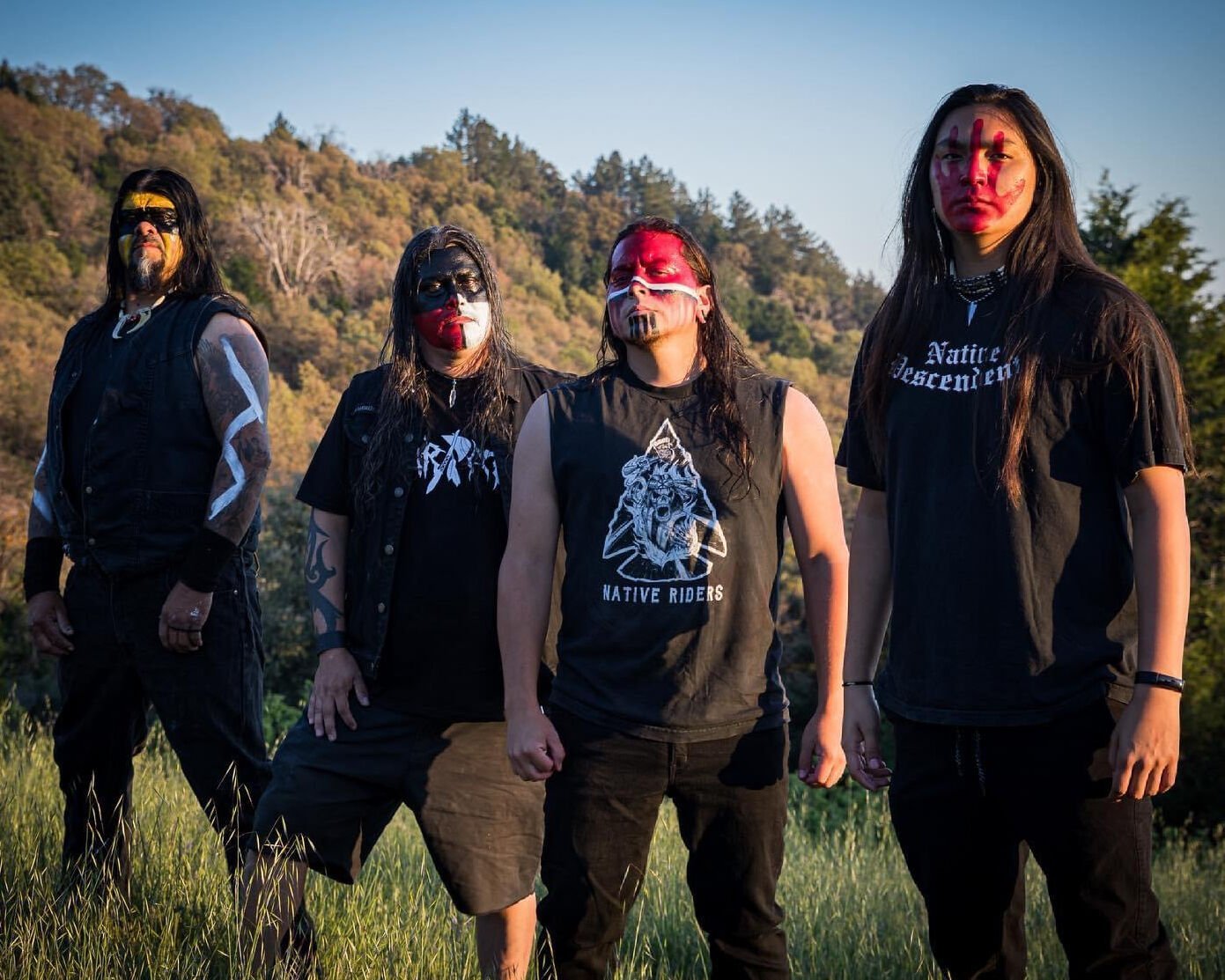 Dean "The Bear" Osuna
Iipay Nation of Santa Ysabel
Growing up on reservations, Dean Osuna and his musician friends lacked access to shiny, new instruments. "The guitars and amps that we had were all beat up and salvaged from the bottom of the deepest, darkest basement you could even think of," he recalls. The aspiring drummer had to go a step further, welding together his first kit in shop class from foraged parts. The group's passion paid off in the formation of the all-Native metal band, Warpath.
Dean "The Bear" and lead vocalist Chance "The Bison" Perez hail from Santa Ysabel Reservation, and lead guitarist Harrison "The Buck" Whitecloud and bass player Danny "The Rattlesnake" Trujillo are from Barona. In addition to adopting animal totems, the group performs in warpaint, lending to spirited stage shows punctuated by high-energy music infused with rattles, chants, and melodies resonant of their shared Kumeyaay heritage.
"We have these undertones that are Native-based," says Osuna. "That is part of our culture. That's what we practice." Having performed up and down the West Coast and at festivals, including the Gathering of Nations Pow-Wow in Albuquerque, the band has accrued a legion of fans, dubbed "Warpath Nation." Watch for local shows at Brick By Brick as the group works to produce a follow-up to their self-titled 2019 debut album, recorded at Trujillo's PSI Studio in Barona. These days, the guys have no shortage of top gear. "I just bought my dream kit," Osuna tells me: a set of Pearl drums in shiny black chrome.