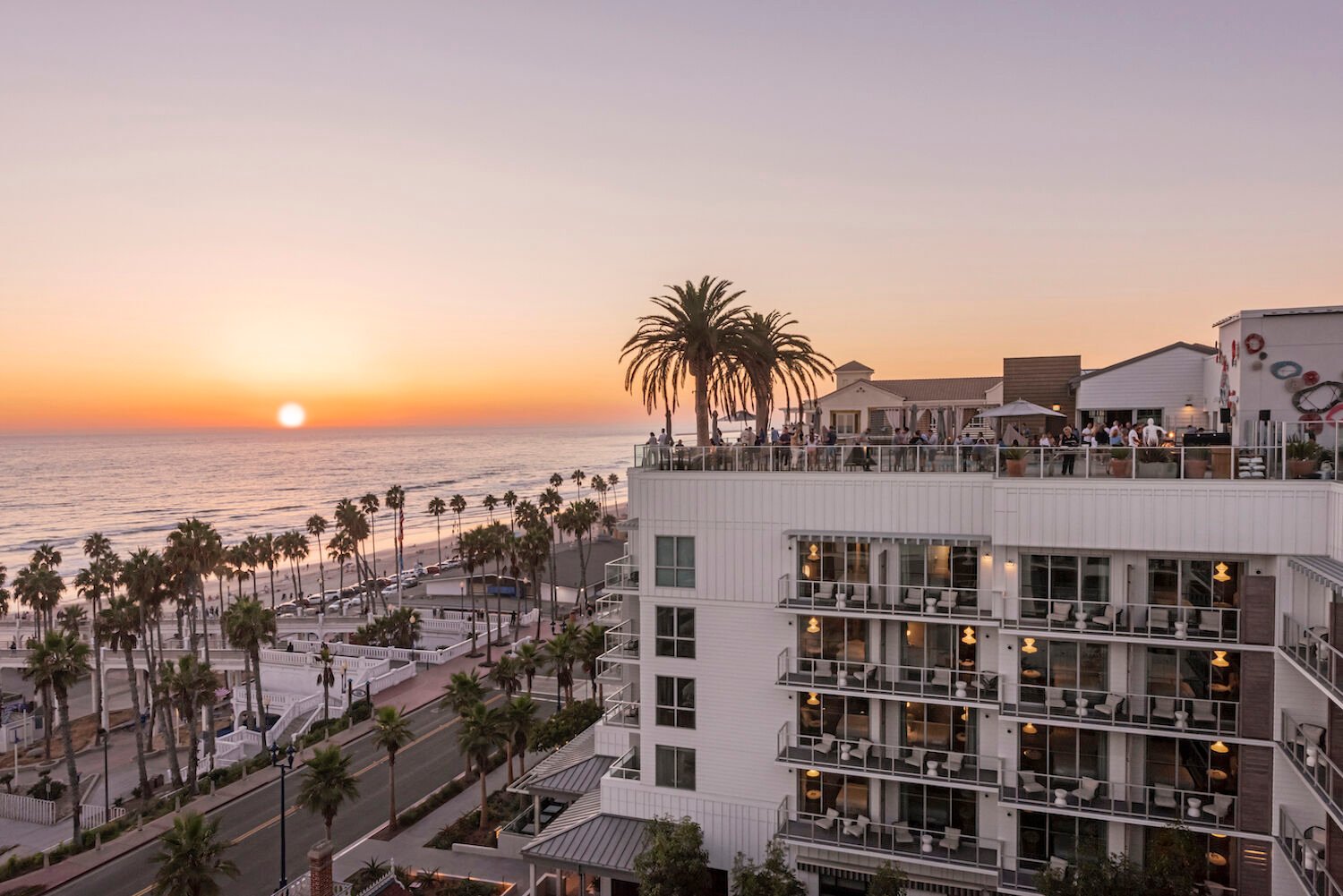 Courtesy of the Mission Pacific Hotel
We did it. We made it to summer. After a seemingly indefinite hiatus, the sun has made like Blink-182 and returned to rocking. Later, seasonal depression! And hello, boat rides and base tans.
Now that June Gloom is in the rearview mirror, it's time to head outside and grab a cold one to celebrate. To help kick off extended happy-hour hangs and beer-goggle summer romances, we rounded up 12 of our favorite rooftop bars in San Diego to check out. Here are some of the top sun-kissed patios in the city.
Courtesy of Kairoa Brewing Company
Kairoa
With more than 10,000 square feet of space, Kairoa in University Heights is a great rooftop bar for large groups. The New Zealand–inspired spot also features an in-house brewery and a private event area. Post up with a pilsner and a rack of lamb and, since Kairoa's dog-friendly, order your furry pal some chicken and veggies from the pup menu. | University Heights
Cococabana
Located above the Brick Hotel in Oceanside, Cococabana is a Caribbean-style rooftop bar known for its fruit-forward cocktails. Sip on tropical concoctions like the guava-grapefruit Havana Good Time, served in a copper flamingo statue, while taking in the ocean views and the lively atmosphere of Oceanside's main street. To make the most of your visit without breaking the bank, drop by during their happy hour on Fridays from 1 to 4 p.m. or indulge in bottomless mimosas from 11 a.m. to 3 p.m. on Saturdays and Sundays. Only at the Coca… Cococabana. | Oceanside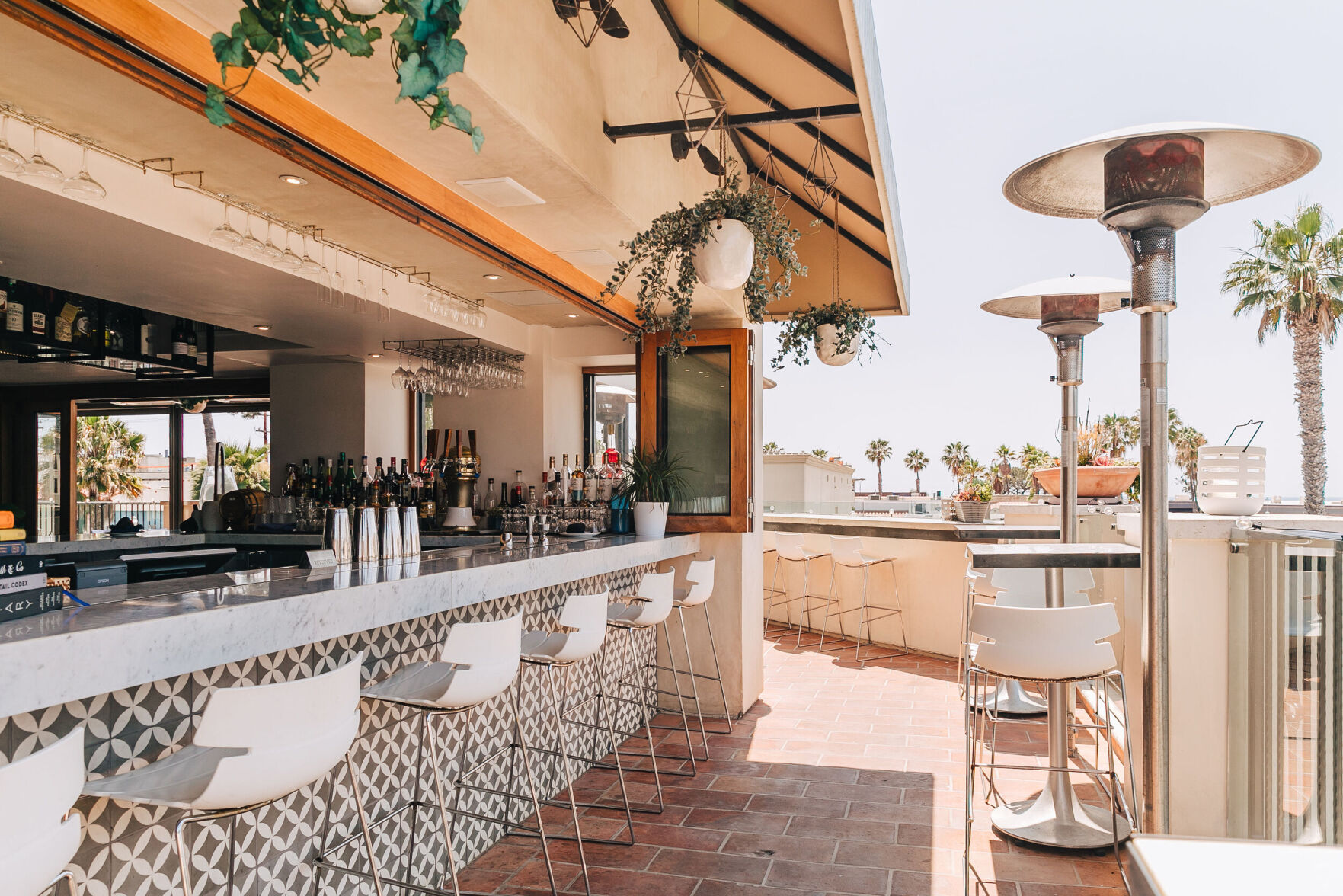 Courtesy of Catania
Catania
Looking for one of the best views in La Jolla and one of the top Italian restaurants (named critic's choice in our 2023 Best Restaurants issue) in San Diego? Hit both goals at Catania, which sits on Girard Avenue scant blocks away from the La Jolla Cove. A Whisknladle spot, the restaurant boasts stellar views of the ocean and dishes like duck sugo orecchiette and an assortment of Italian beers, wines, and cocktails. Be sure to get a reservation around sunset to get the most out of your rooftop Italian feast. | La Jolla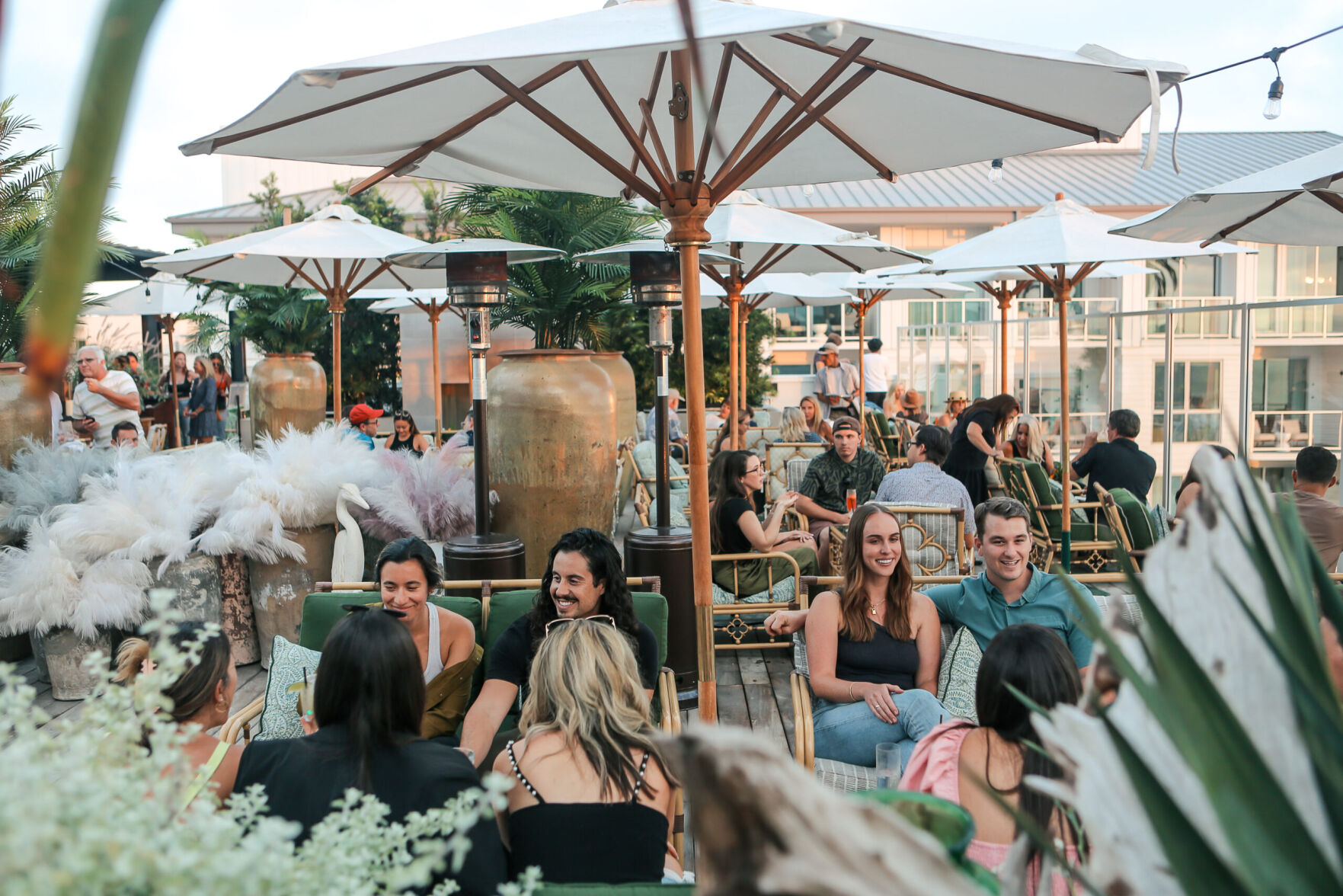 Courtesy of Mission Pacific Hotel
Rooftop at Mission Pacific
Dine poolside and sky-high at the Rooftop at the Mission Pacific hotel. This 21-plus lounge is a great spot to mix and mingle, order refreshing cocktails, and enjoy live music from their resident DJs. Drinks at the Mission Pacific can lean toward the pricey side, but the beachfront views, classy atmosphere, and great service make it worth a little extra coin. | Oceanside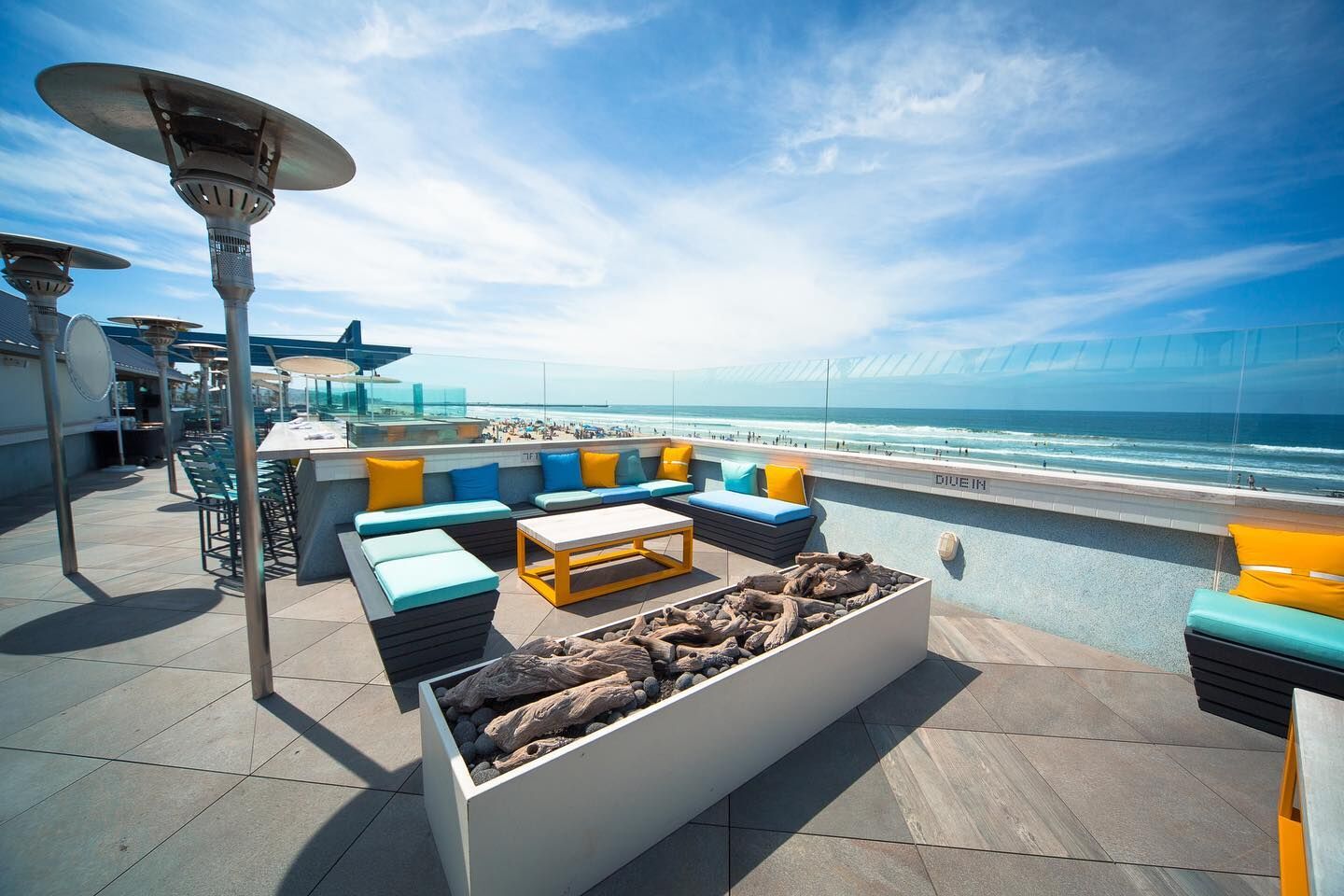 Courtesy of Cannonball
Cannonball
Perched on the boardwalk of Mission Beach, Cannonball is a lively sushi bar just a stone's throw from the beach. The vibrant spot offers sushi and Japanese-inspired dishes like the tuna-and-tempura Red Dragon and the seafood-filled Cannonball Burrito (which, spoiler, is really a massive sushi roll). Pair any of these dishes with one of their sakes, Japanese whiskeys, or craft cocktails. And every Thursday, they tap San Diego musicians to perform an acoustic concert from 5 to p.m. | Mission Beach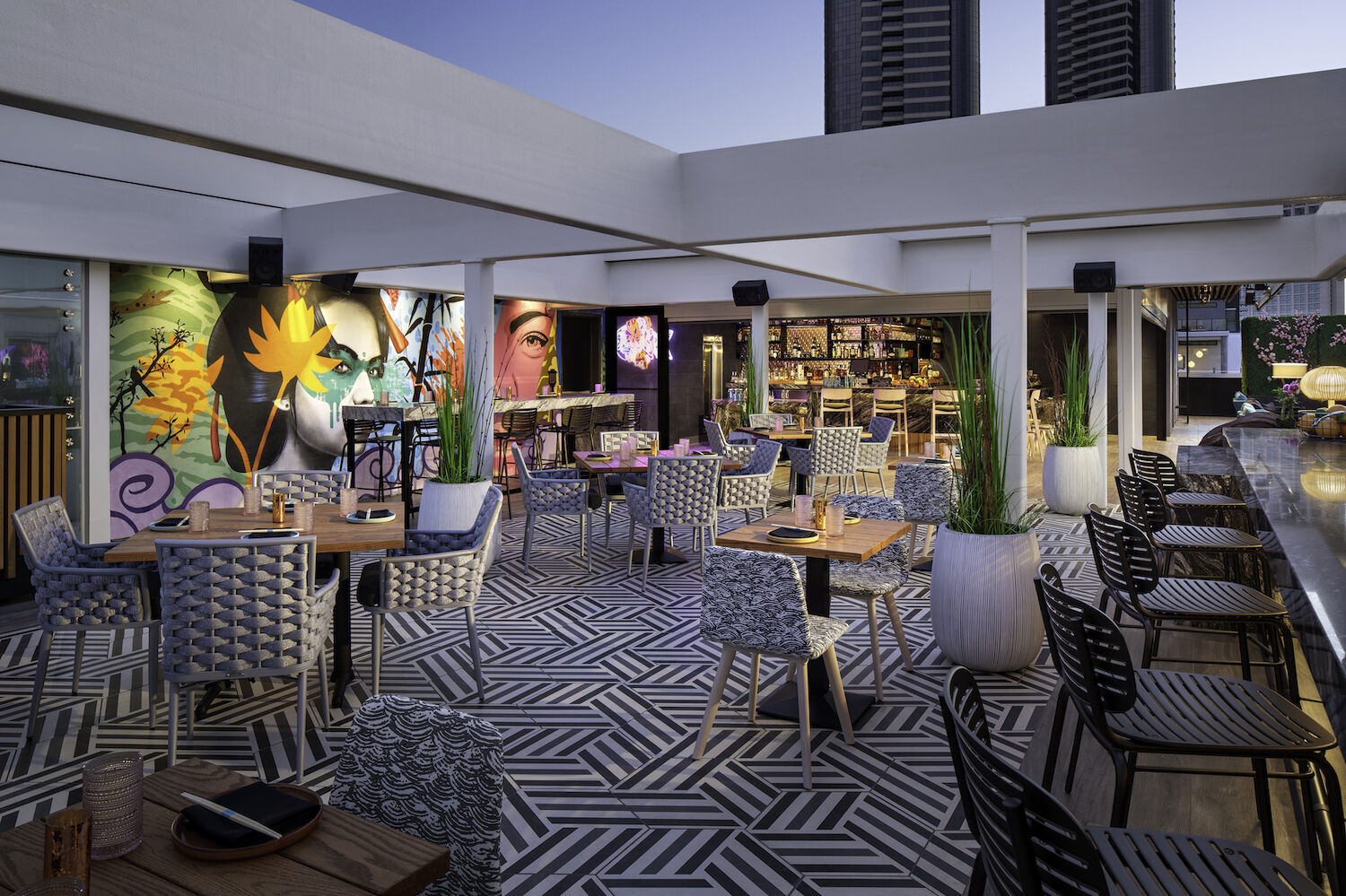 Photo Credit: Zack Benson
Lumi
Lumi, a restaurant atop the Huntress on Fifth Avenue in downtown, takes you on a culinary journey. Created by Michelin-starred celebrity chef Akira Back, Lumi turns globally sourced ingredients into colorful works of art. The rooftop eatery features booth seating for larger groups, a cocktail bar overlooking the Gaslamp strip, live DJs, and creative Japanese-Peruvian fusion plates. Crowd favorites include the tuna-topped Akira Back Pizza and the Kanpachi Ceviche. | Gaslamp Quarter
Garibaldi
Garibaldi is one of San Diego's best-kept rooftop secrets. The Southern Italian restaurant and bar, located blocks away from the marina, features gorgeous views of the San Diego Bay. Order a spread of seafood and seasonal cocktails (we like their spiced agave Quattro Rosso) and make peace with being a little late to work tomorrow—their second happy hour runs from 8 p.m. to close (10 p.m. except for Sundays). | Downtown
Mister A's
One thing that didn't change with Mister A's 2022 renovation? The local institution's 180-degree view of the San Diego skyline, Balboa Park, and the bayfront. The San Diego Magazine Best Restaurant winner sits on the 14th floor of the Manchester Financial building in Banker's Hill. Impress your summer sweetheart with a fancy meal (potato-crusted sea bass and butter-poached lobster!) and complex cocktails, or make it a daytime date at the restaurant's Saturday Jazz Brunch from 10 a.m. to 1 p.m. | Banker's Hill
Seneca Trattoria
Walking into Seneca Trattoria is like strolling onto a luxurious cruise ship from another era. Located on the 19th floor of the InterContinental Hotel, Seneca peers down at the San Diego waterfront and offers booth seating along the perimeter. The restaurant whips up Italian eats like Wagyu bolognese pasta and wood-fired pizzas that pair well with their Mediterranean-inspired cocktails. Be sure to make a reservation and dress to impress—may we suggest Italian linen? | Downtown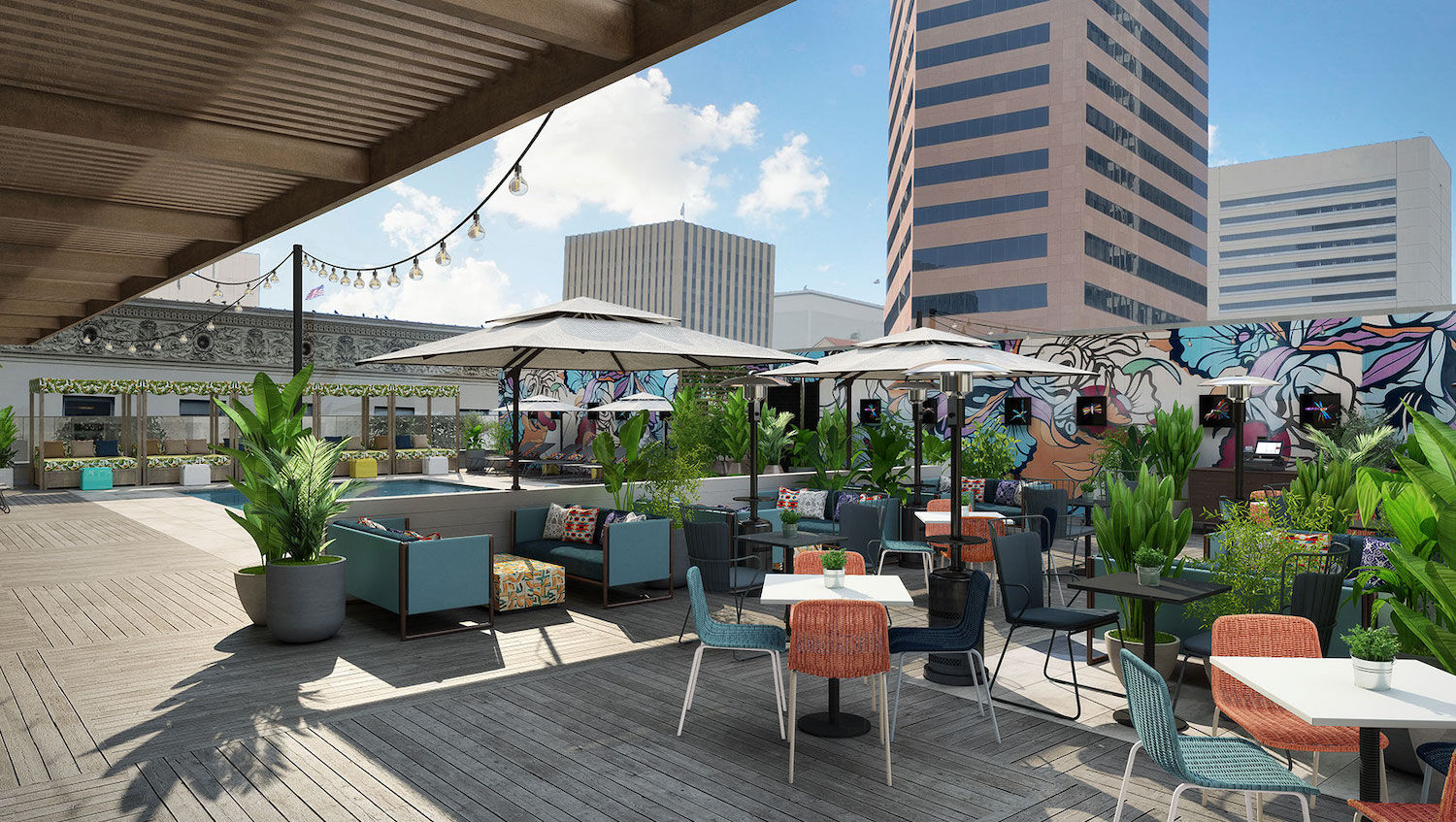 Courtesy of the Kimpton Alma Hotel
Leave of Absence
Opened in early May, Leave of Absence is the rare San Diego rooftop bar with a swimming pool. Chef Jason Neroni helms the kitchen (and the Desmond Supper Club and Hotel Alma Cafe below at Kimpton Alma). If you call out sick to lounge waterside with a margarita in hand, we won't tell. | Downtown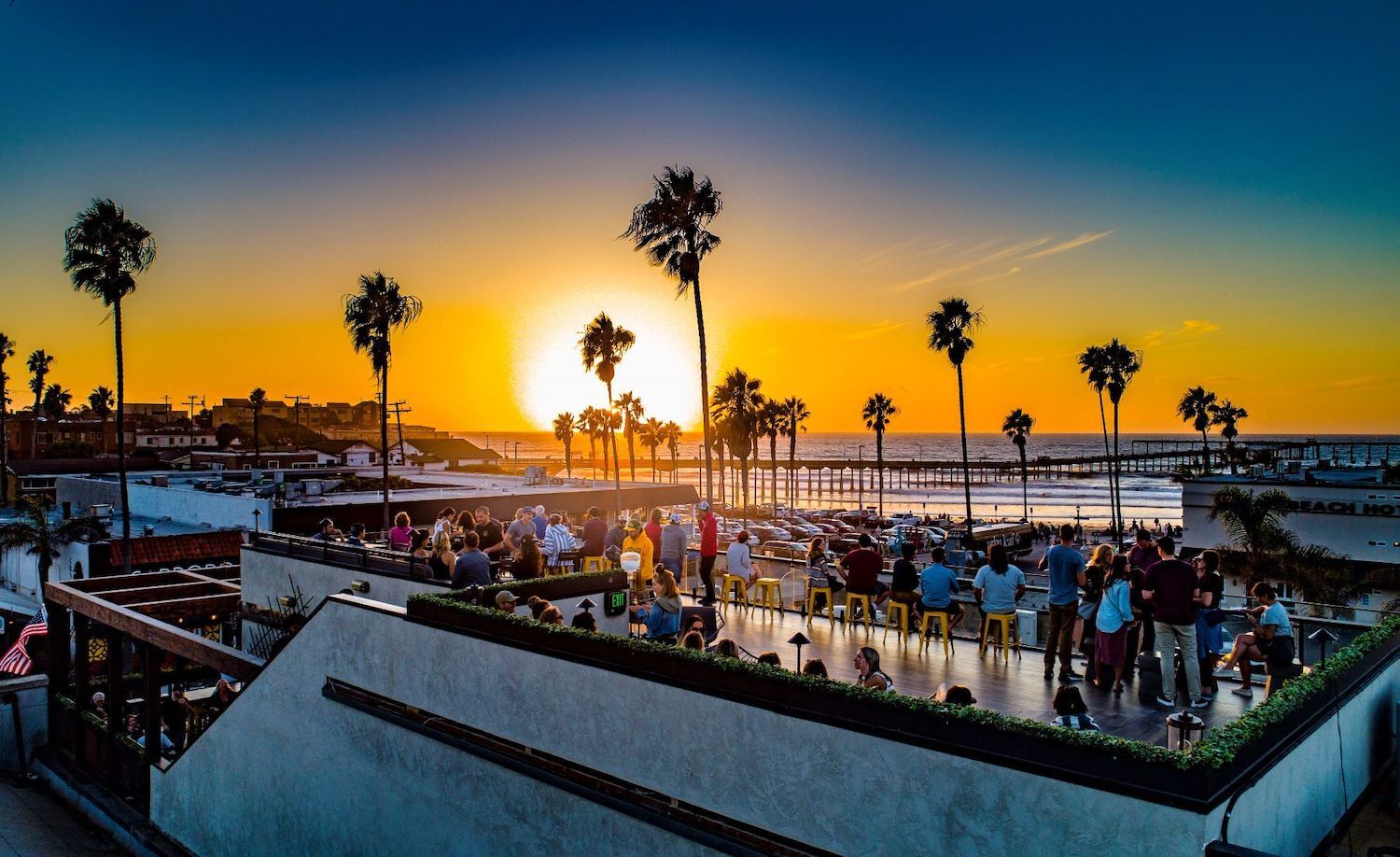 Courtesy of the Holding Company
The Holding Company
The Holding Company in Ocean Beach features three floors packed with dining space, bars, and a live music venue. Blocks from the beach, the restaurant is a perfect spot to catch a concert, or simply inhale chicken wings and a Screwball shot after an afternoon wandering Newport Avenue. | Ocean Beach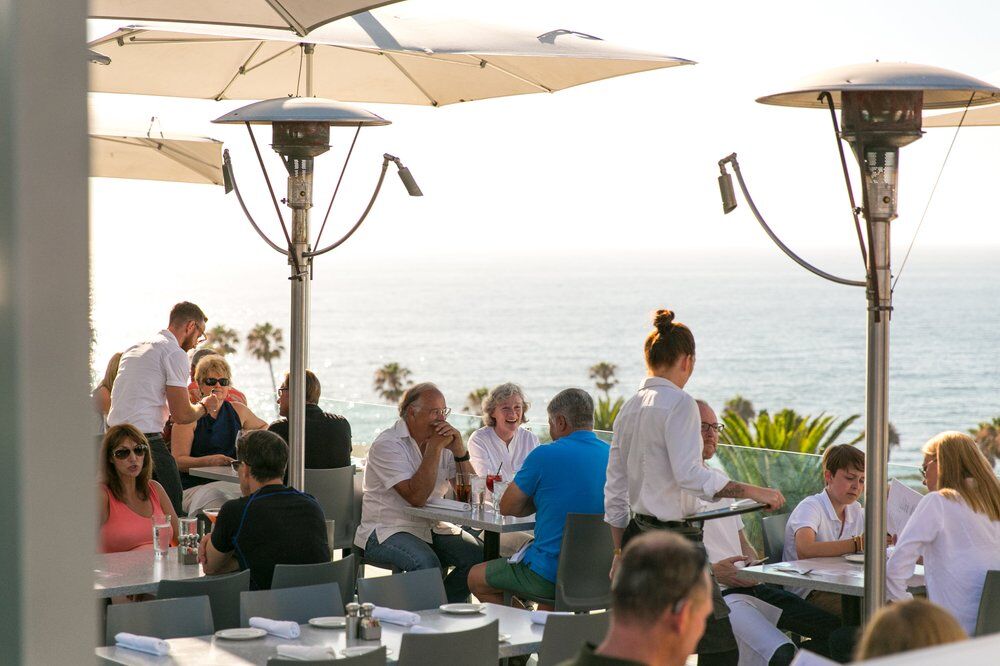 Courtesy of George's at the Cove
George's at the Cove
George's at the Cove, a three-decade-old cliffside restaurant, features two levels of oceanfront seating in the La Jolla Cove, plus a menu full of surf and turf and salads and an almost dizzyingly long wine list. Parking can be tough around the cove, so either valet on Prospect Street or search for spots deeper into the village. | La Jolla