Published September 14, 2020 | Updated April 12, 2023
Enjoy your beer with live music and a heated outdoor patio at San Diego's first and only all-in-one restaurant, winery, and brewery. Abnormal Beer Company has 40 taps of various beers and wines, offering their own alongside many other guest beers from around the world. Their tasting room is attached to their restaurant, The Cork and Craft, which offers a variety of comfort food with a twist in a classy, pub-like setting.
16990 Via Tazon, Rancho Bernardo | 858-618-2463
Family owned and community focused, AleSmith has garnered a host of awards at prestigious local, national, and international competitions. At its new location, AleSmith is showcasing a custom Steinecker 80-barrel brew system, San Diego's largest tasting room, and its famous Tony Gwynn Museum. Their outdoor beer garden now offers dine-in service.
9990 AleSmith Court, Miramar | 858-549-9888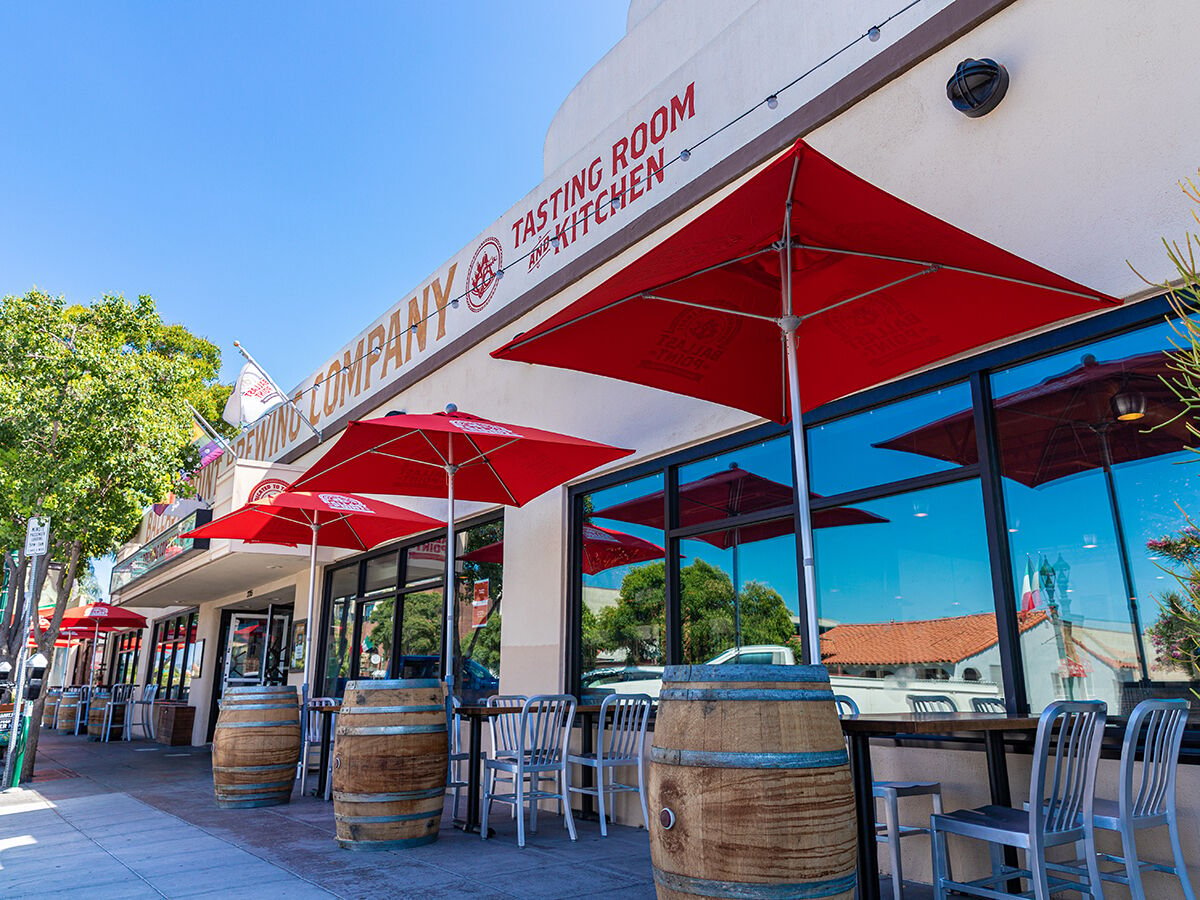 Whether you prefer coastal breezes and patio pints in Little Italy or an outdoor patio in Miramar at Ballast Point's largest West Coast brewery, you can count on casual dining ambience and both award-winning and experimental brews.
2215 India Street, Little Italy | 619-255-7213
9045 Carroll Way, Miramar | 858-790-6900 
This Latino-owned brewery expanded their operations to Los Angeles and was nominated for a James Beard Award earlier this year. Their beer is infused with traditional Mexican flavors like horchata and jamaica (hibiscus), and they serve Tijuana-style street tacos along with brews at their Logan Avenue beer garden.
2181 Logan Avenue, Barrio Logan | 619-501-0503 
From its inception in 2016, Burgeon's mission has been to give back to their local community and promote environmentally sustainable practices, all while crafting unique, high-quality craft beer made available to everyone. You can sip a Treevana, their West Coast IPA with mosaic and amarillo hops, as you relax in their outdoor beer garden
6350 Yarrow Drive, Suite C, Carlsbad | 760-814-2548
649 Rock Springs Road, Escondido | 760-546-6740
Not only is this brewery veteran-owned, but it's also one of the only Black-owned breweries in all of San Diego. Chula Vista Brewery opened in response to the lack of breweries in the neighborhood and focuses on creating a comfortable and inviting setting for enjoying their quality craft beers. They also team up with local restaurants and food vendors.
294 Third Avenue, Chula Vista | 619-616-8806
871 Showroom, Chula Vista | 619-616-8806
This family-owned brewery opened its doors in 1996 and gained popularity over the years for its abundantly hoppy West Coast–style ales. You can enjoy their bright, piney Idiot IPA or Blue Bridge Coffee Stout fresh from the taps as you take in their coastal ambience. And don't forget to check out their food truck lineup for the week.
1205 Knoxville Street, Bay Park | 619-275-2215
170 Orange Avenue, Coronado | 619-437-4452
875 Seacoast Drive, Imperial Beach | 619-423-4900
Situated right on the harbor, Eppig's Waterfront Biergarten patio in Point Loma lets you enjoy your beer with a view of the water, boats, and an occasional sea lion, if you're lucky. Eppig primarily brews German styles, like the Meister Northern German wheat ale, their most award-winning beer. Their Japanese-style Special Lager is another must-try.
2817 Dickens Street, Point Loma | 619-756-6825
1347 Keystone Way, Vista | 760-295-2009
1273 Prospect Street, La Jolla | 858-999-0065
Grab a pint of Plenty for All Pilsner and some bites from local food trucks and enjoy them on the "punk rock patio" at this North Park brewery, which is open with limited seating every day until 9 p.m. They recently released a special pomegranate kettle sour, called "Tough Luck," as part of a fundraiser to help one of their employees who is battling breast cancer. Said employee also designed all the artwork for the beer's label, promotional T-shirts, and merchandise.
4542 30th Street, North Park | 619-501-0903
3010 Juniper Street., Suite A., San Diego | 619-501-0903
Karl Strauss was established in 1989, before the term "craft beer" even made its way to San Diego. Known as the catalyst for San Diego's now huge craft brewing culture, this company continues to pioneer the independent brewing scene as one of the oldest craft breweries in the county. With a wide range of styles, Karl Strauss features brands like Aurora Hoppyalis IPA, Queen of Tarts Dark Sour, and Boat Shoes Hazy IPA, as well as beers such as their famous multi-award winning Red Trolley Ale, which has a distinct toffee flavor with hints of raisins and currants. Outdoor seating is available at their five brewpubs.
1157 Columbia Street, Downtown | 619-234-2739
9675 Scranton Road, Sorrento Mesa | 858-587-2739
5801 Armada Drive, Carlsbad | 760-431-2739
10448 Reserve Drive, 4S Ranch | 858-376-2739
This brewery and tasting room focuses on sessionable hybrid beer styles, with 32 taps at its "Lomaland Fermentorium" and 20 taps at the "North Park Flavordome." Their blog has a breakdown of the beers up for grabs in part one of their September special release sale, which features some old-school favorites, new concoctions, and a couple of remixes.
3725 Greenwood Street, Point Loma | 619-546-9694
3000 Upas Street, North Park | 619-269-5222
470 S. Coast Highway 101, Encinitas | 760-452-4304
While their name may not sound like they're known for beer, after the owners decided to go into the brewpub business in 1992, Pizza Port quickly gained a reputation in San Diego's growing craft beer scene. They've won over 91 medals and awards from the Great American Beer Festival so far, so you can't go wrong with whatever they've got brewing next. And of course, you can enjoy your beer with great pizza.
1956 Bacon Street, Ocean Beach | 619-224-4700
571 Carlsbad Village Drive, Carlsbad | 760-720-7007
204 Palm Ave, Imperial Beach | 619-373–1470
2730 Gateway Road | Carlsbad | 760-707–1655
301 N. El Camino Real, San Clemente | 949-940–0005
135 N. Highway 101, Solana Beach | 858-481–7332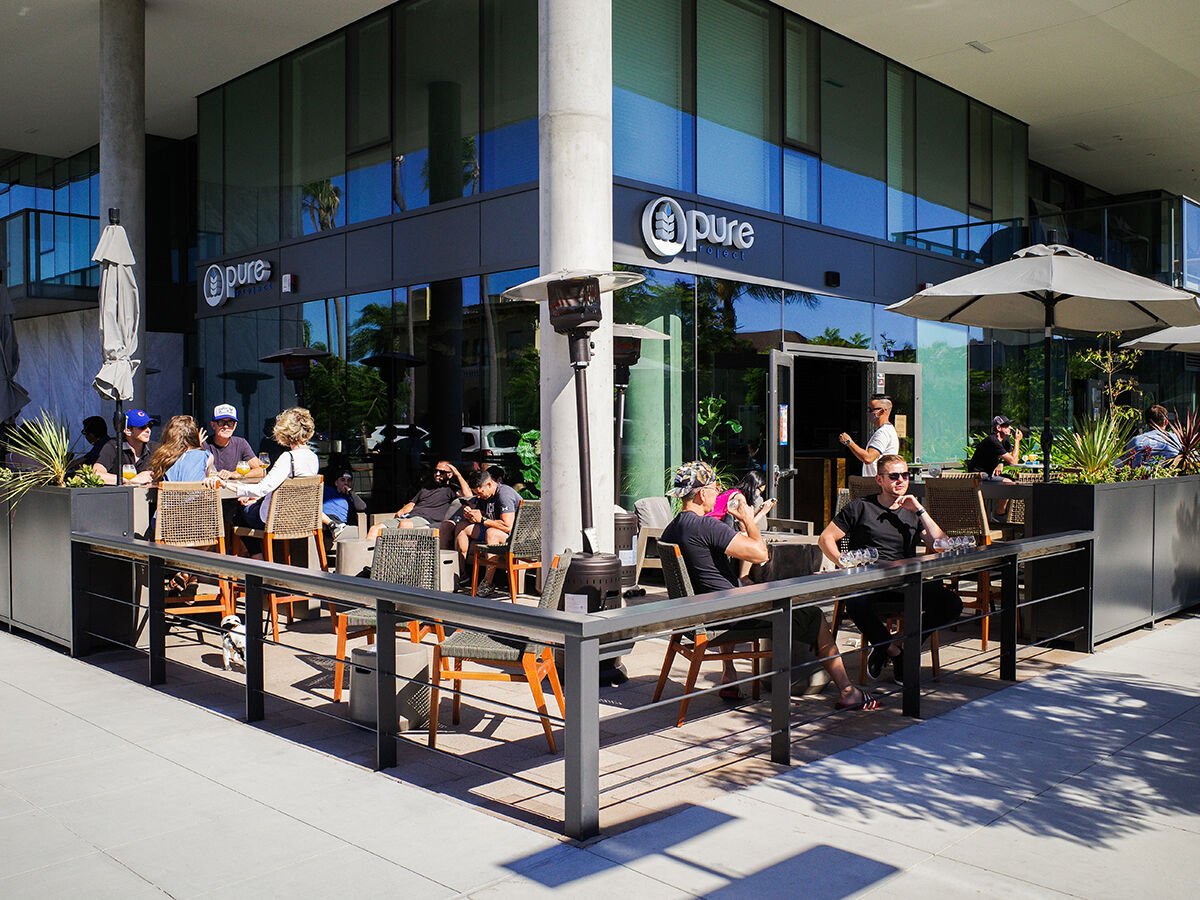 Originally based in Costa Rica, this brewery is committed to more than just making good beer, by focusing on incorporating sustainability into their mission. They use local and organic ingredients whenever possible, and present their environmentally conscious story along with their product. They have a new taproom in Bankers Hill, along with an expansive beer garden serving pizza catered by Urbn.
2865 Fifth Avenue, Bankers Hill | 619-323-2000
2825 State Street, Carlsbad | 760-278-7550
9030 Kenamar Drive, Miramar | 858-252-6143
2867 El Cajon Blvd, Dan Diego | 858-727-3450
1305 Hot Springs Way, Vista | 760-552-7873
Inspired both by the craft of modern brewing and the monastic breweries of the Old World, Rouleur aims to bring a well-crafted balance to style variations and ingredient combinations that reach beyond the rules and limitations of traditional beer. Enjoy their award-winning light and citrusy Bonkeur Mosaic Pale Ale on one of their two outdoor patios.
5840 El Camino Real, Suite 101, Carlsbad | 442-244-5111
2899 University Avenue, San Diego | 619-230-5615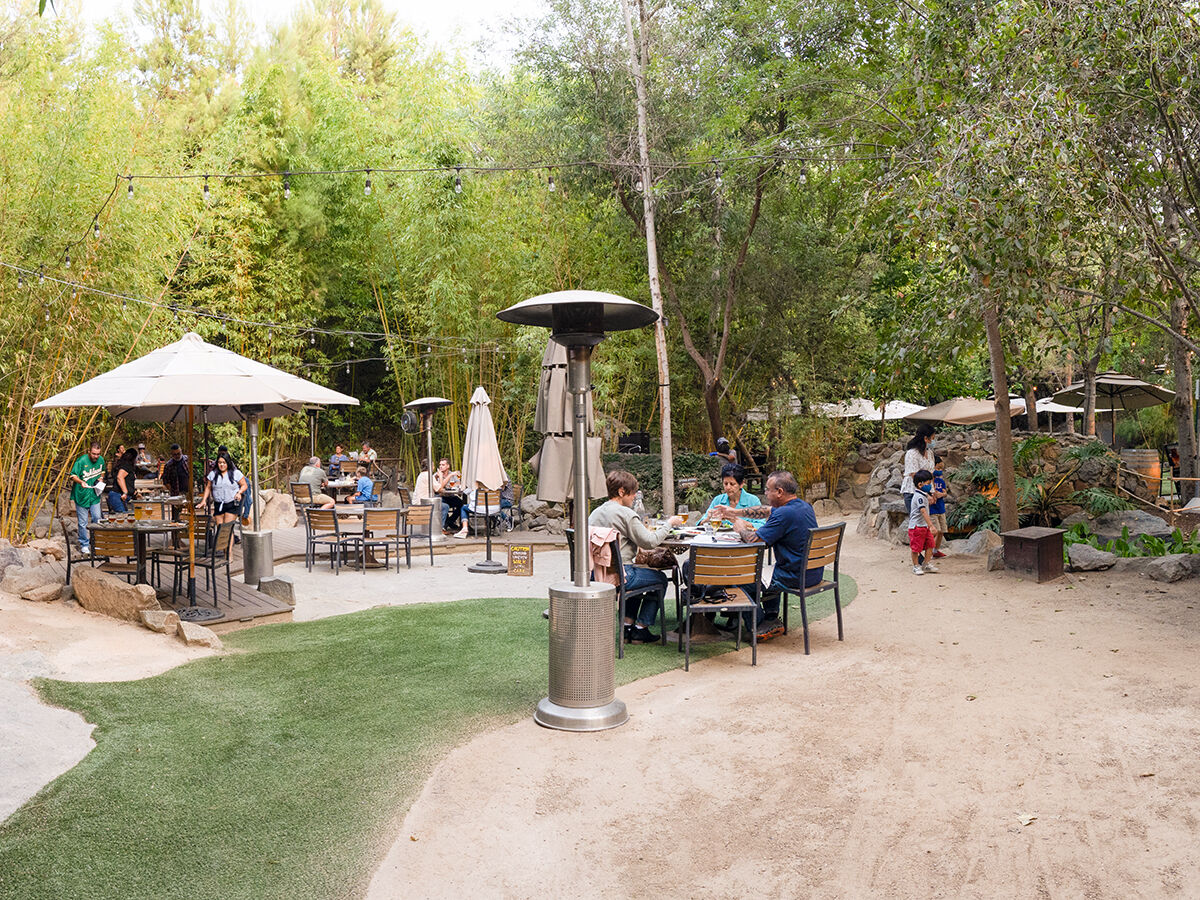 Now the ninth-largest craft brewer in the US, Stone is known for their bold, hop-centric beers. Their IPAs are a must-try, and they are also known for their barrel-aged creations. If you want good eats with your beer, Stone Brewing World Bistro & Gardens, their on-site restaurant, sits adjacent to each brewery.
1999 Citracado Parkway, Escondido | 760-249-7866
2816 Historic Decatur Road, Liberty Station | 619-269-2100
310 N. Tremont St., Oceanside | 760-529-0002
1202 Kettner Blvd, Suite 101, San Diego | 619-450-4518
Thorn Brewing began in North Park, made their way to Barrio Logan, and most recently opened up in Mission Hills. At the North Park location, their back room has an open-air roof and is large enough to accommodate 30 to 60 guests. Try their fruity, hazy Pink Passion IPA or their tropical and citrus Raccoonicorn Redux pale ale, both limited releases.
3176 Thorn Street, North Park | 619-230-5445
1745 National Ave, San Diego | 619-255-9679
4026 Hawk St, San Diego | 619-326-8881
Del Mar's first and only brewery and restaurant, Viewpoint Brewing sits on the banks of the San Dieguito Lagoon and River Park, where you can enjoy your beer from the deck and take in the river views. Although their initial philosophy was "drinkability," the brewery is looking to be more aggressive with hops and bitterness as they tweak their beer recipes, in addition to their more approachable flavor profiles. They also have a seasonal food menu specifically designed to pair with the house beer, so keep an eye out for that.
2201 San Dieguito Drive, Del Mar | 858-356-9346