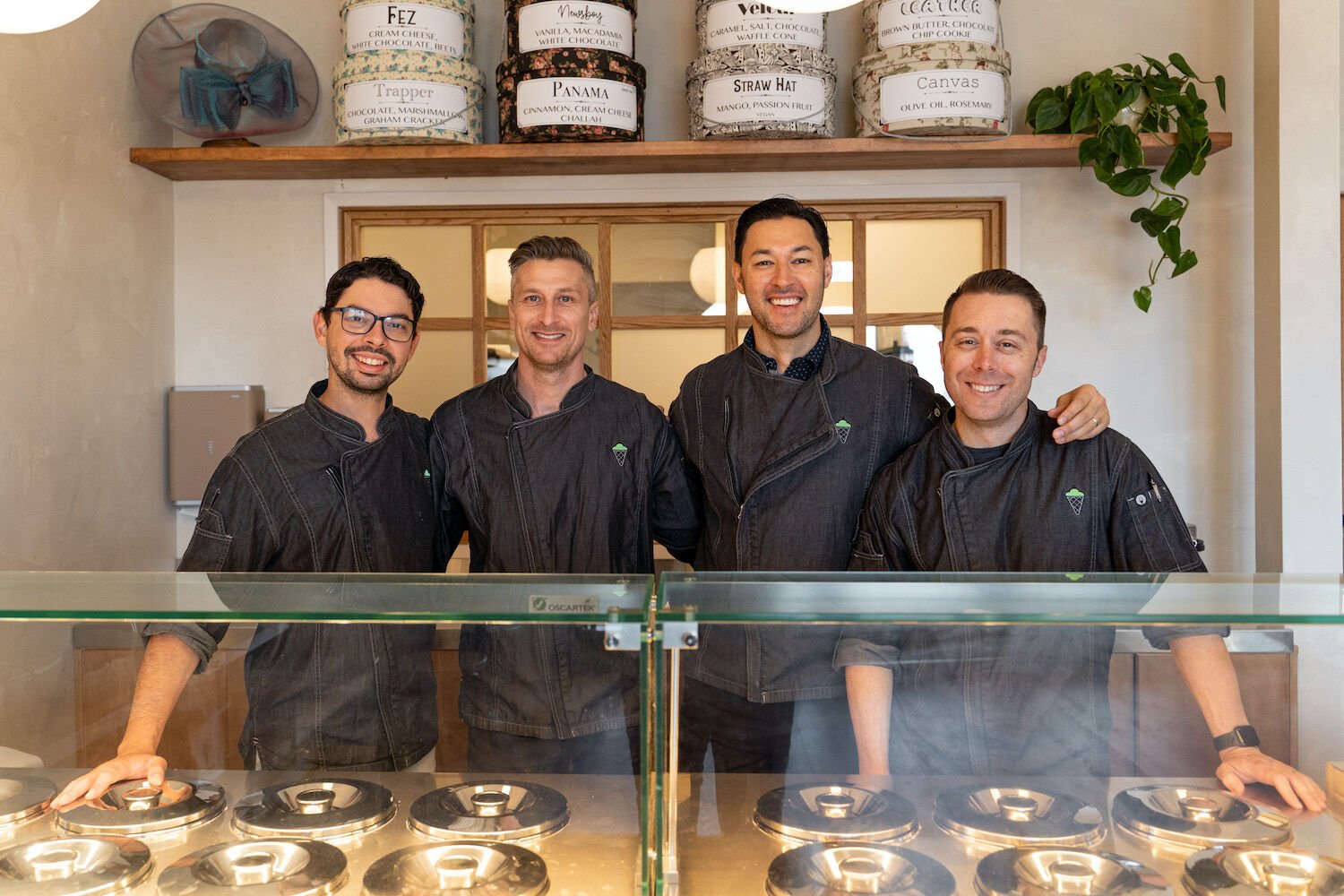 Kimberly Motos
Tip your hat to the most fashionable newcomer to open its doors in Del Mar Plaza—An's Hatmakers. From the team behind An's Dry Cleaning in North Park, this new gelato shop is following the same successful recipe: unique, made-from-scratch flavors inspired by an unconventional storefront.
Similar to the way An's Dry Cleaning was named after the previous tenant of its building, their second concept is a nod to the craftsmanship of a traditional millinery—and more specifically, the fabulous and fanciful headpieces worn by spectators at the Del Mar Fairgrounds for over 80 years.
"We wanted to honor the neighborhood by paying homage to the nearby racetrack, where everyone wears fancy hats to watch the horseraces," explains co-owner David Aguilera, a gelato consultant based in Copenhagen who helps formulate signature flavors and recipes.  
Aguilera and his three friends and co-owners—Travis Bailey, Jimmy Blalock, and Kris Warren—dreamed of making fresh, flavorful gelato in San Diego after they bonded over their shared love of the dessert about 16 years ago. Once they found a storefront they fell in love with (a former dry cleaning service), they embraced the building's history and incorporated it into their business model when they reincarnated An's Dry Cleaning in 2018. 
"You always have a good time when you're eating gelato," says Warren. "It's fun to say to your friends, 'Wanna go to the dry cleaners or the hatmakers?' and get a reaction."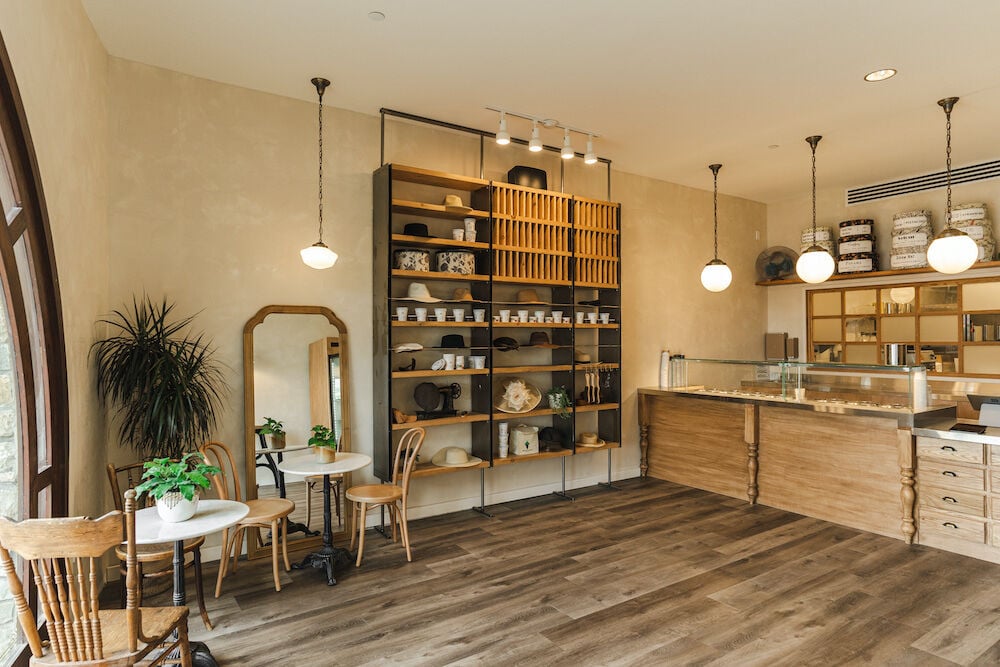 Kimberly Motos
The new space—a 1,000-square-foot shop designed by Sormeh Rienne, who worked on the Guild Hotel—is decorated with hats, sewing machines, millinery supplies, and rows of vintage-inspired hatboxes that double as the menu.
Much like how the rotating flavors at An's Dry Cleaning are cleverly named after different fabrics (Twill, Taffeta, Plaid), different hat styles inspire the names, colors, and flavors at An's Hatmakers. Fez, for example, is made with cream cheese, white chocolate, and red beets (a natural food colorant) to reflect the Moroccan red felt hat it's named after. Panama is made with cinnamon, cream cheese frosting, and challah; Straw Hat is a refreshing mango and passionfruit sorbet—one batch is made with 18 pounds of fresh mangoes. 
Popular staples from the North Park location, like Canvas (olive oil and rosemary), make an appearance on the menu here, and everything's made fresh in the kitchen behind the counter. Stop in to get a peek at the process: The windows behind the counter offer a glimpse into how the sweets are made, or start your visit with a "flavor tour," small samples of each offering from the menu's rotating lineup. Hats off to that!
1555 Camino Del Mar, Del Mar