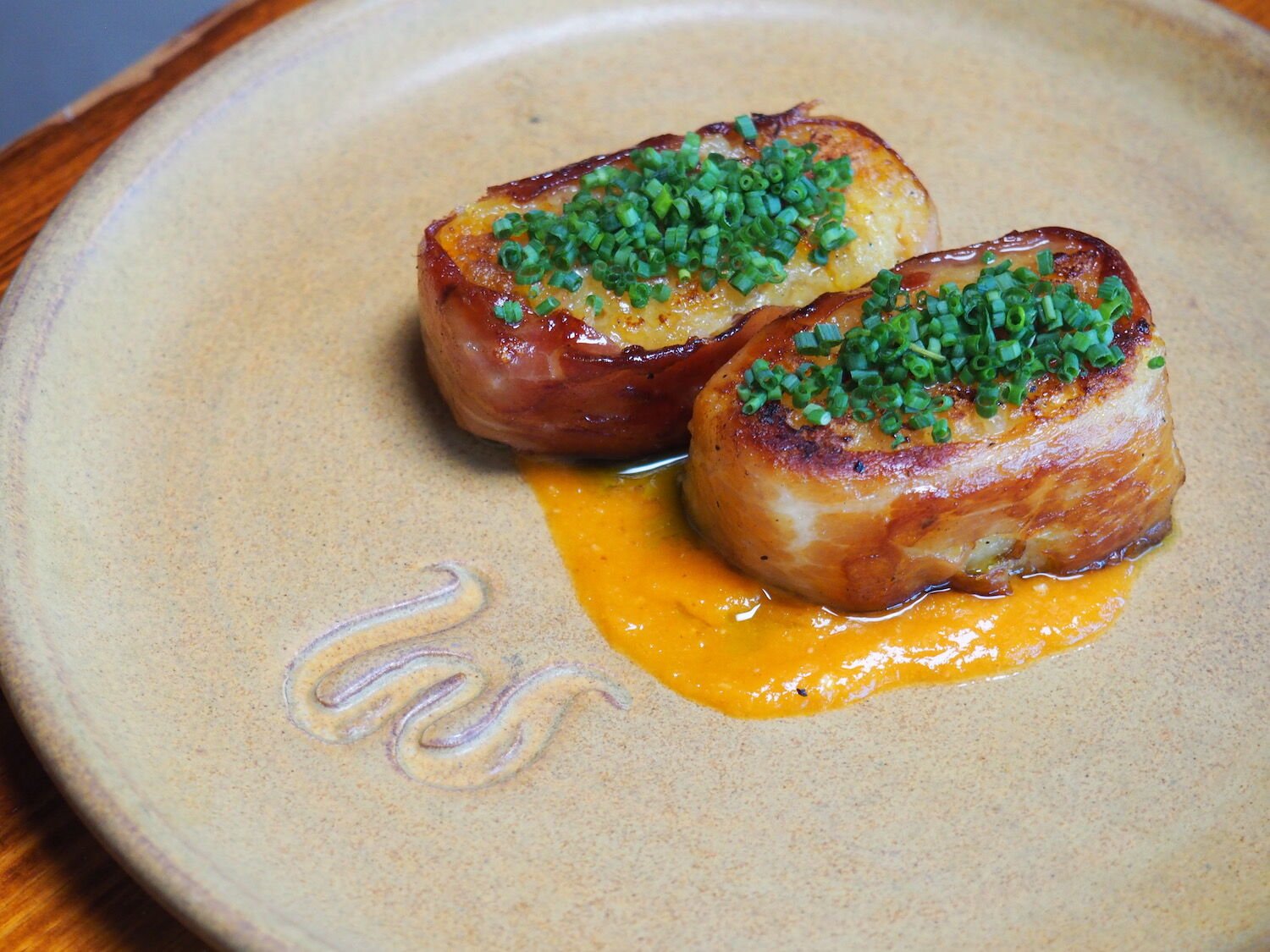 Photo Credit: Jackie Bryant
In Spain, the bar is a multifaceted concept. It's not just a spot to get booze, though that's certainly on offer. It's also a place where people can snack and chill but also indulge in a full meal if they so choose. I'm on record waxing poetic about good Spanish-style gin joints, my love for them, and my now years-long desire to see one pop up here in San Diego.
This style of hanging and dining is such an easy fit for San Diego. We have plenty of top-notch seafood teeming just below the surface of our waters. We also have a so-called Mediterranean climate, with a city-wide laid-back beach lifestyle to go with it regardless of the neighborhood. As it turns out, mine wasn't a unique hankering, and it's one that Chelsea Coleman, co-proprietor of the just-opened Mabel's Gone Fishing on 30th Street in North Park, shares as well.
Now, thanks to her and her business partner, co-owner Rae Gurne (the duo also own South Park's The Rose and bakery Secret Sister and the adjacent-to-Mabel's Bodega Rosette), our collective dreams are now a reality."
Mabel's is based on the experience of being somewhere on the Iberian peninsula and being almost…jealous?…of the ability of anyone, even people who live in small towns, to go to a local cafe that has simple and perfect food and enjoy a nice, sunny afternoon outside," Coleman says. She added that she was "also jealous" of how connected those restaurants are to their local agricultural systems and other foodways.
In San Diego's case — as it is in Spain and Portugal — these foodways very much include the ocean. That's reflected in the menu at Mabel's, which is Spain and Portgual-inspired, if not exactly Iberian, and is overwhelmingly focused on treats from the watery deep. Mabel's menu is organized into different sections.
It courses through raw bar options like oysters and kampachi and hot and cold snacks, befitting Spanish tapas or pintxos traditions, and eventually gives way to a larger section of more robust shared plates that pull double duty as entrees. Coleman serves as co-chef with Dan Luong, who comes from The Rose's kitchen, as well as Ross Garcia, formerly of Brooklyn's Marlow & Sons and Diner. All dishes are served on custom ceramics made by The Wheel in Encinitas.
After years of longing for such a spot, I'm happy to report that Mabel's Gone Fishing scratches the itch. What used to be a very expensive plane ticket and at least 15 hours of travel to the other side of the Atlantic Ocean is now just a short ride to North Park instead.Here are the dishes to try (full menu at the bottom):
Padron Peppers
Fat rainbow-hued peppers are blistered before ending up in a pool of goat cheese and with sherry-pickled onions and espelette.
Swordfish Schnitzel
Different from pounded-thin meat schnitzels by the same name, this swordfish was sourced from local waters and is served thick as a steak with the tell-tale golden-hued fried breading. It's accompanied by fennel, dandelion greens, a creamy and savory tonnato sauce, and charred lemon. Miss it at your peril.
Apple and Mustard Green Salad
Comes with manchego cheese, creme fraiche, pickled mustard seeds, and trout roe and offers a fresh palate cleanser before moving on to heavier main-style dishes.
Paella Onigiri
Basically the classic Spanish seafood-and-rice dish balled up, wrapped in speck, and topped with chives. It's divine.
Other Small Tapas
Served during happy hour, rotating dishes like piquillo peppers with boquerones (white anchovies) and hard-boiled eggs also adorned with the salty fish are available beginning at 4:30 daily.
The Drinks
The wine, sherry, and vermouth list is focused on smaller-production lower-intervention (a.k.a. so-called "natural") selections from Spain, Portugal, and California, befitting Coleman and Gurne's status as one of the original local purveyors of such wines, and the original cocktail list was dreamed up by Tony Roehr, a longtime barkeep with various CH Projects' bars and restaurants. Required for all diners, in my humble opinion, is the Spanish-style "G and T," which does credit to its name by arriving fizzy in a frosty goblet filled with ice cubes and Nordes gin, lemon, a grape, and sage.
Desserts
There's a burnt Basque cheesecake (a darling of home cooking social media these days and delicious IRL) and a decadent chocolate mousse with pine nuts and puffed farro.