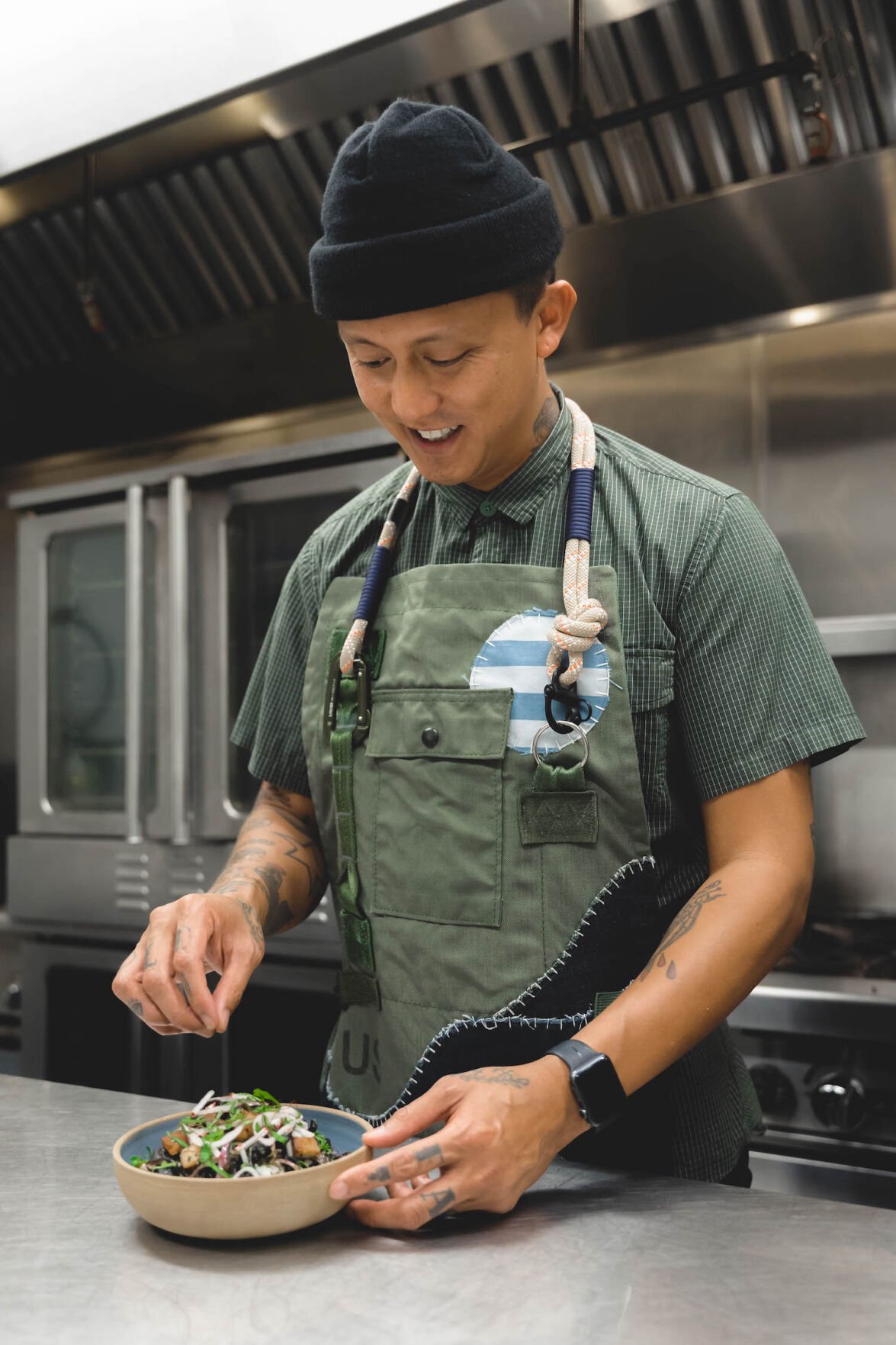 Credit: Nathan Concepcion
Chef Phillip Esteban of White Rice and the newly opened White Rice Bodega has perfected one of his favorite Filipino dishes: sisig. Of course, as he is known to do, he put his own spin on the traditional dish and made a vegan-friendly version that is now sold at his restaurant.
Having opened White Rice Bodega this year, chef Esteban's dream was to share his love of Filipino cuisine with locals and make it available to a wider audience. Ask anyone who's dined at his original Liberty Station output about his cuisine, and you'll likely hear high praise for his flavorful dishes.
When we asked chef Esteban for a recipe to send to our readers, his vegan sisig was first in line, no doubt because it is already a guest favorite.
The first written record of sisig dates back to the 1700s, however, it likely goes back much earlier. Originating from the Pampanga region in Luzon, this traditional Filipino dish is made from a pig's face, belly and chicken liver, all of which get chopped into small pieces and fried.
So, making a vegan sisig takes some mastery in the kitchen. "The importance of creating a vegan version was to find the right textures to resemble the original version," says Esteban. "We marinate the tofu and wood ear mushrooms in the same vinegar, citrus and soy marinade. We pan fry the tofu to mimic crispy and juicy pork, and the wood ear mushrooms give a great bite to the dish."
He calls it the "perfect bite," one that is light and filling and smothered in flavor. To make chef Esteban's recipe, follow the instructions below and enjoy a unique twist on this Filipino staple.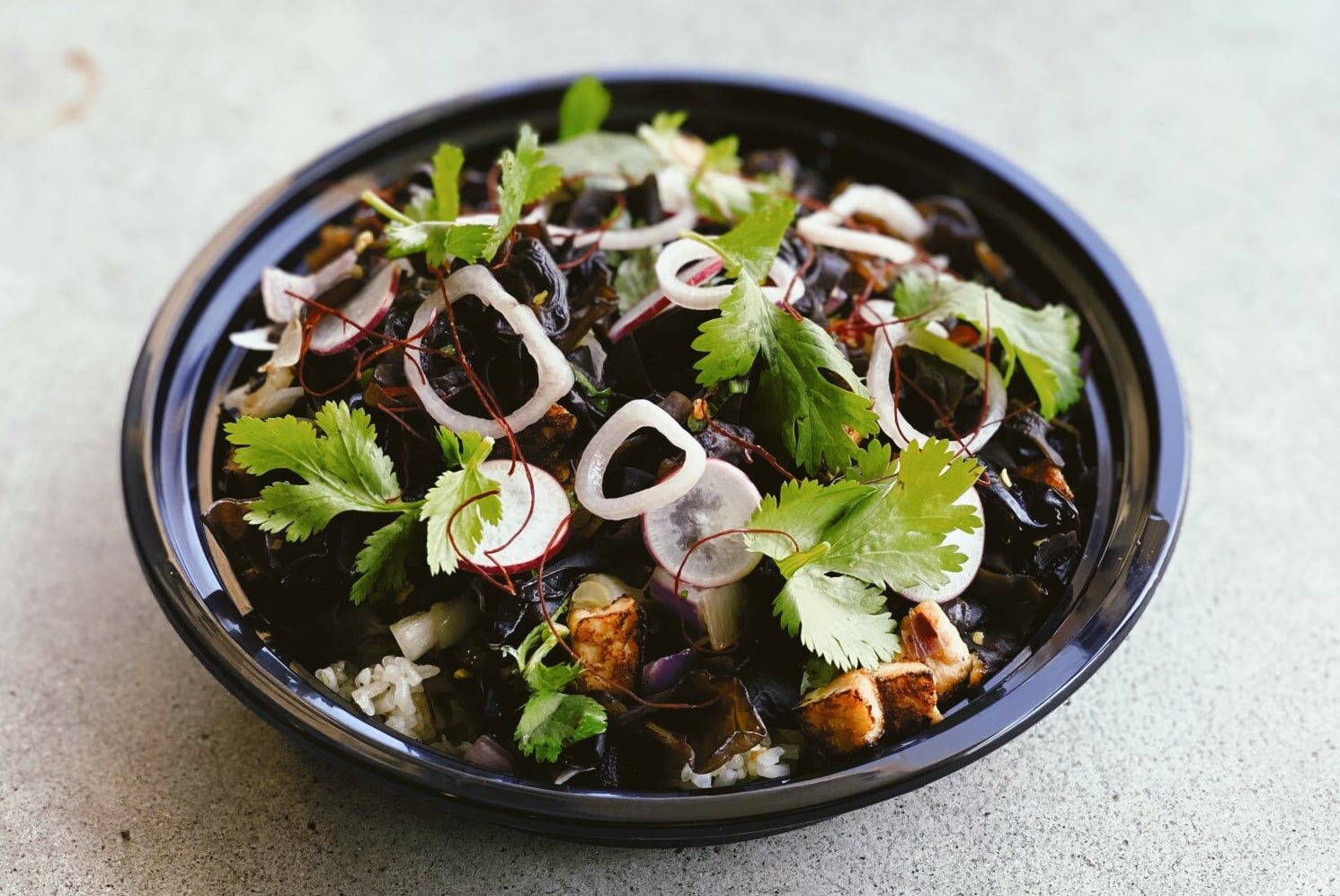 Courtesy of White Rice
Tofu and Mushroom Vegan Sisig
Ingredients 
1 lb dry wood ear mushroom
1.5 lb firm tofu cubes
.25 ea finely chopped onion
1 tbsp grated ginger
2 ea chili pepper finely chopped
1/8 c calamansi juice
1 tbsp chili flakes or TT
Pinch black pepper powder
Pinch garlic powder
.25 cup vegan soy sauce
2 tbsp vegetable oil
Salt TT
Instructions
1). Wash the wood ear mushroom and soak in hot water for at least 10 minutes. After 10 minutes, discard the water and finely chop the mushrooms.
2). Apply some oil and salt to the tofu cubes and bake in a preheated oven at 180 degrees Celsius for about 40 minutes or till they turn light brown.
3). With the help of a knife or a pair of tongs, char the tofu cubes over direct flames. To get the best smoky flavor make sure they turn black at a few corners. Finely chop the charred tofu cubes.
4). Heat some vegan butter/ oil in a pan and add grated ginger to it. Saute for a few minutes and then add chopped mushrooms. Stir fry the mushrooms for around 8-10 minutes.
5). Add the chopped tofu and chili pepper. Stir fry for about a minute.
6). In a bowl mix vegan soy sauce, calamansi juice, salt, chili flakes, pepper, garlic powder. Add this mixture to the pan, mix and cook for about 1-2 minutes before switching off the gas.