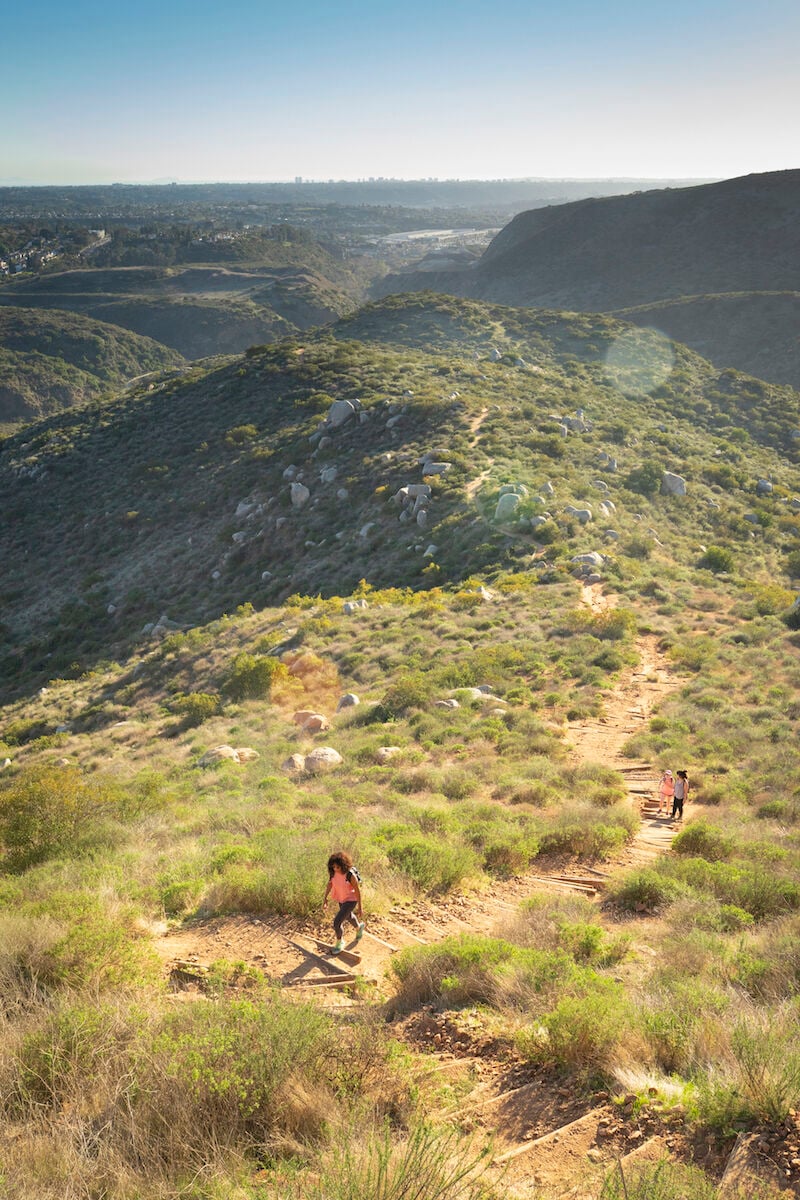 Rob Hammer
San Diego's canyons, forests, and mountains have seen a lot more love in the past year as record numbers of people sought refuge in the great outdoors. In this guide you'll find six of our most popular hiking trails, and the less crowded but no less impressive alternatives you should explore next. In between, read up on hiking essentials, why you should leave no trace, and friendly biking tips to keep you safe (and keep the car honking to a minimum). Whether you're pedaling or hoofi ng it, as a greenhorn or a seasoned ranger, San Diego's best is waiting to be explored. Happy trails!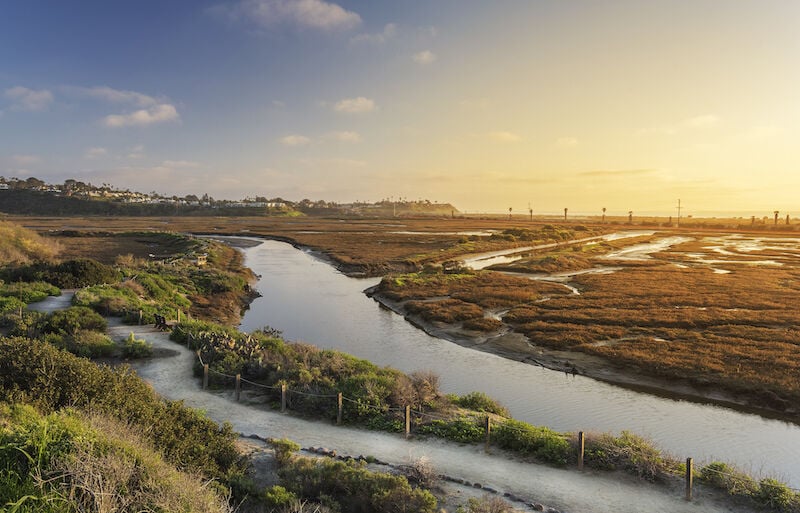 So you've Hiked:
Hiking through this North County ecological reserve is beautiful, with tons of plants and birds and several winding paths to follow. One of the most popular routes is to start at the nature center and follow the short half-mile loop, or take the three-mile La Orilla Trail farther east on Manchester Avenue.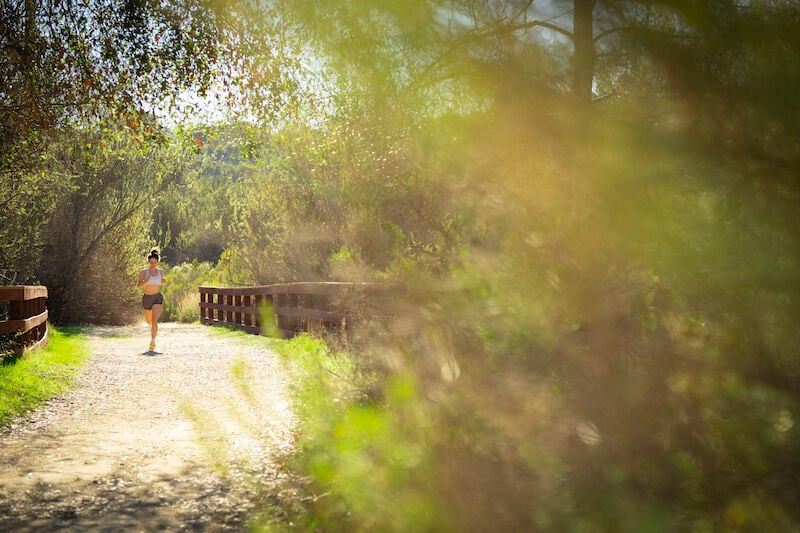 Rob Hammer
You Should Try:
Although this trail goes through a densely populated area in University City, it feels hidden and therefore is much more remote. There's no dedicated parking lot for it, so you kind of have to know it's there. If school's not in session, you can park in the lot at University City High School, then duck onto the trail that runs along the train tracks. Follow it along the cliff's edge and take in views of wildflowers and birds along the way. You can follow it for two miles, then extend it further by joining the San Clemente Trail under state Route 52.
While there are no ocean views along the trail, the sight of flower covered cliffs descending onto the train tracks is stunning, and there are secluded shady groves along the way. This trail has a few steep hills and is rough underfoot in places, but is only moderately challenging and can be done at any time of year, since the coastal breezes will keep it cool.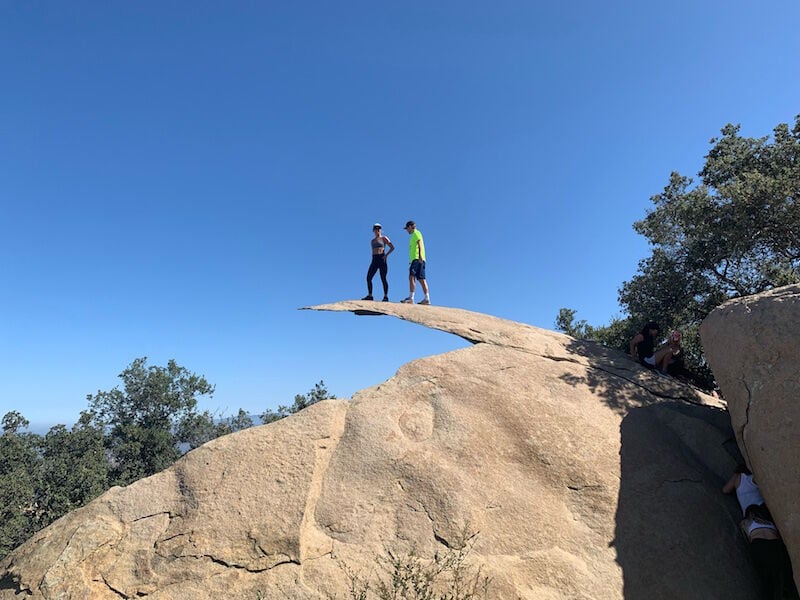 So You've Hiked:
This trail is famous for its Instagram-worthy "Potato Chip Rock". The climb is steep and has sweeping views on the way up, but a not-so-picturesque peak that's covered with communication towers. The main trail starts at the Lake Poway Recreation Area on Lake Poway Road and covers 6.4 miles out and back.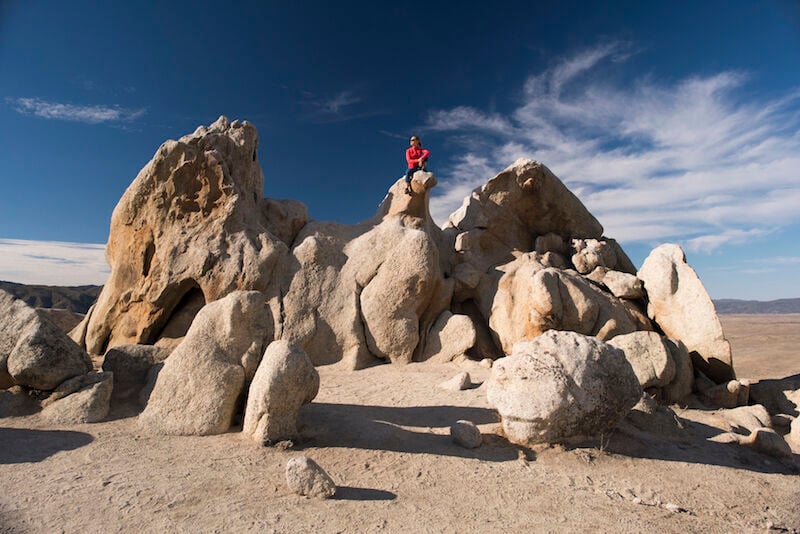 Rob Hammer
You Should Try:
Eagle Rock
This hike along the iconic Pacific Crest Trail in Warner Springs offers another natural formation that easily rivals Potato Chip Rock. When you see it, you'll say, "Oh, that's why it's called Eagle Rock." Promise.
To get there, start at the Eagle Rock Trailhead near Cal Fire Warner Springs Fire Station on Highway 79 and hike east. The path is relatively flat (not the same killer workout as Mount Woodson, but maybe you don't mind) and covers 6.6 miles out and back.
It's mostly a desert hike, but passes through shady spots along the creek, which is rimmed with oak trees, and has the picturesque rolling hills and open chaparral meadows you'd expect out in this area. Along the way, you can see plants such as chamise, pencil cholla, and prickly pear cactus.
Go in the winter or early spring when it's not too hot, or start out early in the morning. The hike is easy enough for beginners, and offers a worthy payoff at the end: a giant rock formation that looks like an eagle stretching its wings. Perfect photo op without the line.
So You've Hiked:
This hike to the highest point within San Diego city limits (1,593 feet) is easy to access and a local favorite, especially among hiking newbies. The main route starts at the corner of Golfcrest Drive and Navajo Road and follows a three-mile out-and-back path that rewards you with a pretty view on clear days. There are different routes to the top, with fewer crowds (starting at Mesa Road in Santee, for example, and hiking up the east face), but no matter which route you take you'll eventually run into people, especially at the summit. On weekends, the main trail can get crowded.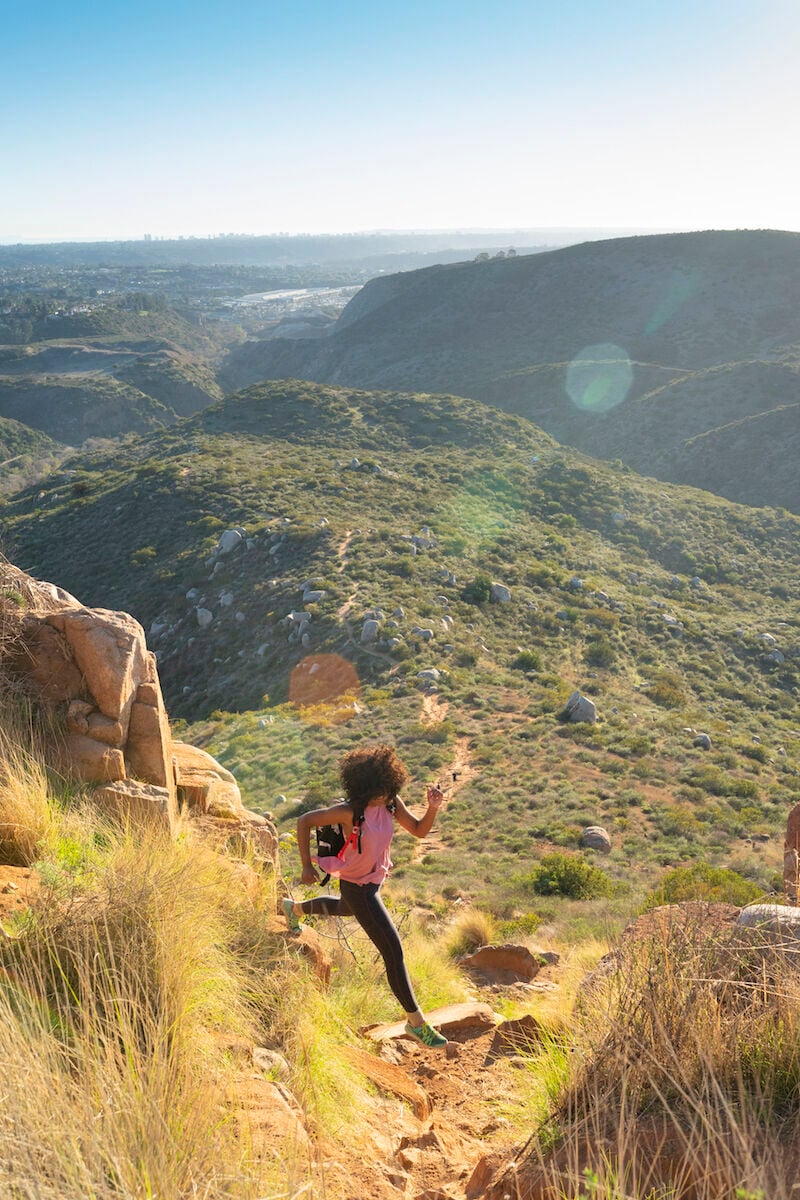 Rob Hammer
You Should Try:
South and North Fortuna
Why summit one peak on a day hike when you can tackle two? Both of these mountains are landmarks of the same beautiful scenery in Mission Trails Regional Park. The path that goes up South Fortuna, across the Fortuna Saddle, and then up North Fortuna is just under six miles, and slightly more strenuous than Cowles.
The trail starts at West Fortuna Staging Area on Clairemont Mesa Boulevard Road and takes you through mountain scenery with beautiful views for photo ops. Along the way, you can see chaparral and oak trees, and even wildfl owers come spring. You'll be near the San Diego River and maybe even get to see hawks, desert cottontails, or in the summer or fall, rattlesnakes (steer clear and read up on snake myths below).
There are also wide-open meadows to pass through with great views of the park's mountains, including Cowles. Challenge yourself by climbing the South Fortuna Stairs to top one peak, and then keep heading north to summit North Fortuna as well.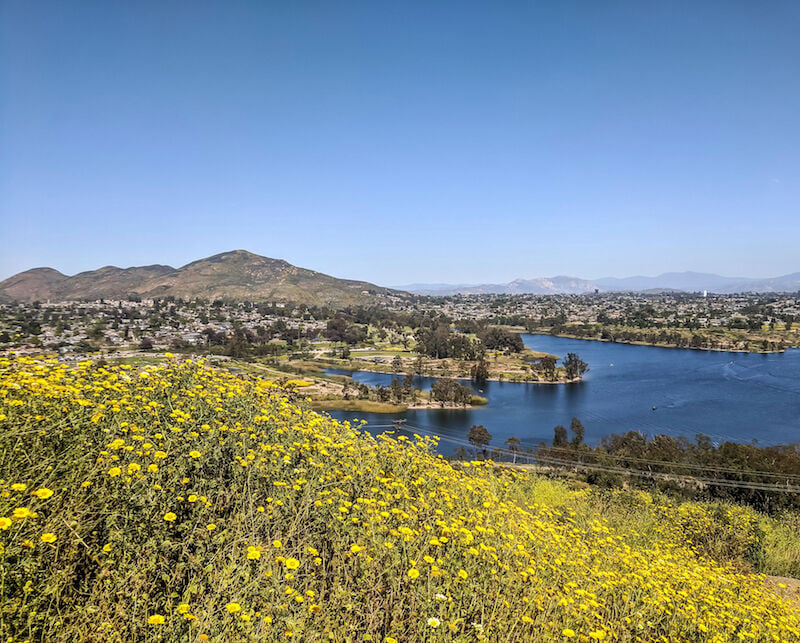 So You've Hiked:
This easy running path hugs the shore of an oasis in East County, which makes it a ractive to a lot of people—it can be packed with strollers, dogs, bikes, and runners, especially on the weekends. The flat path starts at Lake Murray Park on Kiowa Drive in La Mesa and is six miles out and back. You can't run around the entire lake, so when you make it to the chainlink fence, there's nothing to do but turn back (but not before tapping the bull's eye).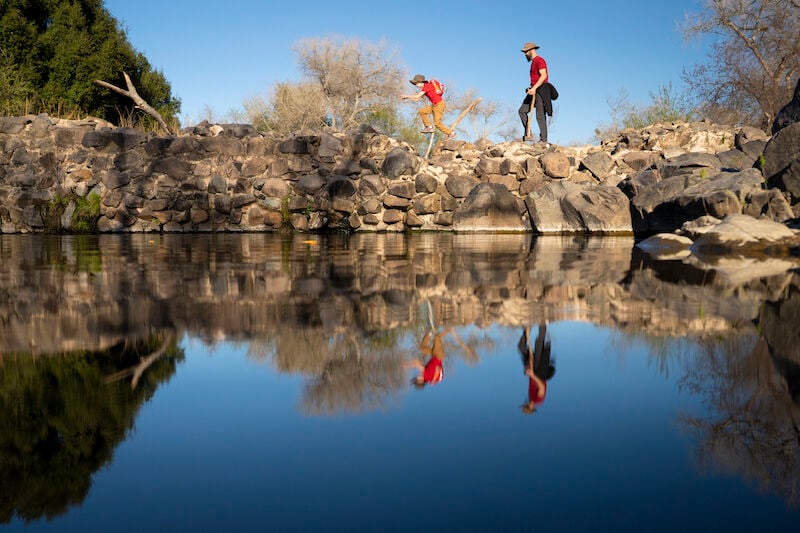 Rob Hammer
You Should Try:
For a less-popular option that's still mostly flat, paved, and kid friendly, you can try Father Junipero Serra Trail in Mission Trails Regional Park. It can still have crowds, but not as bad as Lake Murray, and once you get past the entrance, it thins out.
The trail starts by the Mission Trails Visitor Center on Mission Gorge Road, but if you go on the weekend, it's better to park a little farther away on one of the side streets or the dirt parking lot on Mission Gorge Road. Follow the paved path through rolling hills, or take detours that lead you to climb up above (Kwaay Paay Peak or Climbers Loop for the adventurous, or the easier Visitors Center Loop for beginners). The payoff is the Old Mission Dam at the end of the paved path: The National Historic Landmark, built around 1803, is the country's oldest dam west of the Mississippi, and you can hop along the rocks and look for fish.
The path is six miles out and back, with more hills than Lake Murray, but still a moderate trek and good for running, strollers, and walking dogs. You can go any time of year, but it gets hot midday in the summer.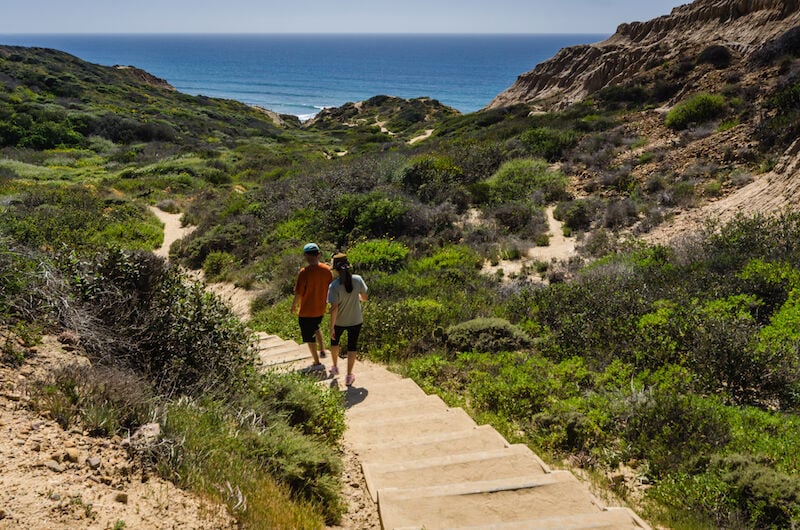 So You've Hiked:
You'd be hard pressed to find a coastal hike more loved than Torrey Pines State Natural Reserve, which starts on North Torrey Pines Road in La Jolla and follows a few miles of winding trails. It has beautiful ocean views and majestic cliffs, plus the chance to hike down to the beach and walk through the sand if the tide is right. Since it's so picturesque, it's naturally crowded (and parking is limited).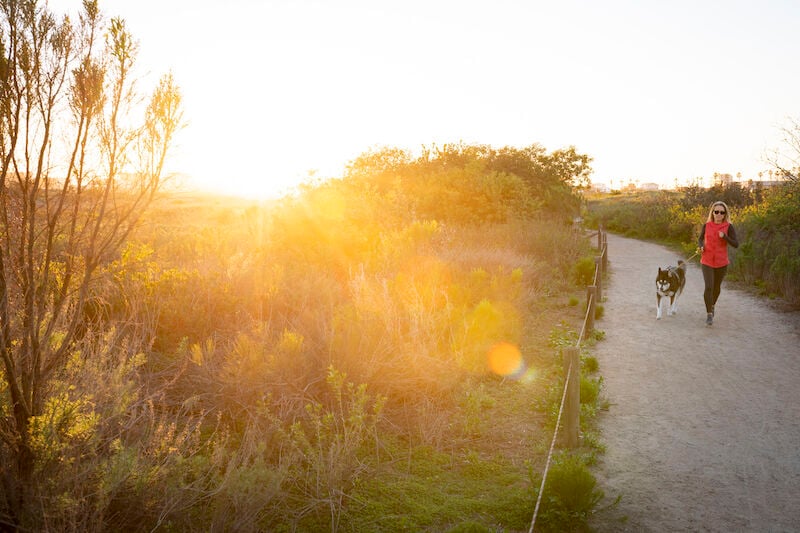 Rob Hammer
You Should Try:
Drive farther south on the 5 to get the same coastal trails and rugged ocean scenery, but with far fewer people. This wildlife refuge near the Mexican border has several trail options that take you all the way to the beach, so you can take advantage of cool ocean breezes throughout your entire hike.
This area is a coastal wetland, home to a wide variety of plant and animal life you won't see elsewhere. Along the way, walk past salt marshes, coastal sage scrub, and dunes, and see rare plants such as the endangered salt marsh bird's beak. The estuary is also known as a great bird-watching spot, with chances to see threatened and endangered species including the California least tern and snowy plover.
One suggested route is to start at Iris Avenue and Tower Road in Imperial Beach and follow the River Mouth Trail to the beach overlook, then extend your route on the South McCoy Trail. The fl at paths are great for beginners who are new to exercising, and this route is about 2.5 miles out and back. Go any time of year, especially summer to take advantage of the breeze on warmer days.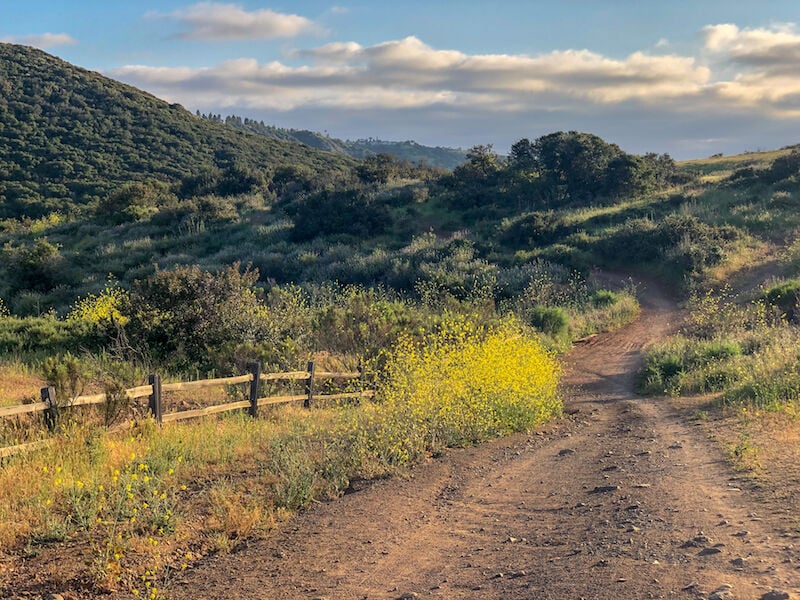 So You've Hiked:
The fact that this trail offers 12 miles of wooded paths in the middle of heavily populated Mira Mesa and Sorrento Valley makes it a favorite among runners, walkers with dogs, and even horseback riders. You can start the long loop at either Sorrento Valley Boulevard or Black Mountain Road and hike the whole thing, or turn back at the popular waterfall in the middle.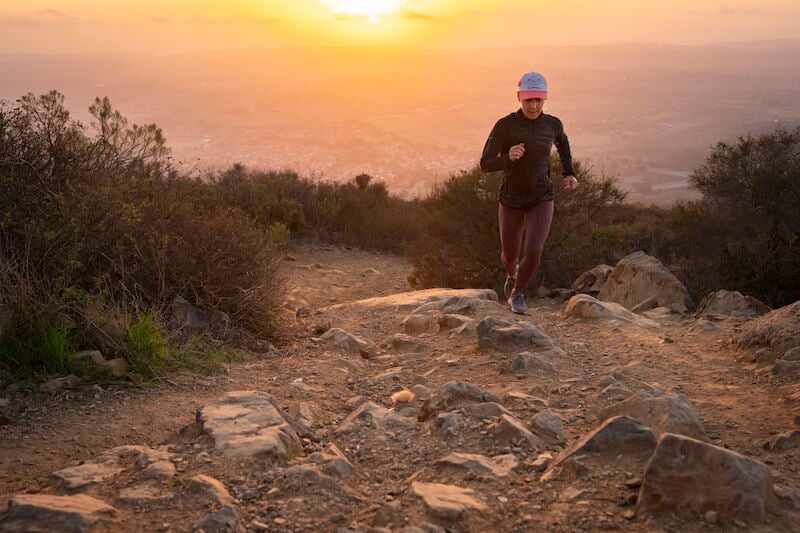 Rob Hammer
You Should Try:
This park is more remote and has a trail loop that's less easy to follow, which means there are far fewer crowds and you can run or hike without navigating around big groups.
One nice route to take is to start at Hilltop Community Park on Oviedo Way and follow the Nighthawk trail for four miles out and back to the summit of Black Mountain. But there are also trails that roam far beyond that peak, so you can extend your route and have a full day of hiking.
Along the way, you'll see the same rugged boulders and low brush that you'd get in Peñasquitos Canyon, but with less shade. You'll also get to climb higher, with views of rolling green hills below. In the southern parts of the park, you can see plant life including California sagebrush, California buckwheat, and California sunflower, and if you make it to the northern parts, you'll see more chaparral, including lemonade berry, coffee berry, chamise, manzanita, and California lilac. Go in the spring, and you might be treated to hills covered with blue carpeting from the California lilac bloom.
The park has a big variety of birds, including rare species such as the California gnatcatcher, rufous-crowned sparrow, and northern harrier. You might also catch sight of deer, bobcats, and rattlesnakes. The trails are best done in winter and spring, when it's not as hot. The climb to the top of Black Mountain is moderately challenging, but if you want to push yourself, you can add extra miles of looping trails beyond.