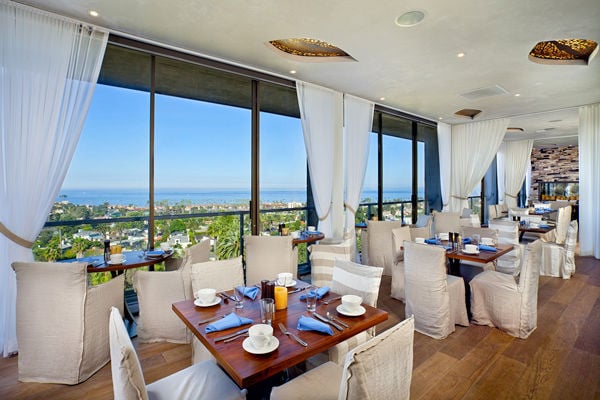 Cusp at Hotel La Jolla
Cusp at Hotel La Jolla
Spa Treatments & Activities
The Spa at Estancia La Jolla
On May 10 and 11, The Spa at Estancia is offering all moms a complimentary ecofin organic hand treatment and a glass of sparkling wine to accompany any treatment (with a minimum of 50 minutes). Moms-to-be can relax with a Mama's Touch, Mama Mio Massage, a 50 minute complete body massage that uses specific pre-natal techniques. Starts at $135.
Tijon Fragrance Lab & Boutique and Herringbone Restaurant
Throughout the entire month of May, patrons who partake in a custom perfume-making class at Tijon's Lab will also enjoy a complimentary brunch or lunch entrée at the neighboring Herringbone Restaurant. Caveat: the promotion cannot be redeemed on Mother's Day.
Sea Spa at Loews Coronado Bay Resort 
Treat mom to a rejuvenating day at the Sea Spa, where specials are available for the month of May. The Mother's Day Delight consists of a 25-minute Watermelon-tini scrub followed by a 50-minute Travelers Relief massage, and then a luxurious Seasonal Spa Pedicure. Normally at $320, this package comes at $249.
The Spa at The Inn
Give the gift of relaxation with the Mother's Day Package at Rancho Santa Fe's The Spa. The package includes a 60-minute Starlet Facial and a Clarisonic Mia 2 to take home. The facial combines powerful anti-aging serums with a mesmerizing massage and is perfect for all skin types. The package is available the entire month of May, and costs $240.
Rancho La Puerta
If a trip just south of the border sounds enticing for mom, Rancho La Puerta is just an hour away from San Diego. This legendary wellness center offers an escape from the daily grind with its special "Saturday at the Ranch" on May 10th. Included in the day's activities is complimentary round-trip transportation from San Diego to the ranch, as well as Mediterranean-style lunch at the Ranch, and a luxurious 50-minute massage. "Saturday at the Ranch" lasts from 7:30 am – 6:30 pm and costs $300.
Spa L'Auberge
Spa L'Auberge is offering the "May–ke it About Her Spa Package" throughout the entire month of May. This package includes a 50-minute Aromatherapy Massage, 50-minute L'Auberge Seaside Facial, and a 25-minute Bright Eye Treatment, all for $280.
Brunches & Dinners
BiCE San Diego
For a sophisticated Italian dinner on Mother's Day, BiCE San Diego is offering four-courses on May 11th from 12 pm – 8:30 pm. The prix fixe meal is available for $42 per person, and a kids menu will also be available for $22 per child under the age of ten.
Beaumont's Eatery
Executive Chef George Morris will offer an array of brunch specials at Beaumont's Eatery in Bird Rock. Brunch specials will include a Chicken n' Waffled Benedict and an Almost Summer Scramble.
Brockton Villa
Featuring La Jolla Cove views, Brockton Villa is paying tribute to moms with a cozy brunch. This Mother's Day, Executive Chef Mareyja Sisbarro will prepare a "Queen Bee Brunch," including a specialty drink and breakfast or lunch entrée for $25. Try the new Summer Berry and Quinoa Salad for a guilt-free indulgence.
True Food Kitchen
Two specials will be added to the already popular brunch menu at True Food Kitchen for Mother's Day. Both the Grilled Idaho Trout and Organic Strawberries and Shortcake are sure to leave mom satisfied. Brunch is served from 10 am – 4 pm on Saturday and Sunday.
Cork Fire Kitchen
If mom wants to head to wine country, Cork Fire Kitchen at Temecula Creek Inn is the perfect place. They're offering a delicious Mother's Day brunch from 10 am – 4 pm. Adults eat for $49 while kids 11 and under eat for $24.
Chandler's Restaurant & Lounge
Celebrate mom this year with an ocean-side dining experience at Chandler's Restaurant & Lounge at the Hilton Carlsbad Oceanfront Resort & Spa. Treat her to a special brunch on May 11th, offered from 10:30 am –  3 pm. Guests can enjoy a cold, hot, and dessert buffet setup while taking in the spectacular ocean view. The brunch is $65 per person and $25 per child.
Lael's Restaurant at Manchester Grand Hyatt
For a memorable bay-front brunch, Lael's Restaurant is offering a Mother's Day Champagne Brunch, with a variety of dining options. There will be a made-to-order omelet bar, fresh seafood, and mac & cheese station, along with a wide range of sweet pastries.
AVANT Restaurant at Rancho Bernardo Inn
Chocolate lovers will delight in the Hints of Chocolate Mother's Day Brunch found at AVANT Restaurant at the Rancho Bernardo Inn. Highlights of the prix fixe menu include Cocoa Nib-Crusted Lamb Loin and a decadent Dark Chocolate Ganache to end the meal. Brunch is offered from 11 am – 3 pm and is $65 for adults and $25 for children ages 3-11.
Veranda Fireside Lounge and Kitchen
If chocolate isn't mom's thing, then head over to the Veranda Fireside Lounge and Kitchen at the Rancho Bernardo Inn for their scrumptious three-course brunch. Toast to mom with bottomless mimosas while enjoying Veranda's fresh Mediterranean cuisine. Brunch is offered from 10 am – 3 pm and costs $39 for adults, $53 with bottomless mimosas, and $14 for kids ages 3-11.
Veladora at Rancho Valencia
On Mother's Day, Rancho Valencia Resort & Spa's signature restaurant, Veladora, will be offering a special brunch for mom from 10 am – 3 pm. Brunch will feature a variety of stations, including an egg station for customizable omelets and a donut bar with sauces and toppings. Brunch is $85 for adults and $25 for children 11 and under.
Harbor's Edge
Harbor's Edge at Sheraton San Diego Hotel & Marina will serve up a yummy Mother's Day brunch from 9:30 am – 2 pm. Specialties will include made-to-order waffles, tacos, sashimis, local cheese and charcuterie, and pasta stations. Brunch at this contemporary nautical restaurant starts at $49.95 for adults, $21.95 for children, and is complimentary for children under the age of five.
US Grant Hotel
At THE US GRANT Hotel, there will be an all-encompassing buffet for adults as well as a kid-friendly buffet station. Adults will be treated to unlimited mimosas, along with live jazz entertainment, and a complimentary gift for Mom. Seatings at 11 am, 12:30 pm, and 2 pm and it's $76 for adults, $67 for seniors, and $29 for children 4-12. Celebrate timeless tradition with a Mother's Day Tea on May 10. Taste sweet and savory treats that pair perfectly with loose leaf teas. Live music. Seatings are from 1 p.m. – 3 p.m.; $46 for adults, $39 for seniors, and $24 for children 12 and under.
The Westin San Diego
The Westin San Diego will offer a Mother's Day Brunch Buffet on May 11th from 10 am to 2 pm. Try the blueberry pancakes, seafood crepes, French toast and applewood smoked bacon. Brunch starts at $34.95 for adults and children under the age of 12 will receive half price.
Jsix
At Jsix this Mother's Day, mom will enjoy their brunch that pairs perfectly with a signature Bloody Mary. She can pile her Mary high with accoutrements like house-made cheeses, pickled veggies, and cured meats. This prix fixe brunch will be served from 9 am – 2 pm and costs $30 for adults and $10 for kids.
Cusp Dining & Drinks
At the top of Hotel La Jolla, Cusp Dining and Drinks, has one of the best views in the county. Brunch includes a buffet of selections and Bloody Mary specials. It will be served from 8 am – 3 pm and is $35 for adults and $10 for kids.
The Hotel Del Coronado
The Del's Mother's Day Champagne Brunch will have an elegant buffet featuring a variety of culinary options, live musical entertainment, and even a fresh rose for each mom. A special children's buffet will be available for the younger set. $100 per person and $35 for children ages 6-10. Children 5 and under are free. Brunch is served from 9 am – 3 pm in The Ballroom and The Crown Room.
Puesto
Puesto is debuting its brunch menu on Mother's Day at the Headquarters location, 11 am – 3 pm. Menu items will include churro French toast, breakfast tacos, and several different chilaquiles. There will be house-made Bloody Marys and Mexi-Mosas made with hibiscus, and every mom will receive a pink rose.
Pacifica Del Mar
At Pacifica Del Mar, a striking view of the Pacific Ocean is served alongside award-winning coastal fare. Their Mother's Day brunch is comprised of a three-course prix fixe meal, and Chef/Partner Chris Idso has also created a special menu just for kids. Brunch is $39 and will be available from 11 am – 3 pm.
L'Auberge Del Mar
Mother's Day Brunch at L'Auberge Del Mar will be served at the Waterfall Terrace with the ocean as a backdrop. Mom will enjoy a fresh and delicious spread that includes a Bloody Mary Bar, garden fresh juices, finger sandwiches, made-to-order omelets, handmade pastries and beautiful salads. Brunch is served from 10 am – 2:30 pm and is priced at $67 per adult and $33 for children ages 5-12. The Mother's Day L'Tea by the Sea runs throughout May. Enjoy champagne, loose leaf teas, mini sandwiches, scones, and petite desserts. $49 per person, 2:30 p.m. every Saturday and Sunday afternoon in May (with the exception of Mother's Day).
Adobe El Restaurante 
On Sunday, May 11, inside Estancia La Jolla, Adobe will offer a breakfast  (7:00am – 11:30am; adults: $29.95, children: $12.95- 6-13 years old) as well as a brunch (11:30 am- 2:00 pm; adults: $49.95, which includes two St. Germain cocktails; children: $22.95- 6-13 years old). Call Angela Sclafani at 858.964.6521 to reserve a table.
Market (Lowes Coronado Bay)
This newly renovated restaurant will feature bottomless mimosas, live action stations, fresh salads, an array of desserts, and gluten-free options. 10 am – 2 pm; $75 per adult, $37 per child. To purchase tickets, go to loewscoronado.tix.com
The Westgate Hotel
Inside the Fontainebleau and Versailles Salons, get comfortable for the legendary Mother's Day Champagne Brunch on Sunday, May 11. Feast on fresh seafood, omelets, crepes, pastries, and gourmet desserts. And of course, endless Champagne, mimosas, Bloody Marys and margaritas. $65 for adults; $29 for children under 12. The Mother and Daughter Afternoon Teas will take place May 9 and 10 in the Grand Lobby. Enjoy live harp music, tea sandwiches and pastries, scones, traditional teas and a glass of champagne plus macaroons. 2:30 – 5 p.m., $45 for adults and $30 for children under 12. Also ask about The Westgate Experience package, an overnight stay with rooms starting at $229. Tea: westgatehotel.tix.com; Brunch: 619-557-3655; Package: www.westgatehotel.com or 800-522-1564.
Mister A's
On Sunday, May 11, the famous Fifth Avenue restaurant will host a prix fix Mother's Day brunch, 10 a.m. – 2 p.m. ($57.50 per adult). Expect favorites like the classic lobster bisque, traditional prime rib, and coconut tapioca. You'll want to come back for Mother's Day dinner service, 5 – 8:30 p.m. Reservations: www.bertrandatmisteras.com, 619-239-1377.
Mille Fleurs
At the "French-California" restaurant in Rancho Santa Fe, Chef de Cuisine Martin Woesle weill prepare an à la carte Mother's Day brunch (May 11, 10:30 a.m. and 2:00 p.m.) and dinner (5:30 – 8:30 p.m.). Reserve at www.millefleurs.com or call 858-756-3085.
The elegant hotel will offer several dining options on Sunday, May 11. The Mother's Day Champagne Brunch in the Elizabeth Ballroom (10 a.m. – 2 p.m.) will feature made-to-order omelettes, oysters on the half shell, salads, carving stations, plus Dim Sum and Sushi Chef selections, and cheese and charcuterie. There will also be a children's buffet ($105 per adult; $30 per child ages 4-12). Amaya will host a three-course Mother's Day brunch (10:30 a.m. – 2:30 p.m.) with entrees like French Toast Brûlée, Steak and Eggs, and Honey-Baked Ham Benedict ($58 per person). For casual fare, try Club M (7 a.m. – 4 p.m.). And finally, there will be a special seven-course dinner served at Addison, 5:30 to 9 p.m. Relais & Châteaux Grand Chef William Bradley will spoil guests, from a surprise Amuse-Bouche and first course of Kumamoto Oysters or Octopus Grillé, to the final course, a Gallette au Chocolat along with mint chip ice cream and chocolate mousse ($215 per person, $350 with wine pairings). 858.314.1996.
Sea & Smoke, Urban Solace and, Solace and the Moonlight Lounge
Chef Matt Gordon wants to impress your mom. Each of his three restaurants is adding to its existing brunch menu, with items like Lemon Ricotta Pancakes, Fried Green Tomato Benedict, Spring Quiche, and Holiday Salmon. And for a sweet touch, each restaurant has partnered with a local chocolatier so Mom can receive a take-home dessert. Look for Dallman Fine Chocolates at Sea & Smoke, Eclipse Chocolate at Urban Solace, and treats from Chuao Chocolatier at Solace and the Moonlight Lounge in Encinitas.