Imagine waking up in a Joshua Tree campground and crawling out of your sleeping bag just in time for a breathtaking desert sunrise. Now imagine that you are doing this surrounded by 1200 women and their motorcycles, and you have a pretty good idea of what Babes Ride Out is like.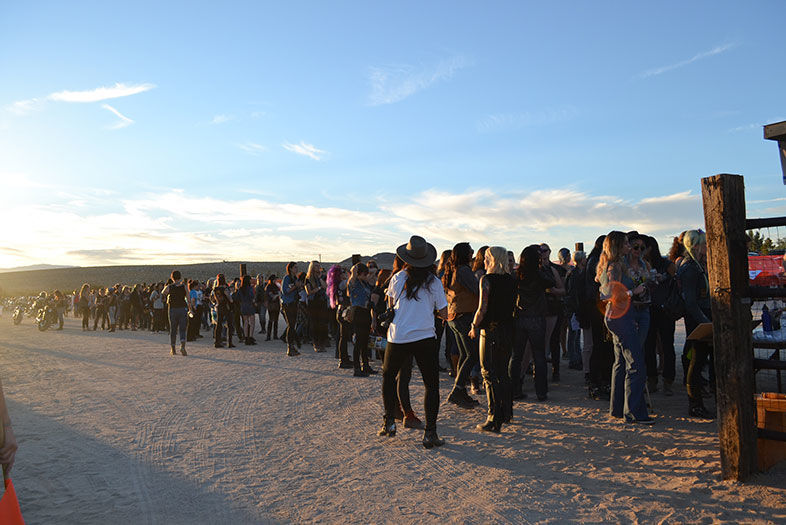 Friday night's registration line
In the past few years, the U.S. motorcycle community has seen a boom of women actively involved in the culture, riding and wrenching on their own motorcycles, dissatisfied just tagging along on the back of a boyfriend's bike. And Babes Ride Out embodies that spirit. It is a gathering of likeminded soul sisters, who are rewriting the narrative on what it means to be a woman in a male dominated world.
Babes Ride Out is the brainchild of Ashmore Ellis—a former Encinitas resident—and Anya Violet, two motorcycle riding friends from Southern California. In 2013, they came up with the idea of throwing an all-girl motorcycle campout, and posted a flyer on Instagram. The word spread, and eventually 50 women, many of them from San Diego, rolled up for a night of making friends under the stars in Borrego Springs. Turns out there was a demand for this kind of event.
Now in its third year, Babes Ride Out has grown to be the biggest all-female motorcycle meet-up in history, drawing women from all over the world, including Japan, New Zeeland, the U.K., Spain, Canada, and Mexico.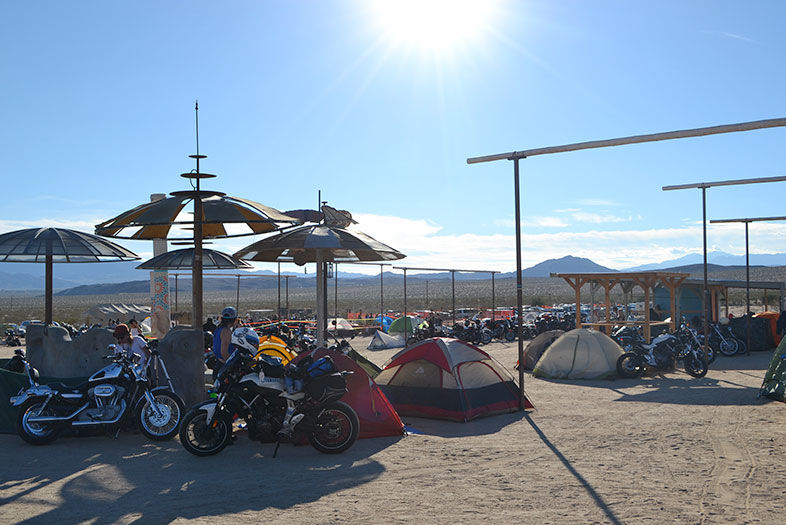 Early Morning at Camp
Spanning a weekend in October, this year's event included something for everyone: live bands, a silent raffle benefitting a San Diego-based non-profit, all-you-could-drink beer, an astronomy show, food trucks, and event tattoos done in a trailer by female artists. But the main focus of the event was, unsurprisingly, motorcycles. During the day Saturday, people headed out in smaller groups on a number of scenic rides in the area, spanning just a few miles to day-long excursions.
As the event has kept growing, the challenge arose of finding a venue large enough to accommodate 1200 women. The 40 acre Joshua Tree Lake RV and Campground—home of the biannual Joshua Tree Music Festival—turned out to be the perfect venue for the Babes. With eclectic art installations throughout the campground, it served as a creative space for making friends and dancing the night (and for some, the morning) away under the stars.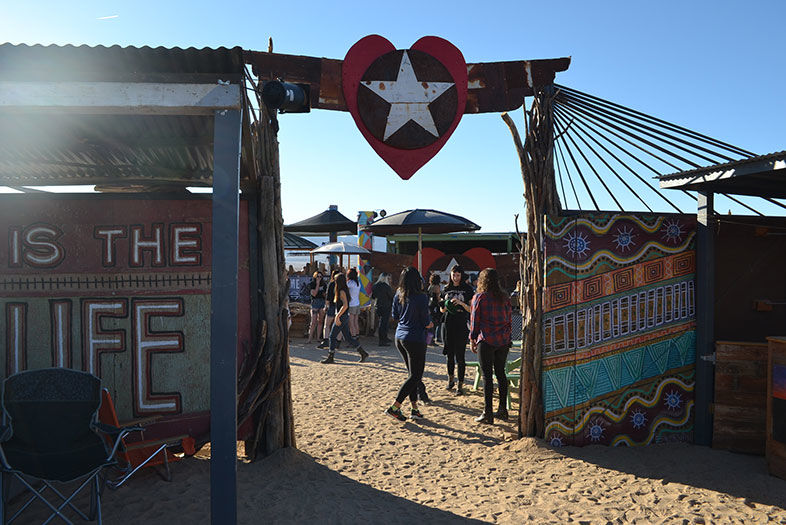 Campground Art | Photography by Sanna Coates