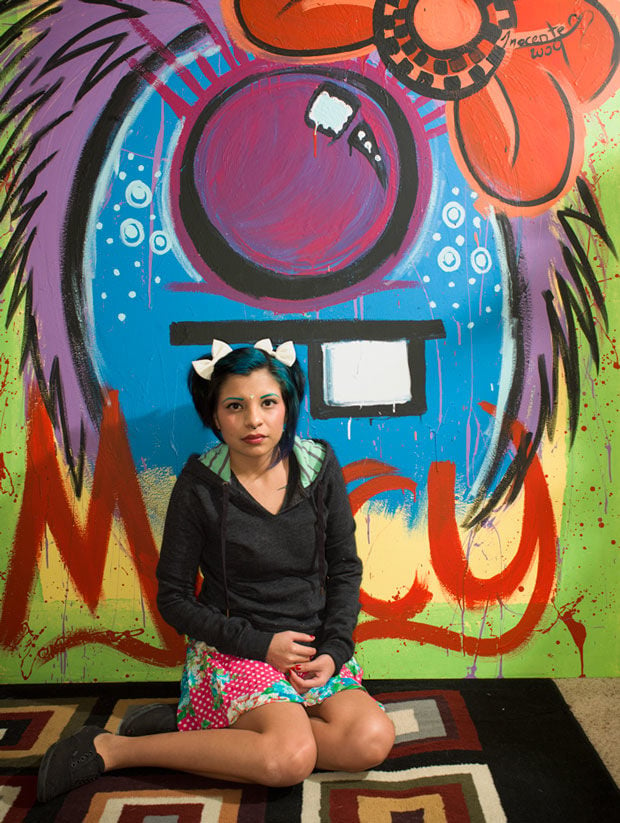 Inocente Izucar
It's been a year since Inocente won an Oscar. Will you watch the awards this year?
I didn't even know what the Oscars were. I'm embarrassed to say that. Last year it was all new to me and it was really cool. I'll watch it this year because Ellen DeGeneres is hosting. I love her.
What was it like being at that Oscars ceremony?
It was amazing. I'll never forget it. But people have a misconception of things. I'm not rich, I'm not driving around in a limo. I'm still a normal person. It was life-changing. But it was a one-time thing.
Inocente is still being shown to new audiences all over the world. Can you describe what the documentary is about?
It's about a teenage girl who is trying to make it big in this big, big world. I was undocumented. School was hard. My mom didn't understand what my art was. It's about overcoming the challenges that come our way.
In the movie, you don't describe yourself as "homeless."
I'd been homeless for nine years when the documentary was being filmed. But I wasn't on the street that much—we were in shelters, or living with people. We were "homeless," but not homeless.
What has it been like to travel the country and screen the movie?
So many people can relate to it. When organizations request a screening, one of our requirements is they do a free screening for a local shelter or high school. That's been my favorite part.
How has your life changed?
I don't paint my face any more—I'm 20 years old now. A lot of people think I'm still 15, like in the movie… I live in Chula Vista, with my mom, again. And two of my brothers. It's a good thing. I paint at home.
Describe your style of art.
Messy. And clean. Sometimes I have an image set and know what I'm doing. Sometimes I play around. I don't consider myself a Picasso. But I do art to relieve my stress. I do art for myself rather than to sell it.
What are the best homeless relief programs?
City of Refuge is a great organization. So is St. Vincent de Paul.
What's your hope for the future?
I'm not at the point yet where I feel like I've done enough for the community. That's my hope, to get to a point where I have created awareness—and then keep doing that.