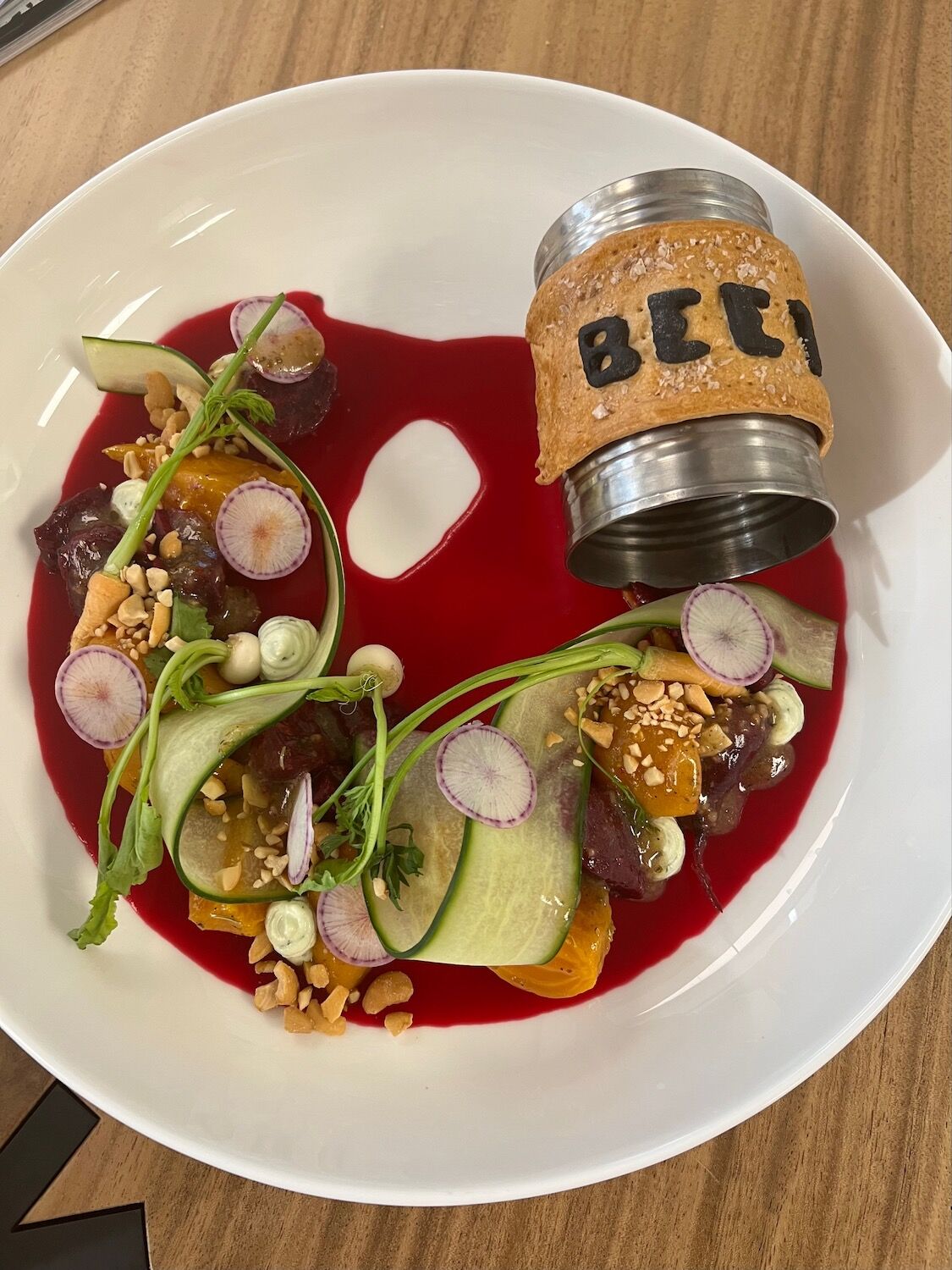 Mashed potatoes are the bedrock of Thanksgiving. If you don't have a creamy pile of spuds, you're exhibiting a flagrant disregard for the rules of the feast. Mashless people seem more like thanks takers.
Josh Mouzakes—the executive chef of Arlo at Town & Country, who trained for four months at French Laundry (lived in a garage nearby, eating peanut butter sandwiches for the honor), then at Joel Robuchon in Vegas, a couple years at Hotel Del, and two recent appearances on Food Network—swears smoking your butter is easy and will help your mash win the annual food-off holiday.
"You just put some woodchips in a pan with a ramekin of butter, and cover the thing with foil," he says. Woodchips, butter, a Bic lighter, and a heat source. That's all you need to take your Thanksgiving mash to the level of Arlo or Josh's house.
We asked Josh for three of his favorite tips for home cooks at the big feast. That's one. We also talk about his favorite dishes at Arlo, talk about the fully resuscitated vibe at one of San Diego's classic properties (Town & Country went through a massive remodel, and their central courtyard is grass and pool and musicians and lounge chairs and cocktails and Arlo—a very casual-awesome sneaker place to spend a Friday eve).
In "Hot Plates," we talk about Joe Magnanelli (the man responsible for helping build Cucina Urbana, and coming up with that still-legendary polenta board) taking the gig as the exec chef of iconic local property, Kona Kai; we talk about sale of craft cocktail destination, El Dorado, to the hospitality group Pouring With Heart—a group from L.A. (I know, I know) that has a good rep of changing the hospitality industry for good (health benefits, 401k, mental health services, etc.); and discuss how the opening of a new Carruth Cellars tasting room at Carte Hotel a block away from the San Diego Mag offices near Little Italy might be the end of us.
For "Two People, Fifty Bucks," I'm still on my hunt for the best food in Little Italy, and recommend a classic (the lobster roll with brown butter) and a new hit (Japanese sweet potatoes with chive crema) at Ironside; Josh gives us his favorite snacks from the underrated P.B. food scene (Poké Chop and what he says might be the best breakfast burrito in all the land at Taco Surf) and David says go get the Hungry Hippo pizza at Gnarly Girl in University Heights.
Get the canned cranberry sauce. You can't beat the schlooping sound. Happy Thanksgiving.