Casa Higuera
This month in Sayulita
79°/61°
Sayulita Days (carnival, rodeo, dancing, food),
February 14–24
San Pancho Music Festival, February
28–March 3
Eat
Fish tacos and Mexican street fare are plentiful in Sayulita; however, more upscale restaurants exist within walking distance of the town square. Italian-owned Miro Vino serves Neapolitan-style pizza with lights strung overhead and tables tucked in among palm trees. Handmade pasta can be found at Mangiafico's. The art-filled Sayulita Café is one of the area's busiest restaurants, thanks to chicken in rich mole sauce and chile relleno, a house specialty. Head down to the beach for casual, cheap eats, but beware—some of the restaurants are mediocre and overpriced. For breakfast, locals and tourists alike crowd the patio at ChocoBanana, a café started by a Brit who came to Sayulita more than 20 years ago and never left. The buzzy café serves up huevos rancheros, chocolate banana bread, and healthy green goddess smoothies. Casual Tacos on the Street is worth a visit for a juicy ribeye taco, and one of the area's best restaurants, the Argentine-influenced Mar Plata, is a short drive north in San Pancho. Guests enjoy dishes like red snapper tartare and tarte Tatin in the largely al fresco space dripping with starry lanterns.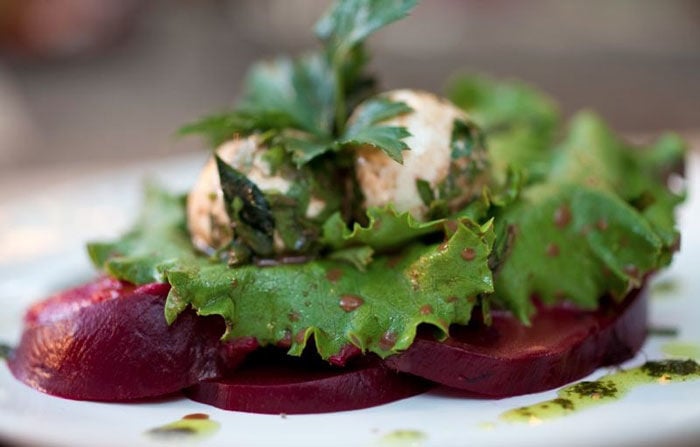 Miro Vino | Photo by Real Media Travel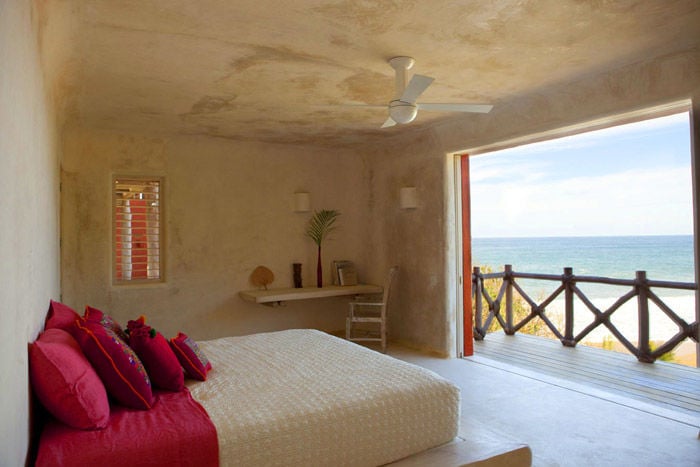 Casa Ninamu
Stay
Accommodation options range from simple palapas with mosquito netting to luxury villas. One of the most posh places to stay is TeiTiare Estate, south of town. The property, owned by Vogue and Travel & Leisure photographer Anne Menke and her husband, is comprised of two gorgeous vacation rentals, the six-bedroom Casa O'Te Miti, a thatched-roof house that feels like a more luxurious version of the Swiss Family Robinson treehouse (it includes a chef, butler service, and wine cellar grotto) and Casa Ninamu, a two-bedroom house that comes complete with a rooftop terrace, surf-inspired décor, and a pizza oven. Back in town, Villa Amor offers 36-oceanfront villas (some with plunge pools) and a romantic seafood restaurant with tables right on the water. The French-owned Petit Hotel Hafa is affordable without sacrificing style and features Moorish architecture, bohemian décor, and a rooftop lounge. The whitewashed, bougainvillea-adorned Casa Higuera and Casitas is well-loved for its vaulted ceilings, full kitchens, and giant patios with spectacular ocean views.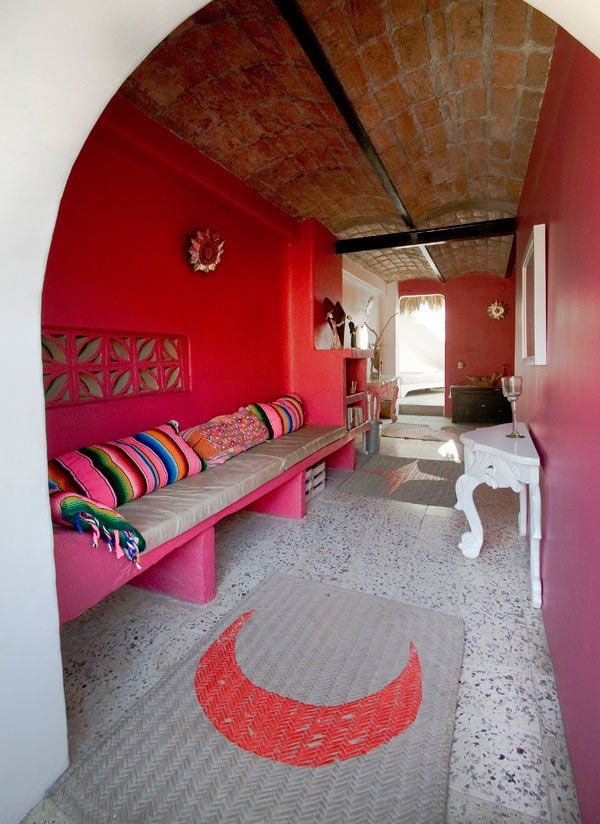 Petit Hotel Hafa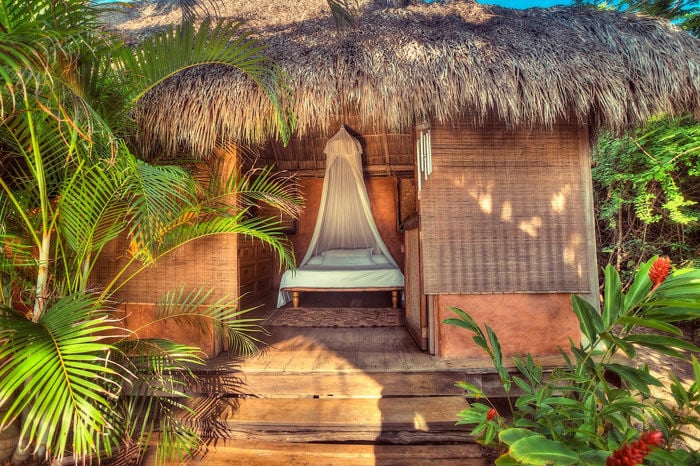 Haramara Retreat
Play
Sayulita's beach break is great for beginners, and locally-owned Wild Mex offers lessons as well as surfboard and SUP rentals. Om Yoga has drop-in classes daily, and the secluded Haramara Retreat offers week-long yoga camps, a private beach, and therapeutic spa. For a whirlwind tour of the Sayulita coastline, sign up for a boat trip at Captain Pablo's. The half-day trip includes snorkeling at the Las Marietas Islands, a protected wildlife sanctuary, whale watching, and fishing for dorado and red snapper. Captain Pablo's will clean and cook your catch and serve it at their beachfront restaurant. On Monday nights locals and in-the-know tourists head to Don Pedro's for a lively night of salsa dancing lessons and Cuban music. Chic stores line the streets surrounding the town square. Révolucion del Sueño sells art and graphic t-shirts in a minimalist setting, Pachamama caters to the bohemian shopper and imports items like leather vests and fringe bags, while Joyeria Sol sells locally made jewelry. La Hamaca is the place to go for authentic Mexican folk art and Boutique Hafa in the Petit Hotel Hafa is worth a peek for its decorative heart-shaped pieces and beautiful leather and pearl jewelry. sayulitalife.com