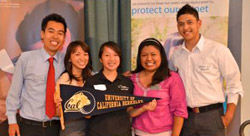 Ocean Discovery Institute
The board of directors of Ocean Discovery Institute was presented the Kaleidoscope Award for Exceptional Governance at the 8th Annual Kaleidoscope Award for Exceptional Governance from the University of San Diego. Exceptional governance requires precision, imagination, and principled decision-making and outstanding leadership.
The Balboa Park Trust at The San Diego Foundation dedicated new bike racks and celebrated Balboa Park on Jan. 31 at the Plaza de Panama. Interim Mayor Todd Gloria unveiled the bikes and thanked the Parks & Rec staff who installed them. Funding was provided by the Balboa Park Trust of the San Diego Foundation.
Mission Federal ArtWalk, unveiled the recipients of the inaugural Artie Awards at a private event on Jan. 29 at the Westgate Hotel. In celebration of the festival's 30th anniversary, festival organizers recognized several local arts advocates for supporting the community event and fostering the talent of local artists. Interim Mayor of the City of San Diego Todd Gloria presented a proclamation to commemorate Mission Federal Credit Union's long-standing support of the arts. Remedios Gomez Arnau, Rana Sampson,
Constance White and Patricia Frischer received the Artie Awards for their support of ArtWalk over the years. The art festival will be held on Apr. 26 and 27 in Little Italy.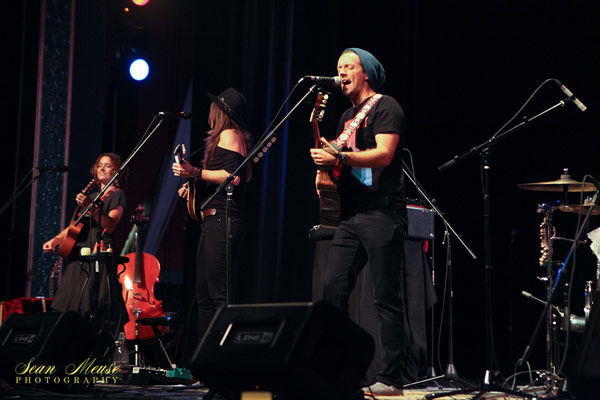 Jason Mraz Feeding the Soul
Feeding the Soul Foundation held their 50th show on Jan. 19 at the Star Theater in Oceanside featuring Michael "Leroy" Bram and Raining Jane with surprise guest performances by award winning singer/songwriter Jason Mraz and Bushwalla. The event benefitted the Scleroderma Foundation, an organization for people suffering with scleroderma, a chronic connective tissue disease. Although there are treatments to reduce symptoms of scleroderma, there is no cure. The $4,100 raised will go to support research to improve treatment and hopefully find a cure for the disease.
Sally Ann Zoll, CEO of United Through Reading was a guest of House Speaker John Boehner to sit in the House gallery at the State of the Union address on Jan. 28. Zoll founded United Through Reading in 1989 with a mission to unite military families facing physical separation. United Through Reading facilitates the opportunity for deployed parents to be recorded reading storybooks to their children which eases the stress of separation, maintains positive emotional connections, and cultivates a love of reading.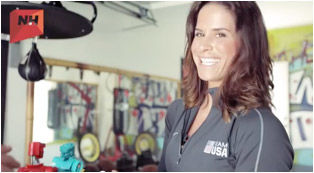 Danyelle Wolf – Natural High
Danyelle Wolf won her second straight National Boxing Championship the weekend of Jan. 25. Wolf, a San Diego native, has announced a collaboration with Natural High, a national drug abuse prevention organization that encourages youth to say "yes" to a passionate and active life and "no" to artificial highs, as the star of their most recent educational video. Danyelle joins other stars such as Tony Hawk, Travis Pastrana, Lauren Conrad, Cassadee Pope, and Jodyn Weiber who have lent their stories and talents to help promote drug abuse prevention across our nation.
Chris Van Gorder, chief executive of Scripps Health, San Diego has been named a gold medal recipient in the "health care delivery" category for 2014 from the American College of Healthcare Executives. He will be honored on Mar. 24 at the organization's annual congress in Chicago. Each year, the American College presents up to two gold medals to health leaders who are making significant contributions to the health care field.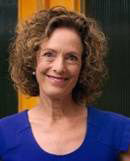 BLCI Volunteer of the Month Linda Katz
The San Diego Symphony presents the America's Best Donovan's Steak & Chop House & Chappellet with Steve Tyrell Wine Dinner. The event is being held on Feb. 9 at Donovan's La Jolla. Symphony Music Director Jahja Ling features a private performance by Steve Tyrell.
Barrio Logan College Institute named Linda Katz Volunteer of the Month for January, 2014. Katz has been a community leader and civic activist in San Diego for over 30 years. She is an ambassador for BLCI and is committed to helping the students, particularly young women, go to college and become thriving members of their communities.
Please send news items to Joyce Glazer at [email protected].