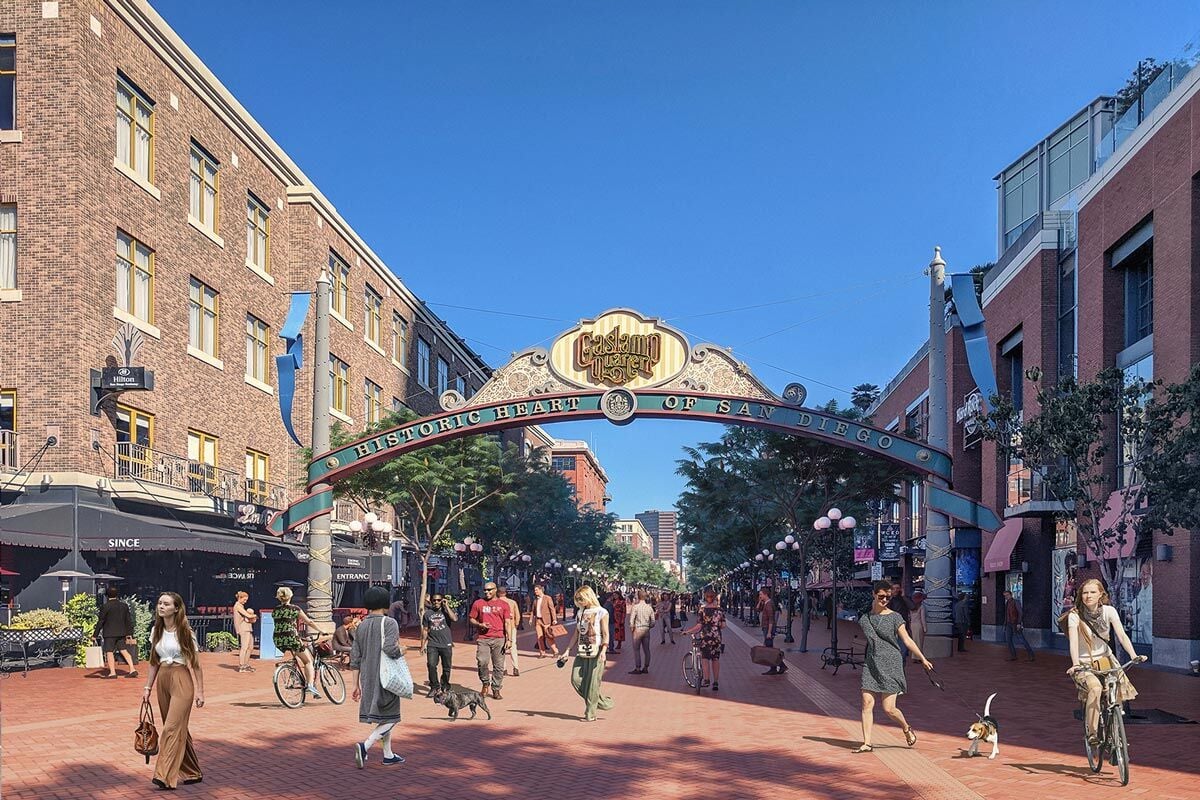 Courtesy of The Gaslamp Quarter Association
For decades, plans have been in the works to close Fifth Avenue in the Gaslamp District to traffic. But when the pandemic struck, the idea got a real-life test run.
Soon after restaurants reopened for outdoor dining in 2020, the city of San Diego used a special events permit to allow restaurants and bars to operate from makeshift patios. That included closing Fifth Avenue to cars every Thursday through Sunday so tables and chairs could be set up on the street.
The special events permit ends June 30, but that doesn't mean the street will be reopened. The city is working with organizations like Downtown San Diego Partnership and The Gaslamp Quarter Association to make the arrangement permanent.
The first step of that project is happening right now. The city is installing bollards—short, sturdy posts—at seven intersections from K Street down to Broadway. The bollards will create small plazas on Fifth Avenue and replace the temporary gates that are currently being used to block traffic.
The impact? Increased pedestrian safety, reports David Rolland, a spokesperson for San Diego Mayor Todd Gloria. He says that, weather permitting, all of the bollards should be in place by early May. The city is also working on an ordinance that will designate Fifth Avenue as a slow street, which will allow for the weekend closures that have been going on since Covid to continue longer-term.
But there is a vision for Fifth Avenue beyond just bollards. The Gaslamp Quarter Association and the Downtown San Diego Partnership are seeking grants and other funding from the state to roll out additional phases of the project, including public art, street furniture, shade trees, and repaved streets.
"Our goal is to hopefully drive more business to the merchants who operate in the Gaslamp and also to create more of a tourist destination," said Michael Trimble, executive director of the Gaslamp Quarter Association. "We don't have many of these types of open spaces, especially in the downtown area. And so by creating this temporary promenade 12 hours a day, it gives people the opportunity to experience the Gaslamp in a whole new light."
The plan will not permanently close the street, but will shut it down to vehicles from 11 a.m. to midnight Monday through Sunday, from Broadway to K Street, according to Trimble. Fifth Avenue from L Street to K Street will always be open.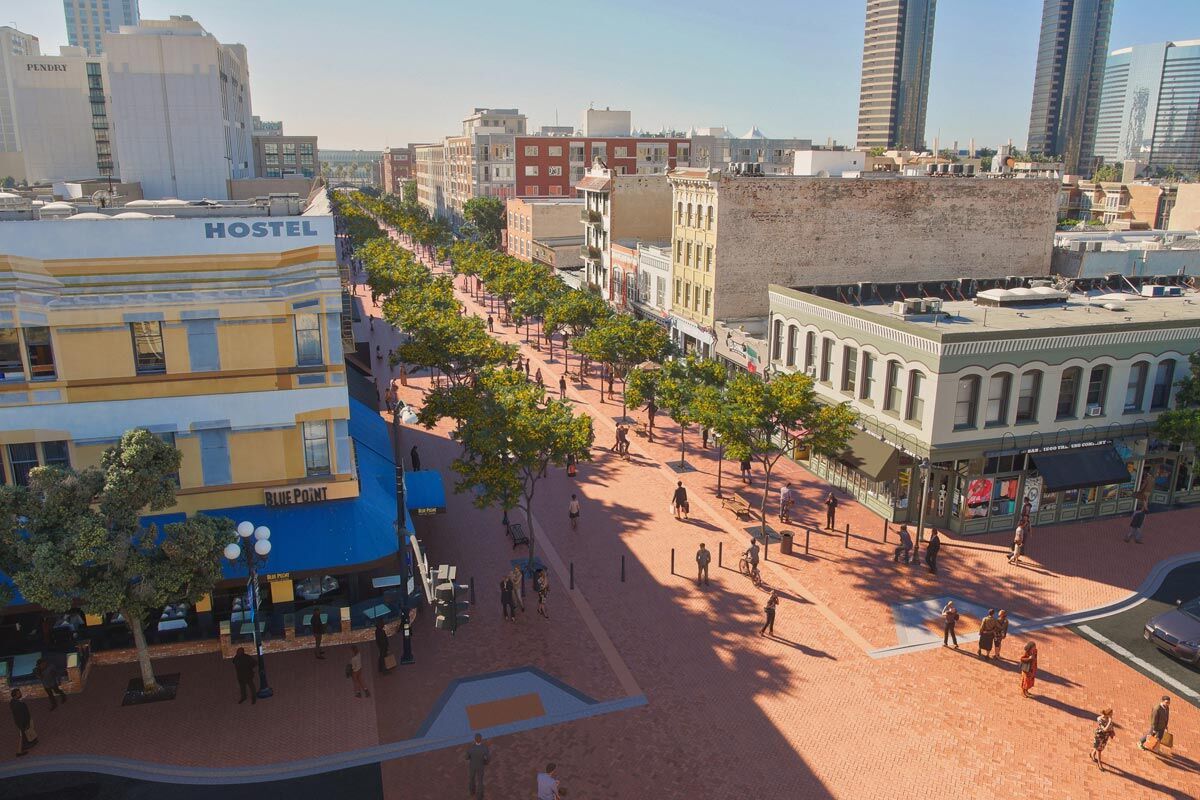 Courtesy of The Gaslamp Quarter Association
Trimble said the plan was originally to have streets shut down to 3 a.m., but it will be more like midnight because of police concerns.
"I think that the issue with having it at 3 a.m. is that it makes it harder for the police to make bar break happen safely," he said. "So if it closes at 2 a.m., then people are lingering in the streets until 3 a.m., and then it doesn't promote getting home safely. If the streets close and open to traffic at midnight, then they can bar break at 1:30 a.m., and everyone could be out of the Gaslamp by 2:30 a.m.. If you do it at 2 a.m., people will linger, and it potentially could be not as safe."
For ridesharing, all cross-streets will stay open, and cross-street parking will be redesigned so there are more loading zones on each corner, making it easier for rideshare cars to drop off and pick up customers.
MTS will also reroute buses from K Street to Broadway. The change in routes that serve lower income communities raised controversy at recent MTS meetings, but officials say they have chosen alterations with minimal impact. Route 120 buses will turn one block earlier and Route 3 buses will be rerouted to Seventh Avenue until after Broadway.
For people who need to park, the Gaslamp Quarter Association says there will be parking along Fourth Avenue. There are also plans in the works to change some cross streets from parallel parking to diagonal parking, which increases the number of parking spaces. The association says there are also more than 3,700 parking spots in parking structures nearby.
And all ADA accessible parking spaces that are removed from Fifth Avenue will be replaced near the Gaslamp Promenade. All valet stands for hotels and restaurants will also be located on side streets, according to the association.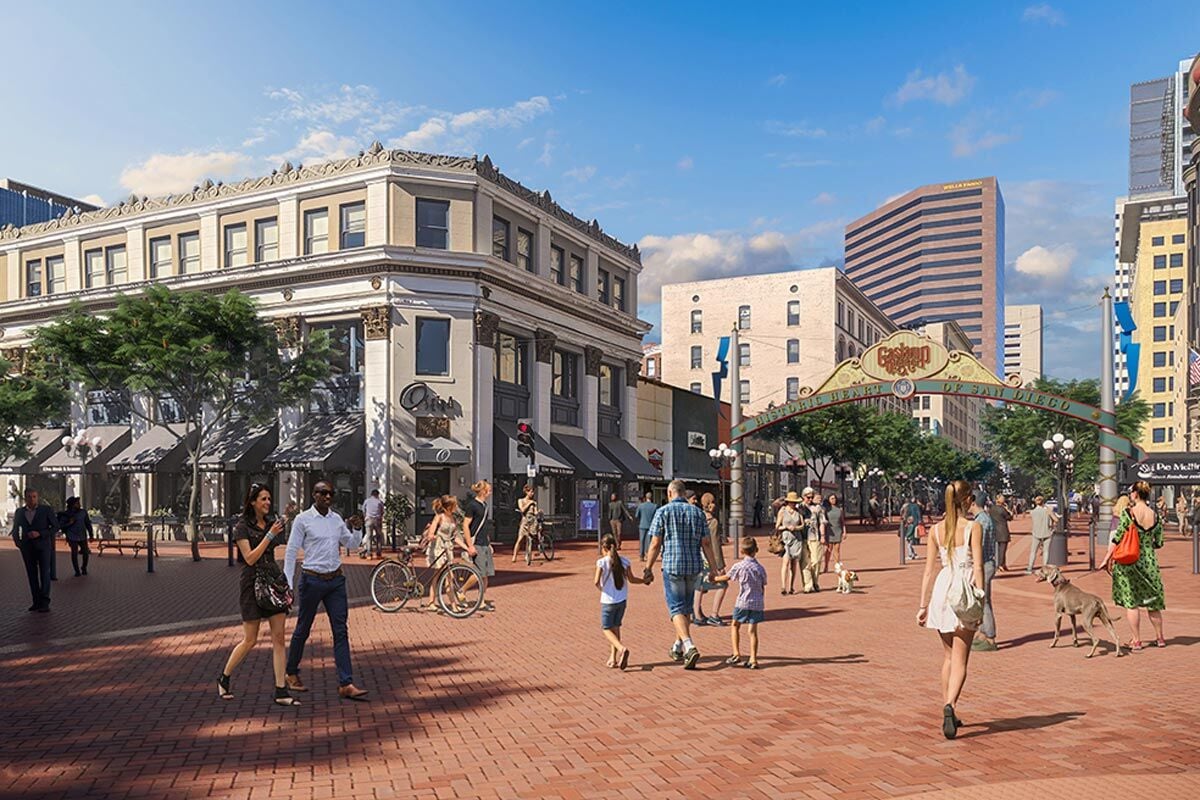 Courtesy of The Gaslamp Quarter Association
Trimble said he hasn't heard any concerns from businesses about loss of parking or getting deliveries, both because the plan only reduces parking by 32 spaces and because businesses are already used to the routine from the Covid street closure.
"It's pushed everyone to service the neighborhood quicker and more efficiently," he said. "And so if there have been any growing pains, we've worked through that during this temporary closure."
Trimble has a long term vision for the promenade that goes beyond the street closures, but said it's dependent on cost. Originally, before Covid the plan would have cost $40 million, but now it'll be closer to $60 million, he said. He would have loved for flattening the curbs in the area, but that may now be too expensive, he said.
"I would like to see something more than asphalt on Fifth Avenue. I'd like to see improvements of the sidewalks, new trees, new storm drain type systems that will be more environmentally friendly. I know that it's important to the city to be environmentally conscious," said Trimble. "It's a very old street so updating those types of internal operations are very important to moving forward into the future."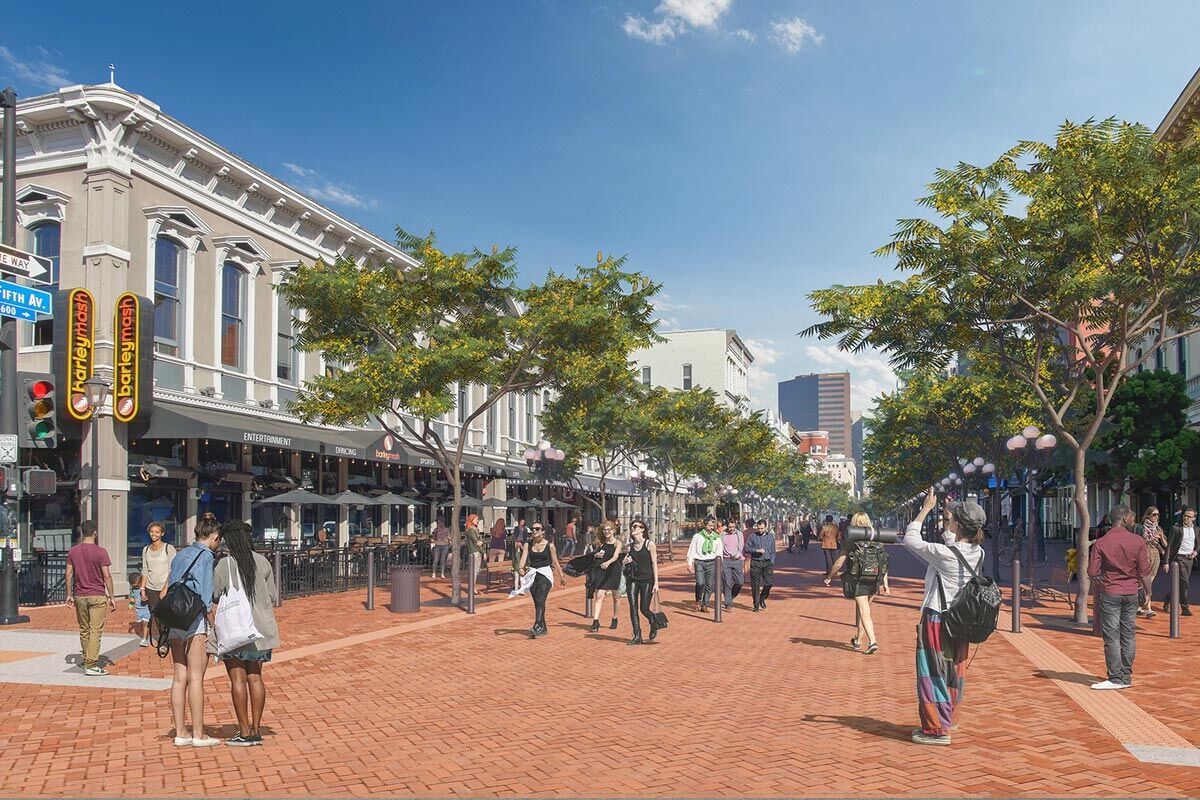 Courtesy of The Gaslamp Quarter Association
"Because of Covid, the original plan was to have the existing patios expanded onto the sidewalk and the sidewalk being pushed into the street. So instead of having parklets on the curb, you'd actually have an existing patio that's twice as large because you're moving the sidewalk farther into the street. And so giving more room for restaurants to operate without having the sidewalk street separation."
Betsy Brennan, the president of the Downtown San Diego Partnership, said the city is also working on drawing more walkers to the Gaslamp just like they've done in other parts of downtown, including the Symphony Shell, the Waterfront Park, and areas around the Convention Center—all aspects of the larger, pedestrian-friendly puzzle of which the Promenade is a piece.
"We want to welcome all of San Diego back to downtown with the Promenade," she said. "This is the heart of the city." By the end of 2023, the city expects to have completed an initial study of what is possible on Fifth Avenue and open up the project to bids.
In a statement, Gloria said the project will make the Gaslamp Quarter "an even more enjoyable and vibrant place to stroll, dine, and hang out with friends," adding that, "We know from attractions like the Piazza della Famiglia in Little Italy that people flock to outdoor pedestrian plazas lined with restaurants and shops, and we're excited to create that kind of open, welcoming atmosphere [in] the Gaslamp Quarter," he said.