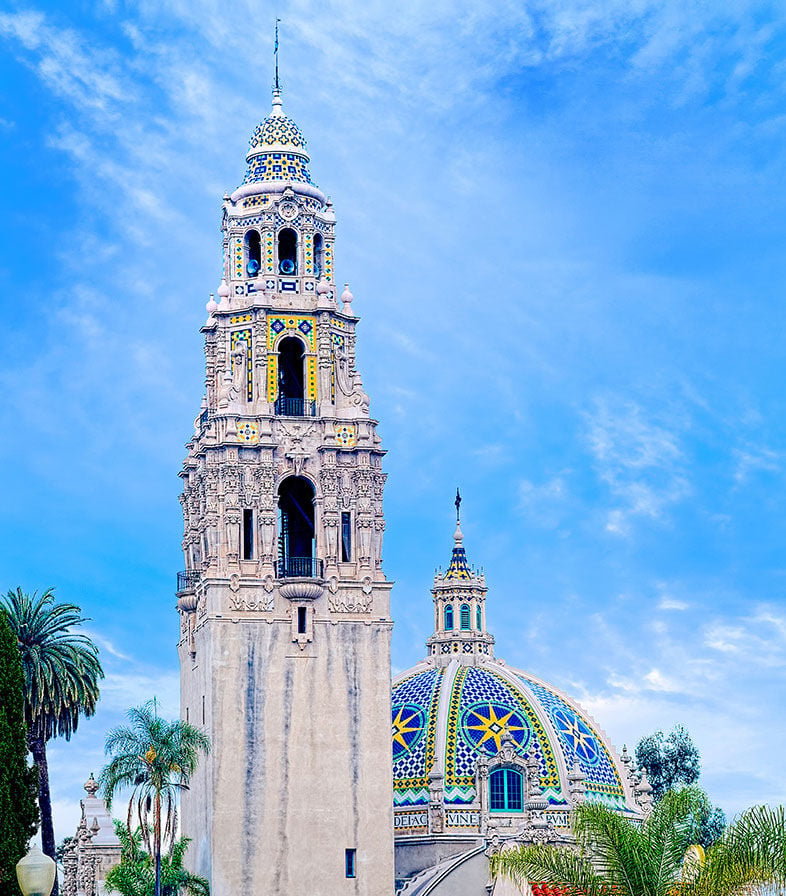 Photo by Dancestrokes/Shutterstock
Photo by Dancestrokes/Shutterstock
Visit the Icon
1350 El Prado, Balboa Park
Century-Old Architecture
Constructed for the 1915 Panama–California Exposition, the California Tower is the peak of the California Building, which houses the Museum of Man, the dome, and the tower.
An Ode to España
Designed by Bertram Grosvenor Goodhue, the California Building was inspired by Spanish and Mexican churches.
Permanent Placement
While most structures in Balboa Park were designed to be temporary, built solely for the exposition, the California Building, Botanical Building, Cabrillo Bridge, and Organ Pavilion were all intended to be permanent.
A Museum is Born
During the 1915 exposition, the California Building housed the exhibition The Story of Man through the Ages. Collections from that exhibit were used to establish an anthropology museum, the San Diego Museum, which became the Museum of Man in 1942.
A Wartime Hospital
During World War II, the Museum of Man was converted to a hospital, with the exhibits placed in storage until after the war ended.
Donations Welcome
Visitors inspired by the bird's-eye view can sponsor a stair for $5,000, or a bench for $25,000.
For Whom the Faux Bells Toll
Despite the chimes that ring every 15 minutes, there are no bells in the Tower. The music actually comes from an electronic carillon installed in 1946. Today, the carillon consists of 100 chimes that can be heard for a mile in every direction.
Grand Reopening
The California Tower was closed to the public after the 1935 California Pacific International Exposition. 2015 marks the first time in 80 years the Tower is open to the public. Forty-minute tours are conducted 10 times a day.
Step Counter
From the second floor of the Museum of Man, it's 125 steps up to the observation deck on the eighth floor, with the final 18 steps on an original, cast-iron spiral staircase. Two additional flights are not open to the public.
View from the Top
On a clear day, you can see 23 miles to the horizon, with 360-degree views to the Cuyamaca Mountains, the Coronado Islands, the Laguna Mountains, and Point Loma.