West of downtown San Diego sits Point Loma, a rugged peninsula known for top-notch food and shopping. As the landing place of the first European expedition in California and, later, the US military's first San Diego foothold, the area has a complex history, much of it on display at Cabrillo National Monument and other local preserves and museums. Next time you're nearby, check out some of our favorite spots to eat, shop, play, and learn in our Point Loma neighborhood guide.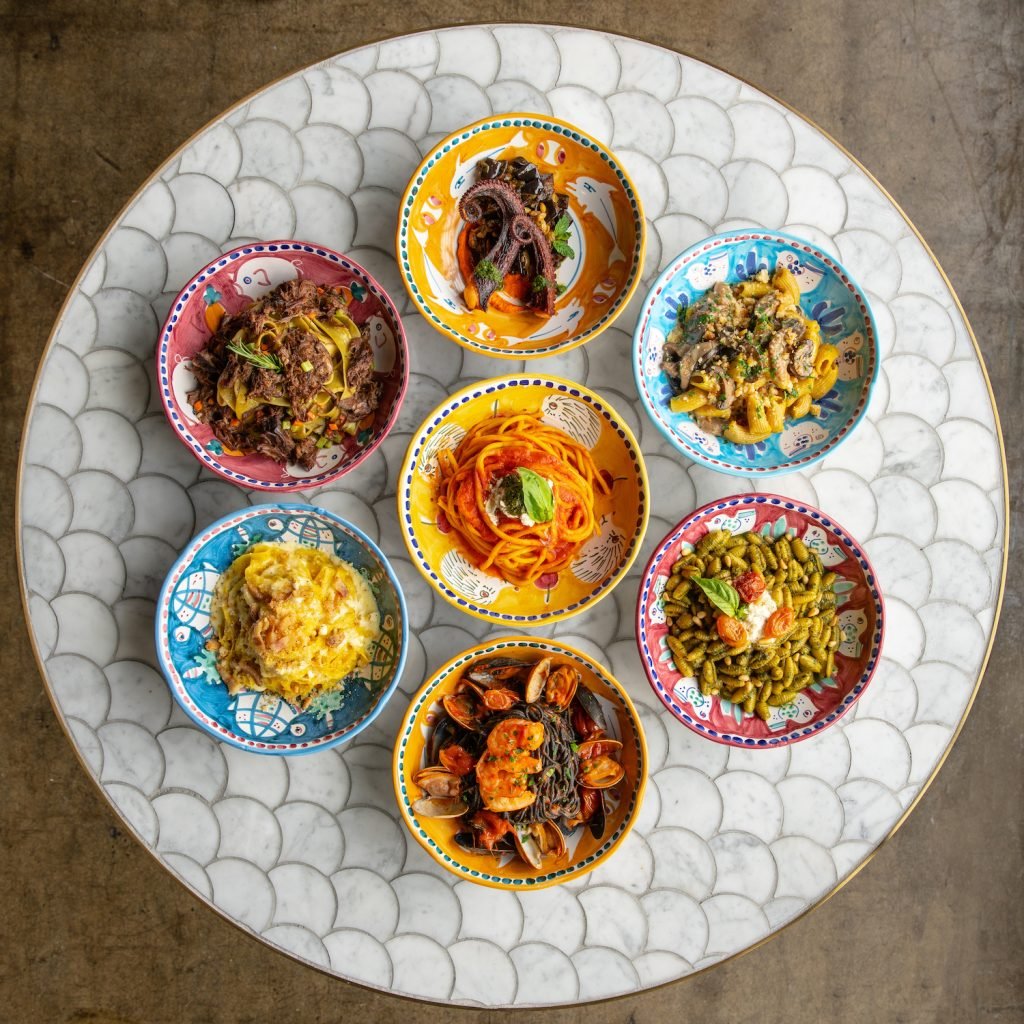 Point Loma Food & Drink
Cesarina
Named after its chef, Cesarina Mezzoni, who founded the restaurant with two fellow Italian natives, Cesarina offers classic plates and ample vegan options in an airy space where staff makes fresh pasta and pastries before diners' eyes.
4161 Voltaire Street
Jennings House Eatery
The oldest house in Point Loma is now a cozy café vending breakfast, salads, and sandwiches (including gluten-free bread and pastries). Out to eat, but up against a work deadline? Rent a desk in their co-working space for 15 percent off your meal.
1018 Rosecrans Street
Stone Brewing World Bistro & Gardens
Prepare to spend a full afternoon at Stone Brewing's Liberty Station—in addition to an eclectic menu and a bar with 40 taps, the legendary local brewhouse boasts a bocce ball court, outdoor cinema space, and garden.
2816 Historic Decatur Road, Suite 116
Fathom Bistro, Bait, and Tackle
Perched on a tiny fishing pier, Fathom Bistro, Bait, and Tackle serves craft beer and bar bites, as well as the opportunity to watch anglers aim for the perfect catch. Try one of Fathom's four housemade sausages, including the veggie-stuffed chicken pot pie frank.
1776 Shelter Island Drive
Point Loma Seafoods
A longtime SD institution (it touched down in the city in 1963), Point Loma Seafoods draws on generational recipes to craft the soups and sauces that accompany the restaurant's fried fish, sushi, tacos, and shellfish cocktails.
2805 Emerson Street
Liberty Public Market
Picky friend groups, you're in luck. With more than 30 teeny eateries, this popular food hub has a plate for every palate, plus communal seating where you can reconvene. Not much is a miss here, but Filipino spot White Rice and The Mini Donut Company are must-tries.
2820 Historic Decatur Road
Con Pane Rustic Breads and Cafe
Con Pane's team arrives onsite at 1 a.m. every day to bake levain loaves in a French stone hearth. Pick up a week's supply of artisanal bread or settle in for a pastry or sandwich with a cup of joe from San Diego roaster Cafe Moto.
2750 Dewey Road, Suite 105
Supannee House of Thai
This laidback lunch and dinner spot serves curries and stir-fries, as well as Thai classics like larb, tom yum, and green papaya salad. Artfully arranged and crowned with flowers, the restaurant's dishes are almost too pretty to eat.
2907 Shelter Island Drive, Suite 110
Bali Hai
Since its opening in 1954, this famous Shelter Island spot has laid down more than 2.7 million deceptively strong mai tais. Enjoy Polynesian-inspired plates and waterfront views under the watchful eye of "the Goof," the eatery's iconic tiki mascot.
2230 Shelter Island Drive
Harbor Town Pub
Drop by this family-friendly pub for generous portions and a surprisingly robust list of craft cocktails, plus weekly BBQ slider nights, trivia, taco Tuesdays, and karaoke. The little ones can drop quarters in the arcade while grown-ups have a pint or two from Harbor Town's 16 taps.
1125 Rosecrans Street
The Wine Pub
Grab the leash—this spot for light bites and full glasses welcomes pups on its heated patio (and provides a special menu just for them). The Wine Pub also hosts local musicians, trivia nights, and wine-centric trips to Valle de Guadalupe.
2907 Shelter Island Drive, Suit 108
Point Loma Shops & Boutiques
Paru Tea Bar
Paru sells loose-leaf teas, many sourced from small-batch tea gardens in Asia, and mills matcha in-house. Schedule a tea tasting in store, or sign up for a subscription to get three new teas sent to your home each month.
3034 Cañon Street
En Concordia
The staff at plant boutique En Concordia are a wealth of knowledge when it comes to figuring out what leafy new pal best suits your lifestyle and your home's light. They also offer homewares, toys, and pantry items ideal for gifting.
3028 Cañon Street
Rare Bloom Boutique
The hallmarks of breezy coastal style—lightweight knits, wide-legged pants, flowy sundresses—are available at Rare Bloom. Once you're outfitted like a lifetime San Diegan, pick up some California-inspired goodies for your home, too.
2841 Cañon Street, Unit G
Sea Hive Station
Buzz by Sea Hive Station to browse gifts, homewares, clothing, and accessories from more than 150 San Diego-based brands and small businesses. On every second Sunday of the month, the store hosts an outdoor vintage market.
2750 Dewey Road, Suite 103
La Playa Books
Searching for a read that'll keep you turning pages into the wee hours? Head to La Playa, a women-owned shop vending new and used books. Join one of their two book clubs (including one that centers wine) to befriend fellow bibliophiles.
1026 Rosecrans Street
Rekindle Pottery
Hit Rekindle Pottery for wall art, home décor, dinnerware, and more (as well as private pottery lessons for aspiring artists). To shop in person, you'll have to book an appointment, but you can browse the collection online at any time.
2770 Historic Decatur Road, Suite 208
Shop Moniker
After grabbing a coffee or cocktail at Moniker General, mosey over to the retail side to peruse men's and women's clothing and accessories, home goods, and personal care items. Stock up on their hand-poured candles as fail-proof housewarming presents.
2860 Sims Road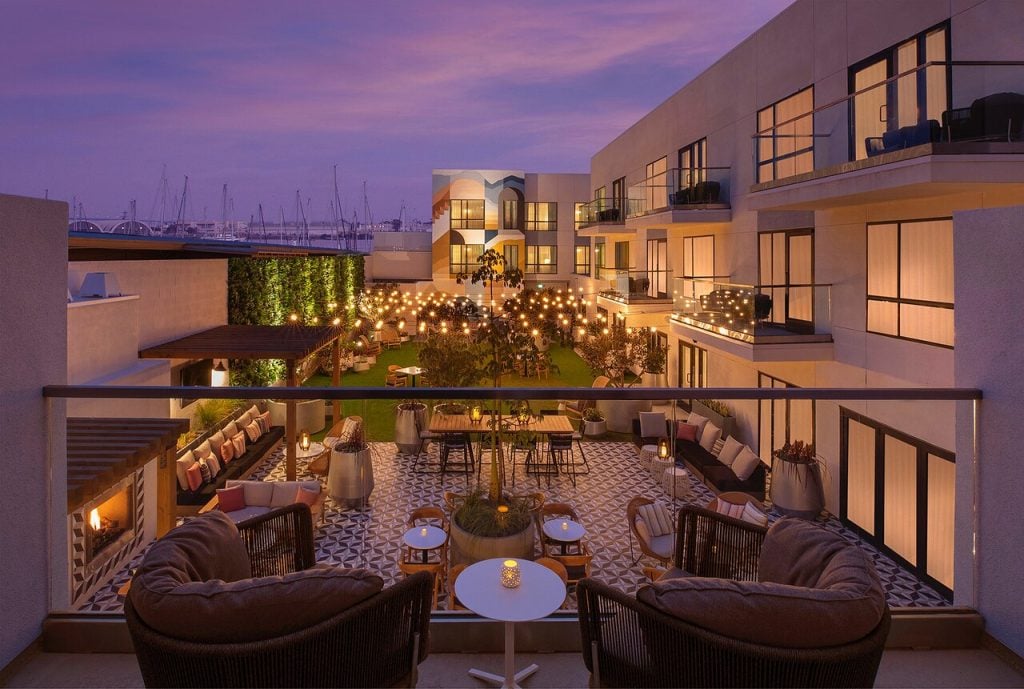 Explore Point Loma
Cabrillo National Monument
In addition to being one of Point Loma's best scenic viewpoints, Cabrillo National Monument offers visitors the chance to learn about the historic significance of the area, explore the Old Point Loma Lighthouse, take a hike on the Bayside Trail, and spot marine critters in the tide pools.
1800 Cabrillo Memorial Drive
The Pearl Hotel
With 23 rooms lining an oyster-shaped pool, the Robert Platt–designed Pearl Hotel earns its name. On Wednesday nights, tune into a cult classic film poolside as part of the 64-year-old resort's "dive-in" movie series.
1410 Rosecrans Street
The Monsaraz San Diego
Sitting near Fisherman's Landing, this Portuguese-influenced, mid-century modern hotel is a pet-friendly Hilton property home to Dark Horse Coffee, a local roaster, and Westley, a coastal-inspired restaurant and bar.
1451 Rosecrans Street
NTC Arts and Culture District
Liberty Station's former Naval Training Center now houses oodles of artsy opportunities. Galleries, nonprofits, art supply stores, theaters, music studios, and restaurants call the arts and culture district home, hosting local pieces and performances.
2820 Roosevelt Road, Suite 201
The Bar Method
Tone up with this boutique fitness studio's low-impact workout classes, which incorporate elements of pilates, yoga, and ballet to strengthen your muscles, keep your heart pumping, and create community among attendees.
3125 Rosecrans Street, Suite B
Sunset Cliffs Natural Park
A favorite date spot among locals, the 68-acre Sunset Cliffs Natural Park affords visitors spectacular sea views and access to tide pools. From mid-December to April, keep an eye on the water for passing gray whales headed toward Alaska.
Ladera Street
New Americans Museum
Liberty Station's New Americans Museum celebrates and explores America's immigrant past, present, and future through art exhibitions, verbal history lessons, and social-impact initiatives with a goal of creating connections between cultures and combating racism and intolerance.
2825 Dewey Road, Suite 102