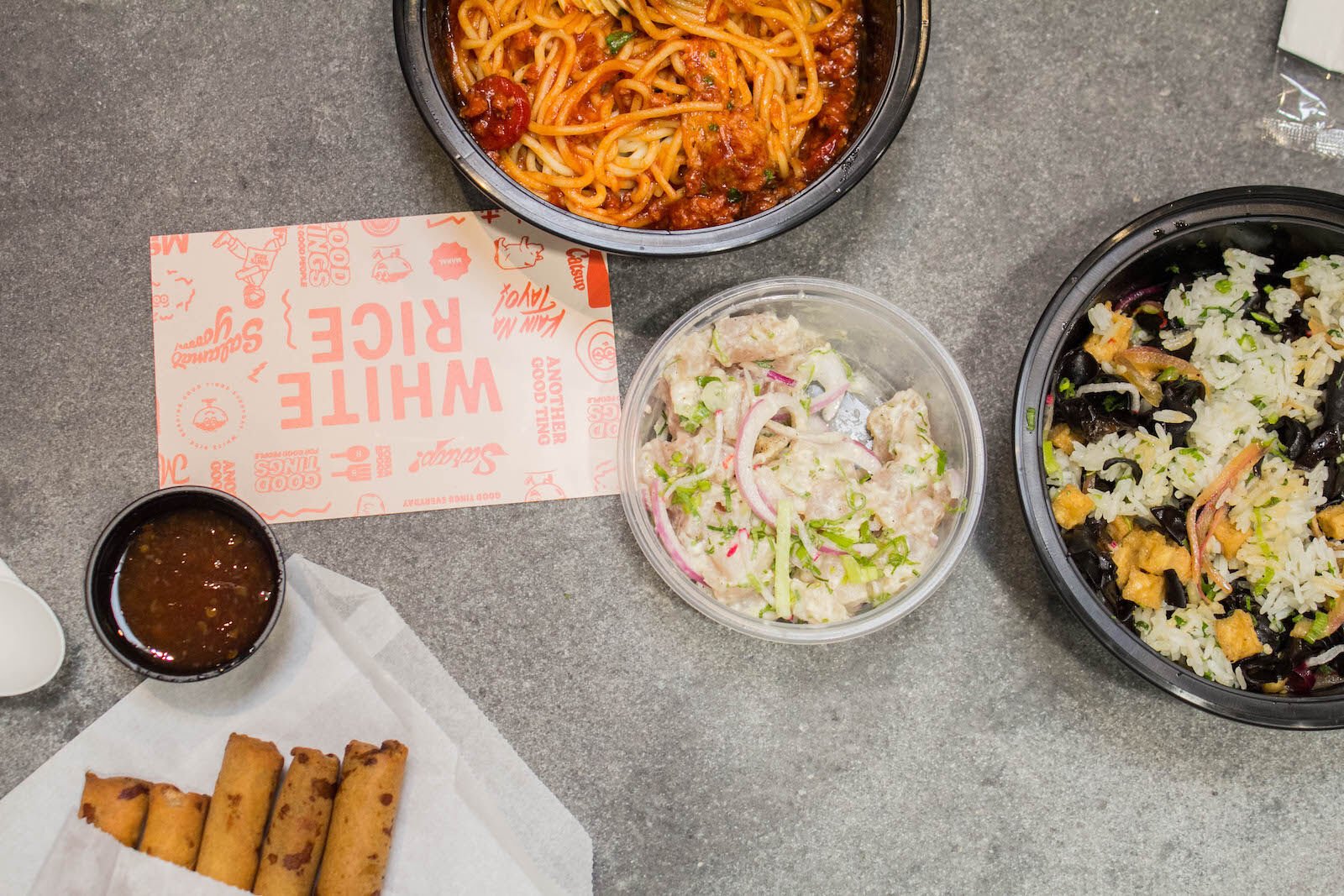 For a "What to Order" guide with photos, scroll to the bottom. For Phil's story, read on. 
"Of course we had to have this," says chef Phillip Esteban. "Everyone has this." 
This ube pandesal may be trendy, but it's also stupid-good—a loaf of hot rolls that's soft like white bread, sweet like Hawaiian bread, purple like royal blood, filled with ube jam, topped with light sprinkles of just enough salt. Like Parker House rolls on acid. 
Staring at them, and at this new designer food stall that was never supposed to be a thing, makes me realize Phil Esteban would kick my ass at chess. (He plays with his son, who won the chess U.S. Junior Championships.) 
Every move he's made has been part of the long game, which is finally materializing. The big chunk of what Esteban brings to the restaurant world—how to make great food from top-notch, costly ingredients without letting costly ingredients sink the restaurant—he learned at Tender Greens under Point Loma chef Pete Balistreri. (A remarkable number of the city's new crop of top chefs learned under Balistreri, including Tara Monsod of Animae and Drew Bent of Lola 55.) 
"People think you're a chef because you can cook," he says. "But lots of people can cook. I don't think you're a 'chef' until you can run the entire business of a restaurant."
And so, early on, he slowly but surely made the right moves—to New York at Momofuku Ssäm under David Chang, with short stints at Eleven Madison Park, Per Se, Marea, and wd-50 (RIP). His résumé fully flexed, he came back to San Diego under the awesome Jason Knibb at Nine-Ten, then became head chef at The Cork and Craft. Right when everyone thought he'd open his own place, he spent a couple years as Consortium Holdings' R&D chef—the creative force, along with Michelin-star chef Jason McLeod, for dishes at Born & Raised, Craft & Commerce, Ironside, the whole prolific Consortium armada. 
"People kept asking if I was going to open my own place," he says. "What they don't realize is that it takes a lot of money. I'd have to get investors, and answer to them. Whatever Consortium touches is gold, so I was hoping some of that gold would rub off." 
He finally did make the leap, announcing he'd open his own place called Well Fed—an ode to Filipino cuisine in his native National City, which is home to a thriving Filipino community.
Then pandemic.
Well Fed is still coming (ETA 2022), along with a culinary bookstore and cooking-goods shop, Wordsmith (ETA this August). "But this wasn't supposed to happen," says the chef, pointing at the small open kitchen of White Rice, his newly opened stall in Liberty Public Market.
During the pandemic, he started Craft Meals SD. Whenever someone ordered one of his rice bowls (the kind of bowls you'd expect from someone who worked under Knibb and Chang), he donated one to a front-line worker. "And 70 percent of health care workers are Filipino," he laughs. "So whenever we put a Filipino bowl on there, it sold out fast."
The concept was so popular it inspired him to open White Rice while he waits for Well Fed. Opened last week, it's Esteban's second concept in the food court at Liberty Station (Weapon Ramen opened a couple months ago). If all goes right, what started as a food of goodwill should eventually help him make enough money to fund Well Fed himself. 
"The whole thing is based on silog, which is basically what we eat for breakfast, but really anytime," he says. "It's very approachable. For someone who may not know Filipino food, it's an onramp. The gateway food." 
Eating my way partially through the menu, here are a few I'd recommend to friends I like: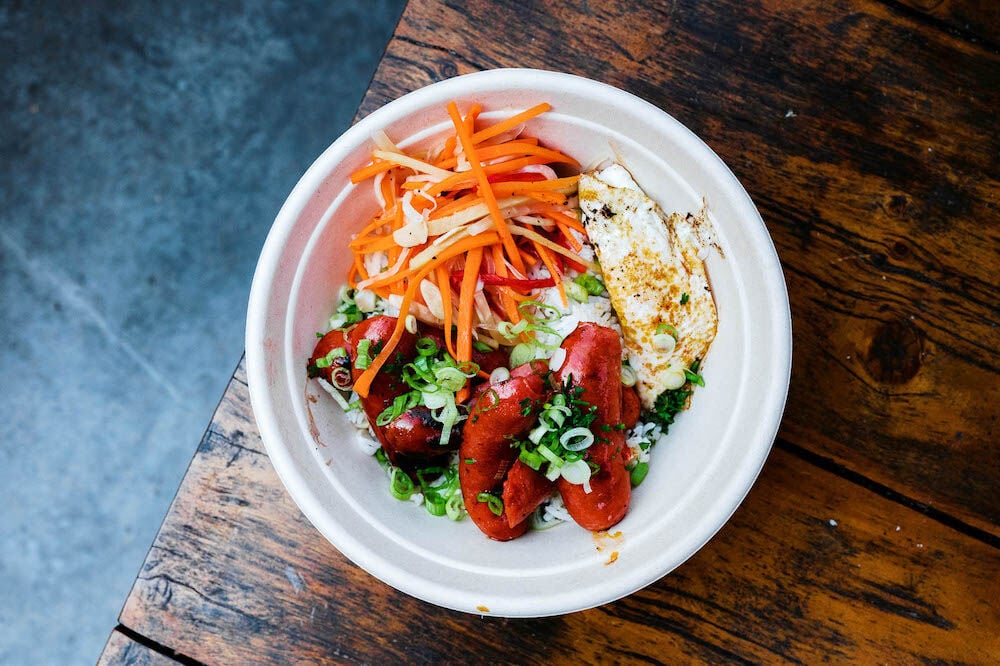 Shannon Patrick
LONGANISA
It looks like hot dogs with a poached egg over rice—a warm hug in a bowl. Sweet pork sausage, atchara pickles (a vinegary-sweet pickle, traditional in the Philippines), sawsaw (Filipino vinegar sauce). "This is as classic a silog bowl gets," Esteban says.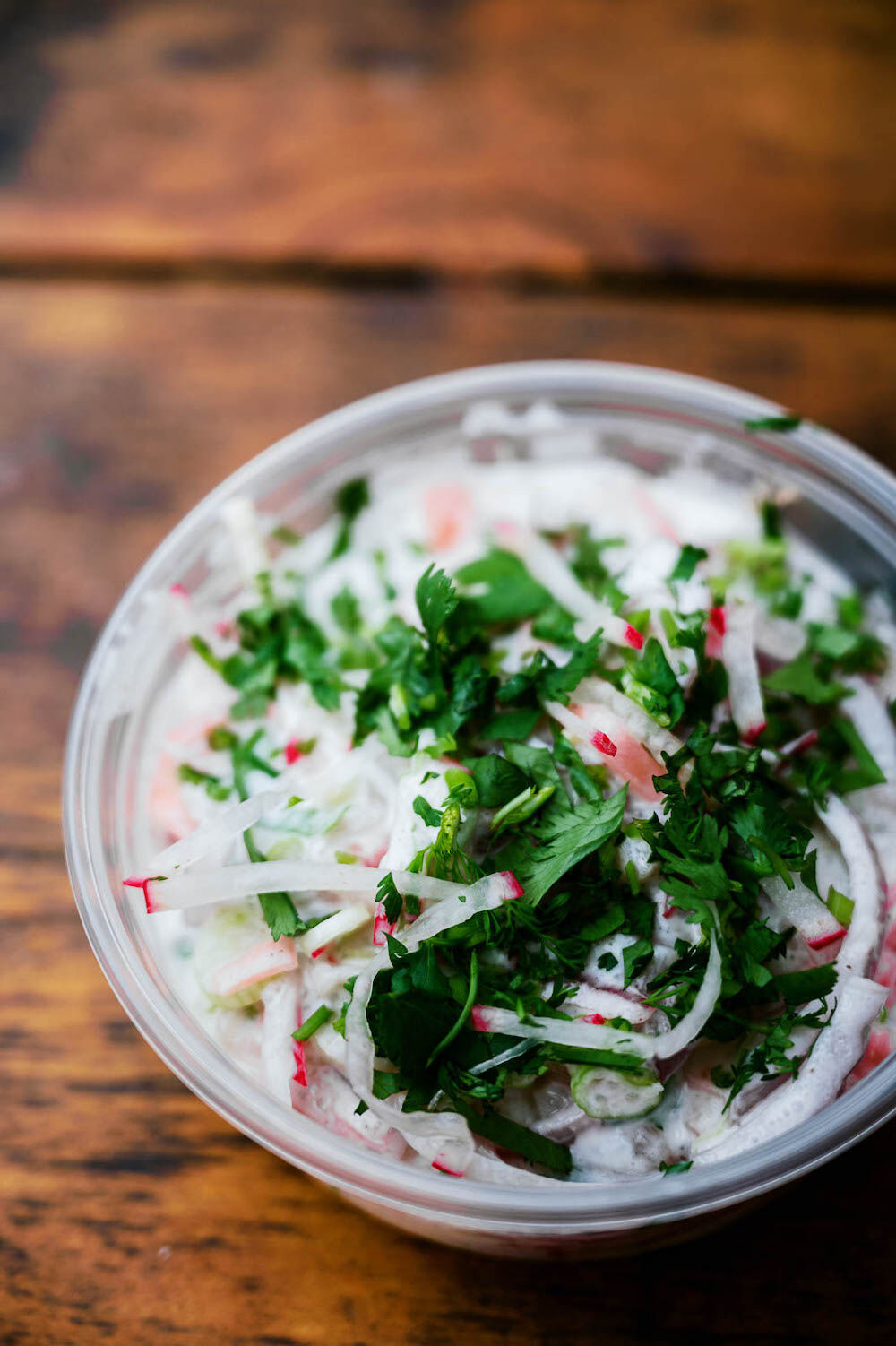 Shannon Patrick
KINILAW
Esteban is working with the local fishers at Tuna Harbor Dockside Market, and this is his Filipino ceviche, using local albacore tuna with coconut milk, red onion, ginger, chile peppers, and fresh cilantro. "It's our version of leche de tigre," he says.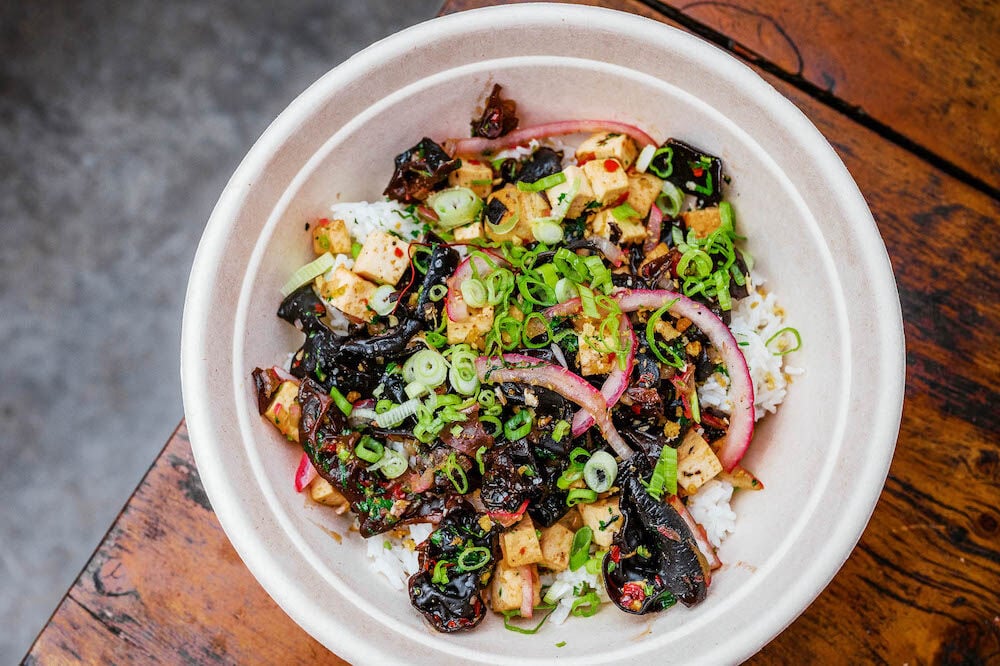 Shannon Patrick
MUSHROOM + TOFU SISIG
Sisig is a Filipino dish that's traditionally made with pig parts, but Esteban created this version  for the vegan and vegetarian set, or for omnivores like myself who strategically swap in meatless meals to prolong my longevity. He sautées wood ear mushrooms, crisps up cubes of tofu, tosses with calamansi vinegar (a staple in Filipino cuisine, made from the calamansi fruit, which tastes like a hybrid of kumquat and mandarin orange), red onion, garlic rice, and boonie peppers. "We call them boonie peppers because I grew up in the boonies, and there were peppers growing everywhere. My parents would always tell me, 'Go pick me some boonie peppers.'"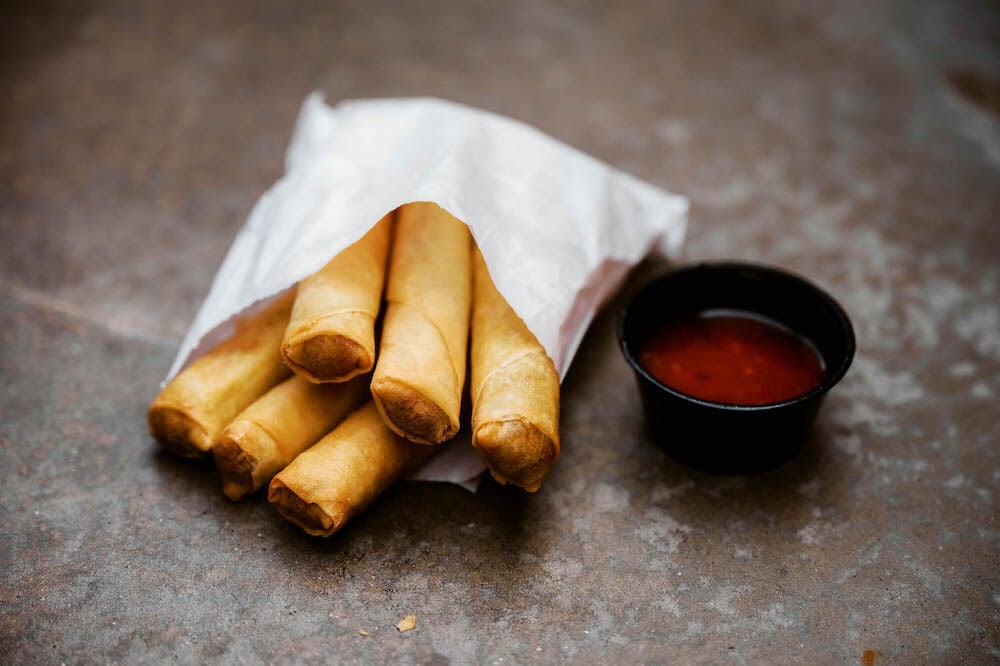 Shannon Patrick
LUMPIA SHANGHAI
Lumpia is the gateway drug that gets most non-Filipinos into the cuisine: a thinner egg roll. His are pork, shrimp, and scallions wrapped in a fried spring roll, served with a sweet-and-sour sawsaw. "It's the sauce that makes it," he says. "It's gotta be the right thickness, not too sweet, not too sour."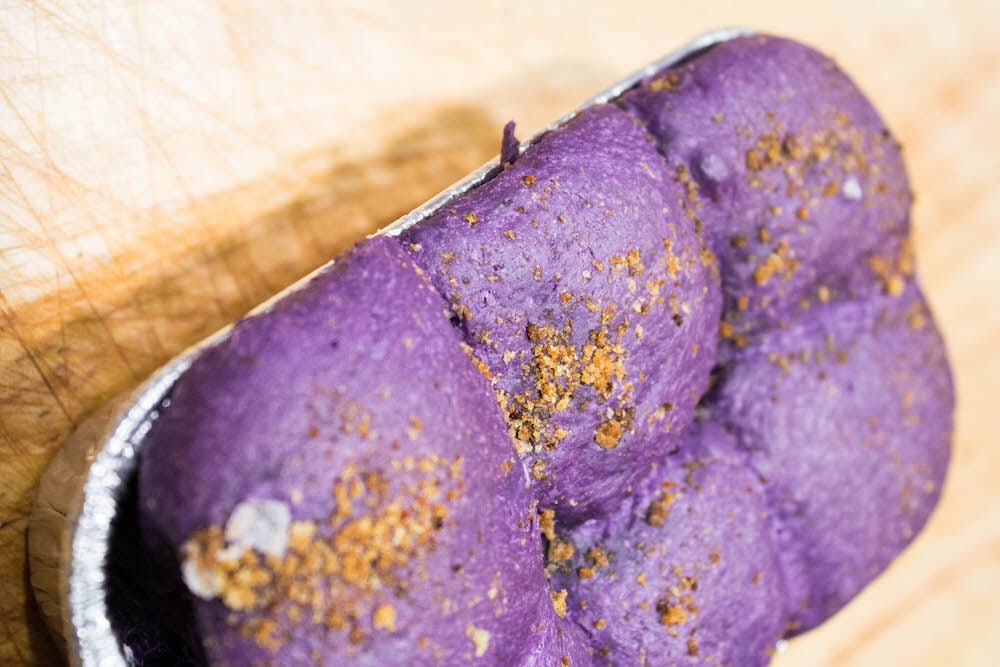 Shannon Patrick
UBE PANDESAL
The roll of my dreams. A Filipino sweet roll made of ube (purple sweet potato), filled with hayala (the "purple yam jam"), served with cultured butter.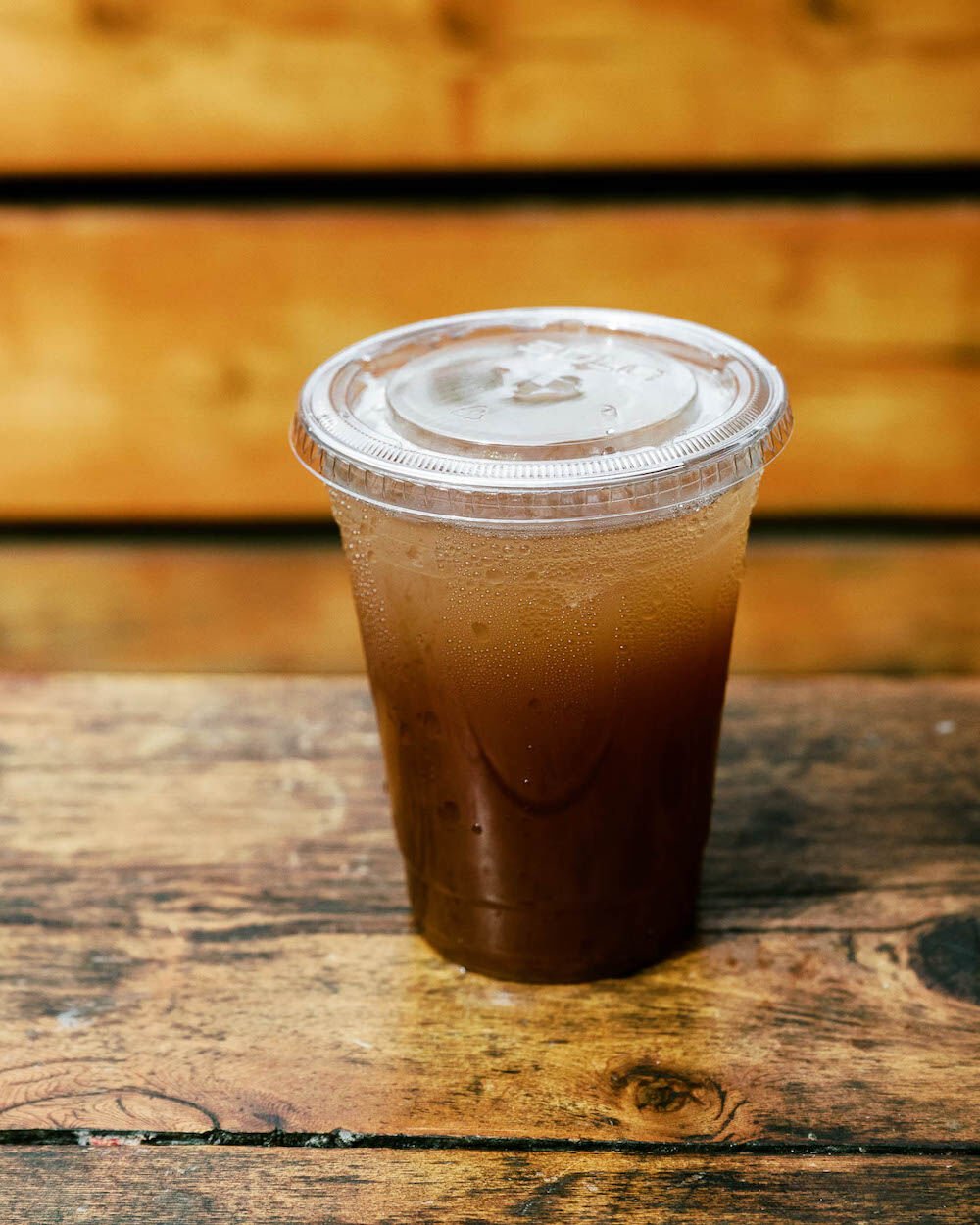 Shannon Patrick
CALAMANSI ICED TEA
Fresh calamansi juice with iced tea, housemade. Esteban hopes to sell it by the bottle one day. It tastes like an Arnold Palmer that's done a bit of traveling.