Bumbleride Studio
2345 Kettner Boulevard, Little Italy
619-615-0475
By appointment only.
As they say, first comes love, then comes marriage, then comes a baby in the baby carriage. For San Diegans Matt and Emily Reichardt, this playground rhyme is not only true, it's also a business plan.
In 2004, they started Bumbleride, a Little Italy-based company that makes stylish strollers for the savvy, athletic mom. All-terrain tires, lightweight airplane-grade aluminum framing, and sleek designs make them hip, but not flashy. Consumers are comparing them to top-of-the-line brands like Bugaboo and BOB.
The Reichardts have known each other since they were kids in Point Loma. Both graduated from Point Loma High School. They later married, and while Emily was pregnant with their first child, they got an idea.
It's no secret the baby industry is big business. In 2013, American parents spent more than $23 billion on diapers, toys, formula, and other baby gear, according to market research firms IBISWorld and Euromonitor. But the Reichardts were still unable to find a stroller that could handle their outdoor activities—that also looked cool.
"There weren't a lot of strollers with a fashion element," Matt says. "We set out to design strollers good for walking, running, and hiking that were also up with the trends."
Matt, now Bumbleride's CEO, earned a degree in international business from San Diego State University, and had prior experience importing and exporting products overseas. He says, "I've always been entrepreneurial."
He developed a business plan and convinced his grandfather to give him a small loan. It was enough to purchase a 40-foot container of samples in Taiwan and ship it back to the U.S. Bumbleride was off and running. Matt was just 29 years old.
As his family grew (today Matt and Emily have three children), so did the business. What started as a "two-man show" out of their garage expanded to 12 full-time employees in an industrial Little Italy office space. Today Bumbleride is sold in more than 250 stores in the U.S., and 18 other countries including the United Kingdom, Canada, and Australia.
The strollers are still manufactured at the same family-run Taiwanese factory. "We were looking for a smaller factory focused on quality, that would grow with us," he explains. Why not China, where production costs are lower? "They are very focused on volume."
The Reichardts' attention to detail seems to be paying off. Hip moms from Manhattan to San Diego swear by their Bumblerides, citing features like the SPF 45 sunshade, eco-friendly fabrics, chic colors, and versatile designs for both jogging and navigating the uneven city streets.
In August, the company opened its first showroom, on the street level below Bumbleride's corporate offices in Little Italy. The showroom is the only place where interested buyers can test-drive a Bumbleride. Customers can wheel one of the models up to Caffe Italia or to Mona Lisa for a sub.
"We are a San Diego-based company," Matt says. "We opened the showroom because we wanted to connect with the local community." In the days of celebrity-driven culture, when buying a stroller can feel an awful lot like buying a car (Bumblerides range between $200 and $730), the family-driven, community-focused approach sure stands out.
Now, about that suspension system…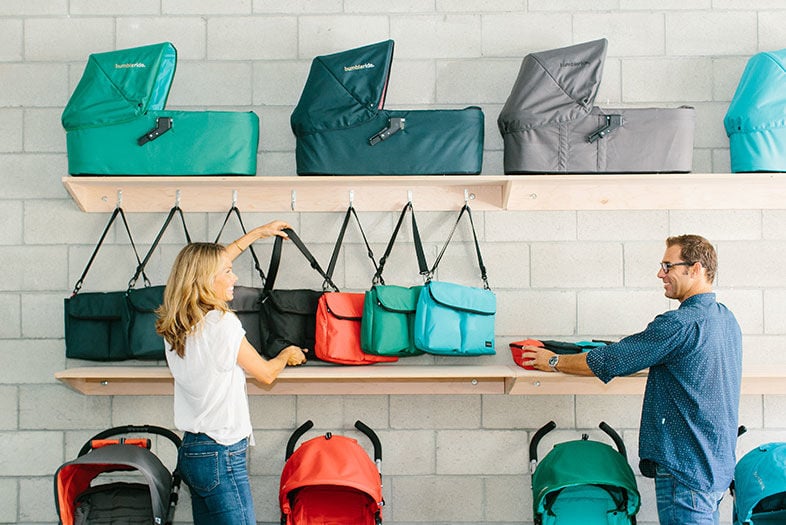 Photography by Jacqueline Campbell