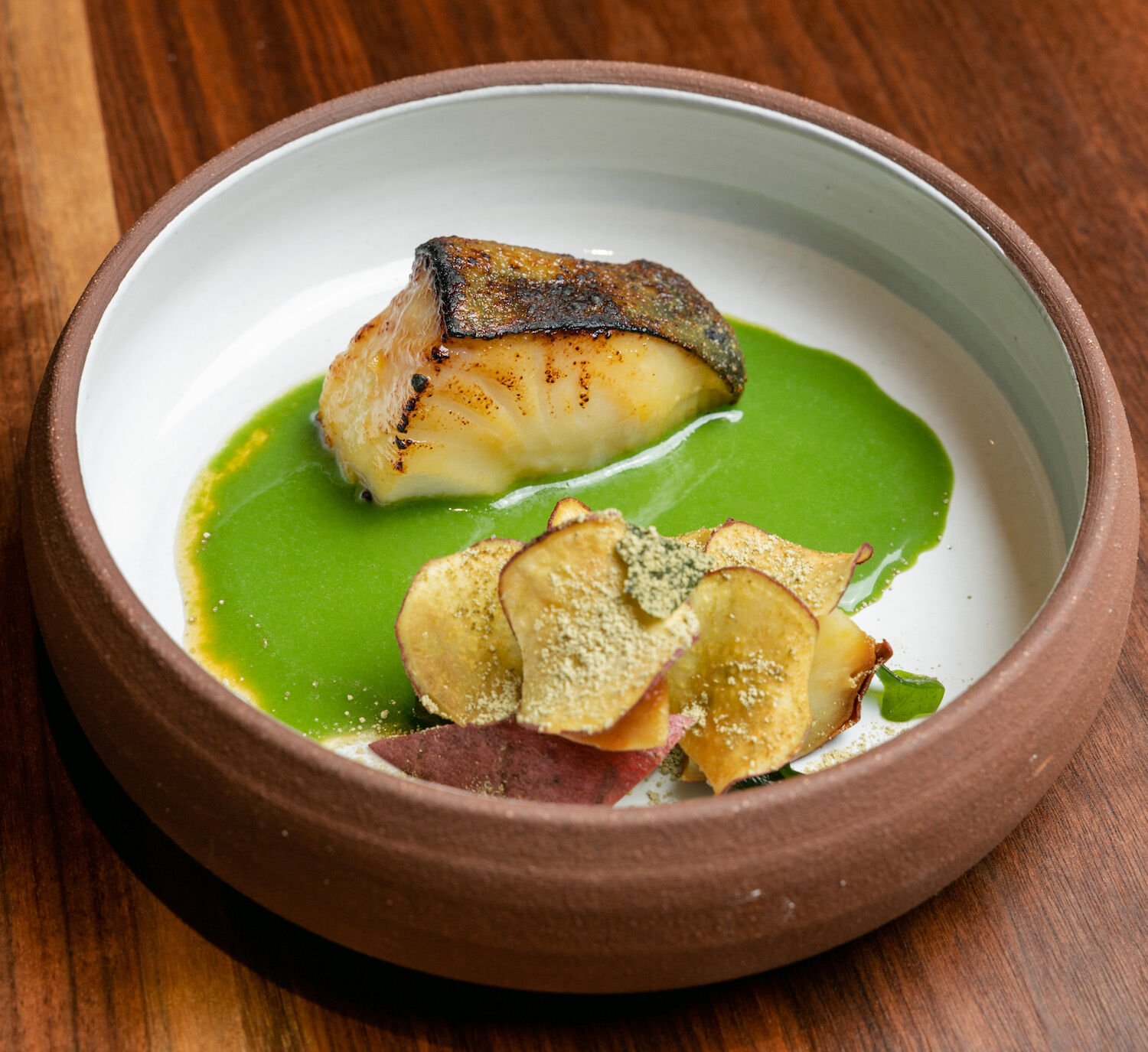 Courtesy of Matsu
As the northernmost city of our surprisingly expansive San Diego County (4,261 square miles, 52-ish miles tip-to-tip), Oceanside has often played the role of the neglected sibling. The community of some 168,000 beach rats has long been associated not just with a lengthy commute, but a sort of salty grunginess. In recent years though, a surge of high-end, tasteful, cultural, and gastronomic openings has pulled O'Side out of isolation.
Boasting buckets of sunny charm and edgy artfulness, the seaside city has emerged as one of SoCal's last beach towns of mostly local operators (notwithstanding Hyatt's two recently opened resorts there). It has also emerged as a somewhat surprising source of elevated Asian fusion food, with a Michelin nod to boot. This development seems like the perfect apotheosis of the O'Side aesthetic: aristanal, creative, sea-centric, and unceremoniously surprising.
Here's where to taste the eastern influence in San Diego County's last outpost before Orange County begins:
Tasting Menu at Matsu
Since opening in its permanent location in 2021 on Tremont Street (after roaming as a pop-up since 2019), this fine-dining gem has wowed diners and critics alike with its Japanese-American fusion delights. In a smallish, dimly-lit building off O'Side's main drag, chef-owner and O'side-gastronomic-empire-builder William Eick serves up inventive yet approachable dishes at Matsu. Choose from an omakase tasting menu or a la carte. These are wonderfully weird plates like uni with shitaki mushrooms and mustard and saltwater eel tempura with artichoke. The cocktail selection is top-notch, too. Try the Oni: tequila, tangerine and sesame. You won't regret it.
Ayam Penyet at Dija Mara
Since 2017, this chic Southeast Asian-inspired hideaway on South Coast Highway has churned out delightful, cozy dishes. A sought-after Michelin nod in 2021 has made it supremely difficult to land a reservation at Dija Mara. But the recognition was well-earned. If you make it in, don't skip the Ayam Penyet: fried chicken with coconut rice and house-made sambal, an Indonesian chili sauce.
 Seared Tuna at Wrench & Rodent Seabasstropub
Vintage punk-rock posters plaster the walls alongside grisly halibut carcasses at this experimental sushi spot, an O'side veteran which opened in 2013 on South Coast Highway. French and Japanese-trained chef Davin Waite, a punk rocker Brit, owns Wrench & Rodent Seabasstropub alongside his American wife, Jessica. He is fond of featuring fish not often found on sushi menus, such as opah and black cod. He is big on dry-aging too, and the fish are mostly sourced locally. When fig season comes around, fruits are pulled fresh from a large on-site tree which spills into the tiny parking lot. A killer combo: seared tuna with caramelized figs and a Seoul Mule to sip: soju, black currant, lime, yuzu and ginger beer. Kanpai!
Karaage Sando at Naegi
Another Eick-owned establishment, uber-casual Naegi (which means "sapling") serves up Japanese sandwiches. The signature karaage fried chicken is truly delectable (mercifully, there is also a tofu version.) Founded in 2021 as a pop-up and food truck, the brick-and-mortar location is pretty basic–the superb sandos do the talking here. The shokupan, or "milk bread," used in them is baked by Hokkaido Bread Company, another of Eick's O'side culinary projects. Operating out of the kitchen, it is helmed by pastry chef Felipe Orozco.
Have breaking-news, exciting scoops, or great stories about San Diego's food scene? Send your pitches to [email protected].