Some are calling it the year of the neighborhoods, when it's never been trendier to push for better parks, cleaner streets, and more community programs. San Diego's always been a city of villages, a place where you can choose how you want to live. Walkable main drag? Good schools? Beach adjacent? Read on for our breakdown of San Diego's coolest 'hoods.
Little Italy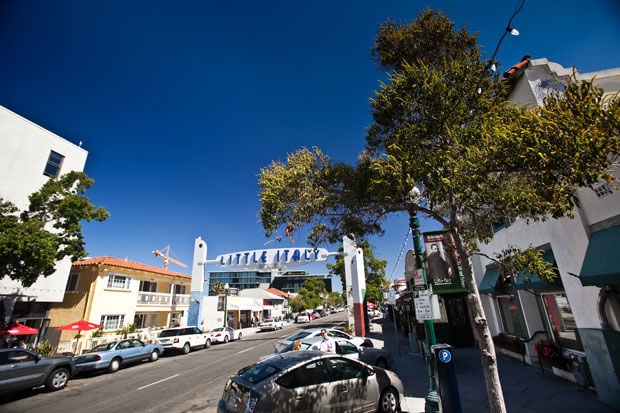 Stats
Own
$492,600
Rent
$2,364
Schools Rating
4
Walk Score
95
Bike Score
82
Carbon Footprint
26.8
Population
2,986
The gathering place: After years of planning, the public outreach process started late last year on one of the neighborhood's biggest projects to date: a new piazza at West Date Street between India and Columbia streets. The defining feature would be a pedestrian promenade to serve as the central gathering space for the many big events Little Italy hosts throughout the year. A timeline for the project is not yet in place, but the Little Italy Association is working with the community and developers to solicit input from residents.
Bar trick: Though known more for its burgers and beers, The Waterfront Bar & Grill (2044 Kettner Boulevard), which turned 80 this year and claims to be the oldest tavern in San Diego, serves cookies at last call. Now you know!
*Housing values reflect median prices in December 2013, as tracked by Zillow.com; Rental rates reflect media rents in December 2013, as calculated by Zillow.com. Schools rating is based on a scale of 1to 10, 10 being best, based on test scores as calculated by GreatSchools.com. Walk scores and bike scores were all calculated with walkscore.com. Carbon footprint figures reflect the average tons of CO2 produced per year by an average sized household with an average income by zip code.
la mesa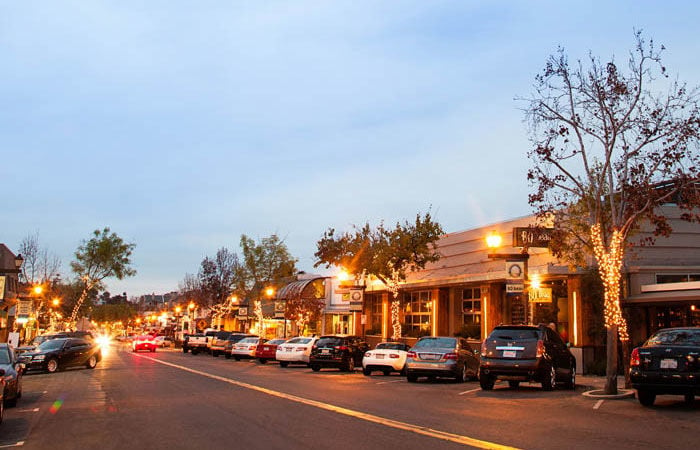 Stats
Own
$441,650
Rent
$2,137
Schools Rating
6.2
Walk Score
53
Bike Score
Car dependent
Carbon Footprint
38.1
Population
57,065
Walkable yet rustic: WalkSanDiego.org named this East County gem the most walkable city in San Diego County, thanks in large part to its upgraded intersections and pedestrian-friendly downtown village. Just up the hill in hip Mount Helix, sidewalks disappear altogether in favor of winding hillsides dotted with boulders, trickling creeks, and ranch-style homes that stretch out over acres (yes, acres) with views out to Coronado. Even with antique shops, unique boutiques, and the neighboring behemoth Grossmont Center, La Mesa still feels quiet, like a peaceful suburban haven enjoying just a splash of urban culture.
Big deal on the boulevard: Designer Philippe Beltran and restaurateur David Cohn recently opened industrial chic eatery BO-Beau Kitchen + Garden (8384 La Mesa Boulevard), which serves upscale comfort food in the same vein as its beloved sister spot in Ocean Beach.
Otay Mesa
Stats
Own
$329,900
Rent
$1,952
Schools Rating
5.4
Walk Score
42
Bike Score
49
Carbon Footprint
59.5
Population
6,011
The Binational burb: Pack your bags! The Cross Border Access Terminal, which has made national news as it enters final phases of construction, will make Otay Mesa one of the easiest places for cross-border commuters to live once it's finished. The San Diego Association of Governments estimates that 2 million people a year will use it to access the Tijuana Airport. Otay Mesa is also revamping Brown Field Airport. The airport has been around for years and officials in the area are ready to see it renewed, and take on more travelers.
In the hot seat: If you don't know his name yet, you probably will soon. Rob Hixson, chair of the Otay Mesa Community Planning Group, has been a voice for the area as it embarks on a high-profile community plan update. After a decade of meetings and negotiations, 2014 is poised to be the year the City Council will vote on some major changes to the area, including scores of new housing, parks, and schools.
imperial beach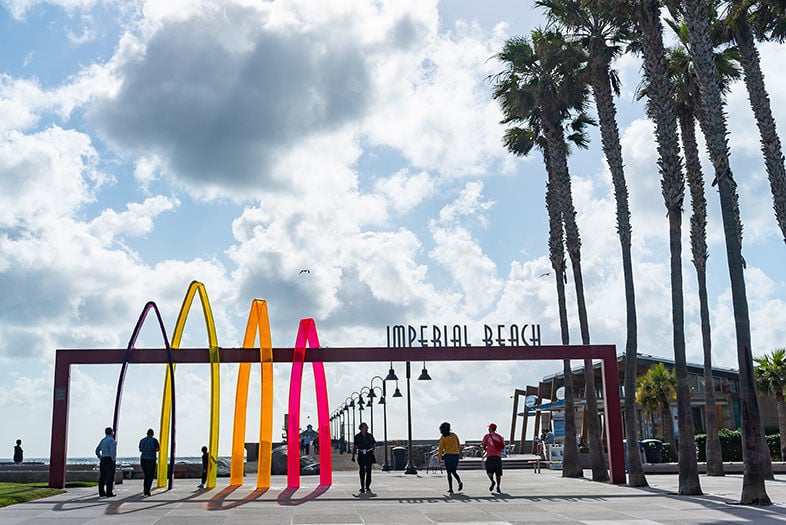 Stats
Own
$363,300
Rent
$1,890
Schools Rating
4.6
Walk Score
69
Bike Score
Car dependent
Carbon Footprint
54.5
Population
26,324
The untapped market: Several longstanding San Diego entrepreneurs are finally turning their heads toward the nation's most southwesterly city, from Bob DePhilippis, owner of the Filippi's Pizza Grotto empire; to the Cohn Restaurant Group, which opened SEA180° Coastal Tavern in Pier South, IB's fancy new beach resort; to Ron and Rick Chapman of Coronado Brewing Company, who have plans to open a CBC location on Seacoast Drive later this year. "People are rediscovering a town that's been forgotten for a long time," says mayor Jim Janney. "There's a renaissance going on in Imperial Beach."
Go retro: Oasis Ice Cream Parlor (1832 Coronado Avenue) and Stardust Donut Shop (698 California 75) are the kind of blast-from-the-past gems that will maintain the heart and soul of this community.
Market fresh: IB Beautiful (IBB), a nonprofit that funds beautification projects around IB, is credited with launching and managing the bustling IB Farmers Market at Pier Plaza every Friday. Starting next month, watch for extended hours until sunset on Friday evenings through the end of summer.
bankers hill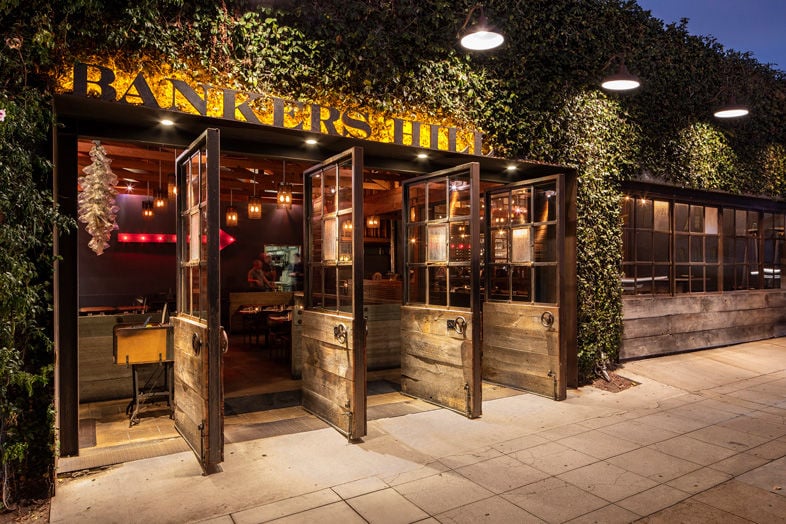 JOHN DURANT
Stats
Own
$553,050
Rent
$2,387
Schools Rating
7
Walk Score
89
Bike Score
77
Carbon Footprint
22.8
Population
8,492
The urban bike lab: Interested in testing out some next-generation bike- and ped-centric technologies? Move to Bankers Hill, where wheels are in motion to make the neighborhood more friendly for cyclists and pedestrians. The Uptown Regional Bike Corridor Project will augment Fourth and Fifth avenues south of Upas Street with new dedicated lanes and on-street bike facilities. The Bankers Hill Residents Group has also implemented the first in a community-proposed network of new "safe crossings" in the 'hood: a pedestrian-activated, solar-powered, flashing-light crosswalk at the intersection of Sixth and Spruce.
All that jazz: San Diego institution Croce's Park West (2760 Fifth Avenue) recently relocated to the 'hood, and thankfully brought local jazz favorite Gilbert Castellanos, too. He plays Thursday nights, but we hear he's also planning to book a slate of younger talent for other nights.
Hidden hot spot: Wet Stone Wine Bar (1927 Fourth Avenue) is tiny, tucked away, and just chic enough to qualify for date night or a nightcap after a show in Balboa Park.
encinitas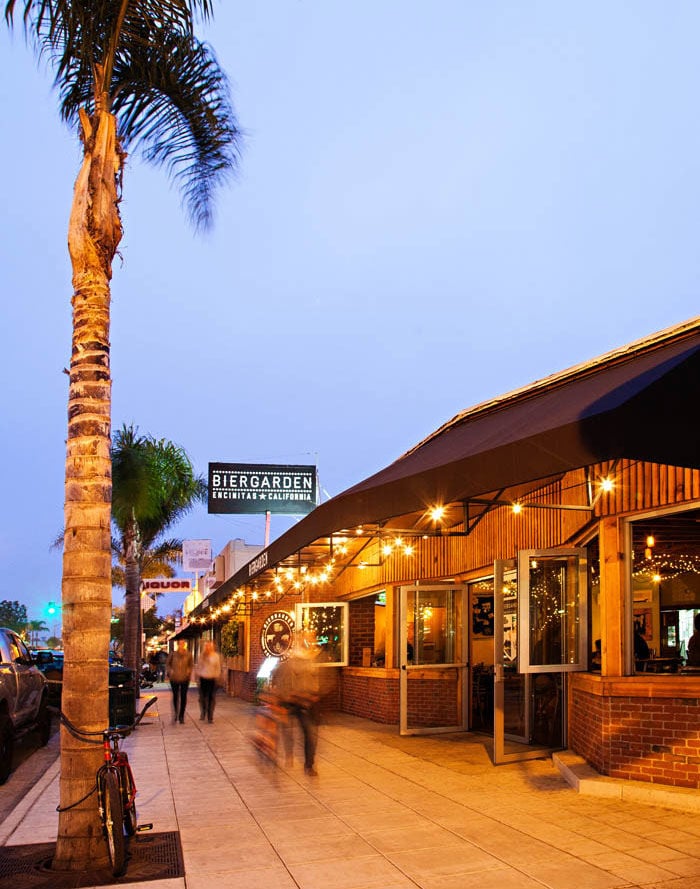 Stats
Own
$836,650
Rent
$2,911
Schools Rating
8
Walk Score
41
Bike Score
Car dependent
Carbon Footprint
47.2
Population
59,518
The kids-of-all-ages paradise: Encinitas is about to become home to a 44-acre park that some think will be the city's crown jewel. The Encinitas Community Park Project will include a 13,000-square-foot skate park, a 2-acre dog park with a show circle area, a soccer field, and paved walking paths and seating areas. The $19 million plan is set to be finished some time this year. No wonder people are paying an-arm-and-a-leg levels to live close by.
Hot topic: Alcohol permits. There's been a battle brewing for the past few years between younger residents flocking to the influx of new breweries, bars, and restaurants along Highway 101 and more established residents concerned with the increased noise, pollution, and crime.
Fun fact: The city of Encinitas technically has five distinct communities within it: New Encinitas, Old Encinitas, Cardiff-by-the-Sea, Olivenhain, and Leucadia.
mission hills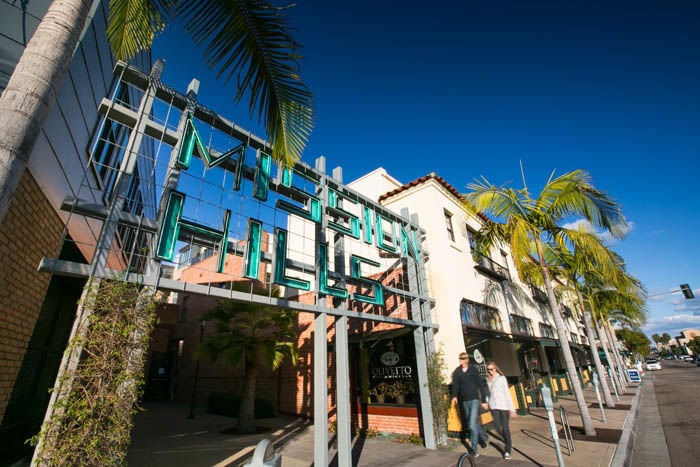 Stats
Own
$613,500
Rent
$2,409
Schools Rating
9
Walk Score
65
Bike Score
52
Carbon Footprint
32.4
Population
3,576
The New food destination: It's finally a foodie paradise again, after years of vacancies and turnover around the intersection of Goldfinch and Washington. There are mainstays like Starlite, Izakaya Masa, Lefty's, and The Red Door, but the "Jewel of the Hills" has some new kids on the block. The upscale Brooklyn Girl Eatery recently introduced a Sunday supper series, oyster bar, and sidewalk café, and in addition to The Patio (opening this year), Harley Gray Kitchen & Bar will take over The Gathering's space in 2015. No wonder the neighborhood finally got its own monument sign.
Hot block: While most of the new restaurants are opening up on Goldfinch, don't forget about Saffron, El Indio, and Gelato Vero Caffe, all standing the test of time down on India Street for good reason. Did you know Gelato Vero serves weekend brunch?
So long, old friend: Dan Thomas started as a busboy in 1965 and worked his way up to become the beloved owner of now-shuttered The Gathering. He donated the money raised from the restaurant's closing party to Parkinson's research and support services.
allied gardens
Stats
Own
$499,600
Rent
$2,228
Schools Rating
5.8
Walk Score
44
Bike Score
39
Carbon Footprint
46.7
Population
11,114
The up-and-comer: Hailed as a pristine new development for the families of Allied troops coming home from war in the 1950s, Allied Gardens today is welcoming a new generation of young families outgrowing the urban 'hoods but still looking to live near the city's center. A new residential housing project is set to break ground near the Grantville trolley station—proximity to public transit sets the 'hood apart—and plans to improve access to the nearby San Diego River have residents perked up and lobbying for both attention and dollars from City Hall.
"The generational blend will make us that much better," says community council president Anthony Wagner.
New Brews: Nothing marks an up-and-coming neighborhood like a crop of new breweries. Benchmark Brewing Company (6190 Fairmount Avenue), which opened last year, and Groundswell Brewing Company (6304 Riverdale Street) fit the bill in Grantville, and we hear there are at least a couple more slated to open in the area in the next year. Now if only the neighborhood could get a decent bistro…
bird rock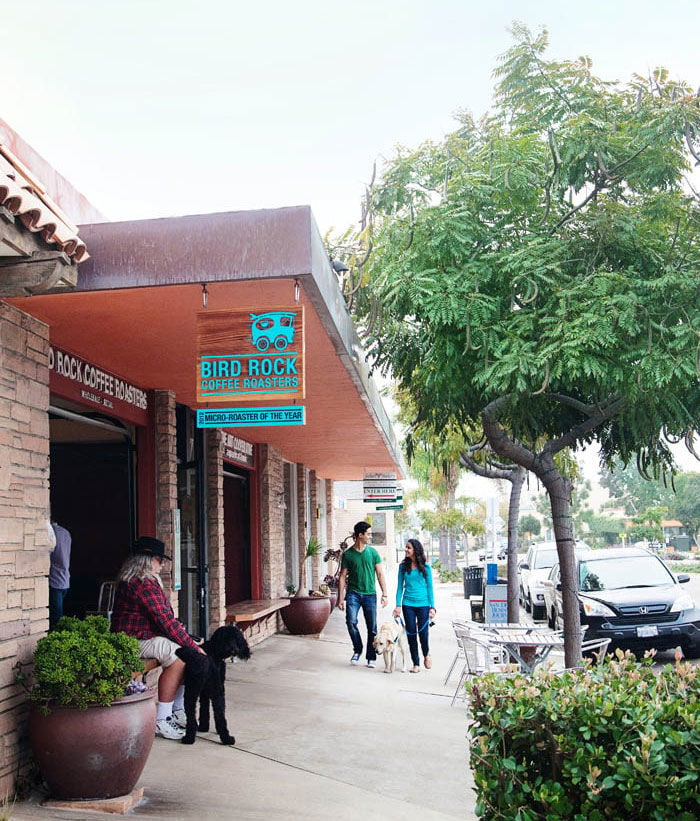 Stats
Own
$1,232,800
Rent
$4,136
Schools Rating
10
Walk Score
44
Bike Score
47
Carbon Footprint
43.5
Population
30,117
The idyllic overlook: At the end of five streets in Bird Rock are coastal viewing areas, each equipped with cliff-edge guardrails to protect onlookers from getting swept away by the scenery. The one at the end of Midway Street has been in disrepair for the last few years. So the City Council is using $125,000 to restore it to working order this fall, according to Councilmember Sherri Lightner's office. As if the pretty roundabouts, organic coffee roasters, and sidewalk cafes weren't enough to envy.
Ditch the vitamix: Cruise over to Seaside Smoothie & Juice Bar instead and let someone do the juicing for you. It's new and tucked away inside Bird Rock Surf Shop (5517 La Jolla Boulevard).
Just call Joe: Sure, La Jolla Community Planning Association member Joe LaCava didn't flinch at Mitt Romney's plan to add a car elevator to the Romney estate. But that's not all there is to fuss about in La Jolla. LaCava led the effort to form Bird Rock's Maintenance Assessment District (MAD), which governs the upkeep of those roundabouts in Bird Rock's business district. He also helped unite La Jolla under one district for representation on the City Council.
carmel valley
Stats
Own
$874,400
Rent
$3,534
Schools Rating
10
Walk Score
35
Bike Score
32
Carbon Footprint
56.3
Population
47,527
The most popular: In 2013, CV was the No. 1 neighborhood for home searches on trulia.com. Its persistent popularity makes sense. With top-notch schools, proximity to the beach and the merge, and a newly refreshed dining scene, Carmel Valley, if a little square (or should we say stucco?), is turning out to be a real sweet spot. It's even got its own local drama: a mixed-use development called One Paseo that could be a game-changer for the area. Oh, and the quintessential, perfect-suburb must-have that it has mysteriously lacked all these years—a Trader Joe's? It's projected to open this December at the soon-to-be-built Village at Pacific Highlands Ranch.
What's in a name: Originally designated as "North City West," the area got the name "Carmel Valley" in 1990 after a "Name This Town" campaign. Among residents' submissions were "New Scottsdale" and "Rancho La Costa Mucho."
Good schools: You can't really overstate the academic reputation of this neighborhood, with the award-winning Torrey Pines High School, Cathedral Catholic, and Canyon Crest Academy.
Bay Park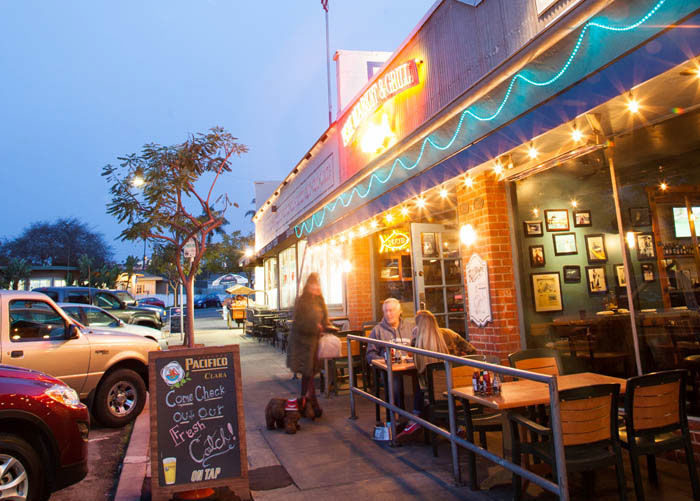 Stats
Own
$500,250
Rent
$2,193
Schools Rating
6.8
Walk Score
45
Bike Score
40
Carbon Footprint
35.3
Population
15,822
The new boulevard: The Morena Business Association has undertaken the project of reimagining Morena Boulevard, home to restaurants, home decor retail stores, and soon a new transit station for the trolley. One of the goals is to get more people out to the area to mosey around, instead of driving, parking, then leaving the area when they're done eating or shopping. Outdoor movie nights and a blowout "Taste of Morena" are part of the project. Oh, and did we mention you can still pick up a peak oceanview home just up the hill for less than $600K, that's within walking distance of Bay Park Elementary, which is rated a 9?
Old school, meet new school: The High Dive Bar & Grill (1801 Morena Boulevard) has billed itself as a place with "no pretense — just great home-style cookin'," and the fact that so many people frequent it backs up that claim. Dan Diegos (2415 Morena Boulevard) is just around the corner geographically, but not so much in concept. The Europub has dressed-up versions of bar favorites, like orange plum teriyaki chicken wings.
East Village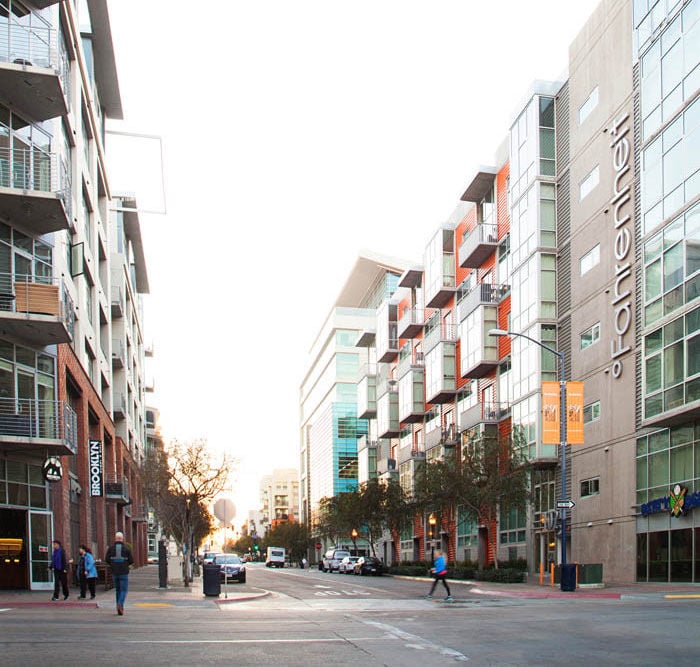 Stats
Own
$492,600 
Rent
$2,364
Schools Rating
2
Walk Score
92
Bike Score
66
Carbon Footprint
35.5
Population
8,073
Where they Build it Bigger: Looking for new, new, new? Look to the East Village. The downtown 'hood recently welcomed dozens of new venues, including the soaring new Central Library and Southern food-themed ACME Kitchen and Bar. And there's more to come in 2014: A new Stone tasting room near Petco Park; the splashy restaurant/bar Bottega Americano, backed by a long list of food industry heavyweights; and Green Flash's 20,000-square-foot tasting room and restaurant. Old Harbor Distilling is making spirits in the 'hood and Moonshine Flats promises live country music and dancing on its new stage this spring. Heard about the art-, design-, and performance-oriented Maker's Quarter? You will. Those who say downtown's day is done obviously haven't been hanging out east of Sixth Avenue. This 'hood is getting BIG.
Corner bar: Yearning for that small, dim watering hole where everybody knows your name? It can be hard to find in the land of new and newer. Try Monkey Paw Pub and Brewery (805 16th Street), filled with good beer, cheesesteaks, and zero scene.
carlsbad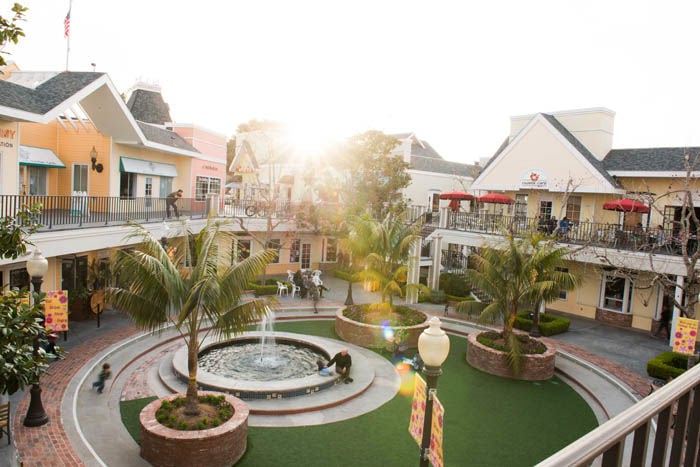 Stats
Own
$657,125
Rent
$2,664
Schools Rating
8
Walk Score
27
Bike Score
Car dependent
Carbon Footprint
51.4
Population
105,328
The boomtown: Right now, the largest seawater desalination plant in the Western hemisphere is being built in the city and should be ready to deliver water to the region in two years. A proposal for a new "lifestyle center" at I-5 and the Agua Hedondia Lagoon is expected to be pitched to the city later this summer. The city is also building North County's first coastal roundabout. And while Westfield Carlsbad works toward a long-anticipated, multimillion renovation of its mall, the downtown village area is already getting its own facelift. Sleepy suburb for surfers? Try bustling, booming, mini-metropolis. For surfers.
Hot spot: Bressi Ranch Pizza Port (2730 Gateway Road) is the SD-based restaurant's newest location. The brewery/pizza joint is a family experience that offers a little something for everyone.
Still the one: After two decades in office, Bud Lewis retired as the official Carlsbad mayor in 2010, but many will always see him as its top official, regardless of title.
lemon grove
Stats
Own
$335,500
Rent
$1,897
Schools Rating
4.4
Walk Score
42
Bike Score
Car dependent
Carbon Footprint
42.5
Population
25,320
The next great village: The City of Lemon Grove is making progress on its Downtown Village Specific Plan, a document guiding the revitalization of areas around the trolley tracks between North Avenue and Lincoln Street. Citronica One, an affordable apartment complex opened last September, is the first of a residential, transit, and mixed-use development from San Marcos-based Hitzke Development Corporation. The city also opened the Main Street Promenade, a linear park and transit plaza touting energy-generating art installations, a play area, and mosaics reflecting the city's history. The City Council is entertaining the idea of extending the promenade to Lemon Grove's southern border.
Read all about it: The Lemon Grove Branch Library (3001 School Lane) relocated last year from sad strip mall digs to a brand-new building shared with the Lemon Grove Academy for the Sciences and Humanities. Kids' yoga, anyone? It's free every Monday.
Be well: As part of Lemon Grove HEAL (Healthy Eating/Active Living), a program funded by Kaiser Permanente to curb obesity, all vending machines on city property are stocked with healthy snacks and drinks only.
leucadia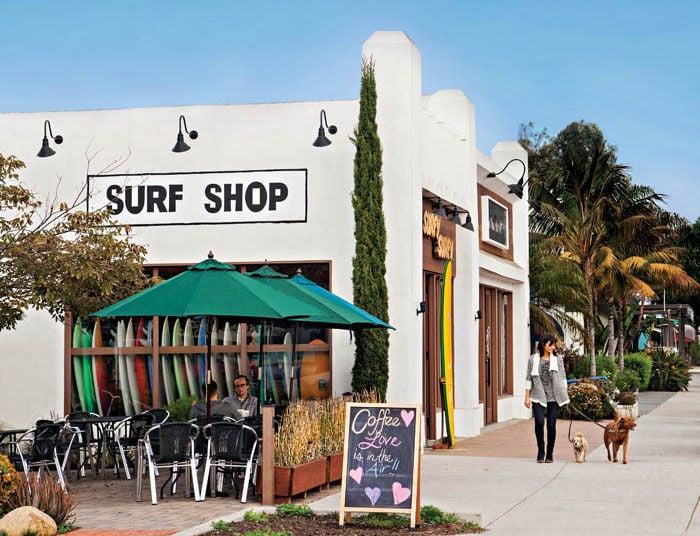 Stats
Own
$785,500
Rent
$2,865
Schools Rating
8.6
Walk Score
51
Bike Score
Car dependent
Carbon Footprint
47.2
Population
59,518 (Encinitas)
Perfecting the art of living: Leucadia calls itself the "Art and Soul of Encinitas," and the home of the Surfing Madonna lives up to it. The Leucadia 101 Main Street Association's Streetscape project, a revitalization plan for the North Coast Highway 101 Corridor, proposes the installation of art nodes and roundabouts with public art and seating. Meantime, the Association curates a full annual program of events like Arts Alive, Battle of the Bands, and LeucadiART Walk. Their upcoming Taste of Leucadia (April 3) touts live music as well as poetry in the park. The art-loving Association is also quite active with its Instagram feed (#LoveLeucadia). Local contributors include Aloha Sunday, Surfy Surfy, Santos Fine Art Galleries, and HapiFish.
Grapes over hops: Amid the influx of new breweries, Solterra Winery & Kitchen's (934 North Coast Highway 101) new urban tasting room is a welcome addition for oenophiles, featuring labels from local vineyards and a bocce ball court out back.
Reforesting the 101: The Streetscape project calls for "restor[ing] Leucadia's iconic tree canopy," and 823 trees are waiting to be planted. For now, they'll plant 35 trees west of 101 for an April 5 Arbor Day event.
oceanside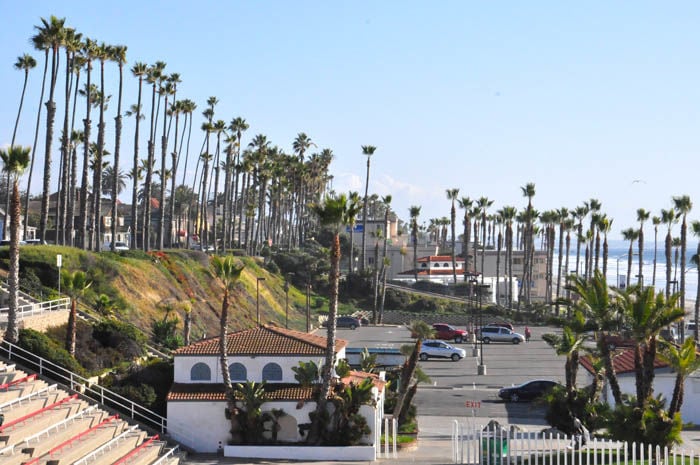 Stats
Own
$386,100
Rent
$2,008
Schools Rating
5.2
Walk Score
34
Bike Score
Car dependent
Carbon Footprint
41.4
Population
167,086
Where the natives are loyal: This northernmost beach town is a great place to grow up, and the proof is in a new generation that's actively bringing business to the area. Take Jamey Stone and Charlie Anderson, best friends since second grade. They opened The Privateer Coal Fire Pizza in 2012, and childhood buddy Hector Reyna runs the kitchen. A few doors down, LIBRE Design Agency (founder Justin Heit also grew up in Oceanside) designs for local brands like RAEN Optics, also based in Oceanside. There's also Bagby Beer Co., Linksoul, and Wrench & Rodent Seabasstropub, to name just a few more new hot spots.
Wheels on the bus: Bus riders in North Oceanside and Camp Pendleton got a boost last month when the $9 million San Luis Rey Transit Center opened at Vandegrift Boulevard and North River Road.
4S Ranch
Stats
Own
$663,300
Rent
$2,797
Schools Rating
9.6
Walk Score
18
Bike Score
35
Carbon Footprint
52.2
Population
39,425
The land of learning: This August, the brand new K–8 school Design 39 Campus is scheduled to welcome its first classes. The new school could be one of the last Poway Unified opens, and will be able to accommodate about 1,500 students. The $81.5 million project will be located in Del Sur next to Del Norte High School. With all the neighborhood's schools rating at least 8 out of 10, it's no wonder parents are willing to pony up the pricey Mello Roos fees associated with living in the development. And the HOAs. Ah, the suburbs.
New hot spot:  In 2012, Karl Strauss Brewing Company opened its first new brewery in 10 years near 4S Ranch (10448 Reserve Drive).
Well read: The 4S Ranch County Library (10433 Reserve Drive), opened in April 2007, is one of the  most active in the county, lending out more than 30,000 items annually, mostly children's books and multimedia materials.
kensington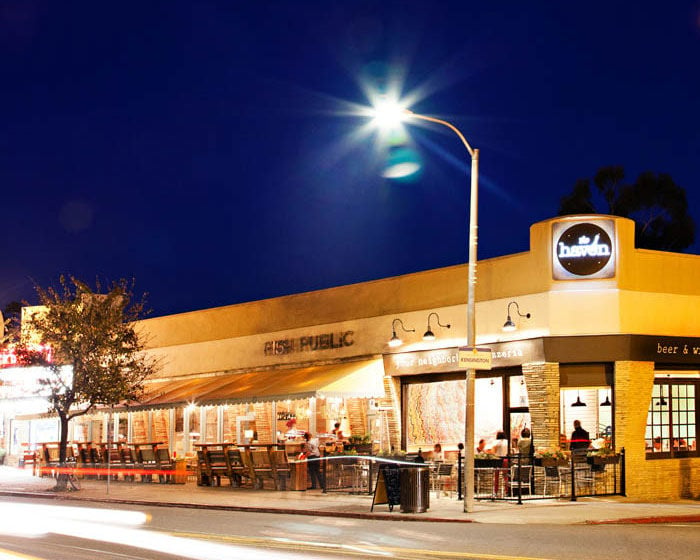 Stats
Own
$490,900
Rent
$1,945
Schools Rating
5.2
Walk Score
75
Bike Score
64
Carbon Footprint
33.6
Population
6,658
The perfect pocket: Neat Spanish and Craftsman homes are tucked back on canyon streets, with a cozy village center and retro sign slung overhead. It's no wonder plenty of residents bristled when a guy associated with Sunroad proposed a new mixed-use development right in the village center. Three stories? Apartments? Sunroad developer? But after several protests, redesigns, and what must have been thousands of letters and meetings, it seems that the gas station is gone, and the building is going up. Compromise? Magic? Surrender? Whatever you want to call it, this year, one of the city's most historic 'hoods is taking one more step into the future.
Fish out of water: Tracy Borkum's newly opened seafood spot, Fish Public (4055 Adams Avenue), might seem out of place in the urban neighborhood at the eastern end of Adams, in theory. In actuality? The bistro is bustling (and the old burger is still on the menu).