Little Italy and North Park may get all the glory, but Hillcrest is where San Diego's modern food movement started. In the '90s and '00s, the city's LGBTQ hub was the bleeding edge of restaurant culture. La Jolla and downtown had the big-dollar culinary show ponies, but Hillcrest was all smart bistros, globe-trotting dining nooks, and trend-starters.
The fact that it was such an attraction was a blessing and a curse, as skyrocketing rents sent aspiring restaurateurs down the hill (Little Italy) and to the east (North Park). But now the resurgence is on.
The neighborhood has a built-in audience with the massive staffs of multiple hospitals and schools, plus the constant sea of humans at Balboa Park and big, new residential projects in the works (including the 151-unit, eight-story mixed-use replacing the long-defunct Pernicano's, and two complexes on the corner of Sixth and Robinson Avenues, where the 76 gas station used to be).
Dining behemoth Cohn Restaurant Group started here 40 years ago (Corvette Diner), as did the Busalacchi family, the local popularization of fried chicken and waffles (Johnny Rivera's Hash House A Go Go), and San Diego's maple-bacon donut craze (Great Maple, Johnny's other concept). Urban Mo's is arguably the city's liveliest LGBTQ hangout. Crest Cafe is the locals' legacy diner. Khyber Pass is a go-to for Afghani pulau, and HiroNori's shoyu ramen is worth every slurp.
For those wondering where to eat in Hillcrest right now, we've got you covered:
Where to Eat in Hillcrest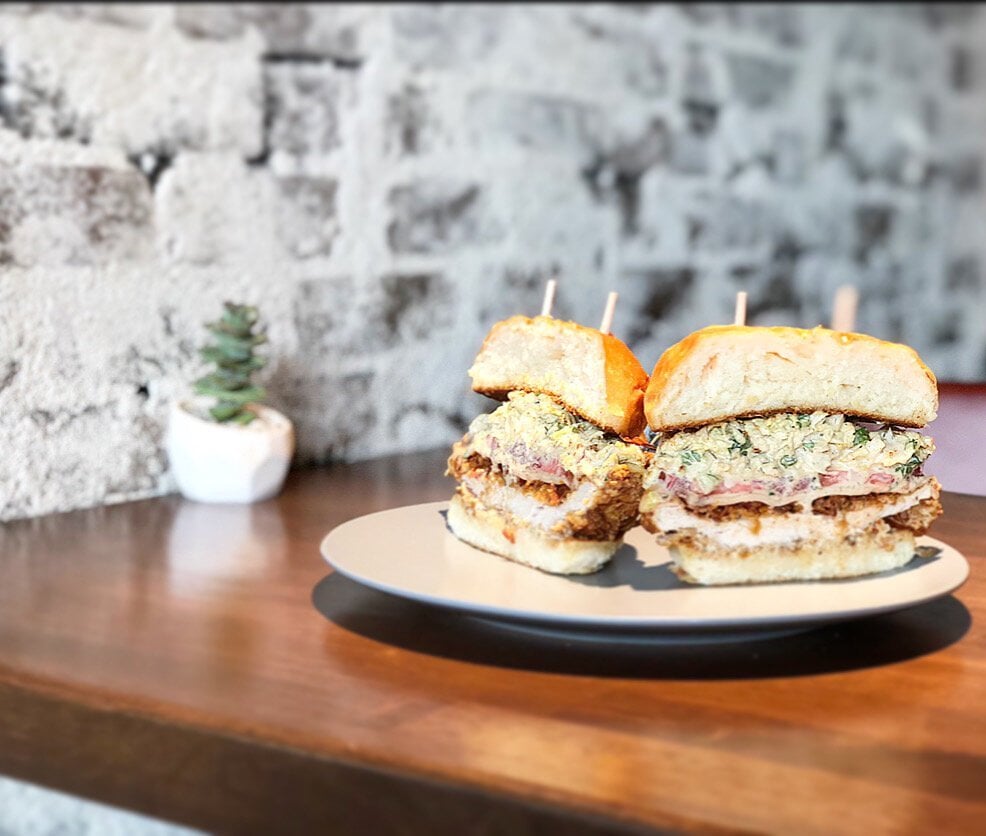 Crispy Chicken Sandwich
Common Stock
Chicken sandwiches fall from the sky in San Diego these days, but my favorite is the Crispy Chicken Sandwich from Common Stock courtesy of hospitality duo Anderson Clark and Brian Douglass. The chicken breast is fried to perfection and slathered in a cool herbed buttermilk slaw and melted muenster cheese. Topped with bacon and tomato, the sandwich comes with classic Nashville hot or comeback sauce. Get the Brussels sprout Caesar to round things out.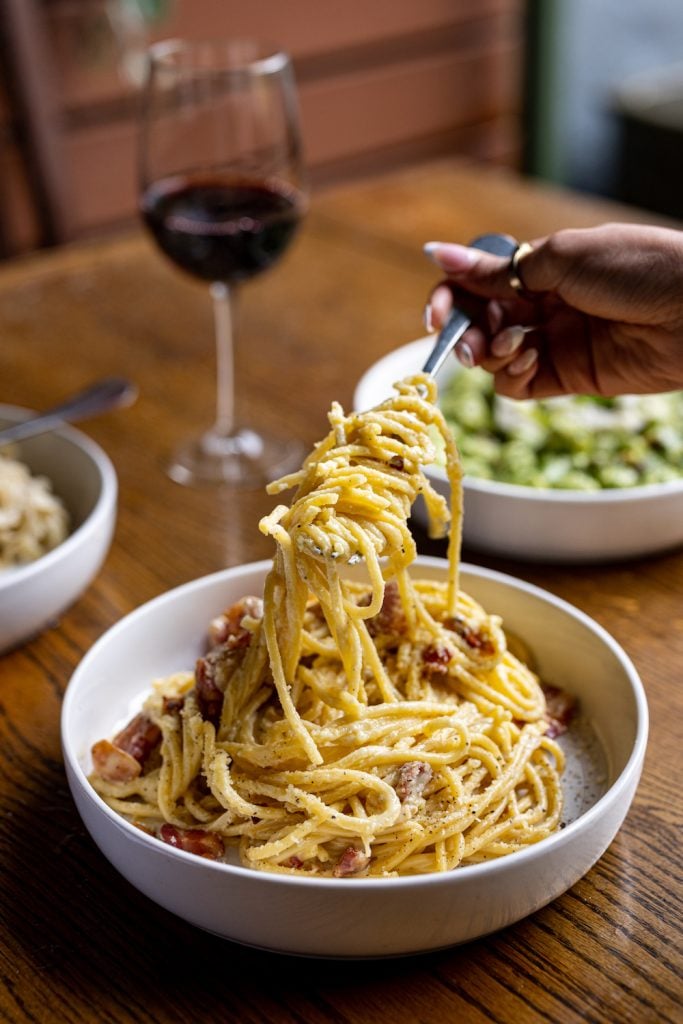 Carbonara
Rusticucina
I'm a carbonara snob, scouring the city for the best in "breakfast" pasta. Made with egg yolk, parmesan or pecorino cheese, and guanciale (cured pork cheeks), the tastiest carbonara lets simple ingredients take center stage. And, please, no cream (stop your crimes). Rusticucina's carbonara is part of their "build-your-own-pasta" menu. I kindly suggest bucatini or pappardelle, but no matter which shape you choose, it's a heaping mountain of silky pasta coated in the egg and cheese mixture, forming a delicious sauce. The pork bits add savoriness, salt, and texture. Wash it all down with their Copper Fig mule.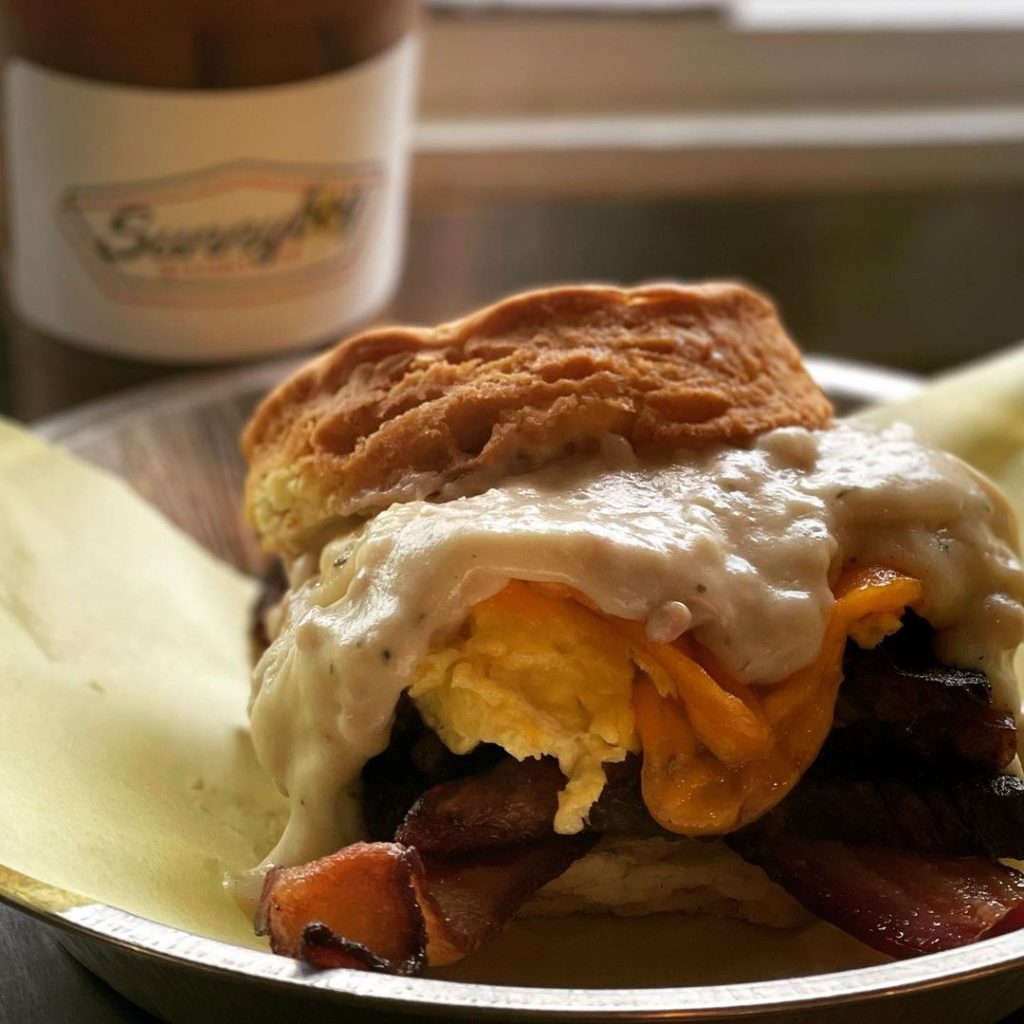 Sunny B' Sausage
Sunny Boy Biscuit Co.
Every neighborhood needs a spot like Sunny Boy. If you're looking for where to eat in Hillcrest, Sunny B's is nestled on a quiet, unassuming corner, it's no-frills, hearty, Southern fare, perfect to ease those Rich's-induced hangovers. Their sandwiches are two- handed, runny beasts (no gravy shortage here). I love the Sunny B' Sausage with cheesy eggs, sausage, and a generous pour of maple syrup tucked between fresh biscuits. Also order one of their housemade pies, cakes, cinnamon swirls, cobblers, or pastries.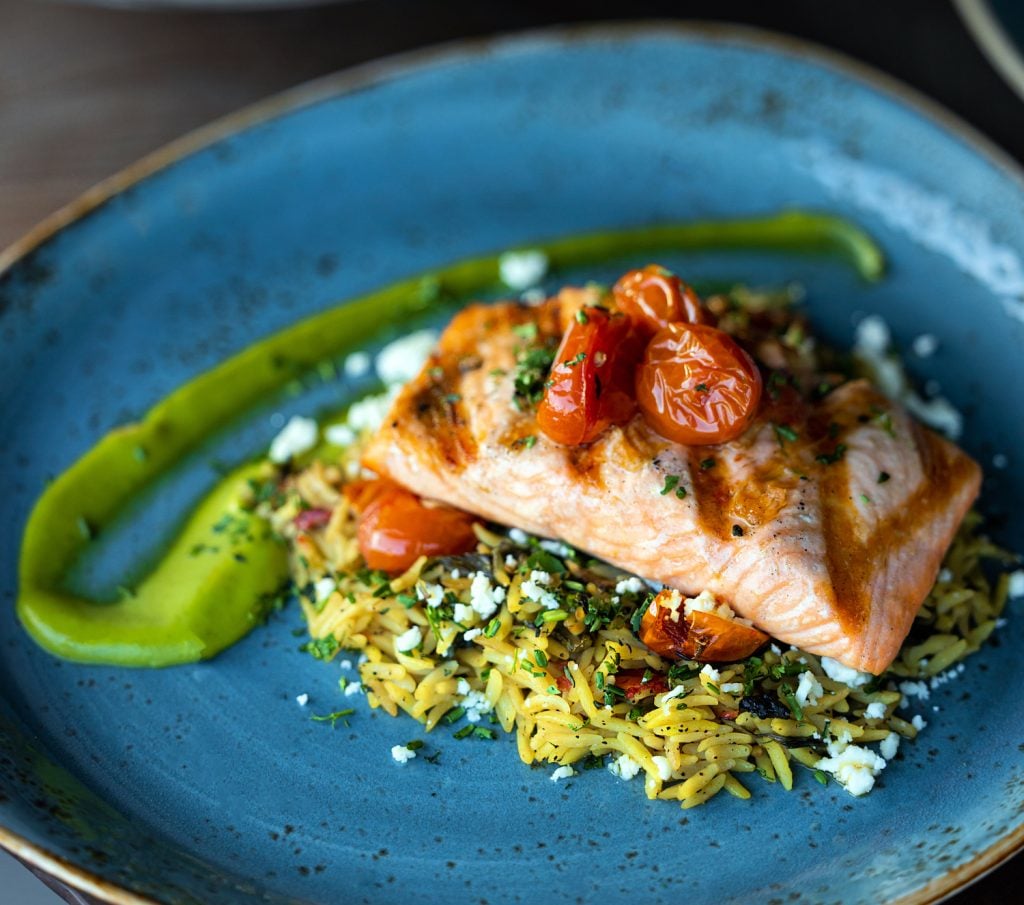 Grilled Atlantic Salmon
Insideout
If one restaurant encompasses all that is Hillcrest, it has to be insideOUT. Perched in the Eitol Towers complex, it's known for over-the-top décor (think Miami florists on psychedelics, plus urinals with street-facing windows), wild holiday-themed pop-ups, an upscale California-Mediterranean-inspired menu, and inventive cocktails. Helmed by executive chef Johnny Duran, the menu offers grilled Atlantic salmon atop lemon basil orzo with confit cherry tomatoes, crumbled feta cheese, spinach, and green garlic purée.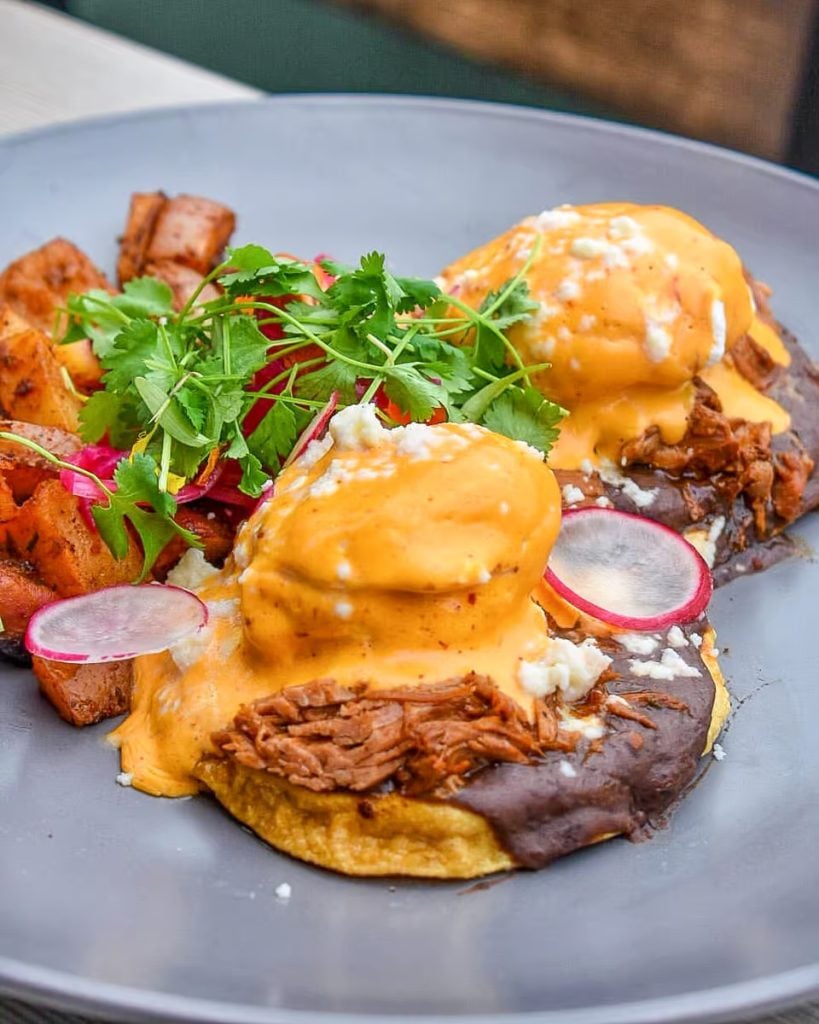 The Sopes Benny
Cocina De Barrio
The all-day Oaxacan food standout from chef Jose J. Flores melds traditional Mexican dishes (sopes, chilaquiles, crudos, and so on) with modern techniques and artful plating (they've also got hefty vegetarian and vegan options). Dinner's great, but their patio is perfect for starting a weekend morn off right. Get the sopes benedict (fried corn cakes, beans, lamb birria, chipotle hollandaise), plus the La Tia Chata—a boozy riff on the greatest drink of all time. It features RumChata, vodka, horchata, creamer, and lime and comes garnished with a whole coconut popsicle. Ridiculous in all the good ways.