No dried pasta will be harmed in the course of this story. Dried pasta has suffered your grossly misplaced slander and libel long enough.
Despite the cries from chefs and food writers, many Americans still assume fresh pasta (pasta fresca) is superior to dried pasta (pasta secca). Fresh pasta gets our love, dried pasta begs for our patronage. That has more to do with our emotional reaction to the word "fresh" than it does real, qualitative experience. We value fresh batches over dried batches. Fresh bread over dry bread (unless we're making French toast). Fresh air over dry air.
The origin of this feud goes back to the motherland. In northern Italy, pasta fresca is the golden child, made on the spot with eggs and flour. The south—which is home to a large supply of durum semolina flour, necessary for dried pasta—loves pasta secca, made with semolina and water and slowly air-dried to perfection. Regional pride often parlays into claims of supremacy.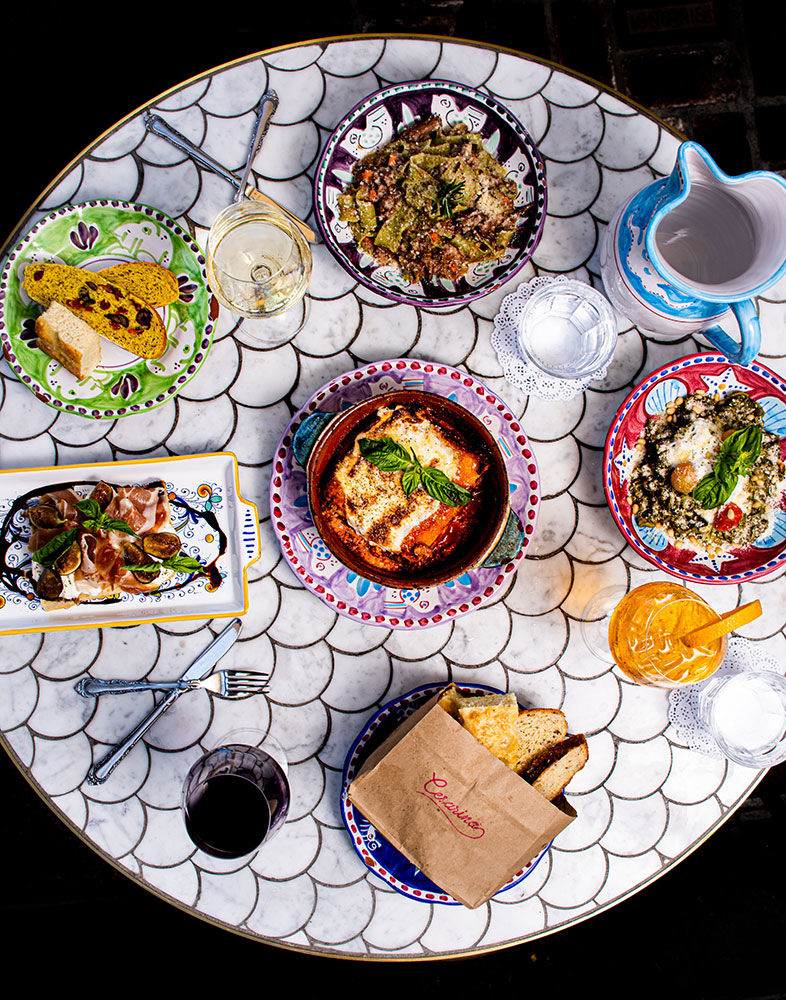 Clockwise from top left: Olive bread; short rib pappardelle; pesto alla Genovese; bruschettone with prosciutto and figs. Center: Lasagna.
The advantage of fresh pasta is that it's silkier, more tender and delicate. In my experience, there is a freshness to the dough and just-formed gluten that dried pasta simply can't match. But in other instances, quality pasta secca—dried at a low temperature over a long time so that it develops a nuttiness—is far superior. Dried pasta made correctly (bronze die cut) has a rough texture on the surface that captures sauces far better than pasta fresca.
Fresh pasta also usually has a creaminess from egg yolks (dried pasta uses no yolks), but Cesarina opts not to put egg in theirs and, honestly, it's not missed. They claim it helps make the pasta al dente, although an Italian chef I know questions the validity of that science.
All this is to say, fresh pasta is not always better than dried pasta. But Cesarina's is.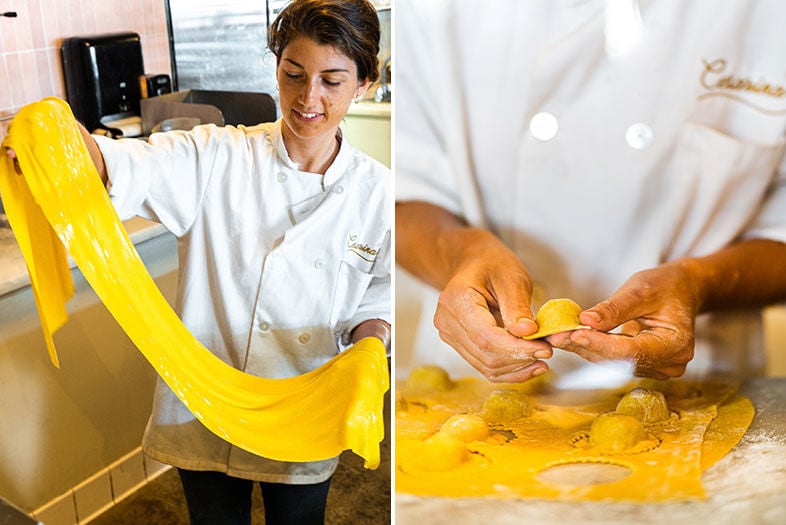 Fresh pasta is made in the restaurant's pastificio
Cesarina is a real person. She's the co-owner and pastry chef, who often delivers the most magical moment of any Cesarina meal—a tableside cart of tiramisu. There is often no good reason other than showmanship and entertainment to make food at the table. Except with this tiramisu. Usually, the ladyfingers in tiramisu arrive sodden with espresso, with all the consistency of breadcrumbs bobbing in a duck pond. But by presenting it tableside, Cesarina's version retains a slight fresh-pastry crispness. The espresso is poured hot atop, then it's spread with an unseemly amount of fresh mascarpone and dusted with cocoa powder. It's a good reason to live, let alone visit.
Married team Cesarina and Niccolo Angus moved to San Diego a little over three years ago and started testing this fresh-pasta concept at farmers' markets. Now they and two other Italian partners have this brick and mortar in Loma Portal, between Ocean Beach and Point Loma. OB is where San Diego's hippies live; Point Loma is where those hippies move when they make money. It's a tough middle ground, lacking parking and supporting attractions in the area (though Royale, with great burgers and cocktails, is across the street).
Apparently, the laws of location don't apply to them, because their patio, shaded and lined with plant life, is packed almost every single night. The indoor dining room, lined with a hundred or so jars of pickling fruits and vegetables in an artistic homage to homesteading, is also jammed. This is one of San Diego's hottest tickets right now, deservedly so.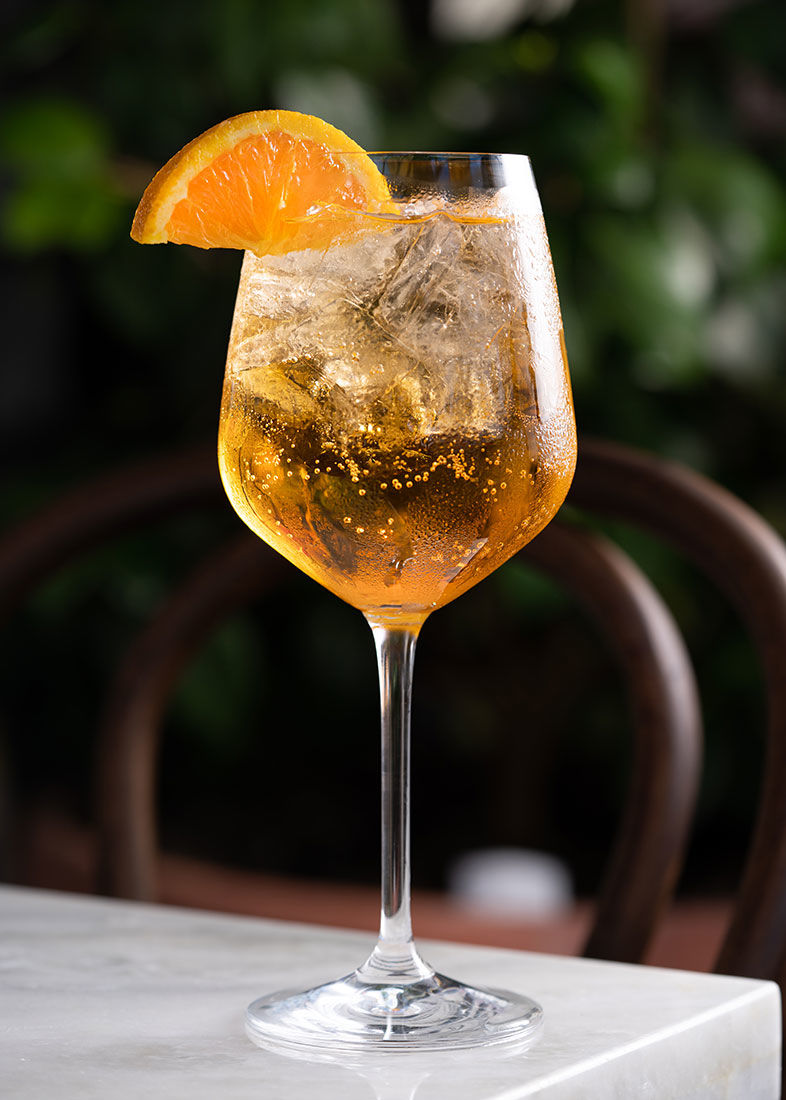 An Italian spritz with prosecco, Crodino and soda water
It's that tiramisu. And the jovial, extreme Italian-ness of the staff (their birthday song, sung in Italian by everyone, is one of the only restaurant birthday songs on the planet that doesn't make every human within 10 miles cringe). And that fresh pasta. Maybe in an era of carb shaming, eating bowls of pasta in the enthusiastic company of others is a joyful form of social revolt. A sweet release from dietary naysaying. Next to the bar lies the pastificio, a dedicated station for a pasta-maker who works from scratch, their skills on exhibit all day long as they knead, develop gluten, and fold, roll, and shape each carby creation. The sauces and other prepared dishes (salads, antipasti, entrées) are made by chef Patrick Money (Cucina Enoteca, The Smoking Goat).
Italians often say that Americans get pasta wrong by committing two major treasons—overcooking it and oversaucing it. And Money's pomodoro fresco is an example of how it should be done: just the right amount of the simple tomato sauce with Parmigiano, burrata, confit tomatoes, and a small dollop of pesto. Their Bolognese is also excellent in any form, whether on your choice of pasta (fettuccine, penne, spaghetti, pappardelle, bucatini, tonnarelli, rigatoni, fusilli, ravioli, tortelli, mezzelune, or gnocchi) or in their lasagna, which arrives in a bowl with grass-fed ground beef ragout, béchamel, Parmigiano, mozzarella, and basil. Another star is the pappardelle short ribs, slow-braised meat over spinach pappardelle, carrots and other root veggies, Parmigiano, and fresh parsley. The pesto alla Genovese bursts with fresh herbs, lightly salted and helped in that department with creamy burrata and Parmigiano.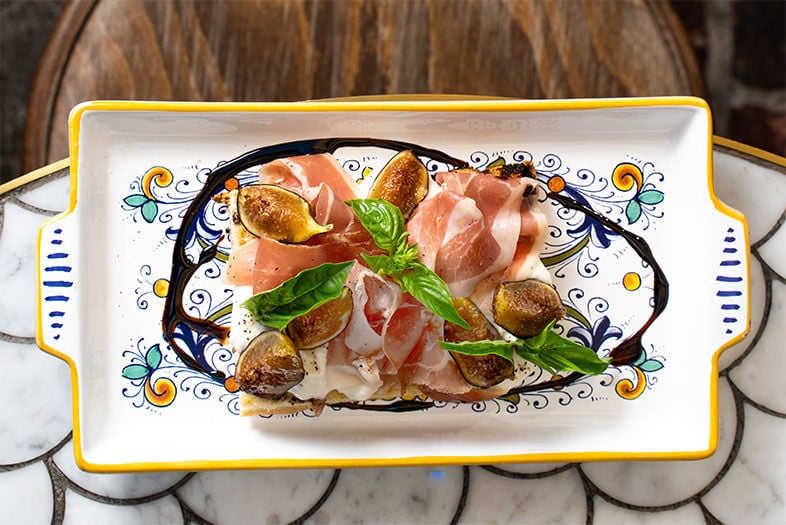 Bruschettone with burrata, prosciutto di Parma, figs, basil, and balsamic vinegar
Almost every pasta dish at Cesarina resides somewhere in the very good to phenomenal range (except maybe the cacio e pepe, which I get undercooked and far too heavy on the pepper). It's pleasantly and surprisingly al dente, which is often the complaint about fresh pasta, which can go limp at the slightest overcooking. It rivals Bencotto as some of the best fresh-made pasta in the city. It's when I try the other creations that my excitement for Cesarina comes back down to earth.
I honestly can't recommend any of the entrées currently on menu. The salmon fillet is barely seasoned, relying on a citrus dressing that doesn't have the acid or flavor to save it. The vegetables are too simply prepared, with almost no spice or flavor. The rolle di pollo, quartered and stuffed with three types of mushrooms (crimini, shiitake, and porcini) is better, but somehow among all that fungi even it needs seasoning, a bolt. And the filet mignon with porcini demi-glace that I order medium rare comes out still ready for the butcher case.
The salads, too, are begging for attention. These are salads made for diets, or by true believers in the standalone power of greens. I understand simplicity, but the Cesarina salad is barely dressed, and eats more like a bowl of arugula. If you're going to name a bowl of forage after your restaurant, it needs to have all the bells and whistles. It needs to taste like a neon sign looks.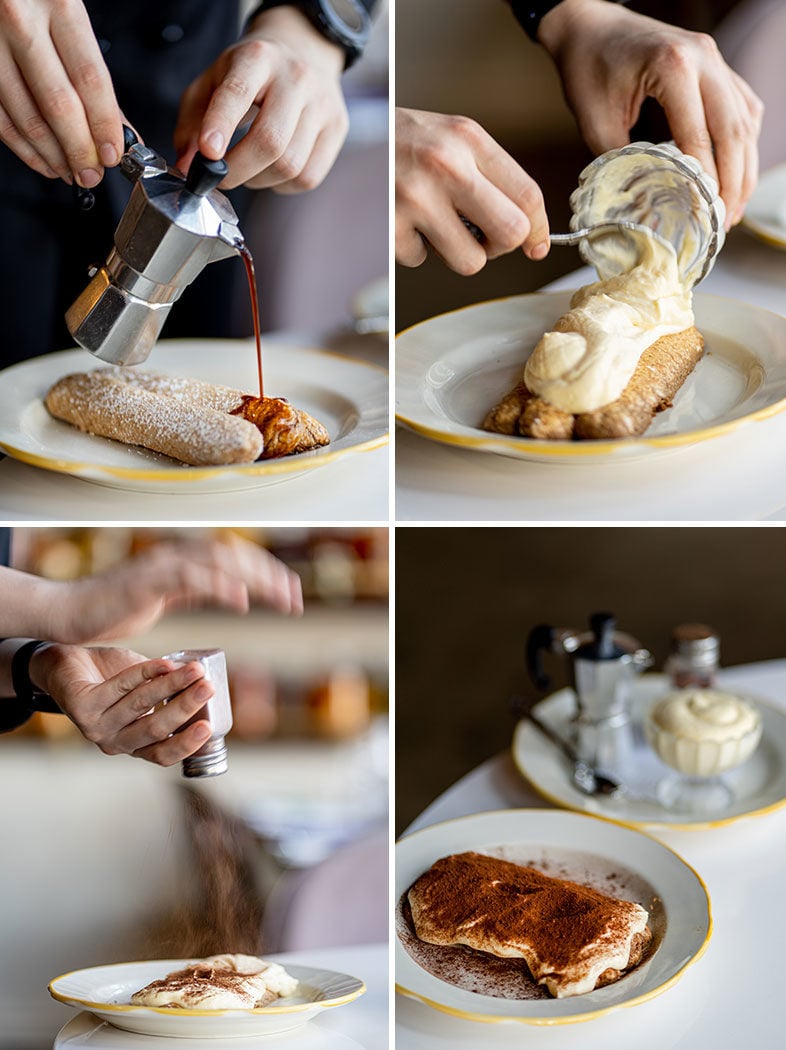 Tiramisu is made tableside with espresso, fresh mascarpone, and cocoa powder
From the appetizers, try that wondrous bruschettone fichi e prosciutto, with housemade organic focaccia topped with a huge heap of burrata cheese, fresh and cool figs, prosciutto di Parma, basil leaves, honey, and balsamic vinegar. Salty, sweet, creamy, and crunchy all at the same time. The octopus with romesco sauce and salmoriglio (a timeless Italian dressing of lemon, olive oil, garlic, and oregano) is a star, the tentacle blackened and crispy and lit up beautifully by the citrus zing. And that eggplant Parmesan, arriving in a hot terra cotta bowl that sizzles the tomato sauce enveloping it.
On a summer Tuesday evening, the place is hopping, and almost every table has wine. This is partly why I love Italian food. Every day is a day for wine. Every bite has its corresponding sip. You'll also see the orange-hued Italian spritz, a refreshing and nicely bitter aperitif with prosecco, Crodino (a bitter, like Campari), and soda water.
For now, Cesarina is a crown jewel for fresh-made pasta, excellent sauces, and that tableside tiramisu. To become more than that, they'll have to do some soul-searching on the rest of the menu.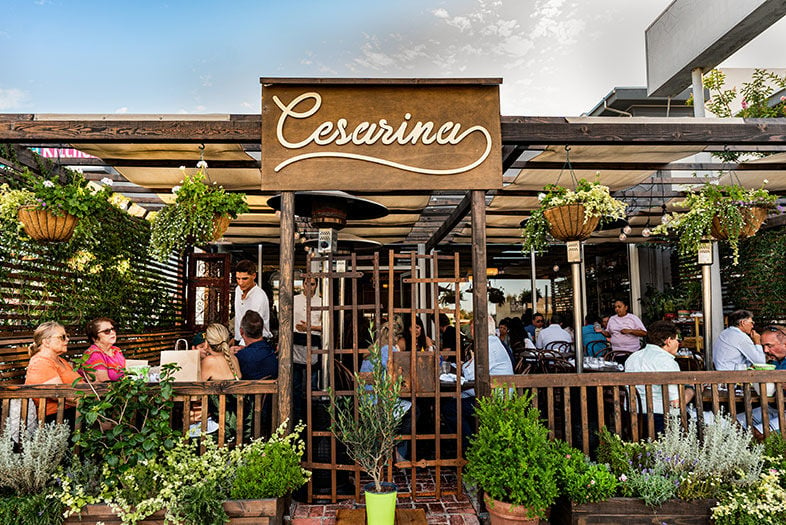 The patio at Cesarina