They're serving crickets.
The North Parker is a Dwell subscriber's dream. The mixed-use tower (residential and retail) is in North Park, where facial hair play is as close to the bosom of culture as having a solid anti-GMO elevator pitch. It's designed by top architect Jonathan Segal (The Q, K Lofts, other pretty things). It's got a craft brewer in Modern Times. It's got a modernist coffee shop in Influx. It's got white-guy ramen bar Underbelly. And now it's cracked open designer street tacos with Tacos Perla.
With Perla, owners LWP Group (who also own The Pearl) join La Jolla's Puesto in the movement to take the street taco out of its humble roots and send it to design school. Pearl executive chef Jaison Burke collaborated with Oso Campos (chef-owner of Tijuana's Kokopelli) for classics (carne asada, adobada) and modern riffs (braised-grilled octopus with poblano, pesto and cheese). There's also chicharrones, crickets (yes, the insects), micheladas, ice cream and agua frescas.
It's a tiny, 750 square-foot box of housemade tortilla modernism. Concrete and glass, very talented designer Michael Soriano reportedly inspired by late-60s Mexico for the color scheme (which also surely inspired Crockett and Tubbs' pastel outerwear). There's communal tables, seating for 30 inside (18 outside), There are stools made of log stumps from great San Diego company Urban Timber. There's no Mexican blanket in sight. It's a maraca-free zone.
There's (reserved hipster) happiness.
Take a look at this lovely little zen taco box.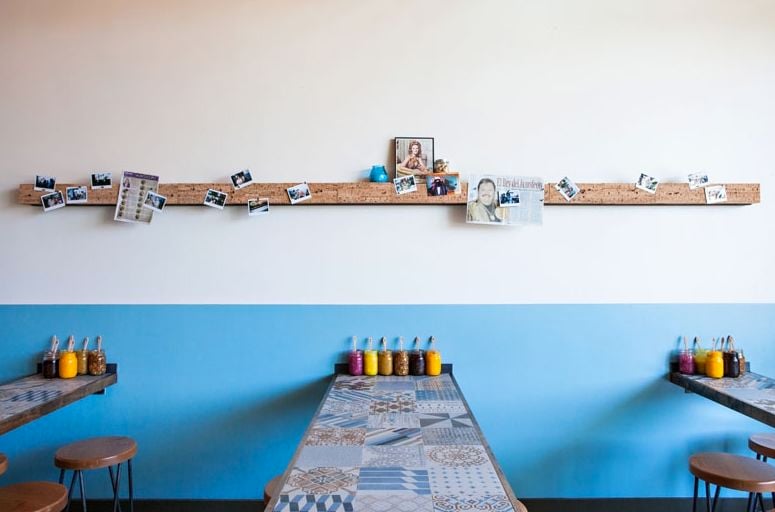 Jen & Bec, foundcreativestudio.com