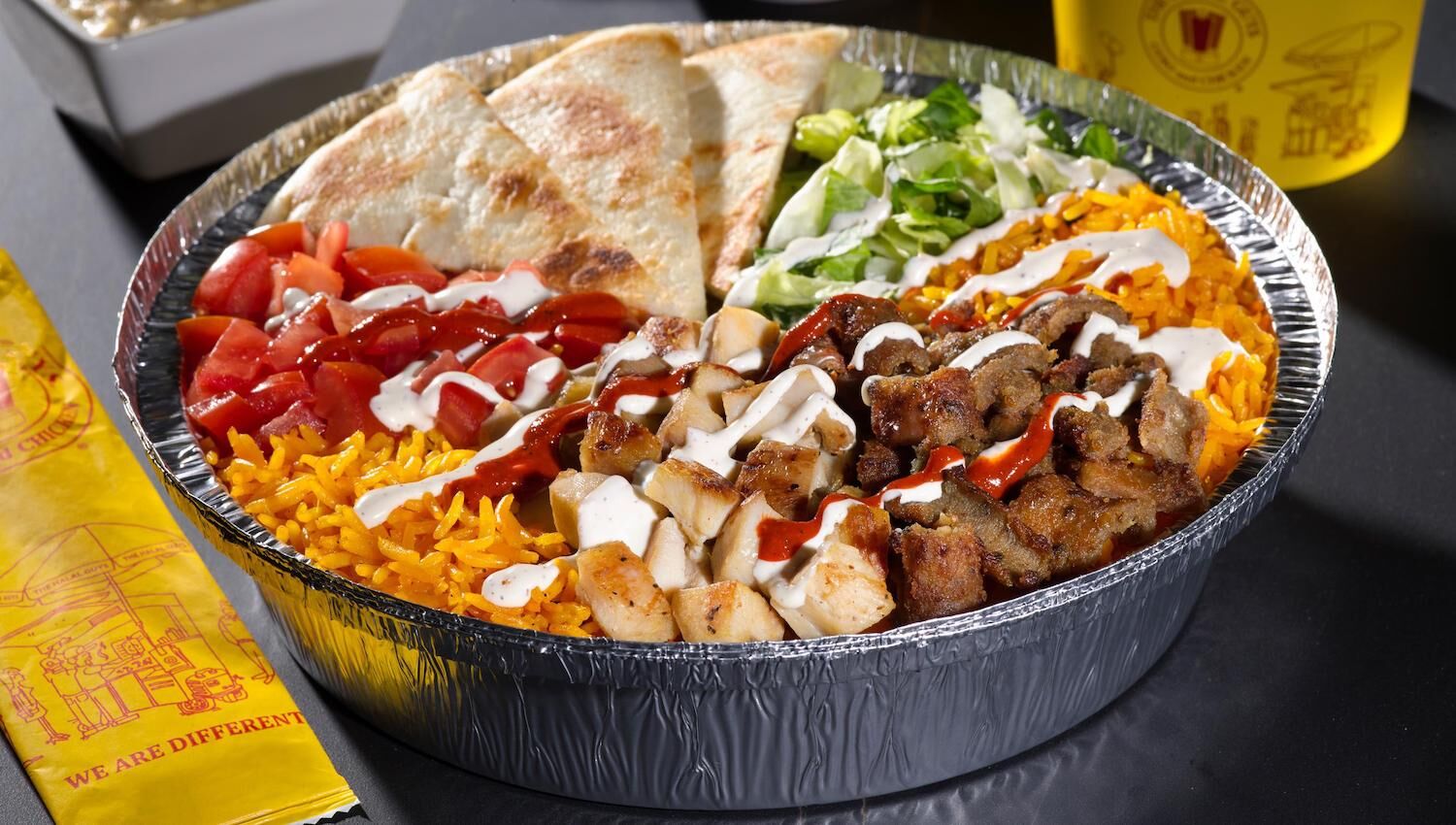 In the New York of the '90s, taxi drivers' lunch of choice was not a slice of pizza or a cronut. Not even pastrami on rye. Instead, chicken over rice and falafel sandwiches from The Halal Guys became the drivers' around-the-clock staple.
After three decades, those silver street food carts marked with black & yellow umbrellas have evolved into an international chain. Nearly 400 new restaurants are in development kudos to Fransmart (the franchise development company behind Five Guys Burgers and QDOBA Mexican Grill). And they're opening five spots across San Diego.
For displaced New Yorkers, it'll be a taste of home. When The Halal Guys set up shop in 1990, the concept was immediately identifiable to NYC's cab-driving community—many of whom are Muslim and were deeply appreciative of the Halal-friendly gyro and combo meat plates. The cornerstone of Halal food is reverence for living beings during all phases of their lives.
Food animals are treated in accordance with the Quran, which outlines how animals should be raised, fed, slaughtered, and prepared for consumption. For instance, Halal animals need to be healthy and not treated with antibiotics or growth hormones. Because of these guidelines, Halal is considered among the best, drug-free, most ethically harvested meat.
Positive word-of-mouth reviews across the five boroughs helped Halal Guys go viral before going viral was even a thing. Pedestrian-first NYC knew the drill and descended upon the carts with a fury. Some queued to taste the hype. Others, like the taxi drivers, found a safe haven for lunch, dinner, and late night munching that aligned with their cultural and religious principles.
With new investment, the brand established its presence in Southern California, opening its Costa Mesa storefront in 2015. Farhan Qadri is the franchisee charged with expanding the company's California foothold by sprinkling five Halal Guys storefronts across San Diego County. The exact location of each store is still unknown, but they will continue with a quick-service restaurant format, slinging the beef gyros and combo platters that won over NYC.
If you can make it here (the hearts and mouths of NYC taxi drivers), you can make it anywhere.
Have breaking-news, exciting scoops, or great stories about San Diego's food scene? Send your pitches to [email protected].