550 West Date Street, Little Italy pancakelordssd
BEST DISHES
Japanese soufflé pancakes
Fried rice
Burger Benny
There should be a warning posted at the door of Morning Glory. The surgeon general should at least crush some of their Japanese soufflé pancakes and determine whether the interior decor causes seizures or vertigo. It's explosive and flamboyant. The 30-foot electric-pink neon flower lording over the main dining room is what would happen if Georgia O'Keefe took up sculpture after seeing Daft Punk in Vegas. Rose-colored retro lamps compete with a pink Champagne vending machine for space in your Insta stories. It's like drinking mezcal bloody marys (with creamy celery foam) inside Elton John's mental state in the 1970s.
The staff are so bright-eyed and helpful, they seem to have won a minor lottery or are experiencing extremely efficient serotonin flow. "Would you like some black pepper in your turmeric latte to help with nutrient absorption?" one smiles.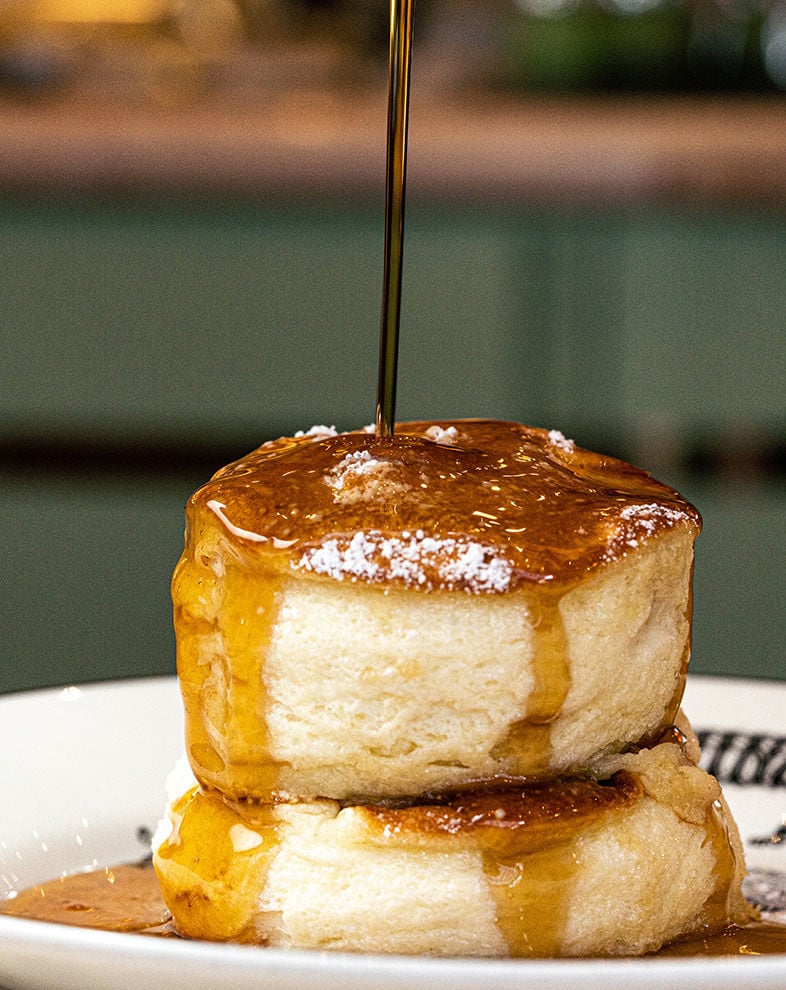 Ownership group Consortium Holdings used to have a serious service problem, at spots like Neighborhood and Craft & Commerce. Too many aloof hipsters, too few warm welcomes. At Morning Glory, friendliness is the new black. Staff wear peppy blue-and-white striped overalls. The rule for undershirts is apparently "anything neon." One server sports a blazing pink rash guard with a mock turtleneck. Feels like you've crashed a black light foam party and they're glad to have you.
The main dining room is populated by leather "lipstick booths" in dusty rose—the most polarizing MacBook color, naturally. A man built like an NFL linebacker sits in one. He looks like an adult testing the limits of toddler furniture. But this is not the era to expect things to be large-male-sized or neutral-hued. Embrace the newfound gender fluidity of the color palette and eat your shakshuka.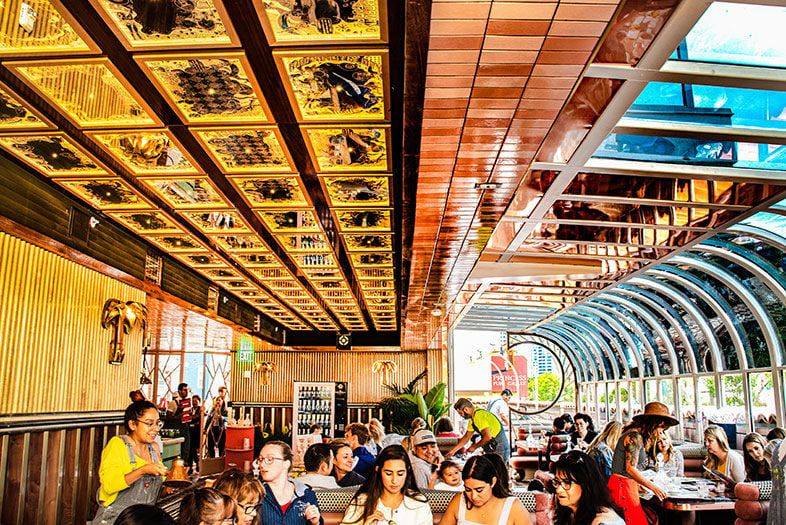 A pastry and coffee bar—also pink and white—has sous-vide machines that constantly warm mixers for boozed-up coffee drinks, like the Madame Pele's Cup, with blended rum, brown sugar, black sesame, anise, nut-milk orgeat and coffee. The register area is stocked with cheeky talismans for sale—bottles of Visine for hangovers, the "male enhancement" Extenze, tiny jars of Vaseline. If your sensibilities are chaste or frail, Morning Glory aims to displease.
Consortium's design partner, Paul Basile, loves woodcarving, and here you see it in wall-sized booths intricately lathed and molded from warm, dark Douglas fir. Tropical plants drape from above, green like hair after an acid rain. To juxtapose the pinkery, one entire wall is decked in patterned olive wallpaper that can only be described as "Dad's 1970 necktie." It hides Morning Glory's personal elevator, making it a surprise when it slides open and reveals people. So many surprises here.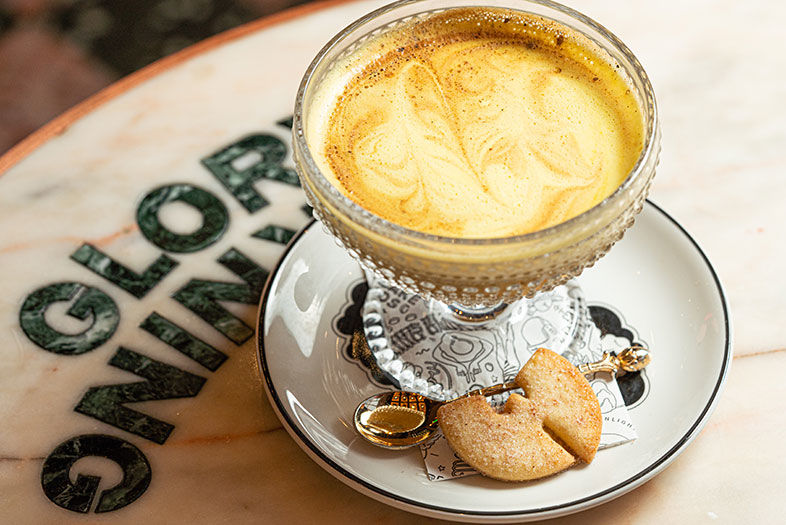 The design would be too much if not for the fact that two whole sides of Morning Glory are essentially alfresco vistas of the famous San Diego sky and Little Italy below. It acts as a base to the decor's acid.
The menus are neon pink and black and look like a vinyl album cover for a screamo band. When all four panels are fully opened, they're about six feet wide and awkward. But they're art. Everything here is both art and awkward. The dishes' names are glib, like "Millennial Tears" (avocado toast) and "Egg McFunnin" (classic McDonald's breakfast items get a couple riffs).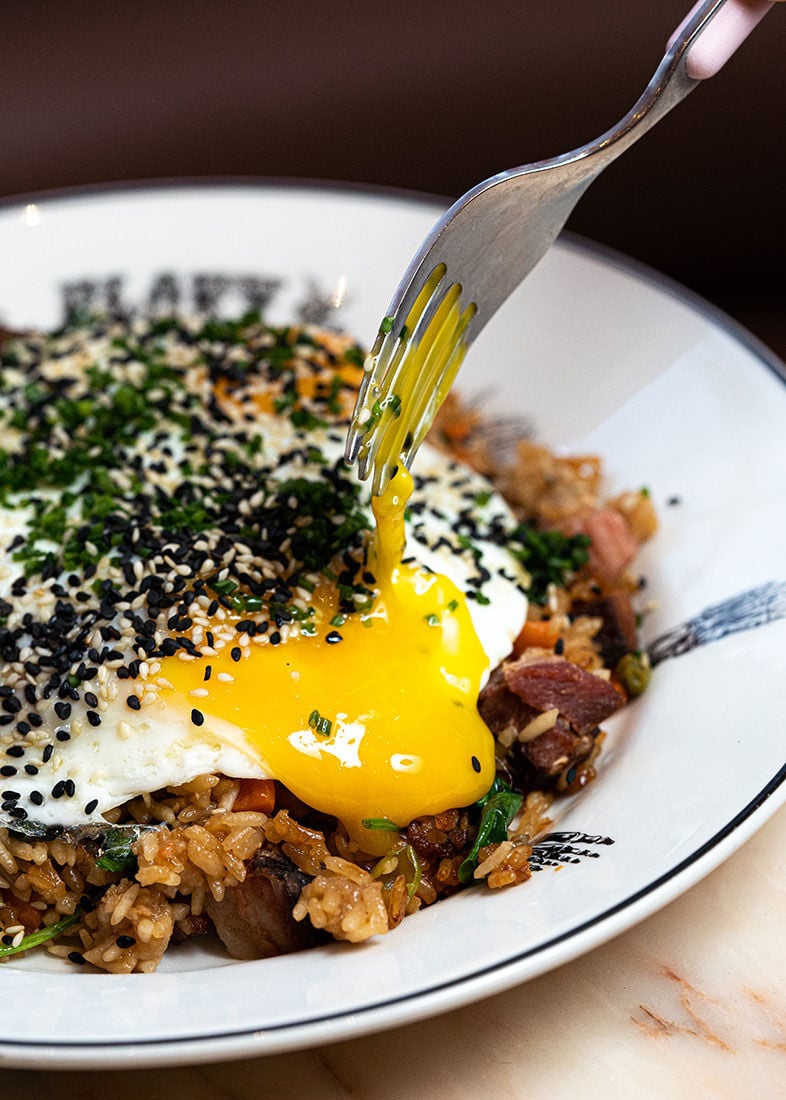 Outside of theme parks and casino cities, very few restaurants in the US will evoke such a physical and emotional reaction. Morning Glory feels like a living, breathing alien life form. And this alien thrives by absorbing the souls of millennials—all their filters and emojis and ineffably bright, happy projections of self. Like the current generation, it takes self-promotion to a clinically concerning level. The sturdy, one-of-a-kind coffee cups say Morning Glory. The napkins do as well. There are "MG" flags on toothpicks in the food. The beautiful white marble tabletops are burned with the name in large block letters. It's branded within an inch of its life. I fear staff training may include a red-hot iron in the shape of an "MG."
All this is to say, Morning Glory is glorious. Sure, the crochet art of cursive profanity might be trying too hard. But that's the thing. No one's trying as hard as Consortium, and trying is better than not trying. From the coffee spoons to the glass chalices for the fresh-squeezed OJ to the Liberace bathrooms, they seem to look at every detail and say, "Let's make that more interesting." It is wow and stunning and inspiring and offensive and arty and explosive and polarizing. If you can sit in this room and not say, "I must bring all of my friends here," then either your friends are dead inside, or you are.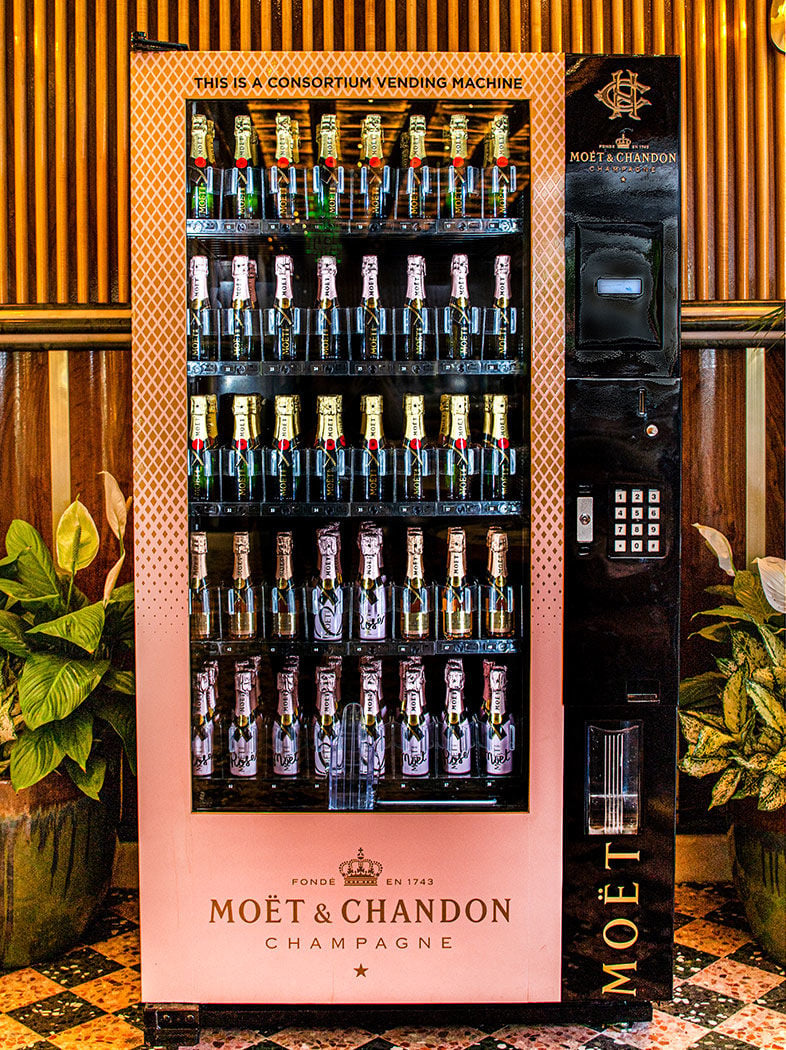 It must be said that few operators can afford to build and design restaurants like this. Consortium has the luxury because of their previous success (which they built on their own). While we shouldn't begrudge them for it, we also shouldn't expect other locals to do the same. But there is no one I'd rather have the money to pull this off than this restaurant group, which is full of artists and punks and music lovers and eBay addicts.
Now they just need to stop asking their accomplished chefs to try and out-cute the decor. The company now has group chef Jason McLeod (two-star Michelin), R&D chef Phillip Esteban (young star), pastry chef Elizabeth Olsen, chef Kat Humphus (ex–BO-beau), and executive chef Jocelyn Cano (ex-Jrdn, Sugar & Scribe). That's a hell of a roster. A largesse of talent.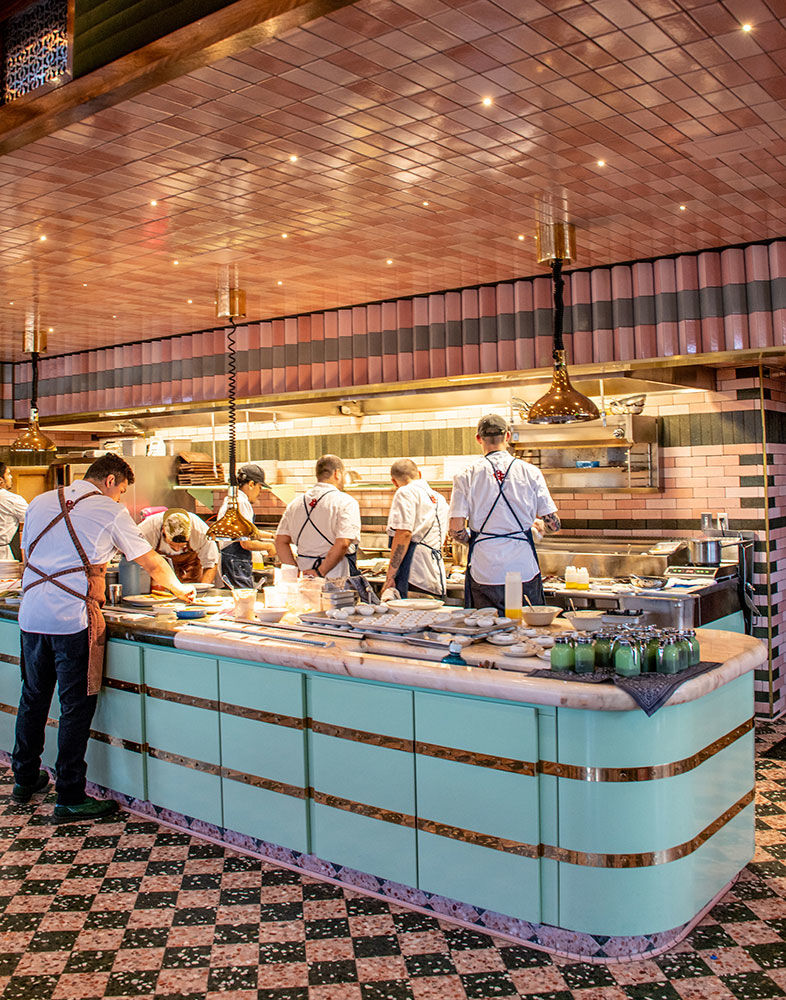 When they stick to food instead of novelties, they excel. The best thing on this menu, by far, is the Japanese soufflé pancakes. Puffed to about three inches tall—by essentially using a meringue (many egg whites) in the batter—they're a fluffy mix of air and cake and custard, dusted with powdered sugar, and served with maple syrup and housemade whipped cream. A bartender improvises and offers us two syrups—coconut and apricot—and the combo is so good it should be standard. The pancakes take forever to cook, so just order them as soon as you sit, unrush yourself, and trust the process.
The perfect order here extends to the fried rice, deeply rich with pork belly, cheese, peas, spinach, scallions, and fried eggs. The soy sauce (smartly served in an essential-oil dropper to prevent diners from over-soying) and sweet-spicy chili sauce makes it sing with salt, sugar, and vinegar. Then to a respectable shakshuka, a North African/Middle Eastern specialty of baked eggs swimming in a tomato sauce flavored with labneh (basically yogurt-cheese, seasoned with olive oil and spices like za'atar and cumin). The Burger Benny is one of the ugliest things ever put on a plate—a mutant pile of meat (ground beef under Canadian bacon), topped with poached eggs and hollandaise. If any dish brings the paramedics here it'll be this one, but it's delicious. The hollandaise is a seamless harmony of butter, warmed yolk, and herbs.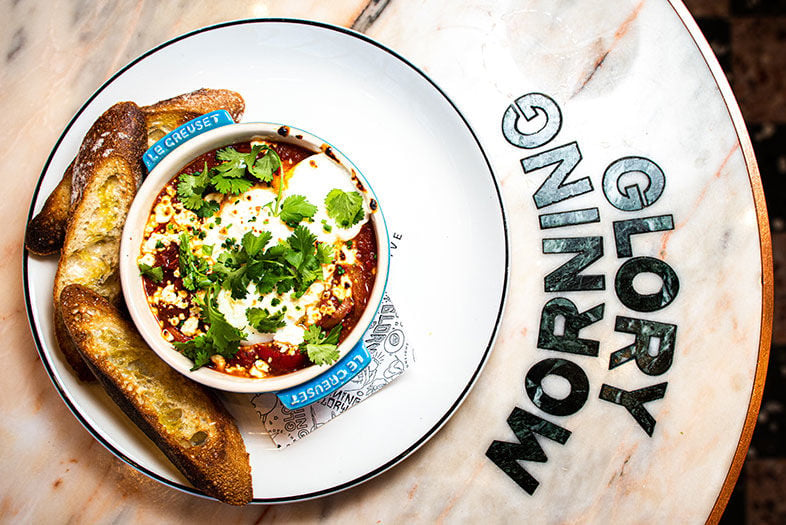 The French omelet with goat cheese shows the chefs' classical training. French omelets demand a rare, attenuated skill set. They must be lightly set. They must not show any brown, nor be over-firm. Few restaurants do them, because they take too much laser attention to get right. And Morning Glory's are textbook. They're eggs as silk, tangy with cheese.
It's the pranks that fall apart. The "McDiddle with Spam" (a riff on the McGriddle) is a pancake slathered with maple syrup and wrapped around a log of Spam, the mystery meat loved by backpackers, people from Hawaii, and almost no one else. It tastes like syrup, salt, and spontaneous hypertension. The Egg McFunnin' (another take on a McDonald's classic) might've been nice if not for the obscene amount of ketchup. America's second-favorite condiment after salsa is a bully, making everything within a mile of it taste like ketchup. This is ironic, because Consortium's first restaurant, Neighborhood, was infamous for not serving ketchup with their burgers. Put the bully on the side.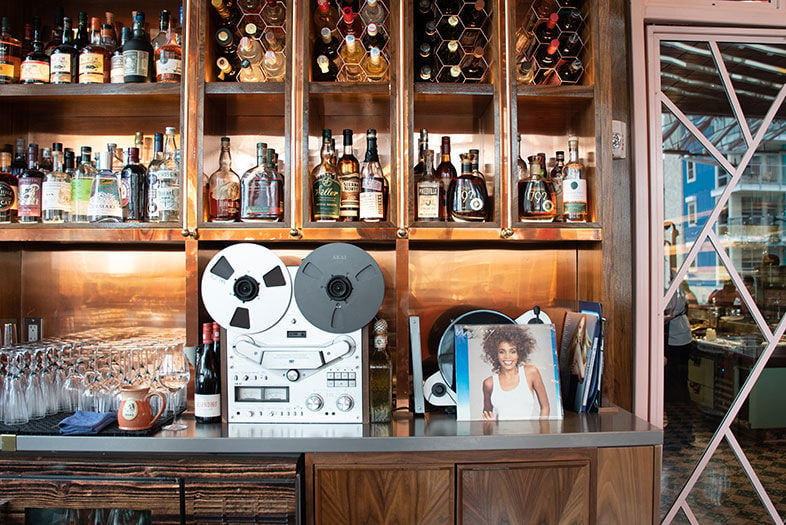 Other dishes are promising and just need minor tweaks. The khachapuri—a Georgian flatbread with a hollowed middle that's filled with poached eggs, mozzarella, feta, garlic, and olive oil—would be great with some sort of spicy sauce or chimichurri. Without a "spike" element it's merely nice, too polite, a little flat. The chicken and waffle nails the protein—golden crust, moist meat—but the waffle barely made it past the batter stage of its life cycle. The seasoned flatbread with the avocado toast is worlds tastier than regular toast, but the avocado is served fridge-cold. That's the one crime you can't do with guacamole-esque concepts. Low temps zero-out flavors.
Consortium made its name on cocktails, so no surprise their bloody is one of the city's best, served in a branded pint glass with a creamy head of celery foam. Their turmeric latte is a nonalcoholic wonder. Order it with oat milk (extra body, extra flavor) and let the barista add cracked pepper, since piperine activates the health properties of turmeric. They also do a riff on the SoCal classic of the 1970s—a spiked Orange Julius.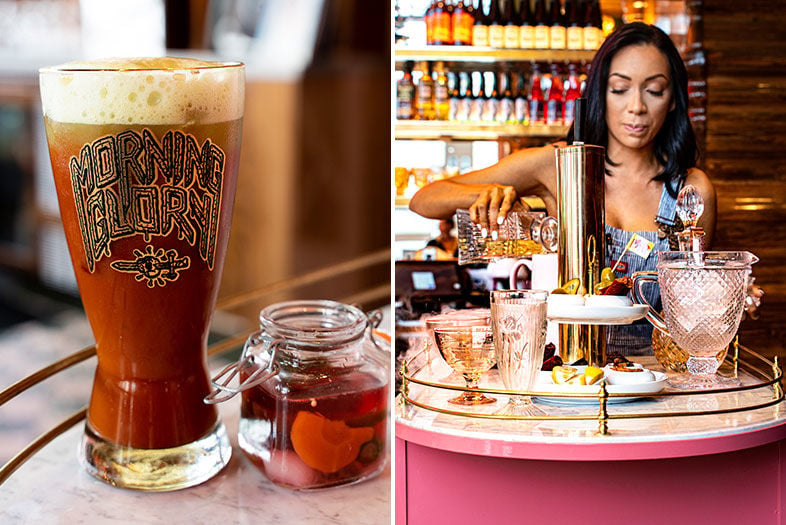 Bloody marys at Morning Glory are topped with celery foam and made on a dedicated cart.
I've long argued that San Diego isn't a brunch town. Many brunch concepts have failed (including Consortium's own at Craft & Commerce). Brunch is for less physically ambitious cities. As a devoutly active sun culture, our circadian rhythms are better set for breakfast.
I stand by that. But Morning Glory is more than a brunch restaurant. It's an attraction.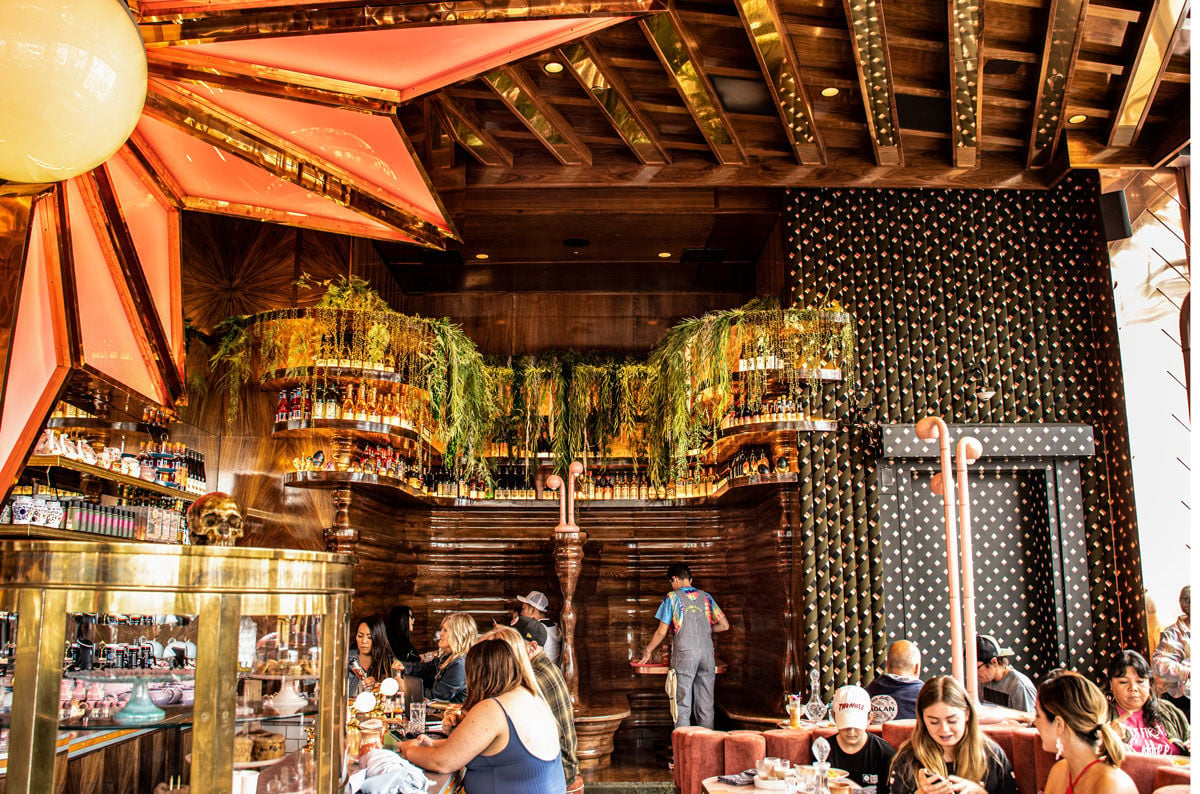 James Tran